By the time of Donald Trump's inauguration, Roger Dow realized he had a problem. Dow, president and CEO of the U.S. Travel Association, is the tourism industry's top lobbyist in Washington. Over the previous two years, he'd grown increasingly troubled by some unfavorable trend lines: From 2015 to 2017, the United States was one of just two leading global tourism destinations that had experienced declines in incoming international travelers. Throughout the world, the market for overseas travel was expanding, and if America could simply have retained its share of visitors, domestic businesses would have gained, according to the association's estimates, $31 billion in revenue and added 96,000 jobs. Instead, tourists were heading to Canada or the United Kingdom. (The only other destination to decline, Turkey, had been destabilized by a failed military coup.)
The development, Dow explains, was rooted in several forces, including a stronger US dollar, economic weakness in Latin America, and dirt-cheap airfare in Europe. But there was another factor, Dow says: "the Trump effect." The 2017 executive order blocking entry to citizens from six majority-Muslim countries, and the President's hostile proclamations about immigration, had signaled to foreigners they weren't welcome here, even if they only wanted to spend money in Times Square and go home.
Dow put together a plan to reverse the decline. He assembled a collection of similarly affected Washington trade groups into what became known as the Visit U.S. Coalition, and its leaders identified specific policy fixes that they believed would ease the way for foreign tourists. More important, though, Dow and his allies were hoping for a stylistic change to accompany the policy tweaks: They wanted Trump to tamp down his language so as not to scare people away. Talking tough on national security was fine, Dow says, but it had to be coupled with the message that America still welcomed visitors from abroad. "The rhetoric," he says, "is not balanced."
Given all of Trump's talk about expanding the economy, Dow was convinced that the President would embrace the industry's recommendations—if only they could reach him. And therein lay the problem. In another administration, policy and rhetoric alike might have been worked up in a bureaucracy whose officials might be in a smart lobbyist's Rolodex. In Trump's government, though, the rhetoric came from the President's own gut. Sharing policy insight with an agency functionary wasn't going to help. They had to plant their talking points in front of POTUS himself. But how?
The coalition hired S-3 Public Affairs, one of the many DC lobbying-and-media-consulting firms scrambling to adjust to the city's new power structure. In prior years, says S-3 partner Amos Snead, the firm might have designed an "outside-in" approach—collect letters or petitions from industry backers around the country, bring them to Washington, and use the testimonials to influence lawmakers, agency officials, and other thought leaders. Trump's Washington, Snead believed, required a different approach. He sensed there might be a more direct path into the President's head, via one of his favorite mediums: Twitter.
Snead used a technique known as geofencing to send digital ads via Twitter, as well as Facebook and You-Tube, touting the benefits of foreign tourism. Instead of targeting the entire capital, they were aimed at the coordinates of a vanishingly small audience: the President and his top aides, wherever they happened to be. The consultants tracked Team Trump's movements inside the Beltway and beyond. When the commander in chief was in Washington, they sent their ads to IP addresses that covered the White House and the Trump hotel. If Trump headed to his golf club in New Jersey, they beamed the ads to IP addresses there. When he went to Mar-a-Lago, they sent them to his club in Florida.
As Snead puts it, "We're following [Trump] where he goes."
This tactic is part of what's known, in the parlance of the industry, as the "audience of one" strategy—and tourism boosters aren't the only people using it. In fact, it's become a staple of the business of Washington under the 45th President.
---
Trump marched into Washington promising to "drain the swamp," but his administration has been great for K Street. Total spending on lobbying reached $3.4 billion in 2018—the most in eight years.
Yet just because the influence industry is swimming in cash doesn't mean its world hasn't been rocked. Trump's arrival in the White House has had a profound impact on the way K Street operates, according to interviews with more than 30 lobbyists, consultants, former administration officials, and others. In prior years, lobbyists and consultants felt compelled to work officials in all corners of the federal bureaucracy when trying to shape policy. But now, with decision-making consolidated inside the Oval Office, they've had to rewrite their playbook.
"It's two different worlds," says Eric Bovim, a managing director of Signal Group, a public-affairs agency in Washington. "Under President Obama, the government was a finely tuned instrument, all the parts working together to produce a single note. You needed to work with everybody to calibrate the sound. Today, for the most part, it's a one-man band, the President in a never-ending guitar solo on the White House lawn, overpowering all the other instruments."
From the beginning, pressing a case with Trump was difficult for a run-of-the-mill lobbyist: Veteran GOP influencers—the Establishment—didn't have many friends in Trump's inner circle. With the administration struggling to fill agency positions, even many well-connected consultants and lobbyists didn't have a lot of other corners of the government to go to for help. Instead, the focus was on Trump.
How do you get Trump to pay attention to policy? Make him the star of a commercial.
In the early days, influence peddlers ran ads designed to appeal to him in New York newspapers—the Times, the Wall Street Journal, the New York Post—which they believed he was still reading. They also used the peculiar way that other articles got to him.
One key discovery was the story folder. During at least the first seven months of the new administration, staffers in the White House communications department compiled flattering news stories about Trump into packets, which they delivered to the President twice a day. According to a former White House aide, as the packet made its way to the Oval Office, additional officials inserted other news articles they wanted the President to read. "It would typically be, like, Stephen Miller putting his latest race-baiting story in there," the former White House aide says.
When consultants and lobbyists learned about the folder, they saw a fresh opportunity. One Republican consultant told me he was able to plant stories favorable to his corporate clients in Breitbart News—the far-right outlet once run by Trump's former strategist, Steve Bannon—and then pass those stories to a friend in the White House, who in turn slipped them into the daily packet destined for the Oval. "If you have a friend in there who can get something on the Resolute desk," the consultant says, "it doesn't really matter what the source [of the information] is anymore."
Others try to influence the thinking of the White House officials Trump listens to. One consultant told me he has geofenced the Kalorama home of Jared Kushner and Ivanka Trump with digital ads in an effort to shape their views on an issue. Beyond the White House and Trump's hotel, S-3's influencers also targeted power restaurants such as Central Michel Richard in case a top aide popped in for lunch.
Special interests have begun targeting Trump's "outfluencers" as well—people like Oklahoma billionaire Harold Hamm and ex–UK Independence Party leader Nigel Farage, who don't work in the White House but are believed to have the President's ear. One consultant went so far as to geofence the school of the child of a particular outfluencer with ads specifically designed to appeal to younger viewers. "If [the family is] sitting around the dinner table talking and the issue comes up," the consultant told me, "I want that kid to be able to say, 'Hey, I saw something about that.' "
---
The cornerstone of the audience-of-one strategy, though, is Trump's love affair with television. After the election, consultants began buying commercial time during Fox & Friends, the conservative morning show that the President is known to watch religiously. But how do you get a 72-year-old man with no interest in policy to watch a commercial on ethanol subsidies? Well, the influencers decided, you find old footage of Trump discussing the issue on the campaign and make him the star of the commercial.
"The President's favorite topic is himself," says a Republican consultant. "What better way to get him interested in a message than by providing him with the thing that he's most obsessed with?"
Snead used the tactic during his work for the Visit U.S. Coalition. In a speech at the World Economic Forum in Davos, Switzerland, in early 2018, Trump declared to the roomful of elites that "America is open for business." There it was—Snead's money shot. He and his team immediately created a commercial that featured Trump saying the line. They then beamed the ad to the IP address they were using to geofence the President in Switzerland. "As soon as those words came out of his mouth," Snead says, "we're turning those into ads."
Companies will pay a talking head— a TV pundit-for-hire— to tout their message on screen, without audience's knowledge.
Consultants have run similar spots during any show they suspected the President might be watching, whether that means the shows he likes (Sean Hannity on Fox News) or those he hate-watches (Morning Joe on MSNBC, Saturday Night Live on NBC). The Podesta Group, the now-defunct firm founded by former superlobbyist Tony Podesta, worked on ads for a Saudi Arabian interest that was trying to persuade the White House to end its relationship with Qatar, according to the Daily Beast. Because Trump is a well-known golfer, the spots aired during the British Open.
Intel about Trump's media habits has become a valuable commodity—currency that might give one firm an edge over another. When I asked a former White House aide what Trump watches on TV, the source wouldn't tell me anything more than Fox & Friends. "I'll give you a half answer because I make a lot of money doing this," the ex-aide told me. "So I'm not going to give it away for free."
Another consultant was willing to share at least one trade secret. The best value for reaching Trump, he said, was Fox News's Lou Dobbs show. The President regularly watches the program, according to a source close to the White House, but its advertising rates are more affordable than those of similar shows. "It's so much cheaper than Fox & Friends," the consultant said.
As with geofencing, influencers monitor Trump's schedule and then buy the Washington TV market when he's at the White House, the New York market when he's in New Jersey, and the Palm Beach market when he's at Mar-a-Lago. But the approach has shortcomings. For one thing, a GOP consultant told me he has it on good authority that Trump has a DVR-like device that lets him blow through commercials. A Republican lobbyist says the approach has been overplayed: "I know for sure [Trump's] on to it. I've actually been in Mar-a-Lago, and he's watching the Fox affiliate and he sees ads and he's, like, kind of laughing."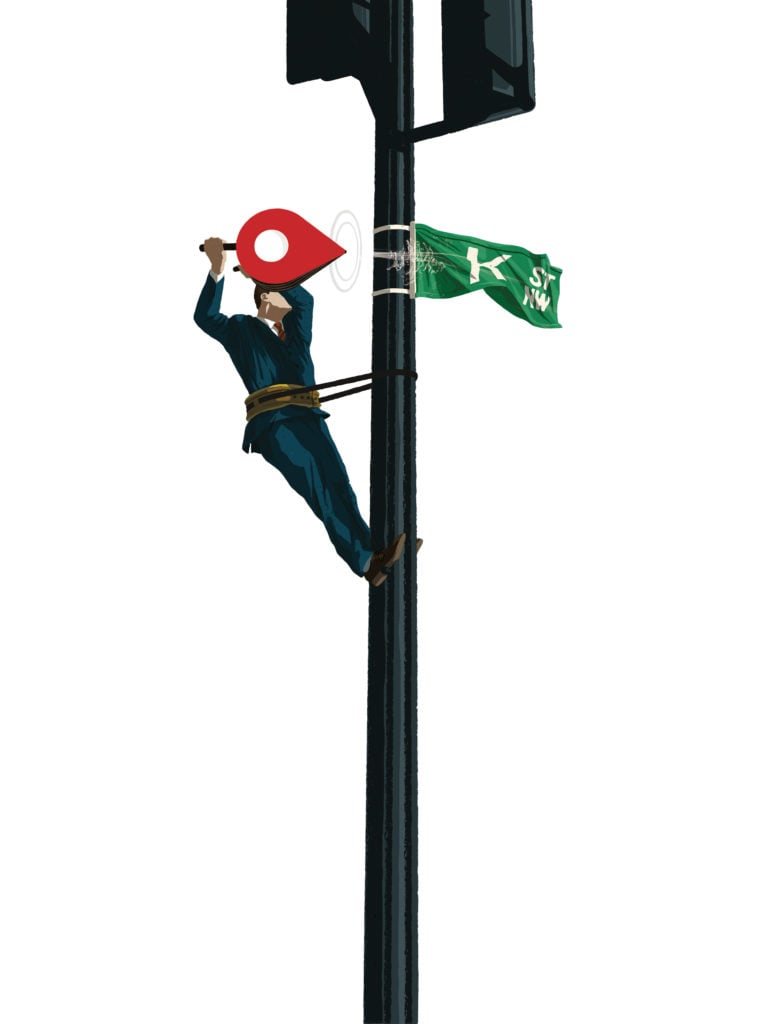 So K Street found a new work-around: the TV pundit-for-hire.
The strategy, a GOP consultant says, works like this: Companies or trade groups pay talking heads to tout their message on the air. You just have to find commentators who don't have official ties to a network. Pundits under contract with a major news channel would be required to disclose such payments to producers and, when appropriate, viewers. But talking heads without appearance contracts can shill for their corporate benefactor without the audience's knowledge.
The consultant wouldn't reveal the shills but said the most desirable targets are former campaign staffers or current supporters, because the President listens to them. "There are plenty of people who don't have contracts who get on these shows, and they are very high-level folks and they definitely get paid to say things," the consultant says. "Or if they're booked on a show already, because of their high-level status, they can just slip in the points that they want to make on a particular issue. They can definitely get their points in."
---
Widespread as it is, the efficacy of the audience-of-one strategy is unclear—even to its practitioners. "I don't f—ing know if it works," says a consultant whose firm uses the approach. Others are outright dismissive. "There's no evidence that Donald Trump is actually engaged on the details of any domestic policy, so the idea that you're going to persuade him to hold some specific nuanced position on a policy through a 30-second ad that he may or may not watch on Fox & Friends is a huge waste of money," says Rory Cooper, a managing director at the consulting firm Purple Strategies. "Firms follow each other doing ineffective things all the time. Washington has a herd mentality in general."
But the tourism industry's representatives are confident that their message got through to the President. Last September, in fact, Roger Dow and top executives from Marriott International, Enterprise Rent-A-Car, Hilton, and other powerful companies accepted an invitation to meet the President, Ivanka Trump, and White House economic adviser Larry Kudlow. During their discussion, the executives outlined the negative developments in their industry and explained what Trump could do to help.
Jonathan Grella, spokesman for the U.S. Travel Association, says geofencing wasn't the only piece of the lobbying strategy, but it played a key role in arranging the meeting—during which the President was engaged. "It was a nice feeling that before he even sat down, he said, 'Talk to me about the state of international travel,' " Grella says. "So we knew he was prepared for the meeting, and he asked a ton of questions." The executives left the Oval Office feeling upbeat about their agenda—as if the one person they needed the most were paying attention.
This article appears in the March 2019 issue of Washingtonian.