One bitter-cold night this past winter, three social-justice activists came to George Mason University to speak as part of Martin Luther King Jr. commemoration week. Diane Nash, a Freedom Rider who had staged protests alongside King in the '60s, talked about the struggles of her day. Trinice McNally, a leader of LGBTQ inclusion efforts at historically black colleges, told the crowd how "tough people are made at tough times." The final panelist, wearing slip-on sneakers and a yellow scrunchie around her wrist, had her own advice to share. "I want to remind you that you don't have to start big—you can start with local issues," she said, sounding like a veteran of marches and sit-ins. "Understand that it's going to take some time. Rome wasn't built in a day."
When this young crusader came down from the stage, news crews swarmed her and the students asked for pictures. Keep being amazing! they swooned. You're an inspiration to all of us! At the end of the night, she grabbed a vanilla-bean Frappuccino and then hopped into the back seat of a Toyota minivan for the ride home. When the car pulled up to the house, her driver—who is also her mother—shouted instructions: "Pajamas! Teeth! Bed!"
It was a school night, after all, and sure, Naomi Wadler may be a next-gen sensation—but she's still 12.
You may not remember her name, but chances are you remember her: the elementary-school kid from Alexandria with the soulful brown eyes, the bulky orange infinity scarf, the big head of hair and even bigger voice who captivated the nation during last year's March for Our Lives. Producers for the anti-gun-violence rally—organized after the deadly school shooting in Parkland, Florida—had asked her to speak after learning about a local protest she'd helped lead. George Clooney, one of the funders, had called her mother to seal the deal, leaving Julie Wadler gobsmacked, if not her daughter. ("Well, it wasn't Oprah or Ellen," said Naomi.)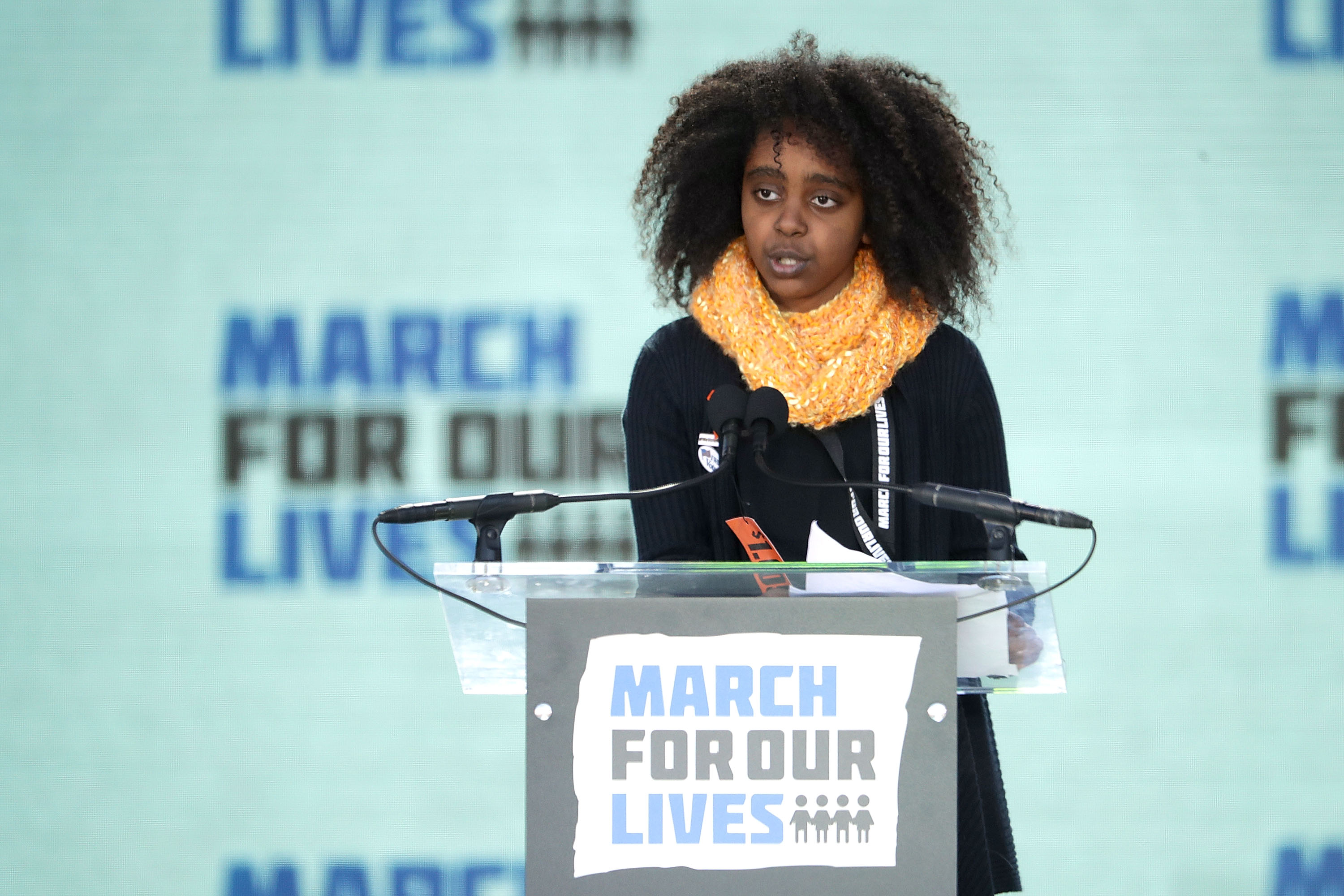 She took the stage that day and introduced herself with a nervous giggle. Then, in an instant, she seemed to harness the strength and fervor of the hundreds of thousands stretched before her. Four feet six inches tall, a child who hadn't yet retired her Barbies, Naomi said she represented the African American girls and women who are victims of gun violence but "whose stories don't make the front page of every national newspaper, whose stories don't lead on the evening news."
She represented those who are "simply statistics," she continued, "instead of vibrant, beautiful girls full of potential."
The crowd was mesmerized, punctuating her every utterance with roaring cheers.
Midway through, Naomi shot a glance at her mother, who was standing in the wings, as if to say, "Look, Mom, I've got this." Her command of the podium would soon become familiar. But in that moment, Julie Wadler was overcome, speechless. When Naomi walked off the stage, relieved and ready to go get lunch, she jumped into her mother's arms and, unbeknownst to both of them, into the start of a dizzying new life.
---
In just weeks, Naomi would fly to Los Angeles to be on The Ellen DeGeneres Show, then Atlanta to appear at Ebenezer Baptist Church and the Georgia State Capitol, on to New York for a Women in the World summit at Lincoln Center and the Tribeca Film Festival, then the Tory Burch Foundation Summit, the Birmingham public-school district, the Urban League, and a Nats game where she was honored.
That was just April.
Julie would hire a lawyer to navigate the contracts, deals, and requests. She bought up web addresses, filed paperwork for a Naomi Magic foundation, and set up savings accounts for speaking and appearance fees that will go toward college. The Smithsonian requested Naomi's scarf from the march—whipped up the night before by her Aunt Leslie when Naomi and her mom were fighting over what she should wear—and came to the house to do an "oral history" with the child.
As fifth grade at Alexandria's George Mason Elementary School grew to a close, the family celebrated with a graduation party in the back yard—then raced to board another plane for LA, where Naomi was to receive a BET Humanitarian Heroes award.
Julie thought the attention would soon die down. Instead, in the months ahead, her daughter's celebrity exploded.
She would be photographed arm in arm with Gloria Steinem for Vanity Fair and be featured on the cover of New York magazine's "Women and Power" issue alongside Barbra Streisand. Glamour, Elle, Teen Vogue—check, check, check. There would be keynote addresses, a Webby award, photo shoots with legends like Annie Leibovitz and the British portrait photographer Platon, whose subjects are typically presidents and other heads of state. She would be recruited for youth-related boards, including one at Georgetown Law's Center on Poverty and Inequality.
"I'm really struggling with how, as my platform expands, I'm not going to be that girl."
At events, strangers asked if they could touch Naomi—even pray over her.
When a gigantic package arrived on their doorstep, Naomi's father, Monte Ivey, assumed it was something Julie had ordered from Wayfair that he'd have to assemble. But inside the box from Ireland was a large sketch of Naomi, a whimsical doodle in silver and gold on a piece of black steel. Bono had painted it for her.
For Naomi, now a rising seventh-grader at Maret School, the sudden fame and opportunities have been awesome, crazy, surreal. Yet grappling with instant, viral celebrity has also meant occasional angst—and a near-daily tug of war between two worlds. Does she do the school play, for which she was thrilled to land a part, or fly to Hollywood to work with Ellen DeGeneres and then to a speaking gig at Harvard with the likes of Henry Louis Gates Jr. and Chelsea Clinton? (A Wrinkle in Time lost out on that one.) The science fair or Gloria Steinem's global-leaders conference? (Score one for the water-fleas project.)
Figuring it all out has been a complicated proposition for the whole family. "Nobody was prepared for this," says Julie, who has become her daughter's manager/gatekeeper/publicist. "She wasn't prepared for it. I wasn't prepared for it. No one in our lives was prepared for it."
---
Naomi didn't come from a part of Washington plagued by gun violence, as many people assume. She also didn't come from a family of Democrats, the party most associated with gun-control rallies. Julie, who's 53, is a white, Jewish Republican who worked for GOP candidates and the National Republican Congressional Committee before starting her own fundraising and event-planning business. In 2007, she became a single mother when she adopted Naomi from an orphanage in Addis Ababa, Ethiopia.
Monte, who's 51, entered the Wadlers' lives the following year after meeting Julie online. An African American who had worked in sales and media production, and a fellow moderate Republican, he had a calm, steady demeanor that balanced Julie's frenetic energy. He, too, was a single parent. (His son, Nolan, is now in college.) The couple bonded immediately over their devotion to family (though not his passion for hunting). They never married but blended households in 2009, the same year Julie adopted a second daughter from Ethiopia.
At the start of 2018, life was a jumble of tennis lessons, piano recitals, and sleep­overs. They had just returned from a trip to Ethiopia and then Israel, where Naomi had decided that, like Wonder Woman star Gal Gadot, she wanted to join the Israeli military. For now, though, she was busy applying to private schools for the fall and battling strep throat.
Then came February 14, the day a gunman killed 17 students and staff at Marjory Stoneman Douglas High School. Julie learned from Facebook that the daughter of a high-school friend was missing. At home that night, the family followed the news together. The next morning, Naomi asked her mom if the friend had found his daughter. The child, it turned out, was among those killed. "I pulled Naomi on my lap," Julie recalls, "and I cried and she cried. And she said, 'I want to do something. What do I do?' "
Naomi had always been a fearless and compassionate child, with a sense of justice "well beyond her years," according to Wendy Schudmak, her former teacher in the fifth-grade Talented and Gifted program. (A fierce social conscience is a family trait—while adopting Naomi, Julie came across an Ethiopian orphanage for HIV-positive children and, with her sister Leslie, decided to take over management of the place.) Naomi ultimately grabbed her friend Carter Anderson and, with a handful of other classmates, organized a walkout at their school.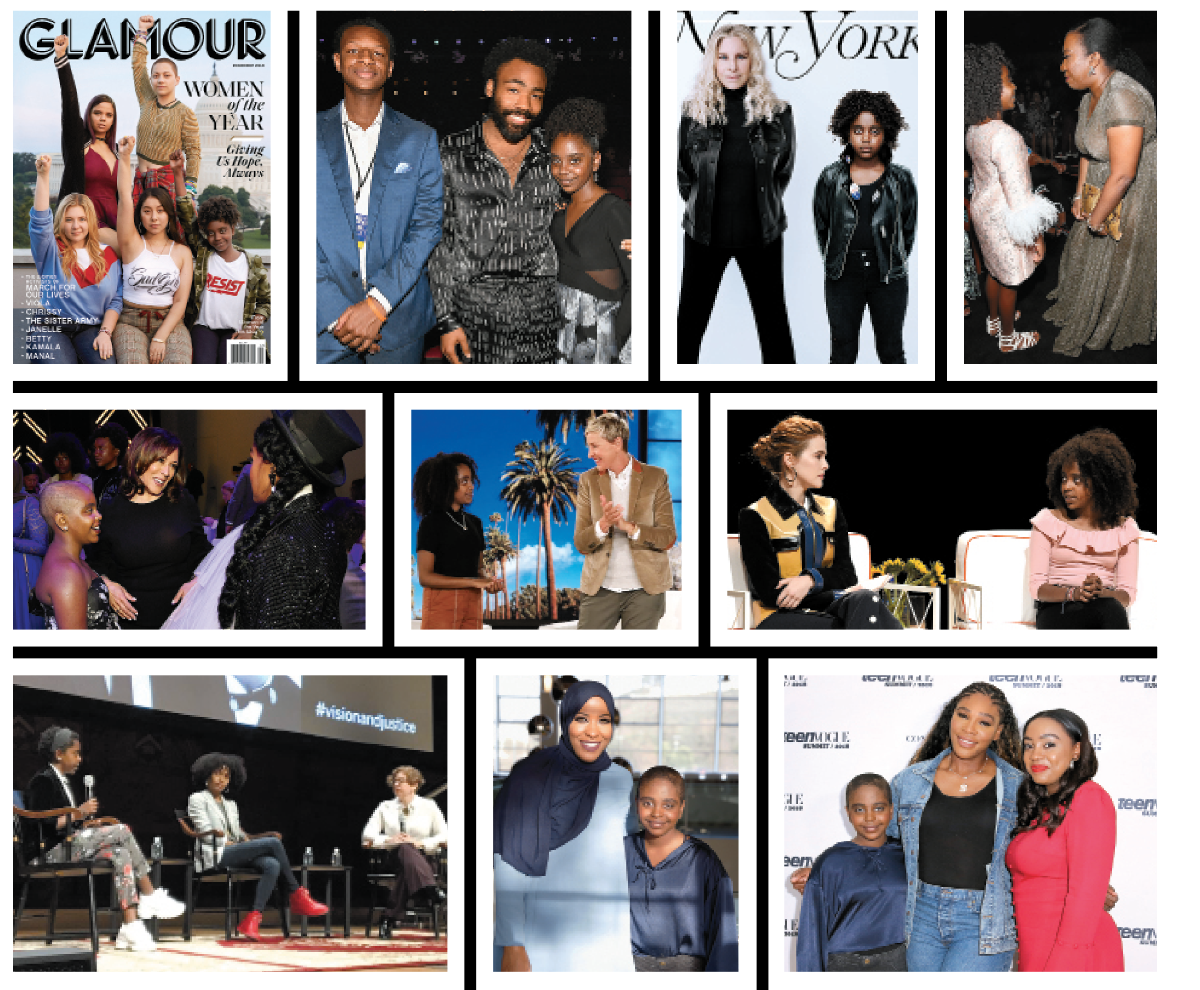 It was much like those that were being planned across the country, with one exception. Naomi and Carter had heard about Courtlin Arrington, a black teen who'd been fatally shot at a Birmingham school weeks after Parkland. Carter was moved by the fact that Courtlin had wanted to be a nurse; Naomi noticed that her killing hadn't received widespread attention. At Carter's suggestion, the classmates added an 18th minute of silence to their demonstration, as some students in Birmingham were doing, to honor Courtlin, too.
The extra minute attracted international attention to the school, and a few days later the online news video service NowThis interviewed Naomi and Carter from the Wadler-Iveys' dining-room table. That's how the March for Our Lives producers found her.
Naomi, a regular in school talent shows, was ecstatic about her invitation to the event—until the reality of writing a speech and delivering it in the shadow of the Capitol hit her. She hadn't had a close personal experience with gun violence. Monte, her dad, was even a member of the NRA. "She needed me to tell her that it was okay to write about being a black girl," says Julie.
They sat down and talked, with Julie reminding her daughter of all the questions she'd peppered her mother with since she was five. Watching news coverage of the Trayvon Martin murder, Naomi had asked why the white shooter thought the black teenager looked scary. In later years, she would see the unsolved JonBenet Ramsey case on magazine covers at the grocery store and wonder why the decades-old murder of the white pageant child still commanded attention when the deaths of so many black children went unnoticed.
Naomi had felt the sting of racism personally—when a boy told her she couldn't be the queen, only a slave or beggar, in a game; when she dressed up as kids'-book heroine Heidi Heckelbeck for "character day" only to have a classmate razz her about playing a red-haired white girl. After Naomi came home in tears that day, Monte put a piece of tape across her bathroom mirror that said: "I'm Naomi Wadler. I can be whatever I want to be."
So that Friday afternoon before the march, Naomi started talking out her thoughts as her mother typed. They looked up a Toni Morrison quote to add, and by 9 pm she had her speech.
The next day, Naomi calmed her nerves by singing to herself in the car ride over. At the staging area, Julie, in full stage-mom mode, worked the crowd to make sure her daughter got a photo with everyone she'd wanted to meet, jumping in front of a golf cart that carried Nancy Pelosi to get to Demi Lovato. When Naomi, then 11, took her turn center stage, she couldn't see beyond the large bank of cameras, so she didn't know that the crowd stretched back more than a mile. She also didn't know how profoundly those three minutes and 26 seconds at the microphone would change everything, as she later said, "for better or for worse."
Monte had his first taste of the new normal when, after the program, he was barred from getting to his daughter by security guards for someone Naomi was talking to. (His kids later explained who Miley Cyrus was.) By the time the family returned home, Naomi's speech had been tweeted and retweeted and calls were coming in from everywhere, including from a producer for Ellen who wanted to book Naomi for the show but first asked Julie: "Can you tell me a little about the whole you-work-for-the-Republican-Party thing?" (Julie and Monte both support background checks and other gun restrictions; Monte says he's an NRA member for the group's safety programs, not its policy positions.)
Strangers asked if they could touch Naomi—even pray over her.
Because it was the start of spring break, the family retreated to their beach house in Lewes, Delaware. They tried to find some normalcy in a trip to Build-A-Bear but couldn't escape the cameras—one news outlet came to town and photographed Naomi doing cartwheels on the beach. By midweek, Monte told Julie they had to sit down and talk about the white-hot spotlight crashing down on their fifth-grader. "You're not getting this," he told her. "There's no going backwards here."
"No, it's fine," Julie assured him, thinking it was all just Naomi's 15 minutes of fame.
"I don't think so," he said.
Monte wanted to know "why?" "What are we trying to do now?" he asked Julie. "School is still going on and everything else. This is great, for sure, but what's our purpose?"
They talked it over. Julie thought Naomi's message of giving a voice to African American girls, whether little-noticed victims of gun violence or those who felt like second-class citizens because of their skin color, was an important one. She had watched the video of her daughter's speech a million times and was moved each time by the faces of the girls of color listening to Naomi: "You could see that what she said mattered—and that is an amazing thing to watch."
These were opportunities they shouldn't hold their daughter back from, Julie thought. And Naomi was game. So they jumped in. But Monte had been right—this was no blip. Twelve, 14, 16 months later, Julie says, "it's still a steady stream."
---
Naomi is several inches taller than she was at the march—the cute little kid of last year has grown into a pretty young girl—and her full head of hair has been lost to the Hair Cuttery floor. She had her head shaved last fall, partly because she admired the buzzed look on girls such as Parkland survivor turned activist Emma Gonzáles, partly because she'd always struggled with her hair, and also because Gloria Steinem told her doing so could be liberating. She now has verified Twitter and Instagram accounts that her mother helped her create to publicize her activities. Marketing buzzwords such as "platform," meanwhile, are part of her everyday conversation. (Julie calls her daughter "the best political client I've ever had.")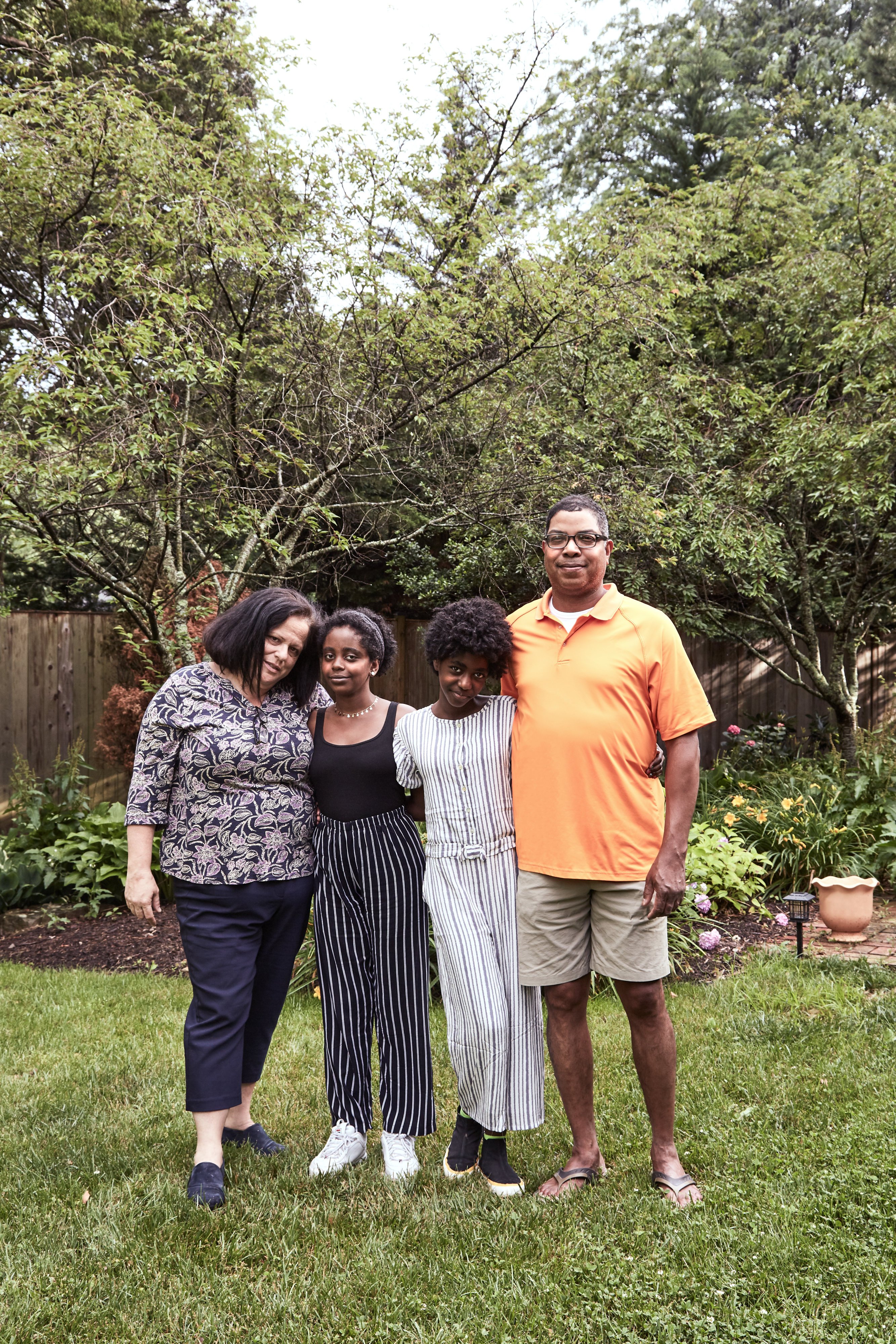 When she gives speeches, Naomi often talks about self-love and self-respect, something she's open about struggling with herself. "Some days, I don't like how I look or how I feel and I don't think I'm enough—smart enough, funny enough, friendly enough," she tells an audience of African American middle-schoolers in DC. "Once we respect ourselves, we can treat our bodies and our minds with love, knowing that . . . we are more than enough. Then we can look around and we can respect others, too. That is when our magic is at its most powerful."
As her mother puts it, "She's 12. She's just 12 with a lot to say."
It's remarkable, in fact, how easily Naomi toggles between the grownup issues she champions and tween-girl infatuations such as scrunchies ("Scrunchies are HUGE—I'm bringing the '80s back"), YouTube sensations no one over 25 has heard of, the strawberry-açai Pink Drink at Starbucks ("I wish I wasn't the stereotypical teen girl who says, 'Omigod, Starbucks!' but I am"), a dimple she's just discovered on her face, the color yellow ("It reminds me of sunshine and happiness!").
But balancing the demands of child stardom is something of a high-wire act. There are tests to study for on planes or in hotel rooms, public appearances on school nights, speeches and blog posts to write (with her mother as editor) after homework. "It has been fun, very fun, but it has also been very overwhelming," she tells me. With so many requests coming in—Naomi could be out of school every day, her mother says—the family's strategy has been to choose activities that are consistent with her message and, above all, that Naomi wants to do.
"You're not getting this. There's no going back here."
"I need to say yes," Julie says. "Then I give her the option. I try very hard to have her make an informed choice."
So when the school play conflicted with previously scheduled appearances, Julie laid out the details of the events, noting the commitments her daughter had made and the lineup at the Harvard social-justice conference she'd said she would attend: university presidents, a Hollywood producer, a bestselling author . . . . "I should know these people," Naomi thought. She could always audition for the school play again next year.
---
Hearing about the scheduling dilemmas and the parade of bookings, it's hard not to wonder: Is Naomi happy? The answer seems to be yes, mostly. Occasionally, anxiety will surface, sometimes due to the full calendar but more often because of classic adolescent worries like friendships and crushes, grades, and fitting in at Maret, where she would like to be seen as "Naomi, who's crazy and funny and loves The Office," she says, instead of the girl who gave that speech and became famous. "I really want to keep doing what I'm doing—and more. So I'm really struggling with how, as my platform expands, I'm not going to be that girl."
She and her family and the Maret staff have tried to keep life as normal as possible at school, which meant turning down a news outlet that wanted to film her there earlier this year. "Do you know what people would say? 'Naomi, you think you're all that.' Oh, no, no, no," Naomi protested. "That is not happening."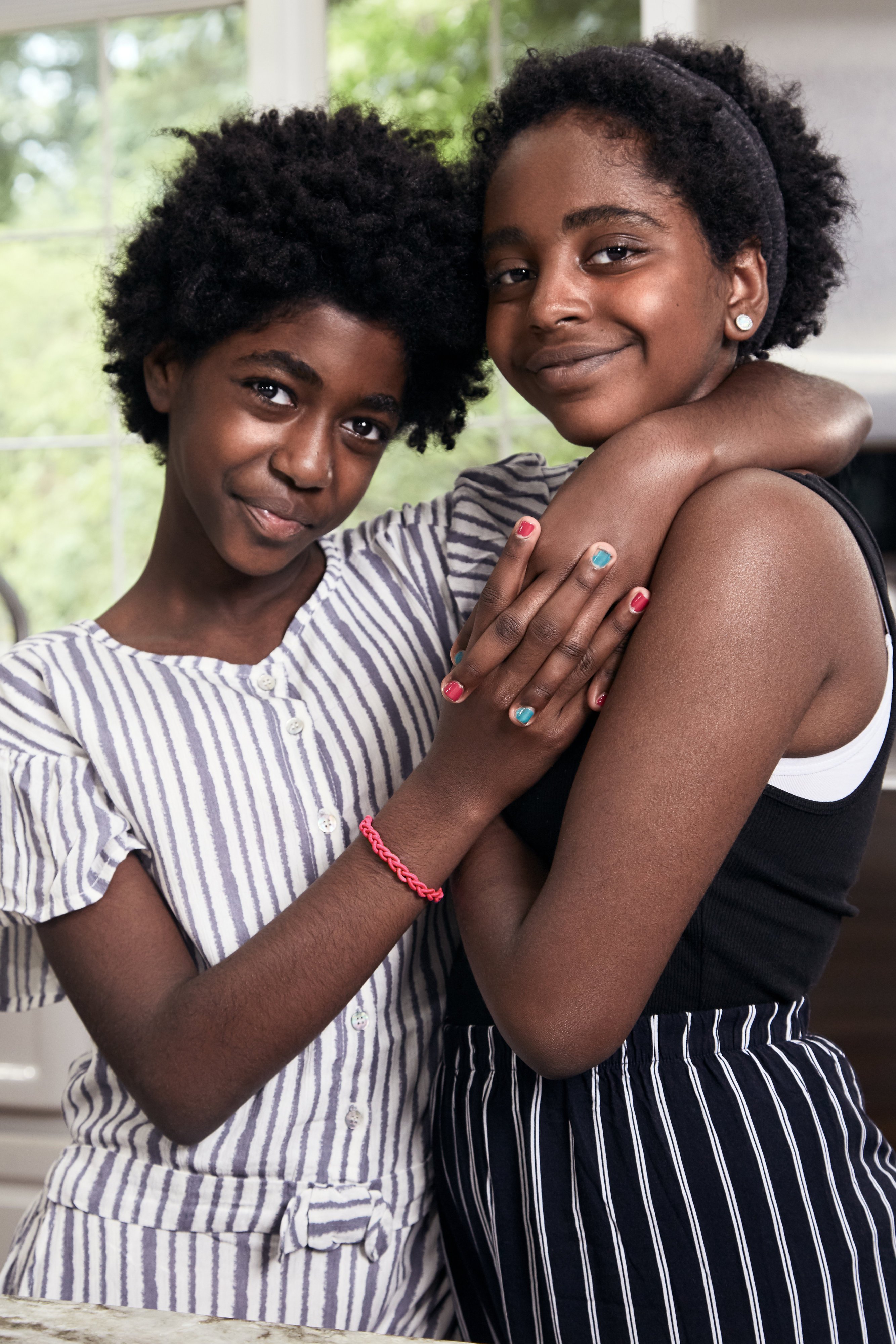 Still, it's middle school, so there's no escaping some jealousy of the classmate who got to interview tennis star Serena Williams and actress Olivia Wilde for her own DeGeneres-produced web-video series, DiversiTEA With Naomi Wadler. Or the occasional mean-girl jab against her:
"We saw you in Glamour."
"Oh, yeah, it was a pretty long day."
"I know, it's so hard being famous."
Naomi says she sometimes thinks about backing off. "Part of me thinks this is the best thing that's ever happened to me and I love doing all of this," she says. "And part of me thinks what I do is cool but wishes nobody knew about it."
Mostly, though, she says she has the support of many friends, including Carter, her partner in the walkout, who's happy as her "ally," says his mother, Christine Stoneman. Naomi's ten-year-old sister, Sarah, is another booster, coming along to events and calling herself a superfan. When Naomi tells me she doesn't get very nervous about speeches any-more because she knows her mother will beat up any hecklers, Sarah pipes up, "Or me!"
Julie says she wants to keep as many options open for her daughter as possible so that when she's older and knows what path she wants to pursue, nothing will be closed off to her. "Whatever opportunity is out there, how much of it can you do without making yourself crazy?" Julie says, adding, "My job is to hold the container and, if I see it starting to bubble over, put the lid on."
Life has reached a boiling point a few times, especially last summer when Julie had emergency surgery to have a stent placed in a coronary artery, the family moved, and Naomi was overscheduled, cranky, and needing a break. Now, Julie says, they're more careful about not overloading her.
When sixth grade ended this year, Naomi missed the last day for a youth summit in California and then gave a commencement address at a DC middle school. But weeks at the beach house out of the spotlight beckoned. There would be plenty of lazy moments to spend pondering her future as a doctor or actress or head of the New York Times. Or maybe just looking forward to seventh grade with dances and no PE, her bat mitzvah in the fall, and growing her hair long enough to tie back with a scrunchie. Yellow, of course.
This article appears in the August 2019 issue of Washingtonian.