One afternoon this past spring, I unexpectedly found myself on the phone with Ralph Nader.
It had been years since I'd thought much about the guy—America's most famous consumer advocate, the public face of the greater good, the man who helped put seat belts in your car and, according to some, George W. Bush in the White House. I had never met him. Yet here he was, calling me at the office. What could he possibly want?
Nader got right to the point: He had a pitch for a story about perks that the airline industry offers to members of Congress. It was classic Nader stuff—the kind of mini-exposé that once got him press without his having to cold-call editors at regional monthly magazines. Alas, it wasn't really something I could use.
But after we hung up, Nader stayed on my mind. At the time, his name was in the news. On March 10, a Boeing 737 Max 8 plane crashed in Ethiopia and all 157 passengers were killed, including Nader's 24-year-old grandniece, Samya Stumo.
As I later learned, Stumo and Nader were close—she'd been staying with him in DC not long before the crash—and her death hit him hard. But the tragedy also happened to involve one of Nader's areas of expertise, air-travel safety. In another era, he would have been at the center of the ensuing 737 Max inquiry, the kind of media star who could lead efforts to find out what went wrong and force real change.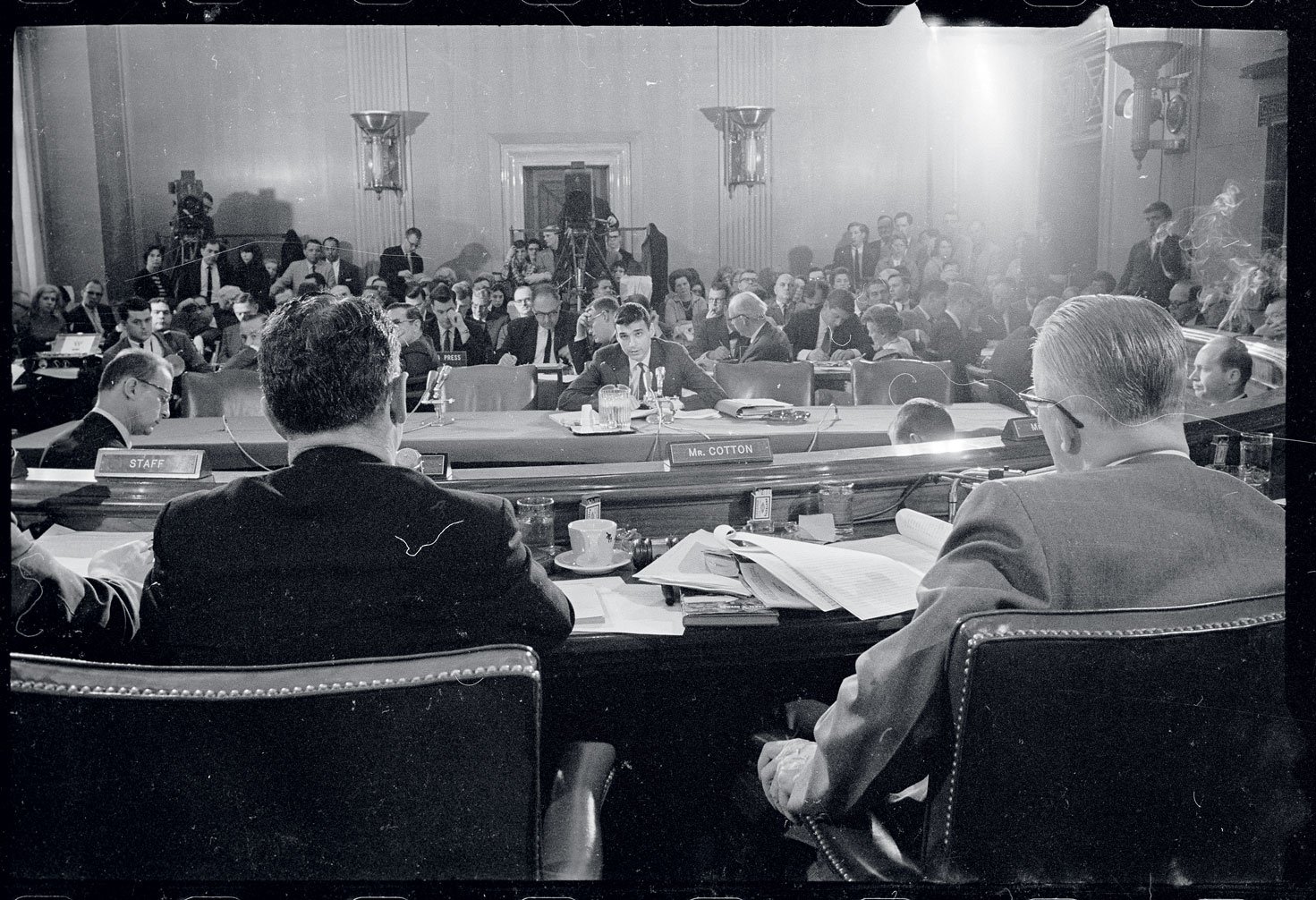 Not these days. For the last 20 years or so, the man who helped shape the Whistleblower Protection Act, the Consumer Product Safety Act, the Freedom of Information Act, the Clean Air and Clean Water Acts, the Occupational Safety and Health Administration and the Environmental Protection Agency—and that's just for starters—has been persona non grata among a large number of people who were once his biggest champions. In the minds of many Democrats, he's the reason Al Gore lost the 2000 presidential election, and in the intervening decades the hot fury has hardly subsided. "I hate that guy!" one person blurted when I told him Nader had reached out. Another said, "Did you thank him for the Iraq War?"
At the same time, Nader's ideas—especially about how corporate greed is squeezing every aspect of American life—have gained new currency in the years since the Great Recession, even as his personal influence has waned. I found myself wondering about his life in the political wilderness. So I asked if he'd be willing to get together.
Nader hasn't talked much publicly about what has happened to him over the last two decades, but he agreed to meet. I had no idea where the conversation would lead, particularly because he's always been something of a mysterious figure, fiercely guarding his privacy. As it turned out, he had more to say than I expected.
---
We met up not long afterward at the Carnegie Institution for Science, the dramatically columnated neoclassical building at 16th and P where Nader has rented an office since the late '70s. His main workspace looks like a small-town library, stuffed with decades' worth of accumulated materials—shelves of books that bear his name, back issues of Tikkun and the Utne Reader, boxes full of an Atlantic Monthly issue in which he was named one of the 100 most influential figures in American history.
Nader was wearing his usual gray suit, now augmented by a bright-red button reading axe the max. At 85, he at first appeared a bit diminished; he has trouble hearing anything less than a shout, and his imposing six-foot-three height is reduced by a noticeable stoop. But after we settled into chairs in an empty conference room, he proceeded to hold forth for almost three unbroken hours, delivering rivers of statistics from memory, seeming to gain strength with each passing topic.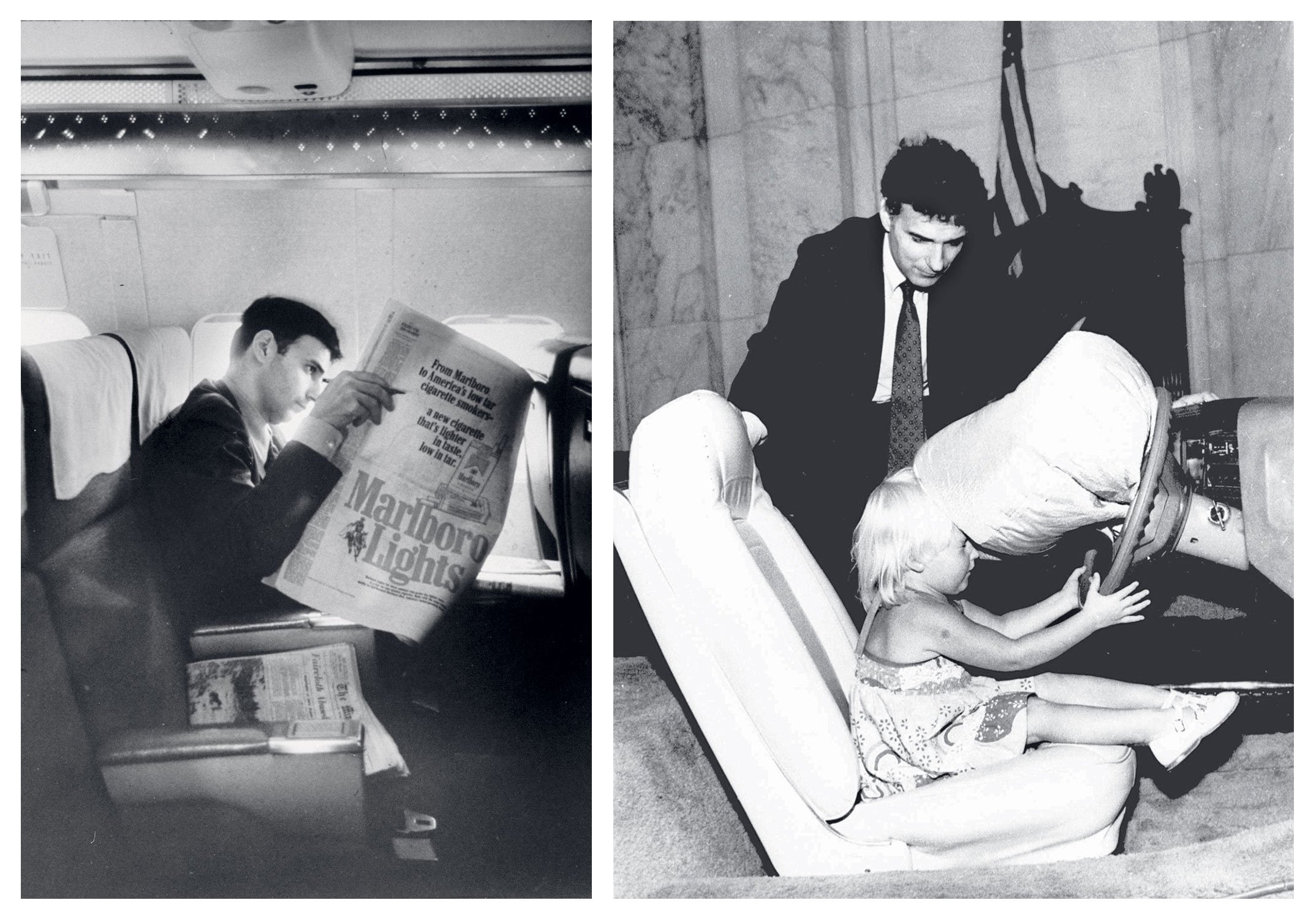 By the end of our conversation, it was late in the day and I was exhausted. Nader has always cultivated an image as something of an ascetic, devoting his life entirely to the single-minded pursuit of his causes. I asked if he was heading home.
"No," he said.
Back to work?
"Of course."
In his prime, Nader was a kind of consumer-welfare superhero—as if the real savior weren't Superman but rather Clark Kent. His first burst of fame came in 1965, when he published Unsafe at Any Speed, written in part during feverish late-night sessions while he was living in a Dupont Circle rooming house. The book examined how safety flaws in American automobiles were causing injuries and death, and it eventually led to passage of the National Traffic and Motor Vehicle Safety Act and the Highway Safety Act, laws that have saved countless lives.
He went on to build a group of public-advocacy organizations and to mentor a cohort of like-minded crusaders, dubbed Nader's Raiders. He started the still-prominent group Public Citizen in 1971 and later came up with the idea for a national network of what he called PIRGs—Public Interest Research Groups—that tap university resources to enact advocacy on a local level. His string of successes made him a pop-culture star—hosting Saturday Night Live, appearing on Sesame Street, chatting with John Lennon and Yoko Ono on The Mike Douglas Show.
By the late '90s, however, Nader's influence around Washington had waned. The Clinton administration had proved no more welcoming to his overtures than its Republican predecessors. How could he get people to listen again? His answer: a third-party run for the White House.
As the Green Party candidate in 2000, Nader never expected to win. The goal was to get 5 percent of the vote—enough to ensure matching funds for the Greens in the next election and, he hoped, push the Democrats toward a more progressive agenda. And if his campaign ended up costing Al Gore the presidency? It would teach Democrats not to take their left wing for granted.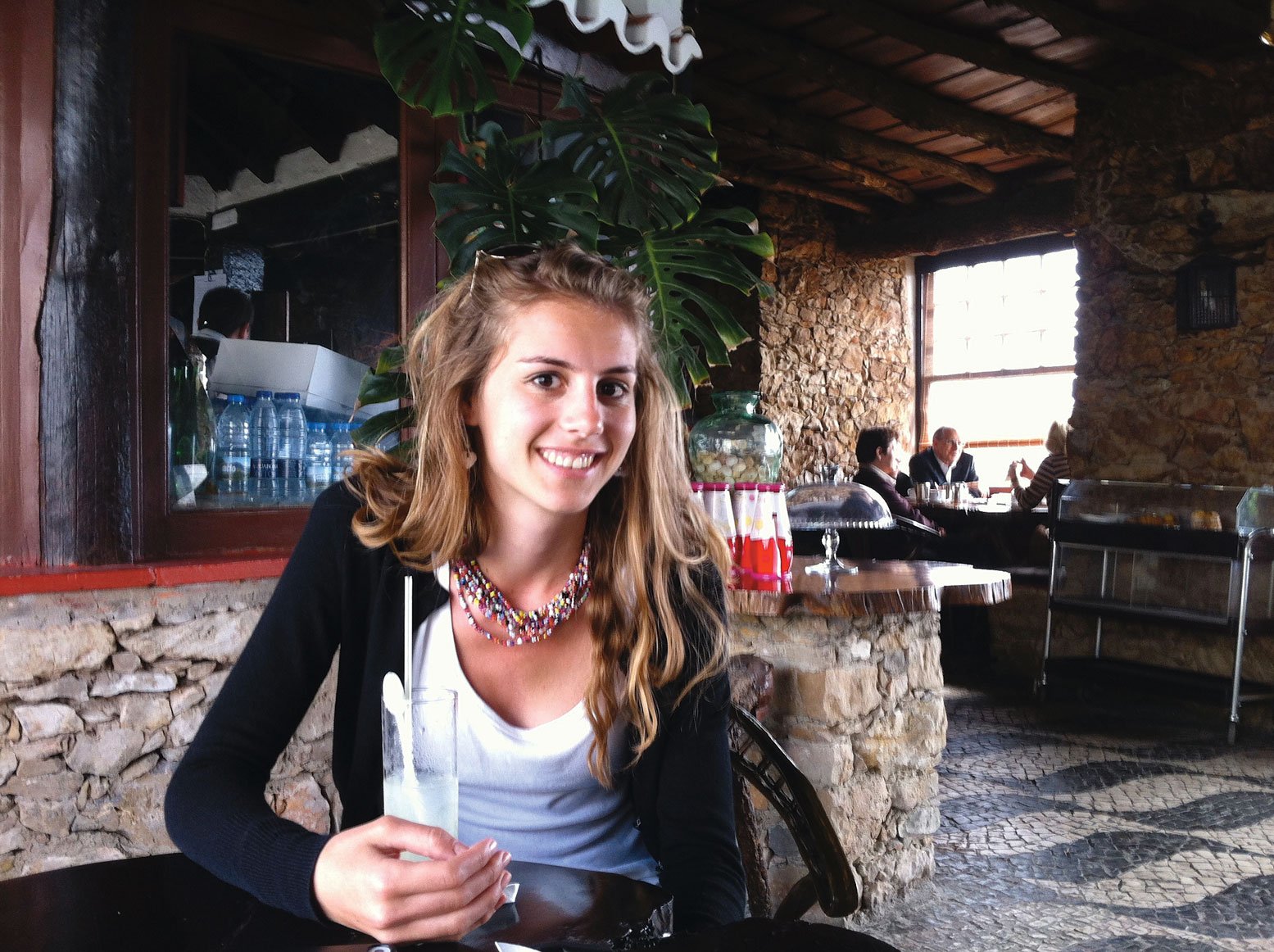 Worried liberals—including some friends and former Nader's Raiders—begged him not to do it, but he was undaunted. In Nader's mind, Democrats weren't significantly different from Republicans.
Then Florida happened. At the end of it all, after the recounts and court fights and, ultimately, the Supreme Court decision that settled the election, Bush beat Gore in the Sunshine State by just 537 votes. Nader, meanwhile, earned more than 97,000 votes there. The backlash was instant: In the eyes of a lot of observers, he was, to use a word that enrages him even now, a spoiler.
Nader has always refused to take any responsibility. He likes to point out that if Gore had done a better job of inspiring voters, the election wouldn't have been so agonizingly close. Not to mention that seven other third-party candidates got enough Florida votes to sway the outcome. Why pin it all on him? "It was a complex, perfect storm of factors," Nader told me. "No one else got the blame. The smartest people in the world never went past '97,000 votes.' "
But a lot of liberals didn't see it that way, and in the public consciousness the "spoiler" narrative won out. Nader was basically shunned. As Joe Biden put it to the Guardian in 2000, "Ralph Nader is not going to be welcome anywhere near the corridors [of Congress]. Nader cost us the election."
Indeed, in the years since, Nader, previously a frequent witness at hearings on the Hill, has appeared before congressional committees only a small handful of times. For the most part, lawmakers no longer want to hear what he has to say. "That was a real astonishment," he says. "It's just unbelievable scapegoating. I mean, if I was a whiner, I'd talk about it every day."
It wasn't just Congress. Reporters stopped taking his calls. Friends broke off contact. Strangers shouted things at him as he walked down the street. The paid gigs—whose considerable income Nader had once funneled back into his advocacy groups—mostly dried up, he says. Public Citizen lost roughly a third of its members due to anger over the election, even though Nader hadn't been directly involved for some 20 years.
Nader, then in his mid-sixties, might have glided quietly into retirement. Instead, he just kept going. Once in a while, he would turn up in the news, sometimes in ways that underlined his diminished status—as with his long-running, hyper-local fight over the West End branch of the DC Library. He spent much of his time writing books, including an account of his presidential bids, a reminiscence about his Connecticut childhood, and a 733-page work of fiction, Only the Super-Rich Can Save Us!, in which a group of billionaires team up to fix America's ills. A satirical novel, How the Rats Re-Formed the Congress, is both politically savvy and surprisingly scatological. He also writes a weekly column and, in an uncharacteristic concession to the zeitgeist, hosts a podcast, which he calls The Ralph Nader Radio Hour. Most of it has had little impact. "I realized that [mainstream publications] weren't interested in reviewing my books," he says. "Because most reviewers of my books are Democrats."
"I have good friends who, when I raise Ralph's name, get possessed, like the girl in The Exorcist," says former New York City public advocate Mark Green, who worked closely with Nader for a decade and has cowritten an upcoming book about Donald Trump with him. "They start cursing and illogically blame him for something bad Bush did seven years into his term." Ralph Nader—a man whose aura of quiet decency and unquenchable public concern once made him a kind of civic Mr. Rogers—basically remains a pariah.
---
Samya Stumo had gotten a taste of the anger toward her great-uncle when she was a kid. In 2004, when she was around nine, Stumo and her family spent some time collecting signatures for Nader's next presidential campaign. "She was really into it," says Stumo's mother, Nadia Milleron, who is Nader's niece. "She had her own clipboard and could talk about the issues. But people started insulting her and her family. People would make her cry. They said, 'Ralph is terrible.' And she's talking about getting him on the ballot."
Nader never married or had kids, and Stumo and her family were always a significant part of his life. He has a home in Winsted, Connecticut, which is right across the street from the house where Stumo spent her early childhood. She would run back and forth between the two whenever Nader was around.
"I have good friends who, when I raise Ralph's name, get possessed, like the girl in The Exorcist."
His influence later rubbed off: Stumo grew into an advocate herself. By the end of 2018, she'd been staying on and off with Nader in Kalorama while getting settled in Washington. She had gotten a master's degree in global health and was beginning a new job at a DC-based nonprofit called ThinkWell. For her first big assignment, she was being sent to help set up offices in East Africa, a Gates Foundation–funded project designed to improve access to health care.
On March 8, the night before Stumo left for the trip, she, Nader, and his 91-year-old sister, Claire, had homemade lentils and brown rice for dinner together at home. Afterward, Stumo headed out to spend the night at a friend's house. "I said, 'Bye, Samya, don't take any chances,' " Nader remembers. "She walks out the door, turns around with a radiant smile, and says, 'See you in April.' "
The next morning, Stumo flew to Addis Ababa, then transferred to Ethiopian Airlines Flight 302, headed for Nairobi. She sat in 16J, an aisle seat near the center of the aircraft. Six minutes after takeoff, the plane slammed into a field near Bishoftu, Ethiopia, at more than 600 miles per hour.
"We had dinner on Friday," Nader says, "then on Sunday she's dust."
---
After Stumo's parents got word of the crash, they raced to New York's JFK Airport and boarded a flight to Ethiopia. "We didn't know she was dead," Milleron says. "When we got there and realized there were no survivors, we had the intention to bring her remains back. And that was impossible because the plane hitting the ground broke all of the human beings into pieces and mixed with the ground, with the earth. You couldn't see any plane. There's no way to gather remains completely. That is a burial site."
When Nader learned what had happened, he called his good friend Joan Claybrook, who ran Public Citizen for almost three decades. "He started crying on the telephone," she recalls. "He said, 'The most horrible thing has happened. I can't even talk about it, it's so terrible.' I'd never heard him speak that way, ever. I've known him since 1966. He was just completely devastated."
Eventually, he dealt with his grief the only way he knew how: by getting back to work.
As it happened, air travel was a subject Nader knew a lot about, going back to the early '70s, when he was booted from an overbooked flight and in response sued the airline for breach of contract. He took the case all the way to the Supreme Court, which ruled in his favor. (That's why airlines now offer vouchers due to overbooked flights.) Nader also founded a high-profile air-travel advocacy group, and in 1994 he cowrote a book called Collision Course, which, among other things, asserted that the FAA is excessively beholden to the industry it's supposed to oversee. "When it comes to safety," the book declared, "money talks."
"He started crying and said, 'The most horrible thing has happened. I can't even talk about it.' I'd never heard him like that, ever."
Nader started to look into what happened with the 737 Max planes. The Ethiopia crash was the second one to go down in just five months; a similar incident in Indonesia killed 189 people last October. The aircraft is based on older generations of 737s, but it has larger engines, which can affect the aerodynamics. To help deal with that, Boeing built a software system called the Maneuvering Characteristics Augmentation System. Both accidents appear to have been caused by a catastrophic malfunction of the MCAS: A single sensor apparently sent bad information to the system, which then pushed the planes sharply downward. Pilots couldn't regain control.
In the wake of the Ethiopia crash, 737 Max planes around the world have been grounded while Boeing works to fix the issues. (There are also multiple investigations ongoing.) But Nader has come to believe that the problems go deeper than just the MCAS. He wants the planes, rather than just the software, to be entirely recertified from the ground up before they're allowed back in the air. He's also pushing for the FAA to have greater oversight; right now, aircraft manufacturers—not the FAA—do much of the safety certification themselves.
To make his case, Nader has met with various senators and members of Congress, as well as the head of the NTSB. He has also been a crucial adviser to Stumo's parents, who have sat down with the head of the FAA and have made frequent trips to the Hill. To a certain extent, Nader has been able to use his name and his role as grieving great-uncle to get a little bit of attention for his efforts.
But he's hardly at the front of this fight. So far, for example, there hasn't been any talk of Nader testifying at any of Congress's ongoing 737 Max hearings. "Before 2000," he says, "I would have been the lead witness."
---
"He deserves every bit of it," says former Pennsylvania governor Ed Rendell, who oversaw the Democratic National Committee during the 2000 race. "I mean, Ralph Nader did some good with his consumer-affairs issues—he made some safety changes that were very important to the American people. But he didn't have to run for goddamn President to do that. His run for President was narcissistic and caused nothing but harm."
Nader is happy to defend himself against those who say his exile is well earned, to explain why ego had nothing to do with anything. But if you start asking more probing questions, he tends to redirect. From the start, I wanted to hear about his emotional response to his banishment, what it was like to be despised by many of the people who once venerated you.
That is not—and this is rather much of an understatement—a topic he warms to. As Green put it when I talked to him, "You're asking what does he feel like? I know him very well, like an extended family member. I don't know the answer to that question."
To Claybrook, it's clear that Nader's ostracism has been difficult."I think he is hurt by it, and shocked," she says. "I think he thought it would go away, and it never has. A lot of people have gotten over it, but there's still more who haven't. And they want to punish him."
Nader is especially allergic to any line of inquiry that attempts to probe his inner thoughts rather than delineate the world's deficiencies. During our inevitable conversation about the Trump administration, I asked what it was like to see consumer-protection regulations he fought so hard for be unceremoniously unraveled. It had to be difficult to sit in his office and watch all this happen.
"Oh, boy. Yeah. If only I was the type," he replied with a laugh.
The type to what?
"To provide you with what you're looking for. You're looking for a crushed human demeanor, which is fully justified. If I may put words in your mouth, what you're looking for is a normal reaction to someone whose life's work is being demolished, right?"
Nader doesn't do normal. "I believe in resilience," he says.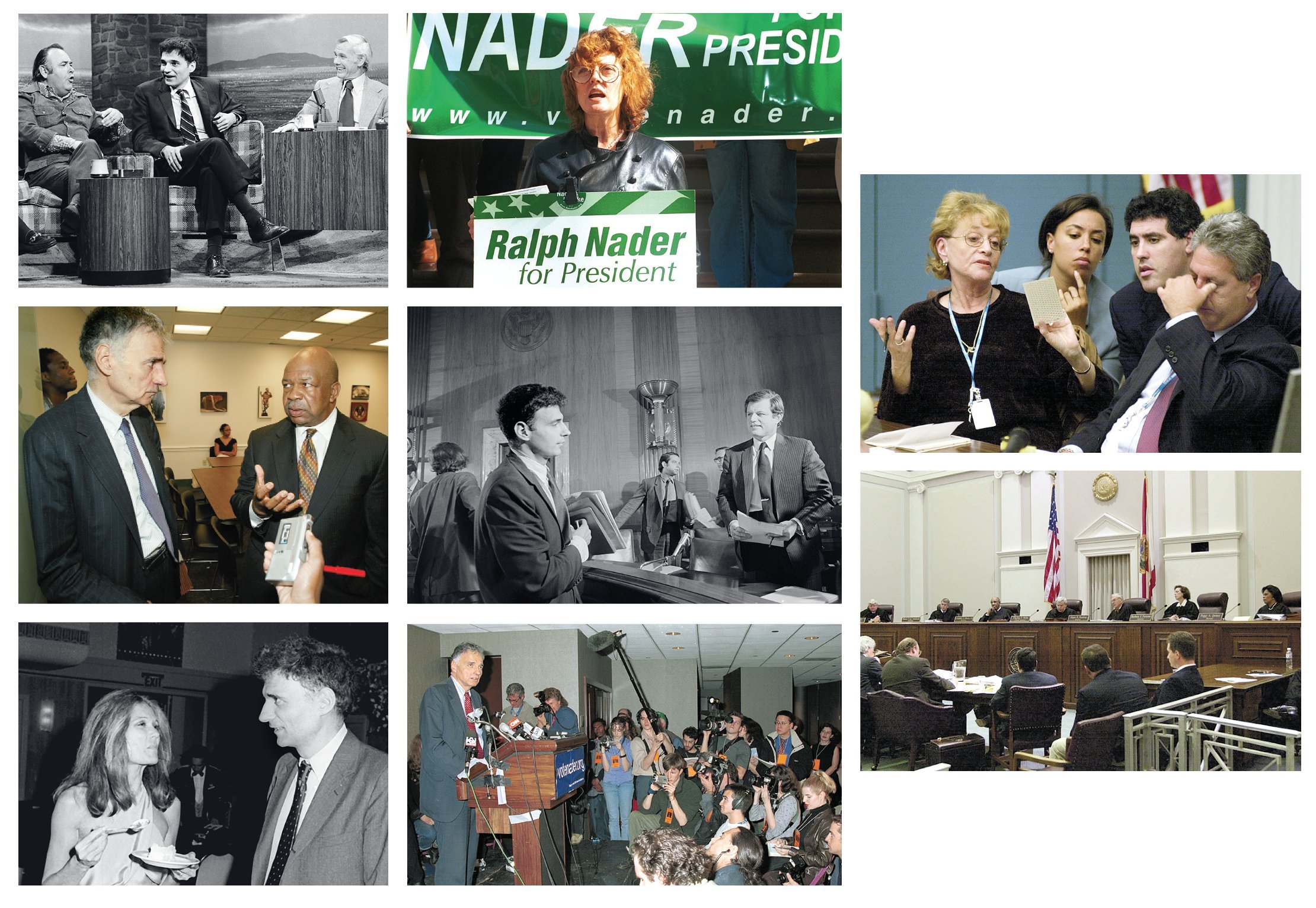 Ask him if he's angry or sad about the way he's been treated by the Democratic establishment since 2000 and he'll often try to change the subject, or simply answer a different question.
It had to be hurtful, I said to him another time.
"Well, more than hurtful," he replied. "It kept me from doing my job."
Right, but on top of that, is it hurtful?
"Yeah, it is," he finally acknowledged. "If you let it get to you, you couldn't even try to do your job."
At one point, I asked if there was anything he'd do differently if he could go back.
"Yeah, all kinds of things," he said. "I would have shortened my sentences during speeches and shortened the speeches. And I wouldn't have focused so much on the [campaign] website."
These were obviously not the sort of regrets I had in mind. Eventually, after we'd talked a lot more about everything that had happened, he did share one unexpected thing. I asked if he thought it was a mistake not to have run as a Democrat.
"Retroactively, yes," he said. "Oh, yeah."
Surprised, I asked why. "It was a mistake because hindsight, that's why. I was convinced that because I would not toe the line, [the Democrats] would keep me off the debates. So I said: If you can't get on debates, you're like a third-party candidate [anyway]. So that was the calculation."
It wasn't exactly the kind of remorse that would satisfy his detractors. But it was something.
Nader must know he's never going to be the force in American culture he once was. But is there a point at which the anger toward him crosses over from understandable to irrational? His ideas about corporate greed, wealth inequality, universal health care, the minimum wage, and on and on are perfectly suited to the era of Bernie Sanders and Alexandria Ocasio-Cortez. Yet you don't see him on CNN much or hear progressive presidential candidates invoke his name. Nader says Sanders hasn't returned his calls since before the 2000 election.
At one point, I asked Nader if there was anything he'd do differently if he could go back. "Yeah, all kinds of things," he said.
"I could tell you five senators with the skills to be President," says Green. "I could tell you five biographers who should write the next Hamilton. But there's only been one Nader in modern history, if not in our entire history—someone who tethers enormous personal talents to advancing the public interest, relentlessly, day and night, month after month, decade after decade."
Green is biased, sure, but it is striking that Nader's voice is absent at a time when many of his issues are finally at the center of the conversation. And yes, it gets to him. "Civically, it feels terrible," Nader told me. But "I don't allow myself personally to have it feel terrible because then I'd become dysfunctional. So I have to create this myth, separating the two. Most people would have just gone away."
I asked if he had ever considered doing just that—passing the superhero stuff on to younger activists with fewer battle scars. "No, no," he said. "Never."
This article appears in the November 2019 issue of Washingtonian.