Jason Reynolds arrives for breakfast at the Busboys and Poets on V Street one winter Saturday, he looks, atypically for a writer, like a model—black Saint Laurent coat and boots, black Rag & Bone jeans, silver 1960 Rolex GMT-Master. (Luxury watches are his new collecting obsession.) On his fourth finger, though, is possibly the cheapest and also most constant item in his wardrobe: a wide silver-colored ring.
Reynolds, now 36, bought it for $8 when he was 15 or 16, at a church flea market in Prince George's County. He says that after he left the stand, the seller told police he'd stolen it. Officers questioned him, a confusing and terrifying turn of events. But one of them recognized him from another part of town—the U Street poetry scene—and said he was no thief. Reynolds doesn't remember being angry, only hugely grateful: "Like, Man, that was close.
"I wear it every day as a reminder that true wealth, by definition, is a good name. And my name at that moment had gotten me out of trouble."
Today Reynolds's name is much more widely known, for popularizing stories not so unlike that one: of what it can be like to grow up young and black in America. His young-adult novels—he has published 13 in the last six years—tackle fraught subjects including violence and deeply troubled families, and they typically star a male teenager in a tough city neighborhood, almost always underestimated or misunderstood.
Until recently, these were perspectives rarely seen in YA fiction. While lucrative, the genre was a historically homogeneous corner of the book world. But Reynolds, who grew up in Oxon Hill, has helped expand the pantheon in spectacular fashion. At 2.5 million copies sold, his books are monster bestsellers. He's a two-time National Book Award finalist and a Newbery honoree who headlines dozens of appearances before teenage audiences every year. He wrote Marvel Comics' first novelization of a non-white Spider-Man—the biracial Miles Morales—which earned him a cameo mention in the most recent Spider-Man movie. His novel Long Way Down, about a young man considering retaliation for his brother's murder, has been optioned by Universal and a producer of The Social Network. And in January, the Library of Congress named him the National Ambassador for Young People's Literature, an honor that will send him on a cross-country tour.
At this rate, Reynolds could likely carry on easily in YA. With a seven-figure book deal, he has already netted accoutrements of a life he never imagined for himself—collections of Langston Hughes letters, programs from James Baldwin plays, a signed first edition of Toni Morrison's Beloved. Instead, he's making something of a professional swerve.
This month, the publisher Little, Brown released his first attempt at nonfiction, and as you might expect, it's neither a reductive nor comfortable tale. Stamped: Racism, Antiracism, and You is an adaptation of the trenchant, highly influential work by American University scholar Ibram X. Kendi. Reynolds's job: to make this history readable for the 11-to-17-year-old set.
How do you distill a 592-page, 400-year account of our country's most painful legacy into something a kid might actually want to read? With a lot of false starts, it turns out. As Reynolds says, "It was the hardest thing I've ever done."
---
To understand how Reynolds became a literary star whom kids flock to see, maybe all you need to know is that when he was their age, he wasn't a reader. He says he didn't finish a book until he was 17—Richard Wright's Black Boy—because the stuff he was exposed to didn't reflect life in his largely African American patch of Washington.
Not that he didn't love language. As a teenager, he started frequenting U Street spoken-word events designed for adults. Friends would come to see him at the now-defunct Bar Nun. "They'd be like, 'Bro, we don't know what you talkin' about, but we here,' " Reynolds says. " 'We are in the building, and we are going to support you.' "
At the University of Maryland, Reynolds self-published two poetry collections. He and a friend, Jason Douglas Griffin, also spent $30,000 printing a coffee-table book, with Reynolds running up debts on the kind of high-limit credit card no longer available to students. An agent was impressed by their nerve, and from there the two Jasons collaborated on a YA book, heavy on visuals, about a white artist and a black writer trying to make it in New York. It tanked. Reynolds wrote and wrote but couldn't sell anything.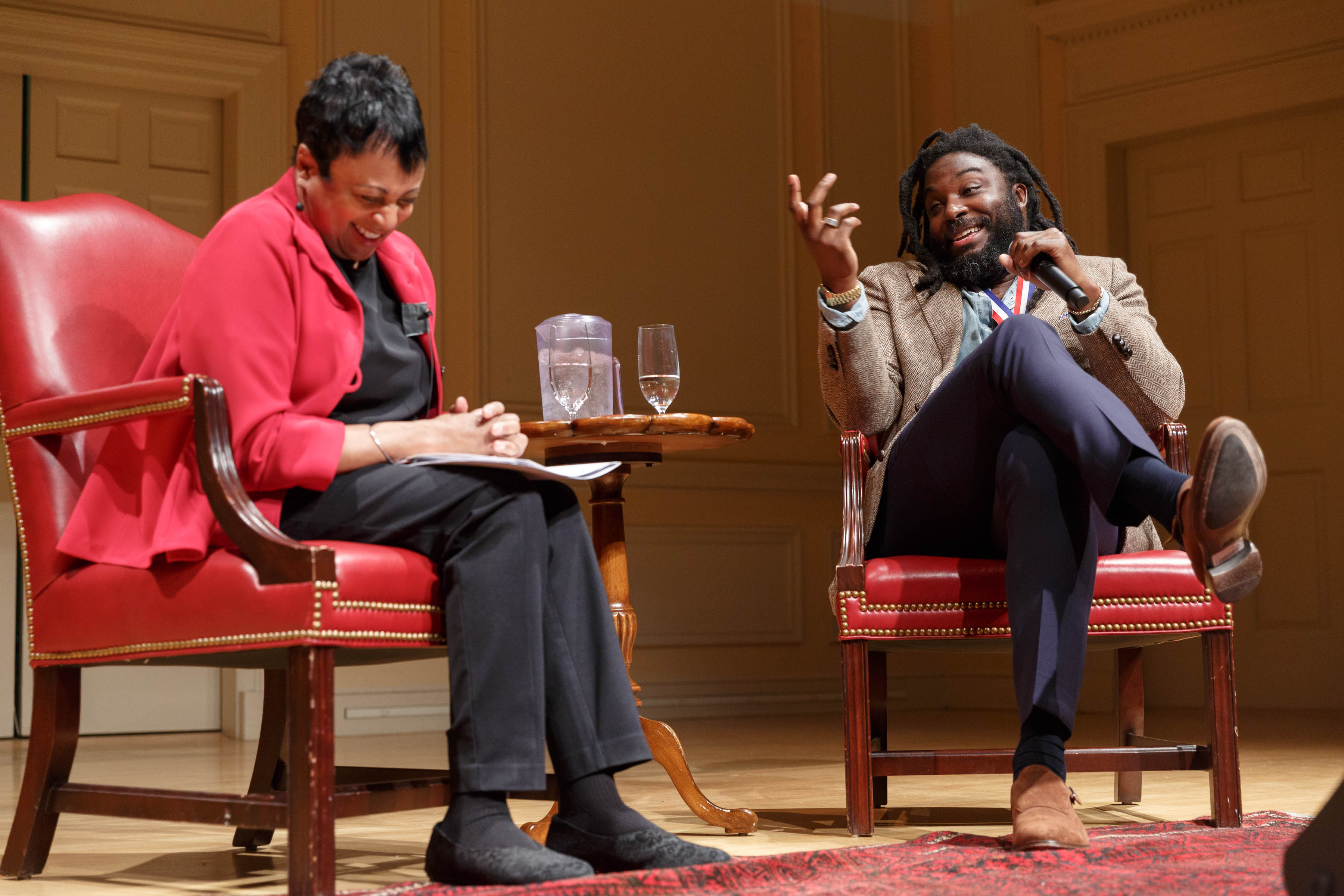 Around 2009, when he was 25, he picked up Are You There God? It's Me, Margaret, wanting to see why everyone in publishing made such a fuss about it. He couldn't relate to a girl getting her period, but he was struck by the honesty of Judy Blume's story. Next up was The Young Landlords by Walter Dean Myers, an early YA giant. The 1979 novel follows young black teens who take over a rundown building in Harlem—and speak like Reynolds's childhood friends. It felt like permission to tell stories he knew.
He began laboring over a gritty novel about an African American teen with a price on his head after a small misunderstanding: When I Was the Greatest, his breakout hit. Partly autobiographical, the story was inspired by Reynolds's older brother, a bruiser stabbed in the face at age 16 who came out of surgery to discover an unexpected bond with his younger, mellower sibling. It showed off what would become other hallmarks of a Reynolds novel: layered subplots yoked to supporting characters with rich backstories, dashes of humor (wherein the word "fartleks"—running jargon—becomes "fart licks"), and symbolism you don't discover until a second or third reading. In his most recent novel, there's a friendship handshake that, if you were to see it, would be sign language for "I can hear you even when the world can't."
Reynolds frequently examines friendships and their sustaining power in the lives of teenagers with broken families. (His parents split up when he was ten, and he was raised mostly by his mother, who worked in insurance. He's still so close to his childhood friends that they now have keys to his house.) "Track," a multi-book series, looks at four kids on an elite track team who become unlikely pals. They hail from varied backgrounds—one is albino, another's neighborhood is "not to be played with," a third is motherless—but all share the experience of running to escape something painful.
The point is to render life in its messy, three-dimensional particulars—and bust stereotypes. "There are so many basketball books. So many good ones. You know, because black kids just wanna play basketball," Reynolds says, tongue in cheek. "I'm not going to ever pretend that part of my mission isn't to push back against the stereotype about what black children are. I mean, we do everything like everybody else, we're children like everybody else's children, but we don't often get the opportunity to be that in media."
In 2017, Reynolds released Long Way Down, perhaps his knottiest plot and most daring stylistic treatment yet. Many of his novels read like a performance on the page, in the rhythmic prose of rap. ("The pancakes I had this morning had turned back into batter. A bitter batter, pitter-pattering up my throat," says one narrator who's nervous.) But Reynolds chose to tell this one entirely in verse.
His novels tackle fraught subjects, including violence, and typically star a male teen in a tough city neighborhood, almost always misunderstood.
The book takes place over 60 seconds, as a young man descends an elevator, meeting ghosts from his past who help him weigh whether to seek revenge for his brother's death. It's a scene from the author's own life: At age 19, Reynolds got a late-night call saying a friend had been brutally murdered. "There was a moment when I realized that I could completely avenge his death—that I had that kind of anger and that kind of pain," he says. He and some buddies met up to debate whether to retaliate. The novel isn't supposed to vilify youth facing a similar calculation, "or even to make any grandiose statement about gun violence," Reynolds explains. "It's more to humanize those young people who are going through that, who have nowhere else to put that pain."
The story spent 77 weeks on the New York Times YA bestseller list. "I was destroyed," wrote a critic in the Los Angeles Review of Books.
Aja Clark, the manager of reading programs for DC libraries, used to teach high-school English and run a book club for African American youth. "I wish we had had his books then," says Clark, who often resorted to helping students analyze rap lyrics. "These boys never had the words to say how it felt walking down the street or experiencing anger and pain. With Mr. Reynolds, it's 'We're seen, we're heard, people can empathize with us.'"
Last year, people checked his books out of the DC libraries 2,028 times—basically, six times a day.
---
Kendi, the American University prof who founded its Antiracist Research & Policy Center, wasn't that into books in high school, either. So when he had the idea to adapt Stamped From the Beginning for a younger audience, he knew he'd need a partner. He had liked Reynolds's "Track" series; the bonds between such different characters "made me think about what's possible for this country," he says. After meeting Reynolds at the 2016 National Book Awards dinner, he felt the author was plenty intellectual for the job. "He's deeply reflective about his past and about what he's trying to do and why."
Reynolds fended off Kendi's requests. He wasn't much of a scholar, he'd say: "I don't know how to study, you know?"
Many months in, he finally relented—in hopes that a reimagined Stamped might change the conversation. With novels, Reynolds says, "you hope to make somebody laugh or cry—that's pretty much the end of it. Ibram's like, 'We have the opportunity to make a thing that could be a sea change. It's bigger than either one of us.' "
But how? Kendi gave Reynolds an outline of what he thought were the most essential stories, but Reynolds struggled. He filed two drafts that were just slightly edited versions of Kendi's tome—each an unwieldy 300 pages.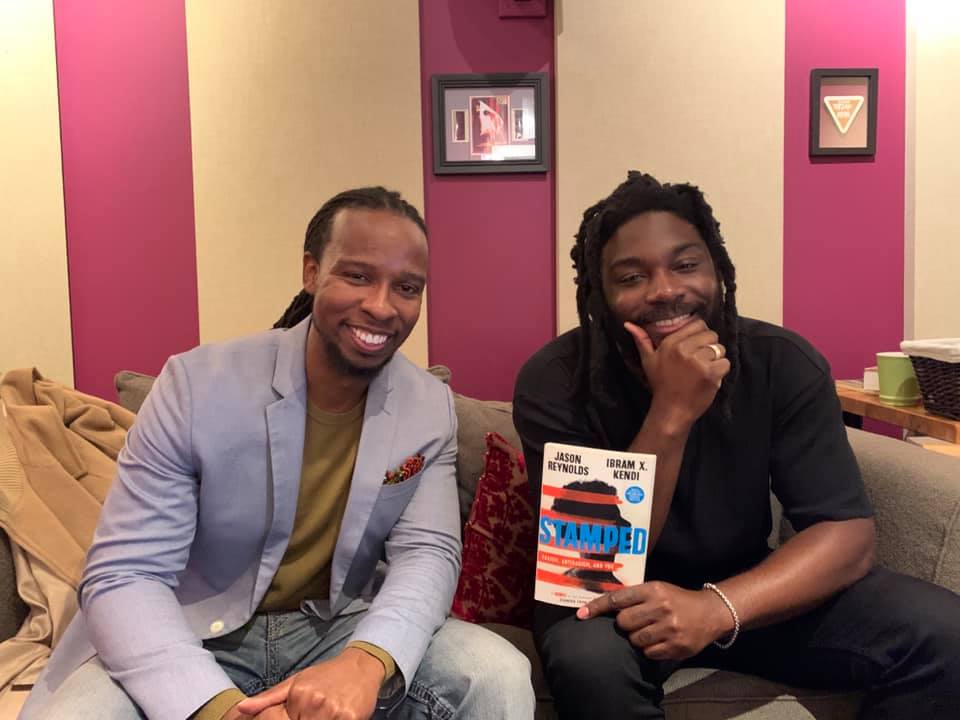 His editor reminded him that they wanted a Jason Reynolds book. Were they sure? "I'm gonna have to ruin what he's done," Reynolds remembers replying—ruin "one of the most important race documents of this century." Still, the directive freed him. Out came a chatty, irreverent story, one that's supposed to read, he says, like it's "from your barber who happens to be a history buff."
The book has the same hyper-personal opening as his novels, a character speaking directly to you—"Before we begin, let's get something straight"—who promises that the story won't feel like a list of dates with an occasional war thrown in. While Kendi's version begins with the Great Hurricane of 1635, Reynolds gets straight to race: "Uh-oh. The R-word. Which for many of us still feels rated R. Or can be matched only with another R word—run. But don't." Instead of a winding account of Gomes Eanes de Zurara, the 15th-century biographer who built up Portuguese Prince Henry's evangelical justification for enslaving Africans, Reynolds just dubs him "World's First Racist"—as if it's a senior-class superlative in one very messed-up yearbook—and explains that he's like a cheerleader who "made sure Prince Henry was looked at as a brilliant quarterback making ingenious plays, and that every touchdown was the mark of a superior player."
With its nicknames (Thomas "Contradiction" Jefferson), wordplay ("When the going gets tough, the tough get racist"), and chatty asides (cockamamie is the "best word ever"), the book shares DNA with Reynolds's fiction. The whole manuscript actually sounds as if it could be performed, down to written-in pauses—"P A U S E"—after particularly abhorrent historical ideas. "I'm probably the most proud of it," Reynolds says.
Yet for all the sweat of completing the book, he won't cop to worrying about its reception. "It's coming out of something that already exists, you know? All I was is the translator of the information."
---
Reynolds sometimes writes at Maketto, the high-concept coffee shop/clothing boutique/restaurant on Northeast DC's H Street, other times at home in nearby Kingman Park. He bought a condo there in 2018, a couple years after moving back from New York to be closer to his mother. He chose the neighborhood where she'd grown up, where his grandmother and cousins had resided for years, and he's been living that head-jerking experience common to Washington natives who leave for a while and return to find a whiter, glossier, bougier city. You can probably see where this story's going: It's all new material.
Reynolds has been working on a novel about a twentysomething who's obsessed with writing eulogies. The setting is a changing city—DC—that's grappling with the relationship between preservation and erasure. But as much as it sounds like a paean to his hometown, the project also scans like a new chance to prove himself: It's his first novel for adults.
"I'm not ever going to pretend that part of my mission isn't to push back against the stereotype about what black children are."
"I don't know when this started, I don't know who said something the first time, but there's so much disparaging stuff that's said about people who write for kids," he tells me. "I choose to write for children because I love children, but my abilities are my abilities." He wants the freedom to write for any audience he pleases—and due respect. "You read To Kill a Mockingbird in eighth grade. You read Of Mice and Men in the seventh grade. You read Lord of the Flies in eighth grade. You call those classics. You think they're brilliant pieces of capital-L literature, but what I make is less than?"
His agent, naturally, is betting otherwise. She recently sent an archivist to town to start cataloguing Reynolds's papers—drafts with his editor's handwritten notations (some 20 takes of Long Way Down alone), pieces of Fabriano paper with possible book titles. It's a weird exercise for someone so young to sell rights to his literary estate—authors often do so late in life—but people have been asking, he says. No decisions have been made yet, but Reynolds is pretty sure his papers won't go to the highest bidder.
"I don't need the money," he says. "It's all about who I'm in conversation with. It's like, where's Baldwin? Where's Judy Blume?"
This article appears in the March 2020 issue of Washingtonian.