From the moment the pandemic hit, we've been obsessing over which of our shared spaces will still work once we emerge from lockdown—and which will need to be updated for a future in which the pandemic is a part of life. We put the question to architects and designers across the region and challenged them to reimagine iconic locales (while pretending money was no object). Their ideas were captivating and provocative—scroll down to see them.
C&O Canal
Floating, Biodegradable Promenades
Team: Landscape Architecture Bureau
"Some of our most beloved outdoor promenades remain too narrow to allow for social distancing. This design envisions a floating promenade that allows Washingtonians to walk on water—expanding the capacity of the canal to safely accommodate larger crowds today and acting as a nutritional foundation for native plants tomorrow.
"The floating promenade units are crafted from an innovative new material: buoyant mycelium foam. This material, made from farm waste and wood chips bound together by a fungal web, has already been used as commercial packaging, as a building material, and as a substrate for floating wetlands planters.
"Organic and biodegradable, the mycelium foam modules can be formed and grown in days, but will begin biodegrading into rich compost in a matter of months. Thus, as the pandemic subsides, and the expanded promenade becomes obsolete, the modular units will begin their second life as a series of slowly decomposing sculptural landscape elements that create nourishing habitat for native plants.
"Ultimately, this proposal seeks to respond to the cyclical nature of Covid-19 and a reduced dependence on global supply chains for materials. It is flexible, rapidly deployable, and multi-lived. It expands our understanding of water as public space and enhances existing grounds at a time when people are craving outdoor space the most."
Back to Top
Georgetown Waterfront
Floating Pop-Up Cafes
Team: Hickok Cole (Rhea Vaflor)
"In 1986, the monumental 1,000,000-square-foot development, the Washington Harbour, made its official public debut, receiving immediate praise for its 'architectural exuberance' by renowned critic, Roger K. Lewis.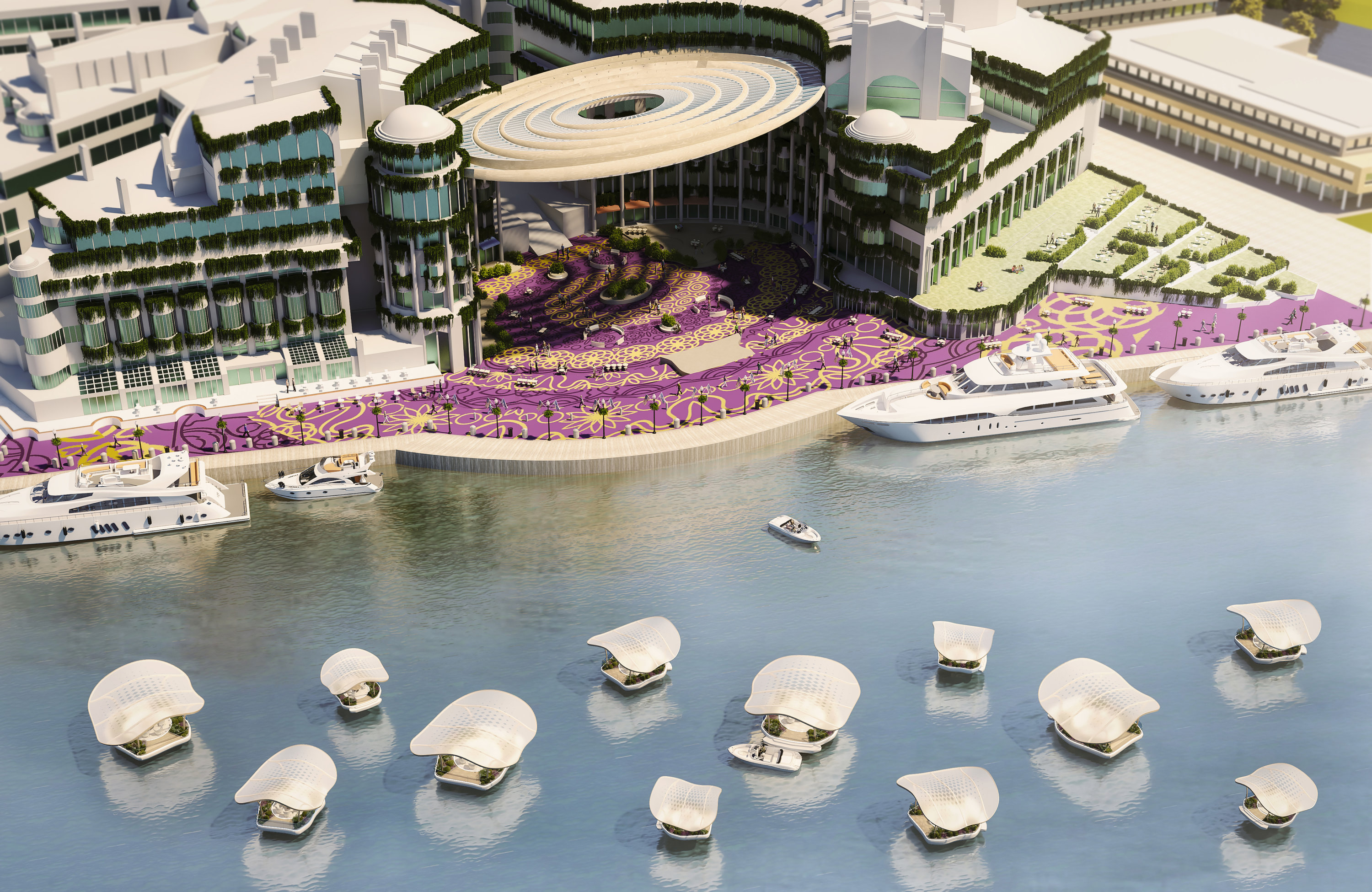 "This proposed renovation of the harbor embraces its post-modernist architectural style and maintains the original structure while modernizing placemaking elements that promote sustainability and accommodate social distancing. A refreshing whitewash of hydrated lime and water transforms the monolithic facade into a beacon of light along the river.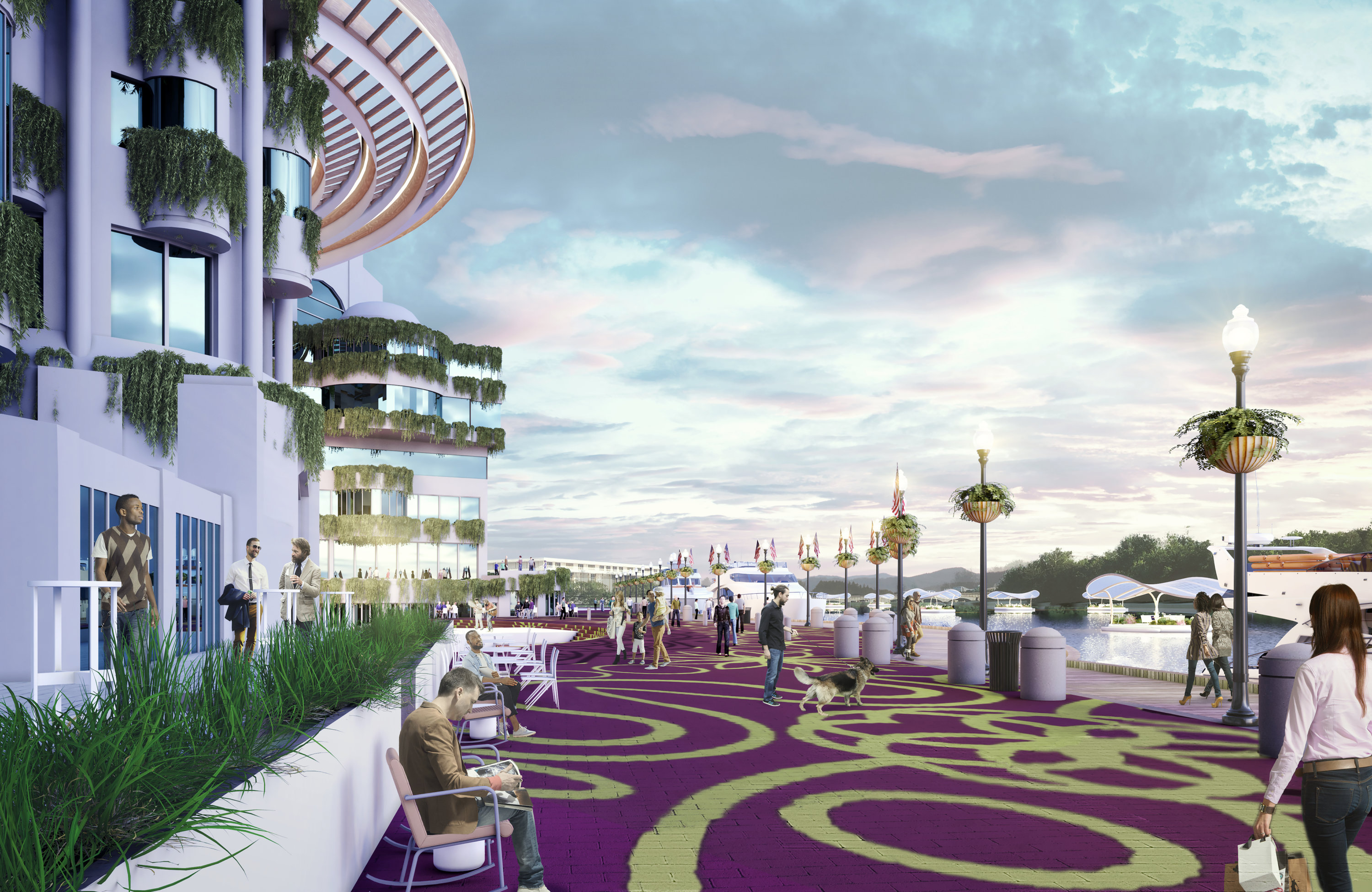 "Transparent solar panels replace the street level skylights and power the promenade's lamps, while the remaining windows are replaced with solar control low-e coated glass. To adapt to social distancing standards, a botanical gold and plum paintscape dances along the walkway, creating a tangible sense of space and visual framework for queuing. As an added benefit, the gold infused linework contains antimicrobial properties.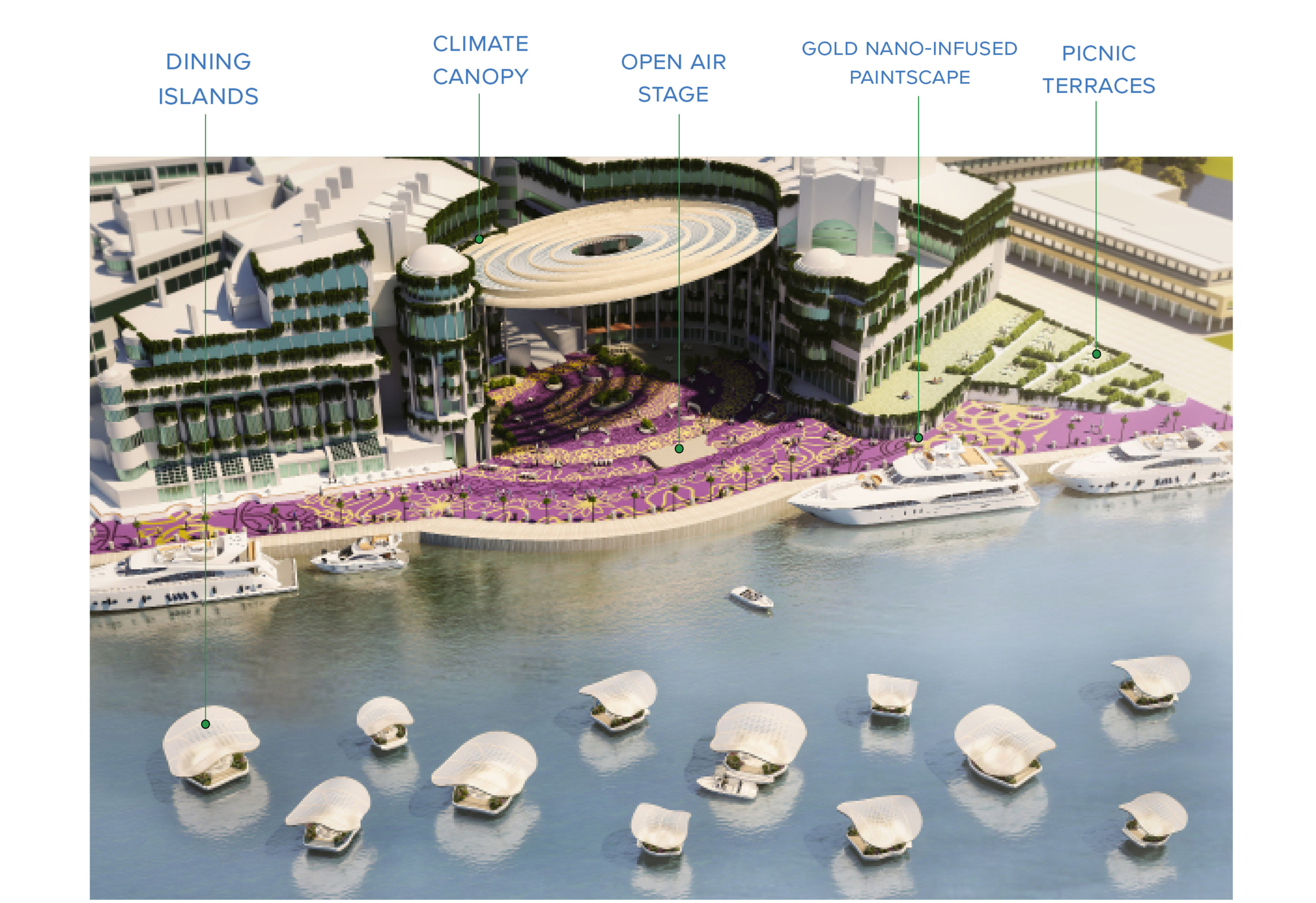 "The harbor's central fountain and tower are removed to activate the pedestrian experience. In its place is a living botanical sculpture. Raised terraces filled with greenery surround the plaza and guide the eye to the canopy above. Made from cross-laminated timber, the canopy provides shade, increased ventilation, and air filtration; it is embedded with a speaker-and-lighting system for events on the new stage below. An acoustical barrier along the canopy shields the surrounding office space and residential units further north to limit disturbances.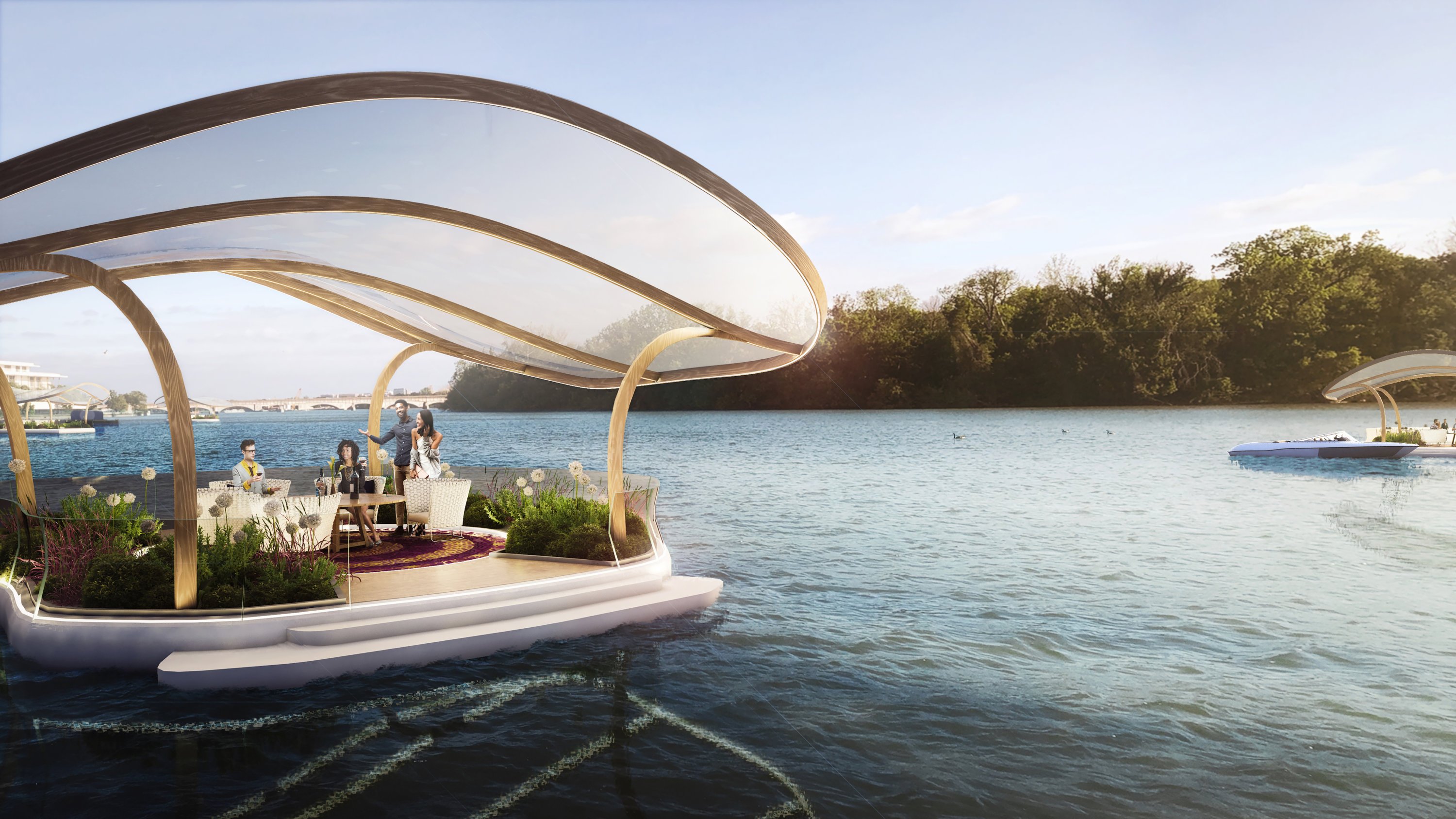 "Along the waterfront, floating lily pads serve as pop-up cafes that support local restaurant owners and rising chefs. To limit contact among guests and employees, autonomous boats bring guests to their tables while drone-operated 'bot boats' deliver food and drink. The lily pads themselves are symbiotic to reinforce the sustainability theme. Plants aboard are irrigated by the river while the lily pads filter the water and remove filthy contaminants, not unlike real lily pads.
"The re-envisioned Washington Harbour would make room for new attractions, invigorating the local economy and securing its place among DC's top destinations for decades to come."
Back to Top
K Street, Northwest
A Downtown Treescape
Team: StudioSmith (Bill Smith)
"Social distancing and stay-at-home orders have forced businesses to become creative regarding how they can still work and operate. Some have realized that large office spaces and expensive building amenities such as lobbies, multiple conference rooms, and endless cubicles are actually not an essential part of doing business, or of fostering a happy, healthy, productive workforce. The question now: Can the need for less space allow for better architecture?
"K Street in downtown Washington has always been somewhat of a concrete and glass canyon. Zoning regulations and high rent requirements have created a monotonous and impersonal aesthetic due to the buildings maximizing their square footage. But with less commuter traffic, less need for large swaths of expensive office space, and less desire for glitzed-up street lobbies, K Street could be transformed into a more civic, mixed use, and green public space while maintaining a unique commercial hub. This proposal opens up the private street lobby spaces and turn them into public pocket parks.
"It introduces more trees, green space, wet drainage gardens and public seating areas. Meandering pedestrian paths flow through the public parks that replace the old road surfaces.
"Besides the new pedestrian paths, a two-way bike lane goes down on the old six-lane street.
"The proposal begins to de-construct the ballooned office buildings and re-creates them into spaces that are mixed use, with ample amounts of outdoor access on multiple levels. Offices, shared amenities, residential condos, food markets, wellness spaces, and childcare centers can now occupy what was once space delegated to just two large firms. Can we, as a society, take what these past few months have taught us and utilize it to improve how we live, work, and create?"
Back to Top
Kennedy Center
A Beehive Theater
Team: WDG Architecture (Renzo Carlin, JP Gonzalez, Heather Summers, Hiro Isogai, Siti Abdul-Rahman)
"We believe that the transcendent human connection that comes from a live performance becomes even more meaningful in the wake of this global crisis. Our vision for the venues within the Kennedy Center represents our attempt to share the immediacy and energy of these world-class spaces in a way that gives off an intuitive air of safety and security for the most vulnerable audience members.
"Keying off the six-foot social-distancing radius, we propose a stacking hexagonal pod system reminiscent of the individual compartments within a beehive. These individual viewing pods allow us to maintain the proscenium layout of the theater and limit the physical modifications to the rear orchestra and balcony seating.
"For the orchestra seating, we propose an innovative flex-bench design, allowing for flexibility within groups and for an increase in capacity as restrictions lessen. These modular cushioned benches will be provided with individual removable arm rests that can be adjusted for party size or individual seating and fashioned with anti-microbial materials to limit the potential spread of infection. Protective perforated acrylic panel may be added as a divider to achieve appropriate social distancing.
"The balcony seating is staggered vertically. Each pod can fit up to four people or be combined to accommodate larger groups. The configuration allows for maximizing social distancing and for maximum visibility to the stage. The space will be fabricated with light colored wood finishes, perforated acrylic guardrail, and anti-microbial fabric panels for its acoustical qualities. These materials are selected for easy maintenance and sanitizing.
"As with all great art, adversity and challenge are the crucible for creation and evolution. We believe that this evolution of the Kennedy Center will be enjoyed by patrons for years to come."
Back to Top
National Mall
A Resort for the People
Team: Kube Architecture
"L'Enfant's plan for the Mall coined it 'a general resort for the people.' However, the Mall often remains unused, especially in the hot summer months, when there is no shade to be found beyond the surrounding trees. In this proposal, the Mall has been transformed into a gathering space for this era of social-distancing, when spending time outdoors is highly recommended.
"A grid of LED lighting spaced six-feet apart defines general social-distancing zones. Umbrellas of different sizes and colors are placed within the grid, defining areas for gatherings of different scales – six-foot umbrellas for individuals or couples, twelve-foot umbrellas for small groups, and 24-foot umbrellas for larger groups. The umbrellas define space while remaining open visually. They also provide shade, allowing the Mall to become the park that it was designed to be. The pathways along the sides of the Mall have been divided into separate six-foot-wide 'lanes' according to the walking/jogging/biking speed of the user.
"Night use will be welcome, as the glow of the grid will maintain social-distancing parameters.
"In the Post- Pandemic Plan, there are fewer umbrellas in the middle, allowing for larger gatherings, including festivals, soccer or kickball games, or rallies/protests once social-distancing requirements are lifted. However, the umbrellas remain around the edges, as shaded seating, picnic, and gathering areas.
"Each umbrella stand contains a built-in bench, with a sanitizer station, and when not in use, the umbrellas fold up and out of the way. They can easily be added or removed, and the grass can be maintained since the umbrellas only require one simple support element. The Mall is brought back to life as a place to be used and enjoyed in the heart of DC."
The Outdoor Office
Team: Perkins and Will (Carl Knutson, Armando Nazario)
"Since our technology has allowed us to be more flexible and mobile, post-Covid-19 we must have productive, healthy workspaces that extend beyond our typical office into our urban environment. To bring workplaces outside, we designed a series of looping pathways that emanate from the business cores of the city to natural spaces such as the National Mall, Rock Creek Park, and the Tidal Basin.
"These elevated pathways will enable a 'nature hike' to be part of our everyday meeting schedule or walk to work. Instead of sitting in a hermetically sealed office building, employees would don their wearable technology and continue work outside. A series of concentric walkable 'productivity pathways' would launch from the business core, collecting workers on specific timed pathways or from and to Metro stations. The 30-minute meeting walk would take you on a mile and a half walk around the city, whereas the hour-long walk would take you further afield.
"We imagine the pathways to be free from vehicular traffic and controlled for acoustics to enhance productivity. Technology would be prevalent along the path, providing the ability to stop, take notes, and charge up to a dedicated 5G signal and broadband. Along the path would be both exterior and interior seating, imagined as a series of distributed coworking pavilions.
"The framework not only imagines an office environment that is much more decentralized but encourages a healthy and an active life-work balance throughout the day and allows for relaxed social distancing. Post Covid-19, once there is a vaccine and we can gather more safely once again, these paths and pavilions would be wonderful connective amenities that will bring Washingtonians back together."
An Undulating Landscape
Team: University of Maryland School of Architecture, Planning & Preservation (Ken Filler, lecturer)
"The rhetoric around public space planning has largely been around limiting large groups of people gathering in one place. The discourse often imagines this 'limit' as a shape or volume that can be easily accounted for: a restaurant, a concert hall, a sports arena. Yet managing human-to-human proximity from a linear or circulatory approach could be just as crucial due to the number of close proximity encounters that occur on a typical sidewalk or public pathway.
"This project is sited on the 42-foot-wide earthen paths that line the central gathering space of the Mall—an unprogrammed area that is really a space in and of itself. The proposal challenges that notion of openness by proposing a series of surgical pathways, alternating between linear landscape features and pedestrian paths. Each pedestrian path is separated by six feet of rolling landscape, which undulates vertically to create moments of refuge and upheaval. Each path rises or falls one foot over a 20-foot span, maintaining universal accessibility, giving the user of the space a continually evolving perspective of the surrounding monuments and museums.
"Each path is one-way and has alternating overhead horizontal members that create varying conditions of light and shadow as one progresses down their path. This strategy could be implemented in one section of the Mall as an installation, but its full realization would be the continuation of these paths along the entire length of the Mall.
"If society does want to maintain social distancing wherever possible, then creating real, physical barriers between users circulating in public space will probably be a necessity. If we as designers can manage those separations with integrated landscape and unique pedestrian experiences, then we can start to transition away from surface level treatments like fencing and toward a more holistic approach to staying six feet apart.
Back to Top
Dupont Circle
Urban Living Rooms
Team: Architecture, Incorporated (Nicole Hinkle, Blake Hoffman)
"Dupont Circle functions as a living room for the neighborhood, a gathering place for activists, and a space of respite for all residents. The pandemic has touched almost every aspect of our lives, but has also afforded us the opportunity to pause and rethink aspects of the urban fabric in response. Starting at the macro level, we examined points of social concentration along the radials of L'Enfant's plan.
"From there, we envision a series of urban 'living rooms' placed at a low density around the green space of the circle, offering residents a safe space to gather with friends and family. We have all found comfort in or own living rooms over the past several months, but crave genuine experiences and social interactions outside the confines of our homes and apartments.
"The living room, made of carbon fiber, has a service zone—an entryway vestibule with UV lights and/or a disinfecting spray—as well as a social zone, where local bars and restaurants can deliver and set up food and drinks in an interstitial counter space with UV light.
"Beyond the physical structures that would dot the circle, there is an opportunity to further program the green space to give residents and visitors a chance to share stories, celebrate the contributions of our essential workers, and safely gather in an urban space that contributes to our physical and mental well-being."
Back to Top
Reflecting Pool
A National Pandemic Memorial
Team: University of Maryland School of Architecture, Planning & Preservation (Douglas Crawford, Lecturer, and founder, Douglas Crawford Architect; Daquan Proctor '20; Madison Hamer '21)
"Since its founding, the United States and indigenous peoples have experienced an incredible loss of human life due to pandemics. The staggering and continually rising toll roughly equates to the combined number of American lives lost in all our nation's wars and military conflicts. As we continue to fight Covid-19, we must not forget the challenges we have overcome during past pandemics and those that we will inevitably face in the future.
"Visitors to the National Pandemic Memorial approach from either of the walkways bounding the north and south sides of the Reflecting Pool. The walkways gradually slope down to the level of the memorial, conveying to visitors the negative impact on society and our personal wellbeing during pandemics.
"The memorial is composed of 23 granite monoliths, each representing one of the chromosome pairs that make up the human genome. The monoliths rise above the waterline of the Reflecting Pool, and some extend below into the subterranean memorial. The space is approximately 167 feet long by 167 feet wide, matching the width of the Reflecting Pool above.
"The monoliths that extend into the memorial space are each etched with different representations of the human genome, signifying the biological connection we have to the causes of pandemics. Water cascades through six-foot-wide light wells next to each monolith, symbolic of the measurement associated with social distancing. Light and water also filter in through two curved openings that surround the monoliths, filling narrow raised pools known as cleansing fountains. When experienced from below, the light is symbolic of the hope Americans maintain while in quarantine.
"At night, from the steps of the Lincoln Memorial, the soft glow of light can be seen rising from the Pandemic Memorial, a symbolic reminder of those we have lost during pandemics and the challenges we have overcome."
Bubble Galleries
Team: University of Maryland School of Architecture, Planning & Preservation (Julia Tingle '20, Alex Hall '20)
"The Lincoln Memorial Reflecting Pool is a space greeted by both tourists and locals, and has been a place of reflection on our country's history and future. A space like this provides an artistic opportunity to gather at respectful distances and work together to stay hopeful, inspired, and educated.
"This project—a collection of ephemeral public art galleries—is entitled 'Spheres of Hope.' Floating, translucent 'bubbles' invite the public into pop-up creative spaces for displaying the collective experience of the public. As one steps into the glowing sphere, worries of the pandemic are washed away. Anyone can artistically represent their experience and leave their artwork inside for others to explore. The colors of the artwork inside the domes would glow vibrantly and reflect on the water.
"One-way entrances and exits will be via separate doors, so users avoid contact with each other. Just as Covid-19 has highlighted the importance of sanitization, the domes will be cleaned daily and the art cleared out weekly. The bubbles also personify the act of social distancing by floating in a socially distanced grid in the Reflecting Pool. As people start to emerge from the strict guidelines, we hope that their experiences throughout the pandemic will be acknowledged and their strength showcased.""
Back to Top
Dulles Airport
Seamless Travel
Team: Gensler (Ty Osbaugh, Charles Morley)
"Dulles's identity is the romantic notion of whisking travelers from curb to aircraft in style. The iconic headhouse welcomed fliers with a flourish and swept them to the mobile lounges, for transit to the aircraft. Technology and growth at Dulles fundamentally changed this sequence. Like most airports, the Dulles experience today is an exhausting sequence of hurrying to wait. We can seize this moment to move back from a crowded communal experience to a personal one, restoring Dulles's original identity.
"Step one is relocating security and health screening, using biometrics at Dulles's entrance and the plane gate. Screening at the front door provides a completely secure facility, handing the entire interior experience back to the guests. Screening at the gate grants access to board. These changes free travelers from lines and crowding and allow the space to be used more liberally. Step two is using technology for identification and screening, including autonomous vehicles that check in and screen fliers en route to Dulles and drop checked bags at a designated area.
"Step three is the repurposing of the headhouse: It's now the primary waiting lounge, enhanced with green space and more room to circulate, since there are no more lines to wait in.
"At departure time, passengers go to the gates in individual pods. Once again, the Dulles experience is an individual journey with minimized walking, all under the soaring roof of an architectural masterpiece. Dulles lets every passenger know: 'This is all about you.' "
Back to Top
RFK Stadium
A Mini City
Team: University of Maryland School of Architecture, Planning & Preservation (Paula Jarrett Nasta '22, Hannah Cameron '24, Nohely Alvarez '23, Frank Zhenpeng Zou '21, Brittany Wong '22)
"As future planners, we see how the pandemic has magnified disparities among racial and ethnic groups in the number of cases, revealing inequities in our society. It also reveals the importance of outside spaces for mental and physical well-being. RFK Stadium currently sits on 190 acres of underutilized land. We would redesign and repurpose it for inclusivity.
"We imagine the Stadium offering essential services and amenities including a medical center, recreational spaces, and as this area of eastern D.C. is a known food desert, a grocery store to serve the local neighborhood.
"The stadium will feature affordable apartments by utilizing Low Income Housing Tax Credits (LIHTC). Other spaces within the stadium will offer rentable space for vendors. This redesigned interior will keep social distancing parameters in mind with spacious, tiered units and limited-capacity restrictions. We imagine the field as a large green space that holds an amphitheater, native plants, seating area for small gatherings, and a community garden.
"The landscape surrounding the stadium incorporates various design elements such as wetland and enhanced green space to activate the Anacostia Riverfront. Lastly, the close proximity to Metro, bus routes, and the DC Street Car extension presents an opportunity to encourage multi-modal transit and embrace a Complete Streets mentality. We would enhance walkability to nearby transit stops, connect bike paths to the Anacostia Trail System, and discourage vehicular traffic by enforcing one-way streets and limiting parking."
This article appears in the August 2020 issue of Washingtonian.