Everybody on the Biden campaign remembers the day that TJ Ducklo got back on the trail. It was the day before the Democratic primary debate in Iowa last January, just as reports were surfacing about people in Wuhan, China, falling ill with a mysterious pneumonia—essentially, a political lifetime ago. Ducklo was in Des Moines, embracing fellow staffers and chatting up reporters who hadn't seen him in weeks. He looked good, everyone agreed. A little thin. But good.
Ducklo is the national press secretary and a top spokesperson for Joe Biden. If Biden becomes the 46th President, there's a decent chance Ducklo will figure in the White House press shop, occupying one of the most powerful perches in Washington. Thirty-two years old and trim, he wears tortoiseshell glasses and is partial to blazers with dress shirts, no tie. If you ran into him at happy hour, he'd blend right into the sea of young media operatives populating the city, a disciplined press aide who aims never to become the story himself. But for one significant difference: A month before the Iowa debate, Ducklo was diagnosed with stage 4 lung cancer. By the time doctors discovered it, the disease had spread to his liver, his gallbladder, and his bones.
It was unfathomable news for someone who'd never smoked a cigarette in his life, let alone an ambitious young operative at the center of what felt like the most consequential national election in a generation. The day that Ducklo's boss, Biden communications director Kate Bedingfield, broke the news to the staff, aides broke down crying in the campaign's headquarters. "Even people who weren't close to him were really rocked by it," says Matt Hill, one of Ducklo's deputies.
Ducklo had to step away from his job for a time while he started treatment. Now, walking into the spin room in Iowa, he was pumped to be back in the action. What few people realized, though, was that Ducklo feared this might be his last appearance on the campaign trail. In a week's time, he would return to the hospital for a CT scan, the first look at whether the cancer was responding to treatment or still spreading. You wouldn't have known it, watching him work the reporters after the debate wrapped, but the anticipation was consuming him. "I was an anxious mess," he says.
"Stage 4 cancer is scary as f—."
---
Biden-Harris is Ducklo's first campaign. In undergrad at George Washington University, he worked as a personal assistant to Mary Matalin and James Carville. After school, he flacked for a series of media companies, including NBC News. When the campaign was staffing up last year, Bedingfield, an alum of Biden's VP office who had previously overseen Ducklo in the communications office at the Motion Picture Association, thought his relentlessness would be an asset. Running press has always been one of the more grueling roles in a presidential race, but in the age of Trump—and Twitter attacks at all hours—a skilled press secretary has to be on at all times. Ducklo is up before Morning Joe and still up after Brian Williams finishes his show. "He's the person on our Signal chains at 12:15 at night, saying, 'I just saw so-and-so say this on CNN,' " says Bedingfield. " 'Should we think about how we respond?' "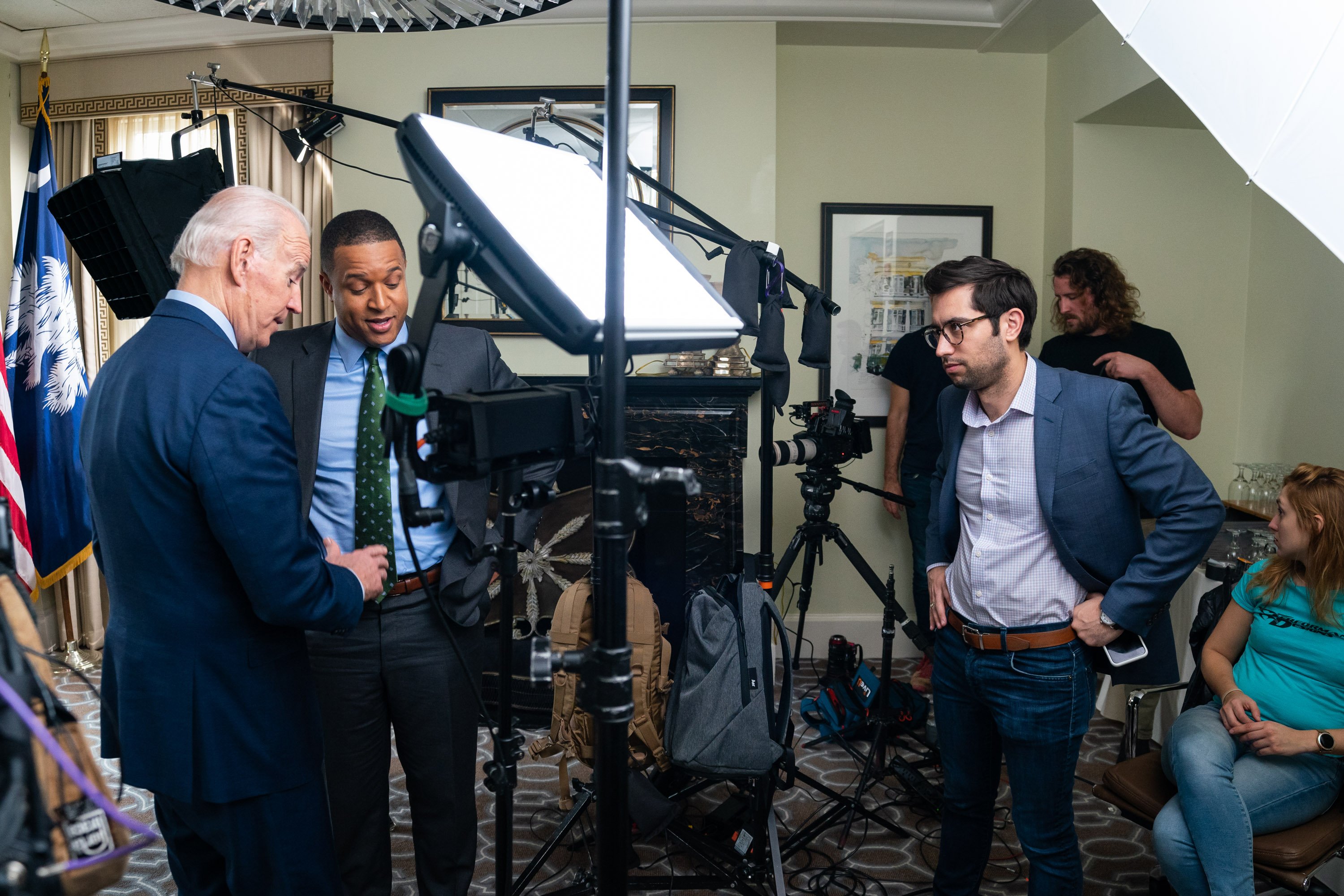 Among reporters, Ducklo is considered an assertive defender of his boss as well as an honest broker. He'll do what he can to spin a story in Biden's direction, but he won't feed you complete BS. While he isn't a hotheaded screamer, he's aggressive at arguing his points—as Politico's Marc Caputo puts it, he's "certainly not shy about telling you that he thinks your story is shit."
Amid the 24-7 grind of the race, it was easy to push aside the pesky health issues that Ducklo began to experience in the fall of 2019. First, he developed a cough that never went away. He had night sweats, he lost weight. Sometimes when he went out for drinks with other staffers, he felt drained and had to split early. The week before the fifth debate of primary season, he spiked a fever and canceled plans to attend a friend's wedding. But then he packed his bags and flew to Atlanta for the debate.
As he was sitting in the war room that night, he noticed an unusual sensation in his throat: When he coughed, he tasted blood. He told himself it was nothing to worry about. Probably just an odd reaction to the throat lozenges he was taking. Back home in Philadelphia, where he lived near the campaign headquarters, he went to urgent care and had a chest x-ray, just in case. They told him it was clean. But a few days later, he noticed a small bump on the left side of his thigh. It wasn't a good sign—a year earlier, his mother had been diagnosed with a cancerous lipoma.
"You just lay around and think about dying."
Ducklo flew to his parents' home in Nashville for an MRI. Though doctors quickly concluded the lipoma was harmless, they explained that his MRI had identified some spots on his pelvis. They might indicate a minor infection, but it could also be lymphoma, or something worse, lung cancer. "And I just remember that being the real moment that—'Oh, this is really serious,' " Ducklo says. All told, it took about a week of tests to determine the diagnosis. As he waited, Ducklo kept Bedingfield apprised, but otherwise he went dark. "I didn't want to talk to anybody. I didn't want to do anything," he says. "You just lay around and think about dying." The anticipation was so cruel that when doctors finally confirmed his stage 4 lung cancer, Ducklo felt some amount of relief. "At least we know what this is," he says, "and we can start figuring out how we are going to fight it."
The news landed hard on Bedingfield. In addition to being Ducklo's boss, she's a close friend. "It'll sound silly," she says. "I was scared for his health. I was also just incredibly sad for him because I know how much he loves the work and how much energy and joy he takes from the campaign. So the idea that he might not be able to see it through to the finish line was actually really devastating."
During a break in preparations for the debate in Los Angeles, Bedingfield pulled Biden aside and told him about Ducklo's diagnosis. Biden and Ducklo aren't personally close. But the Vice President has an intimate connection to the disease, having become a high-profile champion of cancer research after his son Beau died of brain cancer in 2015. Biden asked if he could call Ducklo's mother, so Bedingfield dialed the number and handed him the phone. When the call came in, she and her husband were at the doctor's office with Ducklo, waiting for physicians to explain his options.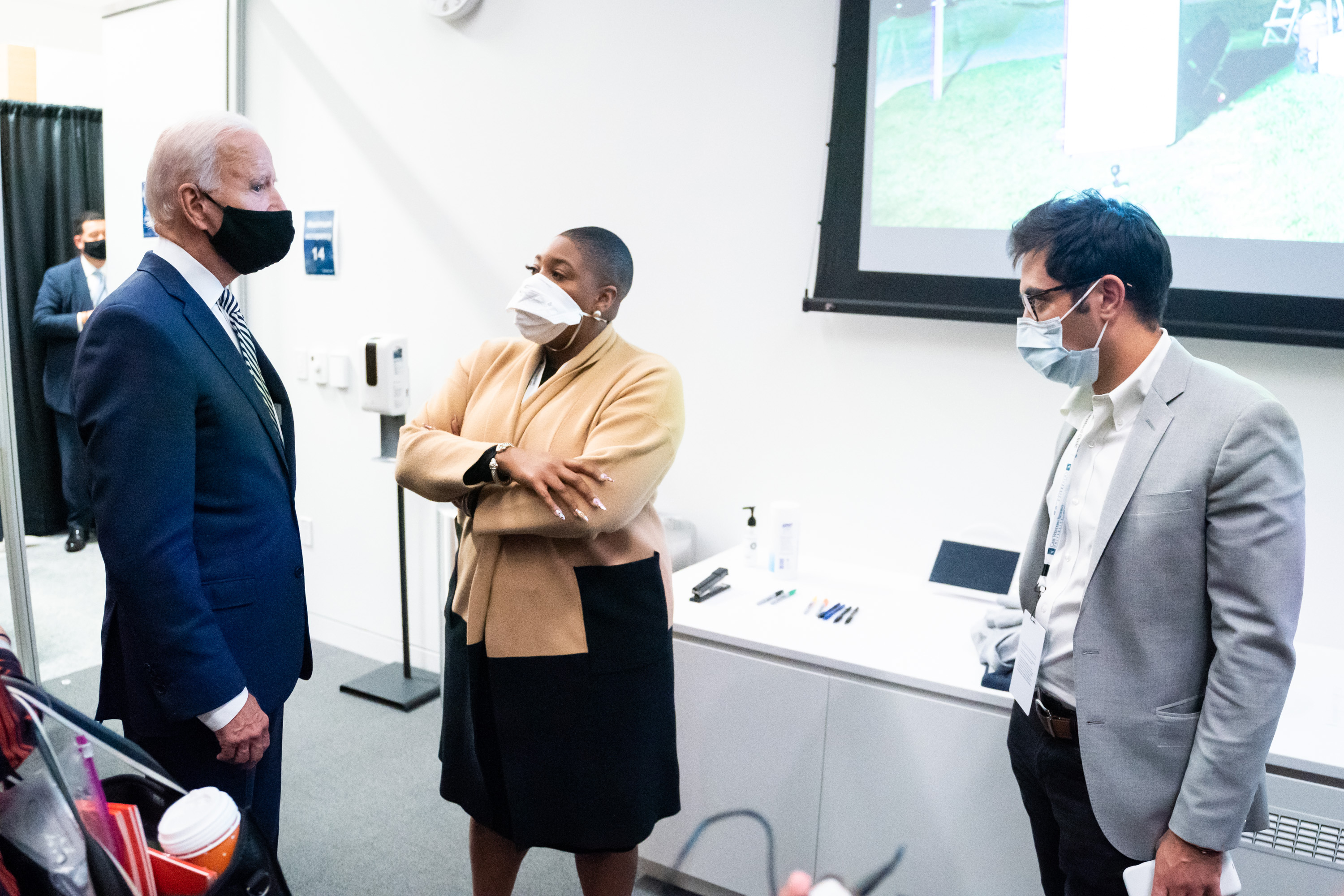 ---
Over the next several weeks, care packages from Biden headquarters kept arriving at the Ducklo home. John Heilemann, the political journalist, who had worked with Ducklo on the Showtime docuseries The Circus, connected him with David Agus, a cancer specialist at the University of Southern California, and Agus served as a second set of eyes on his care.
While the prognosis for stage 4 lung cancer is daunting, Ducklo's doctors said there was reason for optimism. Recent breakthroughs have revolutionized the treatment of lung cancer, they explained, allowing patients with advanced diagnoses to live for years, even decades longer than they might otherwise be able to. And late last year, Ducklo got some encouraging news. Through genetic testing, doctors discovered that he had a form of lung cancer that could be treated by "targeted" chemotherapy, which attacks specific genes in cancer cells. The treatment wouldn't cure him. But with luck, it could drive the cancer into remission and allow Ducklo to go on with his life while managing the cancer as a chronic disease. He felt his outlook shift. "I don't know if 'natural' is the right word, but it is a more comfortable place for me to be in, to be fighting back," he says. "Like, I am going to fight. And it's not going to f— me up, I'm going to f— it up."
In a way, the treatment is preferable to traditional chemo—instead of going into a cancer center for regular IV infusions, Ducklo could stay at his parents' and take a handful of pills each day. Still, the medication came with unpleasant side effects. Ducklo's skin broke out in rashes, and his energy flagged. During the early weeks, he had to retreat from work. After devoting the previous nine months of his life to the campaign, watching the race on cable news and Twitter was brutal. Gradually, and somewhat to the consternation of his colleagues, though, he began returning e-mails, responding to inquiries from reporters, and dialing back in to the campaign's morning calls. "We were like, 'Get off this phone! What are you doing?' " recalls Symone Sanders, a senior adviser to the campaign.
But Andrew Bates, the campaign's director of rapid response and a close friend of Ducklo's, remembers thinking that his morale was improving. "And just constitutionally, it seemed like it was helping. You would notice it in his tone on the phone."
At that point, Biden's standing was fading. Polls showed him struggling for support in the Iowa caucuses, the first test of the primary. Ducklo wanted to get back on the stump. "I quit my job in New York City. I moved to Philadelphia because I believed in Joe Biden, believed he could beat Donald Trump, and wanted to help make him President," he says. "And like, you're all in. It's this big life choice. What am I going to do, sit in Nashville and just watch it happen on Twitter? No, I'm not."
He got himself to Iowa for the debate, as a test. While there, he was hyper-aware of his body, obsessing over every wave of fatigue, every tweak in his chest. "Something happens," he says, "and I'm like, 'Is this a sign cancer is growing? Or is it just a side effect of the medicine?' Because the two overlap so much." After the debate, Biden pulled Ducklo aside to ask about his doctors and offer encouragement.
A week or so later, Ducklo was back in Nashville for the CT scan that would dictate whether he could jump back into the race full-time or not. When the doctor came in with the results, he got right to the point. "It's good," he said. The mass in Ducklo's lung, the doctor explained, had shrunk by 60 to 70 percent. The lymph nodes in his chest, which had swelled in response to the cancer's initial growth, were back to their normal size. And there was no evidence that the cancer had spread. Ducklo was overcome. "Finally," he thought, "some good news." Days later, he was back at campaign headquarters in Philadelphia before heading off to Iowa, where Biden finished in a humiliating fourth place.
---
Ducklo's timing was either terrible or maybe the very plucked-from-a-Sorkin-plot development that the campaign needed. In the days after the loss, the mood at headquarters was dark. Sensing they needed a jolt, Symone Sanders marched into the office, gathered the staff, and pleaded with everyone to snap out of it. Look at Ducklo! He'd been pulling all-nighters in Iowa despite his cancer. "If TJ can get up every single day and continue to go to work and continue to give it 110 percent," she said, "that's the least the rest of you could do." The room broke into applause.
Ducklo was already in New Hampshire, where Biden's chances looked even bleaker than they'd been in Iowa. The night the caucuses ended, he'd hopped a 2 am flight to the Granite State and gotten to work calling reporters' attention to the campaign's new video flogging Pete Buttigieg, according to the Atlantic. Members of the press were glad that Ducklo was healthy enough to travel again. But for some of the more hardened beat reporters on the trail, the fact that Ducklo had hustled to New Hampshire at all was surprising. Why had he even bothered? "What does a guy with stage 4 lung cancer," remembers the Atlantic's Edward-Isaac Dovere, "need to be working reporters on a Saturday at a low-attended event for a presidential candidate who had just come in fourth in Iowa and was probably going to do as badly [in New Hampshire]?" (Biden finished an embarrassing fifth.)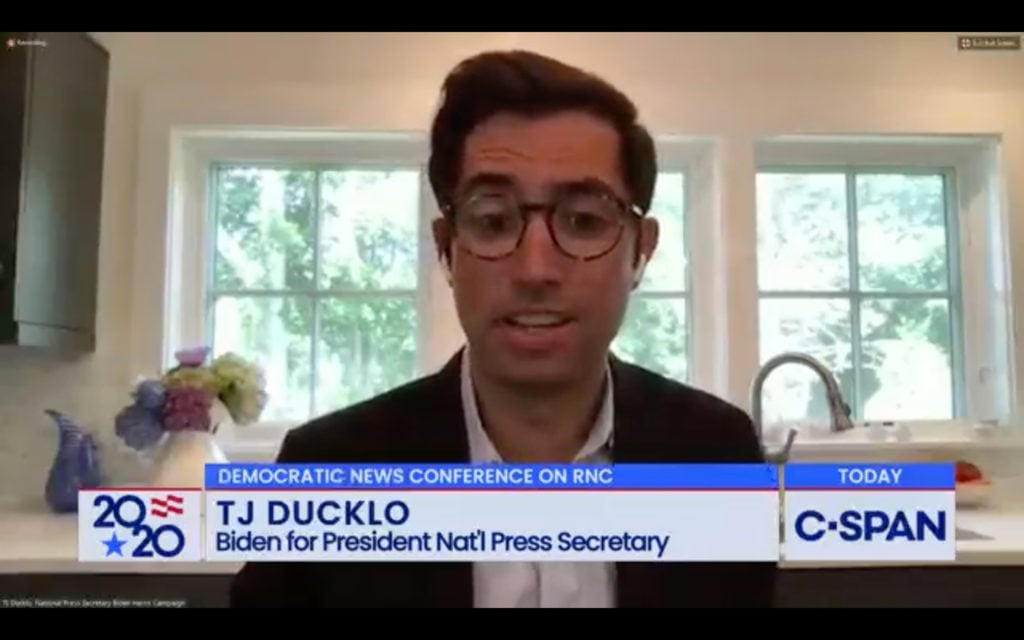 Within a month, everything had changed, as one by one Biden's challengers dropped out and the Vice President pulled off a string of victories. Another month in and Bernie Sanders ended his bid, too. By then, Covid had consumed the nation, and like everyone else, Biden's staffers were working from home. Ducklo moved back to Philly for a time, then to an Airbnb in DC, strategizing with colleagues over Zoom.
Because of his high-profile position in the campaign, Ducklo's cancer has become well known in the world of political media, and he's often asked about his health. Before a recent interview with a TV station in North Carolina, the reporter, whom he'd never met before, asked how he was feeling. "It's not something I love to talk about," Ducklo says, "but it means a lot when people ask."
Some ten months after his diagnosis, Ducklo feels pretty good. The medication has proven effective, the side effects manageable. But every two months, he has to go in for his regular CT scan, which tells him whether the treatment is still working. "It's all on the line. And my own—I'm not saying that my own health is more or less important, but I don't want to live in a world where Donald Trump's the President for four more years. Like, even healthy or not healthy, I don't want that to be where I live. I don't want that to be where my family and my friends have to live," he says. "So it's just—I guess the mortality of it all, and thinking about things in that way, just underscores how important this is. And it makes me feel like I'm in the right place doing the right thing at this moment."
This article appears in the November 2020 issue of Washingtonian.