Ed comes from a long line of farmers. The 40-year-old Midwest native knows this because he just tracked down his family tree, and yep, a lotta agriculture in that DNA. Which makes it kind of funny, then, that he ended up a city guy, living in Dupont Circle and walking to the 9:30 Club and stopping by Three Fifty Bakery for his weekly oat-milk latte. (Just imagine what Ed's of-the-land forefathers would think about an oat-milk latte.)
"I thought I was going to be a city person probably forever," says Ed. A few years ago, though, he started getting into trail running and discovering where his food came from, and then he and his wife stopped vacationing in cities and started renting Airbnbs in the country, and suddenly he, too, had dreams of owning his own farm one day. Emphasis on "one day"—like ten years down the road, a goal to shoot for as the couple moved through their lives in Washington.
Then the pandemic arrived, the death toll spiking along with Ed's stress levels. Suddenly, their one-bedroom, 700-square-foot condo felt very small for two humans and a 70-pound Labrador. This past summer, Ed would return from his sweaty, masked strolls through the city and immediately get locked into Twitter, his anxiety mounting further as he doomscrolled to the thwack of helicopters above.
What if, Ed and Mrs. Ed wondered, their ten-year plan became a this-year plan? What if they left DC? What if they bought the farm?
In October, they went for it. Ed still has his DC business, but he'll soon be running it from a three-acre spread off a two-lane road in Round Hill, Virginia. (Ed, by the way, has a different name but wanted to go by Ed because his marketing firm represents arts groups and nonprofits that might not appreciate his expatriation from the town they serve.) The fixer-upper has three bedrooms and two baths, and the couple may turn one of the outbuildings into an Airbnb for city folk to roam among their future goats. The Appalachian Trail is minutes away, and the Eds can take breaks from their laptops to sit in the yard and watch the neighbor's horses.
Goodbye, cozy condo. Goodbye, public transportation. Goodbye, neighborhood coffee strolls. On these here three acres, you can get an oat-milk latte only if you raise and milk an oat yourself.
---
Let us begin with what this story is not: another fear-mongering argument that cities are dead, residents abandoning them en masse. DC is far from dead—just walk through Meridian Hill or Rock Creek Park on a nice day. See? Not dead. In fact, owing in part to low interest rates and low supply, buyers have been storming the real-estate market, even in otherwise slow times: In August, DC saw a 38-percent increase in pending home sales compared with 2019, according to data from MarketStats by ShowingTime.
There is, though, a subset of residents who are opting to leave because of the pandemic—people mostly with the privilege of a white-collar paycheck and flexibility. This type of migration from a transient area like ours isn't new—in fact, as of mid-2019, the region saw six years of more people leaving than moving in, says Jeannette Chapman, director of George Mason University's Stephen S. Fuller Institute, which studies the local economy. But the pandemic has allowed a large swath of the area's workers to clock in remotely. As of August, 56 percent of Washington households had a member teleworking, says Chapman, and a Greater Washington Partnership survey found that a majority of the region's offices that plan to reopen likely won't have most people return until next summer.
What is new is that some DC people who never expected to not be DC people—because of a job or school ties or a mortgage—have decided to hang up the title of DC People. They're moving back to hometowns, driving cross-country, or resettling in a whole new country, period.
Allow me to introduce Sarah Dachos, 49, who works part-time in the environmental field. She, her husband, and their five- and one-year-old sons recently peaced out to a small Dutch city with a big Dutch name: 's-Hertogenbosch. Dachos's husband is from the Netherlands, but, she says, "if it hadn't been for Covid, we wouldn't be here."
This spring, like so many other people, the duo was trying to monitor the toddling baby, strong-arm the five-year-old to pleasegodplease listen to his Zoom classes, and, you know, actually do some work themselves. Dachos's husband had to take a weekly sick day from his World Wildlife Fund job to make up for the hours he was losing to the at-home tempest. The thought of doing it all over again in the fall daunted them, so they rented out their Northeast DC townhouse to an evacuated diplomat . . . and dipped.
Trigger warning for those at home still weathering the storm: The Dutch life has been good. Until recently, the Netherlands was imposing few restrictions, and Dachos's children have been able to leave the house. Each day, she hops onto her cute Dutch bike and drops them at their cute Dutch school, after which she and her husband work interruption-free. In Washington, they hardly felt comfortable enough to open the front door. In 's-Hertogenbosch, they've already gone to the movies. "I barely told anyone I was doing this because I felt so bad, you know?" Dachos says. "I felt guilty. I just felt like there's a lot of privilege that I have that I'm able to come here."
Allison Cox will be escaping across the Atlantic, too. The 24-year-old lives in Arlington, works the front desk at a coworking space, and recently got back together with her college boyfriend, who lives in Stockholm. They had a reunion planned for DC in July, but—"as we all know, that trip had to get canceled." Faced with the prospect of border closures keeping them more star-crossed than lovers, and undaunted by Sweden's lax Covid policies, Cox decided she'd just . . . move to Stockholm? "It sounds kind of crazy," says Cox, who has never been to Sweden. "[But] I was like, 'Absolutely. That would be the adventure of a lifetime.' "
Oh, yeah, plot twist: The pair hasn't been in the same room since they broke up in 2015. "We kind of had to speed up that process of figuring out what we wanted to do, because we weren't going to see each other," says Cox of going from zero to Sweden. (She's able to migrate because she has a Swedish partner. Now it's just a matter of waiting for her interview at the Swedish Embassy.)
"I totally just sobbed and was like, I hate this so much."
Obviously, Cox wants to see her Swedish bae, but life in a country where a new day doesn't bring head-spinning headlines sounds pretty awesome, too. For Dachos, already living the European dream, the escape from nonstop reports of political chaos has been a balm. "I'm not inundated with the news constantly," she says. "NPR is off, timing-wise. I'm not going to stay up till midnight to listen to All Things Considered."
Kevin Perez-Allen was hoping earlier this fall that it wouldn't come to that—but scheming in case it did. "It" being an election win for President Trump and thus a move for him from Capitol Hill to Canada. The 37-year-old works for a Latino-advocacy organization, and while he has long considered moving abroad under a second Trump presidency, the administration's pandemic response sealed the deal. "It makes me so angry that so many people have died and they didn't need to, especially in the Latino community," he says.
Skilled workers can apply for permanent residence in Canada, and Perez-Allen thought he and his partner fit the profile. Still, it pained him to think about leaving DC—the LA native had always wanted to live in the nation's capital. Yet "I don't want to be here for our slow descent into authoritarianism," he told me. "I think it's going to get really ugly for us who are not white."
---
Until five months ago, Michael Weingartner had a very capital-W Washington life: working as a staffer for Senator Lisa Murkowski, living in the Trinidad neighborhood, hanging out at H Street's bars, going to brunch, the usual 29-year-old rising-Hill-powerhouse stuff.
But when the green light for remote work coincided with the end of Weingartner's lease, he decided it would be easier to squat at his parents' home in Idaho than to obtain new housing and roommates during a pandemic. And once he found himself in the bucolic Idaho hills, far, far away from buttoned-up Capitol Hill, he realized maybe the appeal of Washington had worn off. "I didn't do much besides work and, you know, the DC lifestyle is a lot of drinking and going out to eat," says Weingartner, "and I really wanted to, it sounds cliché, but kind of go find myself again."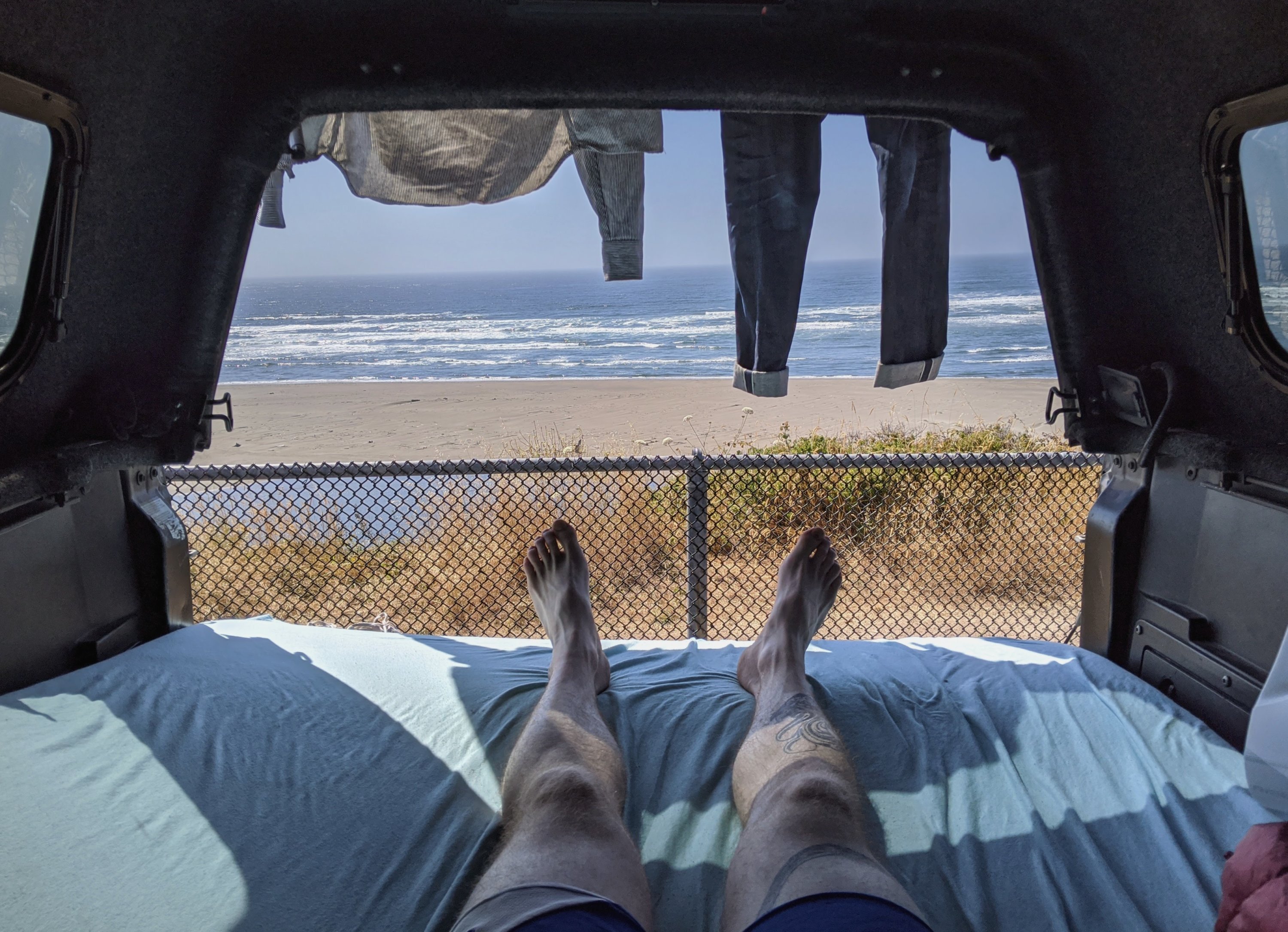 So he submitted his resignation to the senator, built a bed for the trunk of his Subaru Forester, and took off on an all-American, pandemic-era road trip. He has logged about 10,000 miles traveling the Pacific coast and living off his savings, using FreeCampsites.net to find the next place to pop his tent, cooking on his camp stove, and bathing in nature's original shower, the waterfall.
Weingartner's stuff is in a District storage unit, so he'll have to return eventually, but he doesn't plan on moving back permanently to work in politics again. In fact, he's recently become interested in the "nexus between food security, climate change, and sustainable agriculture" and is now working on an algae farm.
And yes, he's aware that Republican Senate staffer to algae farmer in, like, three months, is quite the life curve ball. But hey, that's what a year like 2020 will do to you.
For Erin Damato, it took a busted pipe for the existential floodgates to open. She and her sister were quarantining in their 500-square-foot Dupont Circle basement apartment, where they were already fighting 24-7. Then came news that their kitchen would have to be ripped up. "It was a Friday night. I decided, I can't do this anymore. I totally just sobbed and was like, I hate this so much," says Damato, whose tech company was working remotely. The next morning, she drove to her cousin's house in Massachusetts. She ended up staying two months, after which she and her sister sublet their DC apartment. Damato, who's 26, is now in Denver, where she's been renting a house with two coworkers and hiking 14,000-foot peaks on her days off.
It's not that Damato doesn't like DC—she just likes the bustling, no-social-distancing DC. "For this time in my life when you're not going to restaurants and going into the office, I would much prefer to have amazing camping and backpacking in my backyard," she says. "My mental health is 100 percent better here. We've been doing something every single weekend, and being outdoors, you can completely forget there's a global pandemic going on."
This is the place where hometown pride would require Washingtonians to note that this city has copious green space and easy access to the outdoors. But no, it doesn't have miles-high mountains or, in some people's cases, Mom and Dad. When the national emergency was declared, Mina (who asked to use just her first name) decided her childhood home in Boca Raton sounded a lot comfier than her studio in Arlington. Six months later, she gave up her lease. Twenty-eight and unattached, she was worried about the toll that living alone would take on her mental health—and staying with her parents lets her pocket the $1,900 or so she was spending on rent and utilities (a significant portion of her income, she says).
Millions upon millions of other millennials and Gen Z–ers are living the trundle-bed life: The Pew Research Center found that in July, 52 percent of 18-to-29-year-olds nationwide were living with their parents—the largest percentage since the Great Depression era. That doesn't mean it was an easy decision, Mina says, but with her PR office remote until at least January, it made the most sense, financially and psychologically. (Plus she and her mom are planning to watch all the upcoming Hallmark holiday movies together.)
---
Catherine Rytkonen didn't think she'd be one of the people getting out for good. The 42-year-old had lived in the area since she was 18 and never planned to move. But the things that once seemed important—public transportation, the preschool she absolutely loved, jaunts to the Museum of Natural History—suddenly felt less critical than, say, lower population density. So Rytkonen's partner accepted a job in Ohio—one he was offered last year and turned down—and hello, Cleveland!
There, Rytkonen is still able to run her business virtually, managing the social media and events for local groups such as Main Street Takoma (she just checks the Maryland forecast each morning to make sure her posts are weather-appropriate), and the once–WMATA stans have done the unthinkable: become a two-car family. Cleveland is a hundred percent not what Rytkonen imagined for herself, but "with climate change, how many more pandemics are we going to go through?" she says. "I don't think life is going to return to normal."
Mason Kalfus, who's 45, had been in Washington 19 years, ran a legal recruiting firm, and lived in a house in Woodley Park with his wife and three kids. "I mean, I absolutely love DC," he says. "We certainly planned to be in DC forever." Then quarantine entered the group chat. "I guess, suffice to say, our life was hell."
The family was vacationing in Virginia Beach, Kalfus's hometown, when on a whim he reached out to his old private school. Would it be holding classes in person this fall, and did it have spots? It would, and it did, and just like that, "we're moving three hours away and selling our house." The Kalfuses are currently renting a four-bedroom, four-bath house a block from the beach for (deep breath) $2,200 a month, utilities included. They're looking to buy, and for the same price as their Woodley Park house, the family will likely get—eh, let's maybe skip the envy-inducing details. Kalfus is running his firm remotely and driving to DC for semiregular coffee dates. (His wife's law firm was already remote.)
"I think [it's] good for my kids to go to a place and live where there's, like, Trump people."
All around, the move was no big deal. Except, maybe, for the number of MAGA hats. In DC, "my kids [lived] in this kind of bubble, where everyone's a Dem and everyone hates Trump and Trump is this horrible racist person," says Kalfus. When they first moved, they sent their 13-year-old on a playdate with a boy who would be in his class. "That was his first question," Kalfus says of his son's reaction, "like, 'Are these Trump people?' "
It might be an unexpected benefit, though. "I think [it's] good for my kids to go to a place and live where there's a mixture and you've got a lot of—I won't say Republicans, because I think there are Republicans in DC—but, like, Trump people."
Over on the conservative side, a blog post by an energy-focused nonprofit director named Daniel Turner—lamenting "government-sanctioned compassion"—started bouncing around the DC Twittersphere in late July. Turner described how he'd been a resident of the District for 17 years and was happy "tolerating mild inconveniences" of city living ("lousy transportation . . . our fair share of homeless people"). But the racial-justice protests that took hold after police killed George Floyd did him in. The St. Regis hotel, which abuts the new Black Lives Matter Plaza, was his favorite spot for tea. No more. Turner moved 60 miles out of town. "If I went back," he wrote, "I'm sure some neo-liberal philosopher of the BLM cult will tell me that clotted cream is a microaggression. The tea just isn't worth it anymore."
---
It's the elephant in the Zoom meeting these days: How long can this go on, and what's next? If it doesn't end sooner rather than later, could Washington lose more people than it normally does? Would that have a meaningful effect on life here as we know it?
Chapman, at the Stephen Fuller Institute, isn't sure, because as an economist, she lives for concrete data, and the limbo of the moment means we don't yet have enough data. But already, she says, the local recession has been two to four times more profound than any before it. "Usually, during a business-cycle recession, we're the safe choice," says Chapman. "But this isn't an economic business-cycle crash. This is a health crisis, and we have a health crisis here just like everyone else in the nation."
Still, she predicts that the luster of urban living will always attract a certain kind of person: "After the pandemic is over, the fundamental benefits of being in a city haven't gone away—the overall activities, the amenities, the knowledge spillovers, the other external benefits, the efficiencies. I don't think that we're all going to be living in rural Airbnbs, not to be too hyperbolic."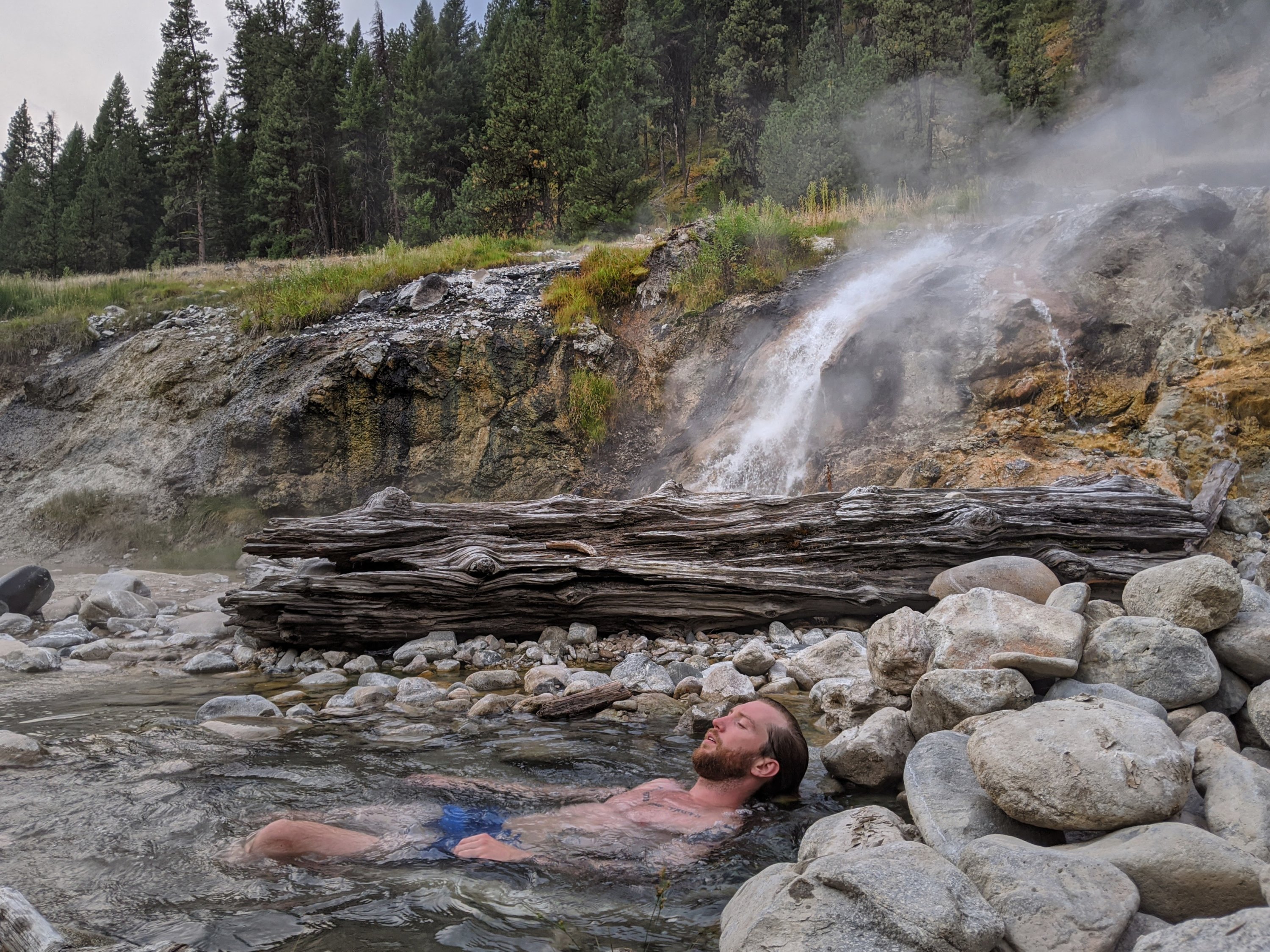 Chapman's certainty, this contrail of hope on an otherwise Mad Max–like horizon, can make it all the more heartbreaking to consider leaving. Ask Allison Shaw, who left the District proper for Silver Spring last December, when the pandemic was just a sci-fi what-if. Her (now remote) operations job and all her friends are in DC, but as Shaw is car-less and doesn't feel comfortable using shared transit, she hasn't really left the burbs. "I've been to a liquor store that's on the border between DC and Maryland," says Shaw, "but that's the only time I've stepped foot in DC since March."
All this is making her question her commitment to the area. Should she pick up and move? Go to grad school? "I've been so distanced from DC and from the things I love about DC for so long now that it's making me say, like, 'Oh, well, I could live without them.' " On the other hand, there's so much to miss about her 30-year-old's life in the city—friends who were a Red Line ride away, volunteering at Washington Improv Theater.
One night, she sat in her apartment watching an excellently cheesy Reese Witherspoon/Paul Rudd rom-com on Netflix with her plants. The movie takes place in DC, and one scene looks like it was shot near the S Street dog park. "That was my favorite place to stop and sit when I was walking home from work, when I was able to do that," she says. "And it just made me miss the city so much, and how beautiful it is." Suddenly, she felt herself getting emotional.
In the scene, Rudd sits on a bench talking to Kathryn Hahn. Kids and their parents mill through the background, playing and chatting, nary a mask in sight. It must be April or May: The leaves are a new shade of green, and the ground looks wet, as if it just rained. Watching it is both unsettling and comforting, a snapshot of how we lived in our city before the distancing and the wariness, the lives lost and the businesses closed. But, if anything, it's also a reminder, a promise of good to come. After all, there's nothing like spring in DC.
This article appears in the November 2020 issue of Washingtonian.