April 21, 2020—The clerics have been sworn to secrecy. On this warm morning, they've come to a vast and empty parking lot, instructed not to tell anyone of its location. The pitch of asphalt is unusually secure, hidden behind a 12-foot chain-link fence that's been swathed in sheets of black tarp to prevent anyone from peering through. At the front gate, armed soldiers stand guard.
Inside, large trailers are arranged behind tented canopies and banks of lights. Metal ramps are affixed to each trailer so that stretchers can be wheeled in. The interior walls of the trailers are lined with seven rows of metallic shelving, sturdy enough to support thousands of pounds. The temperature is 24 degrees.
The clergymen gather with a handful of city officials in front of the canopies. They form a circle, each six feet apart from the next.
Reverend Andre Towner of Covenant Baptist United Church of Christ.
Imam Talib Shareef of Nation's Mosque.
Rabbi Shmuel Herzfeld of Ohev Sholom–The National Synagogue.
Dr. Donell Harvin, a top official at DC's homeland-security department.
Kimberly Lassiter, a supervisor at the medical examiner's office.
And Dr. Roger Mitchell, the chief medical examiner himself.
Wearing masks and rubber gloves, they bow their heads. Tomorrow, the first body will be sent here. Today, a blessing.
Yea, though I walk through the valley of the shadow of death, I will fear no evil: for thou art with me; thy rod and thy staff they comfort me.
One by one, the clerics offer prayers, solemn exhortations for strength and humility, courage and dignity, resonating above the grinding hum of the trailers. Imam Shareef invokes the victims—"Their deaths," he says, "are not to be in vain." Reverend Towner prays for the workers, that their bodies will be protected from the virus, that their minds stay healthy during the difficult days ahead. Rabbi Herzfeld stresses the righteousness of the mission. "In Judaism," he tells the group, "we believe that the greatest kindness is to care for the dead."
---
It's an ominous time in the nation's capital. Several miles away, federal officials are dismissing warnings about the deadly airborne pathogen that has exploded out of Asia. Their unwillingness to act has impelled local governments across the country to launch their own scattered efforts to prevent Covid-19 from decimating their communities. In the District of Columbia, where African Americans make up 46 percent of the population, the task is especially urgent, given the virus's disproportionately cruel impact on people of color.
Over the previous month, the city has been locked down as panicked residents watch their leaders navigate a 100-year crisis in real time. Mayor Muriel Bowser shuttered businesses. The DC Council pushed through legislation to extend unemployment benefits. Health-department officials opened testing sites and implored residents to wear masks and keep their distance. But away from public view, a weightier matter has come to preoccupy a little-known but essential corner of the bureaucracy: the caretakers of the dead.
"There's not going to be a parade for you guys. You're not going to get discounts or big thank-you signs. The work we do, we do in silence."
It's a problem of space. As Drs. Mitchell and Harvin prepared for the pandemic, they realized that the city's morgue didn't have the capacity to handle the surge of fatalities that the virus would leave behind. And so, over the previous few weeks, they hustled to secure the land, equipment, and manpower necessary to build an additional facility.
The clergy who led prayers on the day the field morgue opened were there to make sure the space didn't violate the tenets of their three distinct faiths, and to consecrate the site as one. Then the work began. Over the next two and a half months, Harvin, who describes himself as the "general in charge of the death troops," and his top deputy, Lassiter, who has recovered bodies throughout DC for more than two decades, will oversee the makeshift mortuary. By the time the spring surge is through, 404 Covid victims will have passed through the site.
Still, through it all, almost no one in the city will have any idea the Covid morgue exists. The work is carried out in strict secrecy; staffers are instructed not to disclose the site's location or tell anyone what takes place there, not even their own family members. A mistake—such as a body being released to the wrong family—would be humiliating for the mayor and the city. News footage of workers moving the dead could upset victims' families, opening new wounds, or lure gawkers to the site. As much as anything else, though, the silence reflects the professional ethos of those who perform this work for a living. While they're dispatched to every hurricane and school shooting, their efforts take place entirely behind the scenes. They are the first responders you never see.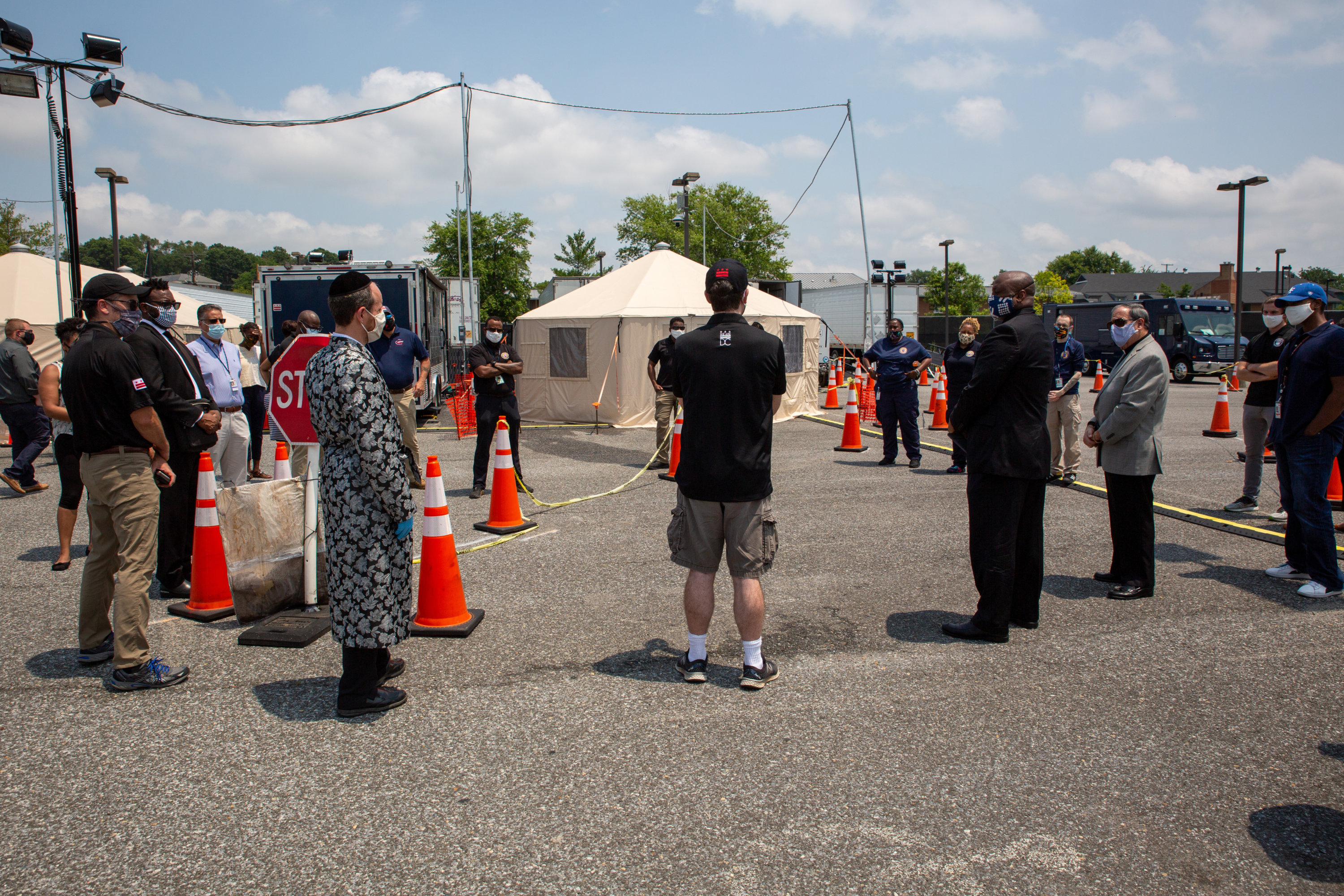 "There's not going to be a parade for you guys," Harvin tells each new set of workers to arrive at the Covid morgue. "You're not going to get discounts or big [thank-you] signs. The work we do, we do in silence. Not even the family members of the victims will know what we do. There's a pride in that. There's a silent pride in that," he says. "You're taking care of someone's grandmother, grandfather, husband, daughter, son, and that's a higher calling." When it's all over, they'll return to their previous jobs or assignments and no one will ever know what they've done here. "It's a heavy burden," Harvin says. "It's a very heavy burden.
"[But] the world is watching," he assures them, "whether they see us or not."
---
Donell Harvin is 48 years old, with a sturdy build and flecks of gray in his goatee. He's married to a physician and has four daughters. He lives in Howard County and spends most of the year looking forward to his annual scuba-diving trip.
Over the last 30 years, Harvin has been an eyewitness to some of America's darkest moments. As an EMT, he responded to the World Trade Center when it was bombed in 1993; after joining the New York Fire Department, he was there when the towers were destroyed in 2001. As a deputy director in New York's medical examiner's office, he led the effort to identify victims of Hurricane Sandy. And in 2012, at the request of Connecticut officials, Harvin assisted with forensics after the massacre at Sandy Hook Elementary.
His path from first responder to frontline bureaucrat began in the Bronx, where he spent his teenage years. After dropping out of high school, he got a GED and then a college scholarship from the Children's Aid Society, enlisting as a paramedic. Though he loved the work, as a young father he began to worry about his safety. He was caught in shootouts while tending to accident victims and lost colleagues in ambulance crashes. On 9/11, his wife and daughters saw him on TV, racing away from the rubble, and then didn't hear from him for 24 hours. Upon seeing their faces when he finally got home, he knew it was time for a change.
Harvin went back to school and earned a master's in emergency management. Landing a position with New York's chief medical examiner, he became an expert in mass-fatality management—the grim business of identifying and processing victims of large-scale tragedies. He also came to know Mitchell, and the two worked together on Sandy Hook. Two years later, when Mitchell was hired as DC's chief medical examiner, he recruited Harvin.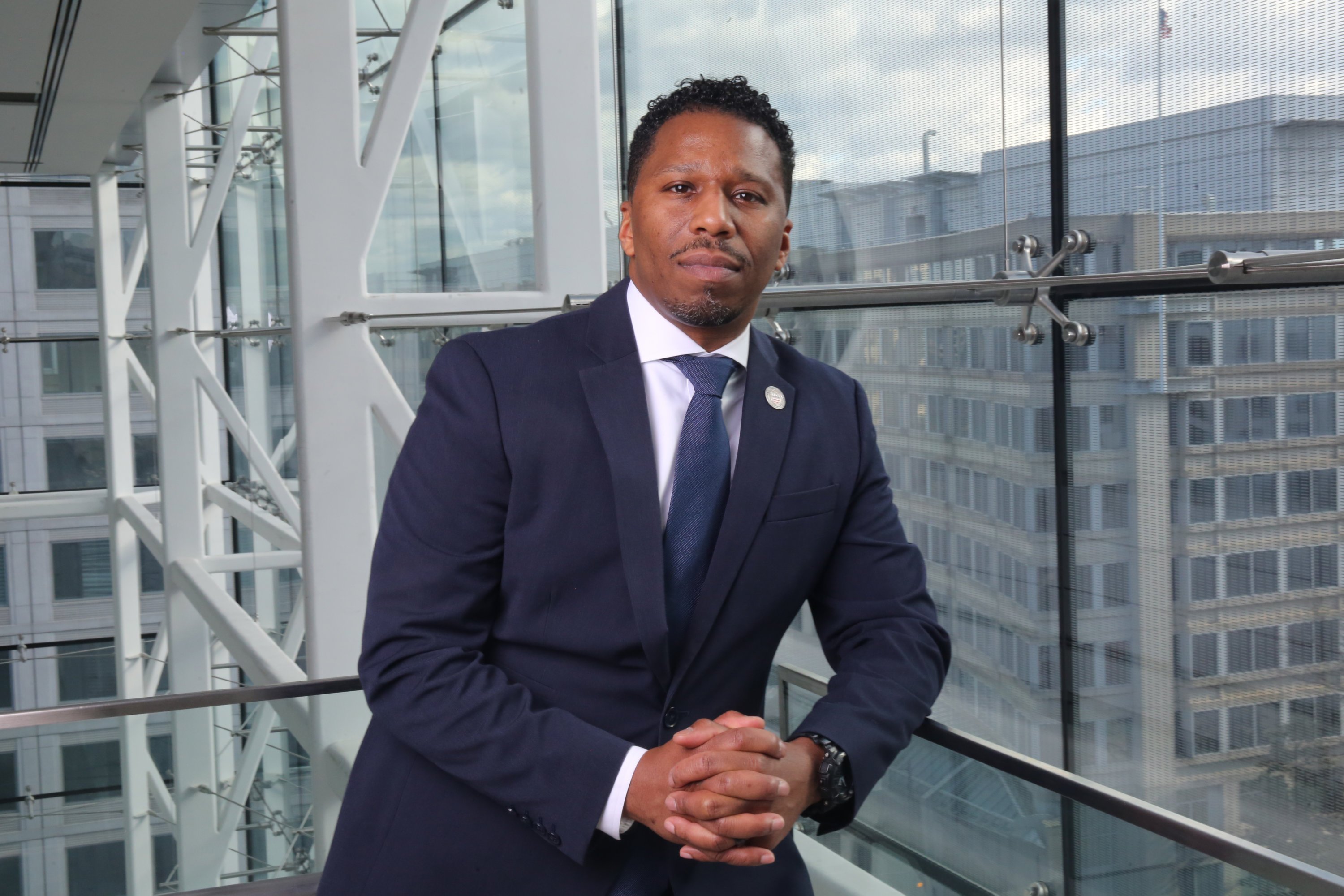 Their immediate task in the District was to turn around an office plagued by mismanagement. But an equally important project loomed. The previous year, Washington had been shaken by tragedy when a mentally disturbed government contractor gunned down 12 people at the Navy Yard. Although the medical examiner's office had properly managed those deaths, officials realized that a larger or more complex disaster would have overwhelmed its capabilities. The city needed a mass-fatality division robust enough to absorb the kind of tragedy that Harvin and Mitchell hoped Washington would never face. They went about building it—securing federal funds, adding staff, and running mass-casualty drills.
By early 2020, Harvin had been in Washington six years. He'd since left Mitchell's office and finished a PhD in public health. He was teaching at Georgetown and had become chief of homeland security and intelligence at DC's homeland-security agency. But the imminent arrival of Covid meant the District was facing the catastrophe he and Mitchell had trained for, the biggest mass-fatality event in the city's history.
On March 2, Harvin went to DC's Emergency Operations Center for the first day of formal briefings about how the city would navigate the pandemic. Halfway through the morning, he found a quiet spot in the hallway and placed a call to his mother. "This is going to be bad," he said.
---
The city morgue is located at 401 E Street, Southwest. In any given year, only a fraction of the fatalities that occur in DC pass through the facility. When a person dies of natural causes at a hospital, nursing home, or hospice, a physician will typically sign the death certificate and release the body to a funeral home. It's usually only those who die alone or in unnatural or suspicious circumstances whose bodies go to the morgue, where medical examiners determine the cause and manner of their death.
Initially, Harvin and Mitchell planned to use this same approach for the pandemic, relying on hospitals—where the bulk of virus-related deaths would take place—to serve as de facto Covid morgues. But they quickly revised their thinking. For one thing, little was known about how contagious the disease might be postmortem. Would storing victims at hospitals risk infecting staff? At the same time, Harvin learned from former colleagues in New York—which was being ravaged by the virus—that hospitals were too overwhelmed to manage the bodies properly. The result was an appalling spectacle: forklifts carrying pallet-loads of bodies outside hospitals, decedents stacked on top of one another in trailers. At one point, police discovered nearly 100 rotting corpses in unrefrigerated U-Hauls parked by a Brooklyn funeral home. As the funeral home's owner told the New York Times, "I ran out of space."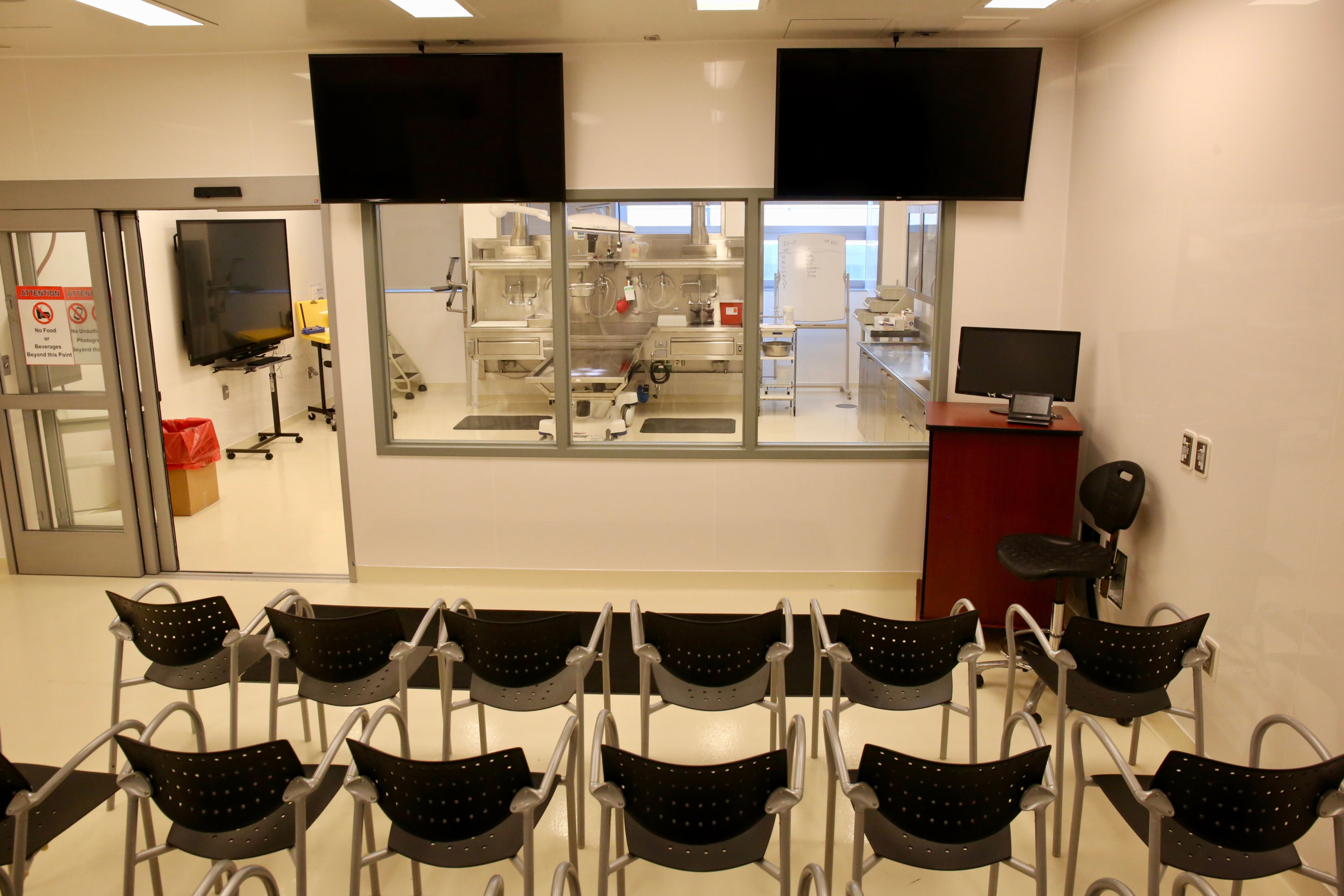 The truth is that all mass-fatality events carry the potential for this type of disgrace. Amid the chaos of a calamity, victims get misidentified. Morgues fill up. "We saw that with Hurricane Katrina—bodies just left out there," Harvin says. "And that's a stain on our society."
So Harvin and Mitchell made a decision that would set them apart from most coroners and medical examiners in the country. Instead of depending on the hospital system, the chief medical examiner's office would assume responsibility. Every single person who dies of Covid in DC would be sent to Harvin and Mitchell's team—a protocol that remains in place today.
By studying the mortality rate and projecting infection levels for the city, the men estimated that as many as 3,500 residents could perish in the pandemic. Or one in every 200. Putting aside the magnitude of the suffering, the math presented a serious logistical problem: The city morgue had an official capacity of only 205. The solution was apparent—they would have to build the Covid morgue.
Harvin immediately began acquiring the materials he'd need. He ordered six refrigerated trailers. He borrowed mobile light towers for nighttime work and generators for power. He acquired PPE, Porta-Potties, drinking water, 500 gallons of hand sanitizer, and heavy-duty body bags specially designed for mass tragedies, 4,000 in all. For families who couldn't afford funerals, the District agreed to pay for cremations. And to prevent a backlog of fatalities, the city shortened the time it would hold unclaimed bodies before they could be cremated, from 30 to 15 days.
The truth is that all mass-fatality events carry the potential for disgrace. Amid the chaos of a calamity, victims get misidentified. Morgues fill up.
Meanwhile, Harvin combed the local and federal bureaucracy in search of an additional 30 workers—to volunteer. The Army agreed to detail members of its mortuary-affairs unit, which had operated similar morgues in combat zones. A trade association found out-of-state funeral directors who wanted to pitch in. DC's Medical Reserve Corps, a group of volunteers willing to assist in health-related emergencies, provided workers. The DC Guard and the Air National Guard sent personnel.
As he rushed to get things in place, the virus was already spreading through Washington. Harvin felt the same sense of foreboding he'd experienced six years earlier when he was waiting for Hurricane Sandy to make landfall. "It's like a slow-moving train," he says. "You know it's coming and you can't stop it."
---
While Harvin was acquiring equipment and manpower, his top lieutenant, Kim Lassiter, spent two days driving around the District, scouting possible sites for the morgue. At her last stop, she got out of her car and peered through the fence. The property had everything. It was city-owned land—a parking lot for DC employees, empty because staffers were now working from home. It was large enough for the trailers, and it could be secured with tarps and guards. Most important, the site was inconspicuous: You could drive right past it and not realize it was there. "This is perfect," Lassiter thought.
Lassiter, a 54-year-old grandmother with a soft smile, is the second-longest-tenured medical examiner's employee, with nearly a quarter century on the job. In the 1990s, she lifted the victims of gang wars off street corners and washed the blood from their wounds at the morgue. In 2002, she used x-rays to identify the remains of Chandra Levy, the 24-year-old intern whose murder had become the subject of national fascination when it was alleged she'd been dating a married congressman around the time of her disappearance. And in 2008, Lassiter carried the remains of four children—ages 5, 6, 11, and 17—from the house where they'd been decomposing for seven months, after their mother, Banita Jacks, became convinced they'd been possessed by demons and killed them.
Lassiter came to the work by way of her own personal tragedy. She grew up in a housing project in Prince George's County, with five brothers and sisters. Her father wasn't around, and her mother, who worked in healthcare, struggled to do it all on her own. She eventually fell victim to drug use. It was up to Lassiter—the eldest of the children—to run the household. She cut class three days a week to watch her siblings. At 12, she got a summer job to support the family. Even after she graduated from high school and entered the workforce, there were periods when she would drop everything to nurse her mother through the various chemical fogs and illnesses that encumber the life of an addict.
In 1987, when Lassiter was 21, her mother passed away. Lassiter was called to the hospital. A nurse escorted her to the elevator, and they rode down to the basement. There, in a frigid room, Lassiter found her mother lying motionless on a stretcher. Her eyes were still open. "I felt like," Lassiter remembers, "she was waiting for me to show up."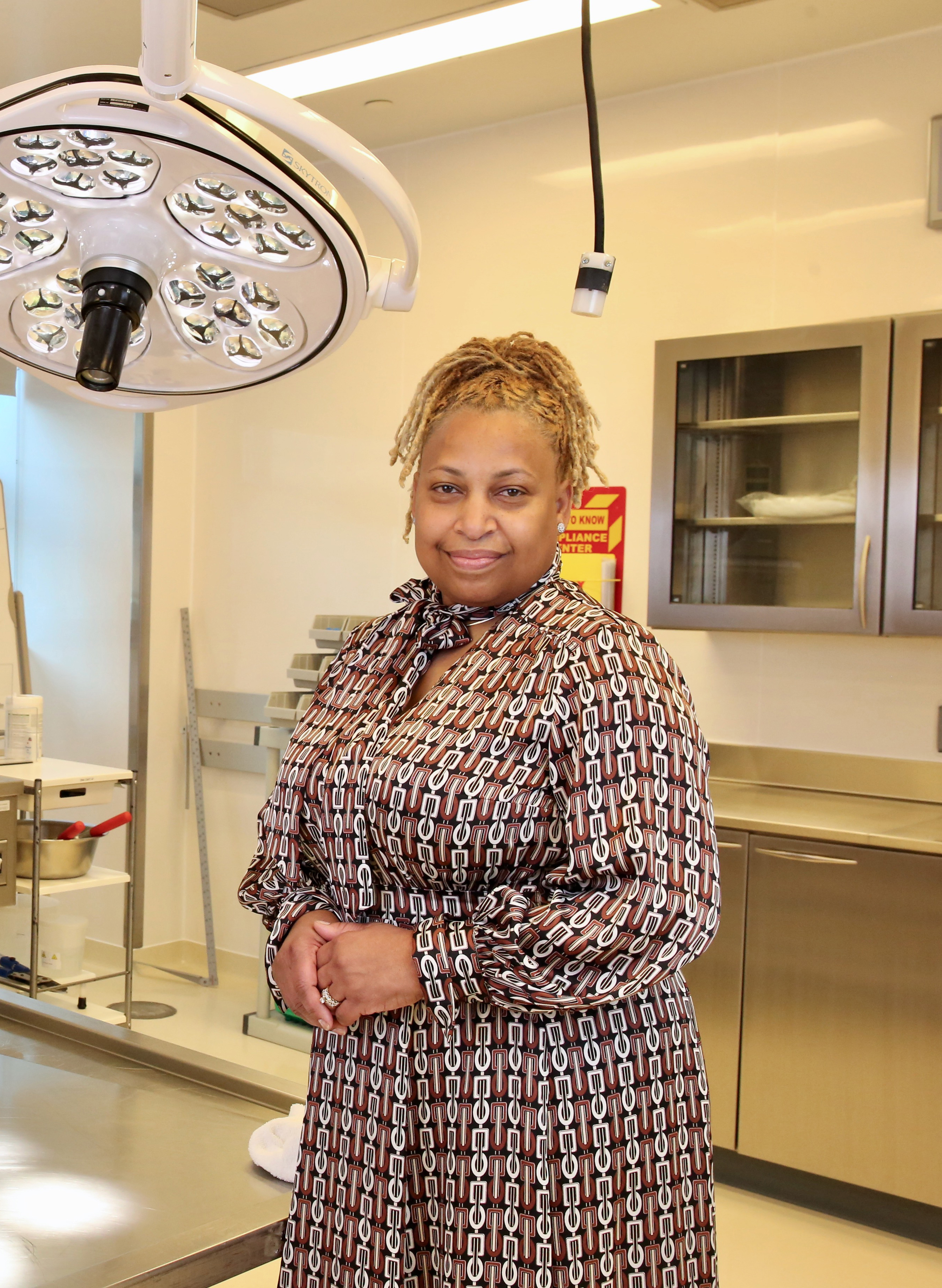 The nurse explained that her mother was being taken away for an autopsy. Lassiter didn't know anything about the process, and the news frightened her. "If I could have gone with her through that," she says, "I would have."
Following the funeral, Lassiter obtained custody of her siblings, whom she supported through her job as a clerk at the US Department of Health and Human Services. A few years later, her life took an unexpected turn when she spotted an alarming story in the newspaper: The DC chief medical examiner's office had released the wrong body to a grieving family. The incident sounded both outrageous and intriguing; more than anything, it reminded Lassiter—by then a mother herself—of when her mom had been sent to the morgue. She called the office, talked her way to a supervisor, and asked if she could help. She joined the office as a volunteer.
This was the late 1990s, and the agency was considerably smaller than it is today. Lassiter was quickly hired and eventually promoted, becoming one of seven technicians responsible for a full sweep of duties: fielding intake calls from police, snapping photographs at death scenes, transporting decedents to the morgue, and assisting with medical examinations and autopsies. She viewed the work not as some macabre responsibility but as an expression of love. While she hadn't been able to care for her own mother after her death, she now looked after the deceased loved ones of others.
When arriving at a place of death, Lassiter is vigilant about wearing a blank facial expression, to acknowledge the gravity of the circumstances. She offers condolences, then completes her tasks—attaching the toe tag, placing the deceased into the body bag—at a diligent pace so as not to prolong the trauma of those looking on. Once an autopsy is complete, she uses tight, neat sutures to close the incisions. She then washes the stains from the body and wraps it in a crisp white sheet.
Occasionally, when working alone, Lassiter has found herself speaking out loud to the bodies. If she hits a pothole while driving someone to the morgue, she'll apologize. I'm sorry. Upon entering the morgue's cold-storage facility, she sometimes greets the people being kept there. Good morning. When examining a crime victim's body—particularly when it's a child's—she often pledges to help get justice. I'll do everything in my power to find the evidence needed to make whoever did this to you pay.
The hardest days are the ones when she finds herself face to face with someone she knows. One morning, as Lassiter was preparing for autopsies, she checked the manifest and saw a familiar name. It was an older woman, a friend of her mother's who'd looked out for Lassiter as a child. She walked into the cold-storage room, slid the body out of its cabinet, and said goodbye. It was the only time she ever broke down crying at the morgue.
---
April 22, 2020—The day after the religious leaders consecrate the site, the Covid morgue begins to stir with workers in face shields, gloves, and white protective suits. It's been six weeks since DC recorded its first case of Covid, and the death toll has exceeded the city morgue's capacity. Now the first wave of bodies is arriving.
The process begins with a phone call. A hospital official, or sometimes a police officer, contacts the medical examiner's office. Lassiter, who is chief of the transport unit, dispatches her team to the scene. Two workers, in full PPE, arrive in a black, unmarked van. They present paperwork for the physician's signature. In the hospital's morgue, they take custody of the body. Opening the body bag, they attach identification. They zip the bag closed and spray the outside with disinfectant, then place it into a second, heavy-duty body bag. They disinfect it again. The workers lift the decedent onto a stretcher and paste an identification tag onto the bag. They slide the stretcher into the back of the unmarked van.
At the Covid morgue, the workers move the decedent onto a table in the intake tent. Here, they weigh the body, to help confirm identification, and enter the victim's name into a computer. They wheel the decedent across the blacktop and up into one of the refrigerated trailers. Next, the transfer. If the victim is heavy, the workers—at least two, sometimes four—lift the body onto one of the lower shelves. If the person is light, they place the body on a higher shelf. The staff use internal coding—6D, 2A—to record the exact location. They exit the trailer, remove their protective suits, and put on fresh ones.
A victim typically remains at the Covid morgue a few days, rarely longer than a week. During that time, a separate team calls family members to help them through the paperwork. Once burial arrangements are made, the funeral director schedules a pickup. The workers wheel the victim out of cold storage and into a second tented canopy—the release tent. They again wipe down the outside of the body bag. They again spray it with disinfectant. The funeral director pulls up. They load the dead into the hearse.
---
Though it was difficult to find volunteers, Harvin had assembled what he called "a coalition of the willing." The active-duty Army morticians and military reservists, the citizen volunteers, the funeral directors, along with medical-examiner staffers and UDC students. While many had backgrounds in mortuary services, others did not. "We had people," Harvin says, "who had never touched a dead body before—never seen a dead body."
When each new group of volunteers arrived, Harvin—"the general in charge of the death troops"—brought them together to discuss the effort. The victims had come to the Covid morgue after suffering lonely and terrifying deaths—hooked up to breathing tubes, surrounded by masked doctors and nurses. "These people often were dropped off at the hospital, and they couldn't see their loved ones for two or three or four weeks," he continued. "They expired around complete strangers." The staff's goal, Harvin told the troops, was to provide each person with a dignity in death that they didn't experience during their last days of life.
Then he turned it over to Lassiter, who ran the day-to-day operations. She instructed new volunteers how to implement the values Harvin had espoused. When carrying the deceased, move deliberately and with caution. Keep the body as horizontal as possible. Do not, under any circumstances, stack one on top of another. Check, double-check, and triple-check the manifest to make sure each victim is in the correct rack. And pay respect through your words. Lassiter never refers to the deceased as "corpses" or "cadavers" or "cases." Instead, she calls them "my people."
"That's the only way I can get [the workers] to treat them the way they would treat someone that they love," Lassiter says. "Because it makes them see how special these people are to me."
---
Gerald Slater, 86, was a television executive at PBS and WETA.
Richard Paul Thornell, 83, was a Howard law-school professor who helped establish the Peace Corps's first-ever program, in Ghana.
Jose Mardoqueo Reyes, 54, was a refugee of El Salvador's civil war and a beloved internet-radio broadcaster.
Luevella Jackson, 87, was among the first female bus drivers in DC's public-school system.
Samuel Shumaker III, 90, was an Army colonel who also taught English and creative writing at UDC.
Florence Gilkes, 97, was a loving wife and aunt, as well as a dedicated fan of the Washington Football Team.
Iraj Askarinam, 76, owned a restaurant in Adams Morgan, where he regularly provided free meals to the homeless. They called him "Mr. Spaghetti."
---
By May, the pandemic's bleakest days had arrived at the morgue. The daily influx of new decedents fluctuated—eight one day, 19 the next. As the volume swelled, the workers came face to face with the breadth of the city's suffering. They began recognizing the last names of victims they'd been dispatched to retrieve, and it dawned on them that these were additional members of already devastated families. Payton McFadden, a UDC premed grad, describes the crushing duty of traveling to a DC hospital to collect the body of a Covid-positive baby: "We had went and gotten one of the [baby's] family members one week prior. [Covid] was slowly but surely matriculating through the whole house." In a searing example of the District's racial inequality, 74 percent of the fatalities were Black. "I will never forget this as long as I live, ever," Lassiter says. "It just took so many people at one time, so suddenly."
A Chicago-area funeral director who asked to be identified only by her first name, Stacey, came to Washington to volunteer. She served in the medical examiner's main office, calling families and guiding them through the process of finalizing death certificates and retrieving loved ones. On one occasion, she spoke with a man whose father was in the Covid morgue, and he dissolved into tears. The man explained that they'd been estranged for years. It was only recently that they'd finally begun speaking again. "We do help carry that burden of grief," she says. "And it's hard." On another day, she had a series of conversations with a police officer whose mother was at the disaster morgue. When the officer suddenly stopped returning her calls, Stacey got hold of his wife, who told her he'd been hospitalized with Covid himself. Nearly a year later, she still wonders about him. "It is always in the back of my head," she says. "I don't know [if] he made it through."
Routine tasks touched off bouts of anguish. A worker might spot a detail about a victim that resonated personally: a birthday shared with the worker's daughter, the same last name as a best friend.
As the morgue's lead official, Harvin was spending up to 12 hours a day at the site. "Everyone's talking about Covid and fatalities, and it's just numbers to them. We're actually dealing with them," he says. "I have a PhD and I'm in there putting on gloves and a [protective] suit and I'm helping the crews move bodies in and out of trailers. It's visceral for us."
The staff feared for their own safety. "The scariest thing was [potentially being] exposed ourselves," says Denise Lyles, supervisor of the investigation unit. Lassiter grew terrified that she'd infect her family. "I have a husband that goes out and he works. I was concerned about him," she says. "Grandchildren that are asthmatic, concerned about them."
Routine tasks touched off bouts of anguish. While checking the manifest, a worker might spot a detail about a victim that resonated personally: a birthday shared with the worker's daughter, the same last name as a best friend. Harvin and Lassiter did what they could to look out for their staff's mental health. At the end of each day, Lassiter pulled people aside to see if anyone was experiencing symptoms of anxiety or depression, connecting them with counselors or chaplains. Over time, even veterans of the medical examiner's office began struggling with the weight of their mission.
After several weeks at the site, Harvin found that when he returned home from work, he would drift into a haze. He had no appetite. He stopped engaging his wife in conversation. He passed entire evenings staring blankly into the television. "I don't even know what I'm watching," he recalls. "I had no motivation."
Harvin, of course, had worked mass tragedy before. After hijackers flew the first plane into the World Trade Center, he approached the South Tower on foot. From two blocks away, he saw bodies falling from the sky and his entire body froze. He couldn't take another step forward. Minutes later, there was a deafening sound and the tower disappeared into a cloud of gray debris. Out of the rubble came a speeding ambulance. Harvin jumped into the back along with dozens of other firefighters and cops. As they neared the North Tower, Harvin turned to one of them. "Doesn't it look like this one's leaning?" he said.
He spent the next two days at Ground Zero searching for survivors and recovering the dead. The experience was so traumatizing that he vowed never to return to the site. But he found the work at the Covid morgue even more emotionally taxing. "I survived September 11," he says. "I didn't know if I was going to survive this."
"There were so many women. So many mothers there."
While he was able to walk away from Ground Zero after the attack,the pandemic was taking new victims each day. Every time Harvin arrived at the Covid morgue, he confronted a fresh supply of misery, and there was no end in sight. "Your mind and your soul get worn down far long before you body [does]," he says. Recognizing that he was experiencing depression, he turned to colleagues at the homeland-security department and found solace in chatting with them virtually.
For Lassiter, the pain manifested not as psychological trauma but as profound sadness. The heartache was always there, growing more intense over time. May 9—Mother's Day—was the hardest. It had always been a tough one, the day her own mother's death was most painful. But there was an additional heaviness now; she couldn't stop thinking about everyone at the Covid morgue. "There were so many women," she says. "So many mothers there."
Though she was scheduled to be off, Lassiter didn't feel right staying home on that particular day. She left her house in Prince George's County and made the 25-minute drive to the site. Arriving at the morgue, she put on a protective suit and greeted the workers. "What are you doing here?" they asked. "It's Mother's Day,"
"I know," she replied, "but I came down because I wanted to really thank you for what you're doing." She understood that some of them were mothers themselves, and she appreciated them for spending the day at the site.
Lassiter walked over to the cold-storage trailers and turned to face her people. "Happy Mother's Day to all the moms," she said. As she returned to the car, she noticed a lightness of spirit.
"It felt kind of like a sign of relief," she says. "Just to speak out. To let them know that someone cares."
---
June 2020—As summer approaches, the pace at the Covid morgue begins to slow. Fewer victims are arriving; the number of bodies in the trailers is declining. By the end of the month, the volume is thin enough that it can be handled at the city morgue. Washington's first wave of Covid has reached its conclusion.
It's time for Harvin to shut down the disaster morgue, at least for now. But before doing so, he organizes a final ritual. On July 7, 2020, Rabbi Herzfeld, Reverend Towner, and Imam Shareef return to the site. They were present at the beginning, and Harvin wants them here today, too.
The faith leaders gather by the intake tent as a group of three dozen workers form concentric circles around them. They offer prayers of thanksgiving that the work is coming to an end. "It is at death that the earth receives its treasures," says Imam Shareef. "And we want to honor the facility that now has allowed for individuals to be returned back to the earth."
After the ceremony, Lassiter assembles the men and women on her team to thank them for their two and a half months of service. When she finishes, a soldier who was assigned to the site pulls a patch off his flak jacket and approaches her. "This patch has been around the world," he tells Lassiter, "and I want you to have it."
Though the pandemic rages on, Harvin and Lassiter can't help but feel a certain triumph. They haven't misidentified any bodies. None of their team has contracted Covid. They know they may be back. But in a dark and painful year, this is a good day.
Months later, Lassiter will remember it, the special pride she felt that despite dozens of workers toiling and thousands of pounds of equipment rumbling, despite 404 fatalities passing through, word of the Covid morgue never reached the public. Her colleagues hadn't enlisted for accolades. They'd pressed through the fear and the grief in order to care for the innocent victims of a historic pandemic.
"It felt good," Lassiter says. "Even if no one would ever know about it."
It's been nearly a year since the pandemic struck Washington. In the first four months of lockdown, the city lost three times as many jobs as it did during the 2008 recession. By July, small business revenue had been cut in half. Metrorail ridership has plunged by as much as 90 percent. Over the coming four years, the District is anticipating a budget gap of roughly $800 million. All told, more than 933,514 people in DC, Maryland, and Virginia have contracted the virus, and 15,148 have died.
Today, Covid fatalities are being processed at the city morgue in Southwest DC; although the number of deaths is once again elevated, it's well below the peaks of last spring. At the disaster morgue, the light towers have been hauled away and the generators have gone silent. The trailers are resting on a deserted blacktop. Each day, thousands of cars pass right by the site, oblivious to what happened there. If they knew where to look, though, the drivers could see something that Harvin made sure to leave in place. The DC and US flags, rising above the fence.
This article appears in the March 2021 issue of Washingtonian.