Today NPR is one of Washington's most familiar and influential media companies, operating out of a gleaming, ultramodern broadcast facility on North Capitol Street. Its radio programs, online content, and podcasts reach millions of people around the world. But when it launched 50 years ago, in April 1971, National Public Radio was a decidedly scrappy enterprise.
How did a modest radio project from a bunch of audio idealists evolve into the multimedia behemoth that we now spend countless hours listening to? To celebrate NPR's anniversary, we've put together a look at its history and transformation. Please note: If you would like to imagine the whole thing being read to you in the voices of Nina Totenberg and Robert Siegel, we won't object.
An oral history of the very first All Things Considered
The signature NPR show All Things Considered launched with coverage of turmoil in Washington—and with a bit of chaos inside the broadcast studio as well. NPR's founding visionary was a radio programmer named Bill Siemering, who also spearheaded its first daily show. To launch ATC and other early programming, about 90 employees were hired to work out of NPR's modest first headquarters, on I Street, Northwest.
Jeff Kamen, reporter: "Bill brought me in and said, 'I'll be creating a kind of American version of the CBC [Canada's national broadcaster, known at the time for long-form audio storytelling]. Do you want in?' I think my tongue hit the floor."
Bill Siemering, program director: "The idea was there's a lot of information people need that isn't so-called news. I was also looking for 'the new,' which often comes through the arts. All Things Considered has a much broader approach to information and life than just news."
Susan Stamberg, production assistant and later host of All Things Considered: "Bill [would say] these two magic words: 'Be yourself.' And, you know, nobody tells you that except Mister Rogers."
Kamen: "Siemering wanted journalists who could listen to [what] they were covering. Can you hear where you are? Can you shut up and let that sound fill the tape?"
Siemering: "I wanted it to be conversational rather than the male, white voice of authority that was standard."
ATC went on the air on May 3, 1971. The first episode featured a report about a nurse addicted to heroin and another about Iowa barbers who had begun to shave women's legs due to the loss of business from long-haired men. But the main story was about anti–Vietnam War demonstrations in DC. Thousands of protesters tried to shut down traffic. Law enforcement gassed and herded some 7,000 demonstrators. NPR dispatched reporters around Washington to cover the fracas.
Kamen: "Within minutes of pushing record on my TC-110 recorder and narrating what was going on, I was grabbed by police and thrown to the ground, a three-foot-long wooden riot baton resting gently on my occipital bone. I had hair across my shoulders and a beard midway down my chest. Which I didn't think was strange."
Stamberg: "It was thrilling because we knew we were making something that had never existed. We were going to be doing a kind of broadcast that I had never heard."
At NPR HQ, All Things Considered host Robert Conley went on the air to begin reporting about the protests. At the same time, correspondents were returning with tapes.
Stamberg: "Me and [fellow future ATC host] Linda Wertheimer were cutting tape. They were throwing tapes at us, and we hacked away at them. We raced to the control room and threw them to the engineers to get them on the air. It was wild."
Siemering: "The trouble with starting a news program is that the only way to do it is by doing it. We were kind of in beta. We were developing what became the NPR sound."
The report on the protests is a marvel of editing: Natural sound comes in and out, and most people speak without introduction. Kamen's reporting included the memorable line "Today, in the nation's capital, it is a crime to be young and have long hair."
Stamberg: "That was exactly what Bill wanted: Put them where it's happening, get the sound, don't do a lot of narration, put the listener in the middle of the action."
Kamen: "The next day, there was another story. Broadcast journalism—it's a delicious treadmill."
Stamberg: "Linda Wertheimer used to say All Things Considered is like doing the dishes. The minute you have them clean and dry, it's time to eat again."
All Things Considered has been an NPR staple since that first episode. Currently anchored by Audie Cornish, Ari Shapiro, and several other hosts, it airs every weekday evening.
Back to Top
Staffers pick their favorite Tiny Desk Concerts (yes, BTS is one of them)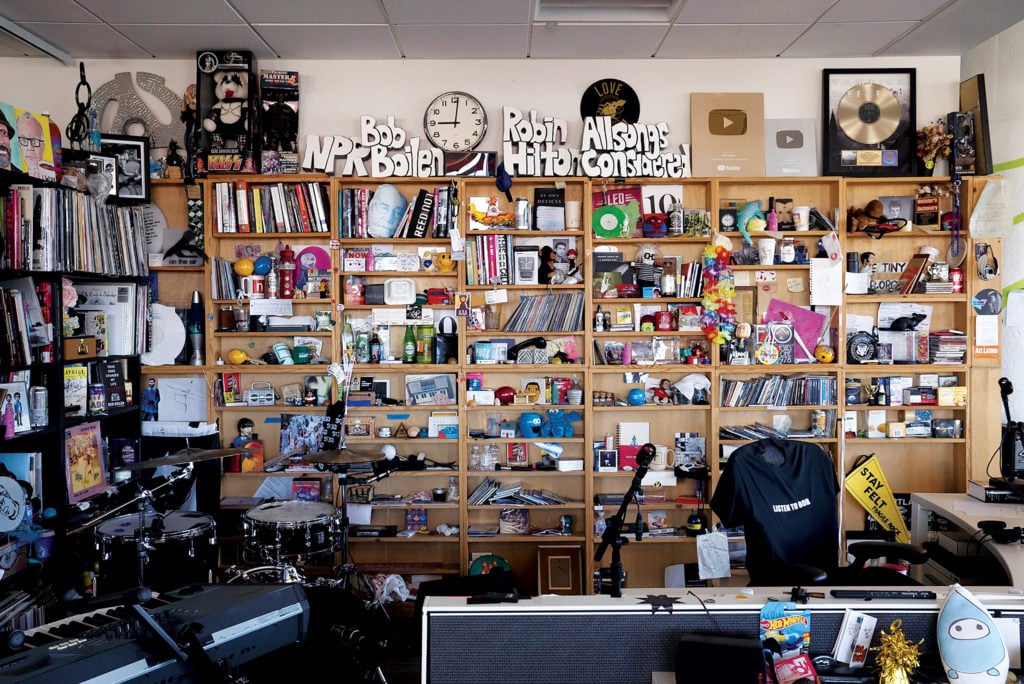 Since 2008, more than 900 musicians have stopped by NPR's office to play a short set for staffers—and the internet, where the Tiny Desk Concerts get nearly 53 million views each month. We asked some employees to pick their favorites. (Read the full list here.)
"I have to go with Lizzo, whose charisma, talent, and abundant joy were thrilling to behold."
Stephen Thompson, NPR Music writer and Pop Culture Happy Hour cohost
"Margaret Glaspy. I wandered over to the desk knowing nothing about the artist, then left knowing I would love her music for the rest of my life."
Brandon Carter, Assistant producer, Washington desk
"Anderson .Paak's Tiny Desk does not get old. At least 100,000 of the listens are mine, I swear."
Maria Paz Gutierrez, Associate producer in programming
"Sesame Street! Because Bert and Ernie CAME TO OUR OFFICE and not even Wu-Tang can compete with that."
Scott Detrow, White House correspondent
"Vic Chesnutt's performance still brings me to tears. It was our second-ever Tiny Desk, and that shows: We didn't know what this thing was yet, and the show rambles with a homespun charm. Still miss you, Vic."
Lars Gotrich, NPR Music producer
"BTS, hands down. The incredible energy they brought on a bleak weekday morning made me so emotional. This was true healing through music."
Julie Zhou, Software developer

"Kacey Musgraves [performed] her 'Follow Your Arrow' song as the Supreme Court had just legalized gay marriage across America."
Townsend Horvath, Senior marketing manage
"Megan thee Stallion embodies a confidence that I am both stunned by and envious of."
Candice Lim, Production assistant on Pop Culture Happy Hour
"Chuck Brown because of the hometown Washington, DC, history in his songs. And it may have been the sweatiest Tiny Desk Concert ever."
Vincent Farquharson, Interaction designer
"Harry Styles sticks with me because, yes, it was awesome and he is a magnetic performer but also because it was my last truly carefree moment before the pandemic brought everything crashing to a halt."
Tamara Keith, White House correspondent
Back to Top
Steve Inskeep and Sidney Madden share key NPR moments
NPR's original mission statement described its intended audience as "curious, complex individuals," and over the past five decades it has served them a unique mix of hard news, culture reporting, and a lot of quirkiness. We asked two staffers—Steve Inskeep, who's been with the network a quarter century, and Sidney Madden, who joined in 2017—to pick moments (shows, episodes, incidents, whatever) that capture what they think NPR is all about.
Steve Inskeep
Host, Morning Edition and Up First
1. [Live news coverage] Bush v. Gore, December 12, 2000
"The Supreme Court issued its opinion deciding the presidential election, which Nina Totenberg read on the air live, analyzing it in real time."
2. [Podcast episode] Rough Translation, September 11, 2017
"The NPR podcast told the story of a man who survived for years in a Somali prison without going in-sane, because the man in the next cell 'read' him Anna Karenina by developing a system to tap out the letters on the wall, one by one."
3. [Live news coverage] Morning Edition, April 19, 2013
"It was the last broadcast from the old NPR headquarters. The program did nine hours of live coverage of the manhunt for the Boston Marathon bombers and did so while changing buildings. David Greene and I anchored. The studio had to shut down at noon. At 11:15 am, I stood up and traveled to the new location to pick up the coverage at 12. David followed. The audience never knew."
4. [Podcast episode] Throughline, February 7, 2019
"This [episode], on how the CIA overthrew Iran's government in 1953, inaugurated a groundbreaking podcast that has done an amazing job of making the past timely."
5. [Live news coverage] Presidential-election results, November 7, 2020
"Michel Martin and I—and, before that, Ari Shapiro and Scott Simon—anchored coverage on the day that Joe Biden was declared the election winner."
Sidney Madden
Host, Louder Than a Riot
1. [Online video] "What to the Slave Is the Fourth of July?": Descendants Read Frederick Douglass' Speech
"The story behind the story [of the Douglass speech]. This visual gives fresh context to the plight Black people have felt in this country since its inception."
2. [Online and radio series] "Turning the Tables: Celebrating Eight Women Who Invented American Popular Music"
"This gives [recognition] to the women—many of them Black women—who are the foundation for American music today. It's a living archive as much as a rejection of sexist ideas that drive pop music and pop culture."
3. [Podcast episode] Life Kit, "4 Ways to Make Your Workplace Equitable for Trans People"
"A helpful, empathetic how-to for cis people who want to be proper, respectful allies to trans people in their lives."
4. [Online video] Tiny Desk Concert: Tyler, the Creator
"It's beautiful to watch Tyler graduate from smart-mouthed oddball to one of rap's most innovative maestros. This was a game-changing moment in his career."
5. [Podcast] Louder Than a Riot
"This investigates the interconnected rise of hip-hop [and] mass incarceration in ways that challenge perceptions of justice, race, rap, morality, and even journalism. Shameless plug, but ask me if I care!"
Back to Top
The Guy Behind Much of NPR's Theme Music
Many theme tunes on public radio were composed by a single person, BJ Leiderman. Three favorites:
Leiderman Theme: Morning Edition
What it sounds like: A few bars of faux-baroque followed by quiet chords, then a melody that's so recognizable, NPR interpolated it into the show's new theme when it (controversially) retired Leiderman's original in 2019.
You know, the one that goes: "Bahm-bu-bum-bum-BAHM-bum-bum-bum."
Leiderman Theme: Weekend Edition
What it sounds like: Staccato piano recalling those teletype sounds that used to announce the news, after which an orchestra drops in with a melody, leading to a jaunty motif that wouldn't be out of place on a Randy Newman soundtrack.
You know, the one that goes: "TUNNNN-tun-tun tun-tun-tun-tun-tun-TUNNNN."
Leiderman Theme: Wait wait . . . don't tell me!
What it sounds like: A drum fill leading into a weirdly uplifting piano-and-drums snippet.
You know, the one that goes: "Pew pew pew—ding, ding-ding-ding ding, ding-ding-ding ding."
Back to Top
A timeline of NPR's 50-year history
Key moments in the history of NPR, including triumphs, controversies, and a questionable cranberry concoction
February 26, 1970

National Public Radio is incorporated, with some 90 public stations as members. It's an initiative of the Corporation for Public Broadcasting, which was established by the Public Broadcasting Act of 1967.

April 20, 1971

NPR produces its first content for member stations: coverage of a Senate committee hearing about the Vietnam War.

May 3, 1971

NPR's flagship evening news program, All Things Considered, premieres. Three years later, Weekend All Things Considered will debut.

September 28, 1977

Cokie Roberts delivers her first newscast. She's the last of NPR's four "founding mothers" to join: Linda Wertheimer and Susan Stamberg were there from the start, while Nina Totenberg came aboard in 1975.

February 8, 1978

The US Senate, which previously allowed only broadcasts of committee hearings, permits NPR to capture floor debate on the Panama Canal Treaty. (It helps that WAMU is then-senator Robert Byrd's favorite station.)

November 5, 1979

The first Morning Edition airs, intended as a morning counterpart to All Things Considered. It's hosted by Barbara Hocter (who doesn't last long) and Bob Edwards (who does).

June 20, 1980

NPR completes a satellite network, which lets stations easily share programming (even if NPR isn't directly involved). That allows A Prairie Home Companion—which NPR passed on—to become a major national hit.

September 4, 1982

Sylvia Poggioli files her first report for NPR. Her lyrical sign-off ("I'm Sylvia Pa-JOE-lee") is such a hit with fans that somebody later names a restaurant after her in Oregon.

April 19, 1983

NPR president Frank Mankiewicz steps down amid a funding crisis. Staffers organize the "Drive to Survive," NPR's first fundraiser. It raises $1 million, though some member stations are appalled that the network asked listeners for money.

January 16, 1987

All Things Considered airs the first of nine profiles of Archie Harrison, a 31-year-old New Yorker diagnosed with HIV. His obituary airs on August 9, 1988.

January 16, 1987

Car Talk debuts. Hosted by a pair of entertainingly folksy auto gurus, it's an unexpected hit.

October 6, 1991

Reporter Nina Totenberg breaks the story that Anita Hill is accusing Supreme Court nominee Clarence Thomas of sexual harassment.

December 23, 1992

Unknown humorist David Sedaris's "Santaland Diaries" appears on Morning Edition and This American Life. "My life changed overnight," he'll later write of that moment.

September 1994

NPR launches its first general website. Previously, only Weekend All Things Considered had a presence on the web, with the URL www.clark.net/pub/watc.

October 28, 1994

Chicago lawyer Barack Obama appears on All Things Considered to discuss Charles Murray's The Bell Curve.

February 16, 1995

New House speaker Newt Gingrich threatens to "zero out" funding for CPB. "There's nothing public about it," he says. "Rush Limbaugh is public broadcasting."

January 3, 1998

The quiz show Wait Wait . . . Don't Tell Me! airs for the first time.

January 21, 1998

Taking advantage of a previously scheduled interview, Mara Liasson and Robert Siegel are the first reporters to ask President Bill Clinton about the Lewinsky scandal.

April 2003

NPR CEO Kevin Klose attends a birthday party for Joan Kroc, the widow of McDonald's visionary Ray Kroc; Klose has been pursuing her as a donor. After Kroc dies, she leaves the network $220 million.

March 23, 2004

NPR replaces Bob Edwards as host of Morning Edition, inciting unanticipated outrage from fans. The decision stands, however, and Edwards moves to satellite radio.

April 22, 2008

Singer/songwriter Laura Gibson plays the first Tiny Desk Concert. The online live-music series—named after creator Bob Boilen's DC post-punk band, Tiny Desk Unit—grows into a major franchise.

September 7, 2008

Planet Money debuts, pointing toward the future. It's designed as a brand, not a specific radio program. Planet Money segments air during other shows, and it's available as a podcast.

March 9, 2011

A right-wing activist secretly records an NPR exec badmouthing the Tea Party. Resulting accusations of bias toward conservatives lead to the resignation of CEO Vivian Schiller.

June 5, 2016

NPR journalists Zabihullah Tamanna and David Gilkey are attacked and killed while on assignment in Afghanistan.

October 28, 2016

Neal Carruth is named the network's first general manager of podcasting. Hit podcasts such as It's Been a Minute With Sam Sanders become a core part of NPR's programming.

November 1, 2017

Senior vice president for news Mike Oreskes resigns amid accusations of sexual harassment.

December 1, 2020

Apple Podcasts names Code Switch its show of the year. Soon after, the program—which is hosted by Gene Demby and Shereen Marisol Meraji—becomes part of NPR's roster of traditional radio offerings.