Back in January, around the time that a pro-Trump mob was storming the US Capitol, Larry Hogan was closing on a new house. He'd found a winner in Anne Arundel County: a five-bedroom, $1.1-million chateau-style mansion at the end of a long driveway, behind a gurgling water fountain. Nestled on a woodsy, six-acre parcel of Davidsonville, the property looks to be a peaceful retreat for a departing governor. And you can't complain about the location—29 or so miles from the White House. "With no traffic, depending on what the speed limits are," says Hogan, "you can probably get there in 30 minutes."
As the Republican Party descends deeper into extremism, Maryland's famously un-Trumpy head of state is making plans of a different sort. In the two years since he toyed with and then nixed a 2020 primary bid against the sitting President, Hogan has been honing his pitch as the party's more reasonable future. He has worked the hosts of cable-news networks that don't cater to conspiracy theorists, published a memoir fashioning himself as a common-sense businessman who straightened out a state bureaucracy, and launched a national political-advocacy group to pump his "America united" message into the battlegrounds where a vote for a middle-of-the-road Republican—or at least a self-styled one—might still be had. "We are once again at a time for choosing," as the governor put it in a video released last December by his group, echoing a well-known Ronald Reagan speech. "Are we going to be a party that can't win national elections, or are we willing to do the hard work of building a durable coalition that can shape our nation's destiny?" In late April of this year, Hogan, who has no role whatsoever in federal lawmaking, took it upon himself to host a two-day summit in Annapolis for centrist pols, focused on reaching bipartisan agreements about elements of President Biden's infrastructure package—and more than 25 lawmakers, including Democrat Joe Manchin and Republican Mitt Romney, showed up.
It's just the sort of maneuvering you'd expect from a term-limited governor with Oval Office ambitions. Indeed, there's a shadow squad of operatives and establishment party elders who could be mobilized to write the playbook for a Hogan 2024 run. At the same time, the right flank of American politics is a much more treacherous place to navigate than it used to be. Congresswoman Liz Cheney's recent banishment from GOP leadership—and the relish with which she seemed to hurl herself onto the sword—suggests, meanwhile, that Hogan wouldn't be the only pol vying to become the country's favorite Anti-Trump Republican.
So what is his plan?
The governor leaves office in early 2023, presumably with any number of options typically available to business-friendly lawmakers—seats on corporate boards, invites on the speaking circuit, cable-news commentating-for-hire. Would he really spurn the freedom and lucrative perks of post-government life for an outside shot in an ugly presidential primary?
---
The case for how a Hogan 2024 possibility even came to be starts with the party's current standard-bearer. Few Republican officeholders have been better served by comparisons to Donald Trump than Larry Hogan.
Over the last four years, Democrats in Maryland have repeatedly tried to discredit the governor by linking him to the 45th President. And the strategy has backfired. Hogan regularly ranks among the most popular governors in America, with an approval rating that reached 75 percent in early 2020. Voters consistently "walked away thinking Hogan was more moderate [than Trump]," says Mileah Kromer, a political-science professor at Goucher College who follows Maryland politics. "And all of our polling suggested that the folks that viewed him as a moderate were more likely to vote for him."
It's a remarkable misstep—because only in Trump's GOP, where six in ten Re-publicans believe Biden stole the 2020 election through voter fraud, could Hogan resemble a moderate. On matters of taxes and spending, for instance, he has governed as a Reagan conservative, scrapping a $2.9-billion light-rail project in majority-Black Baltimore several years ago and then plowing more than $730 million into road projects that, according to the Baltimore Sun, benefited mostly white communities—a move that resulted in a civil-rights investigation by Obama officials. More recently, he vetoed a $4-billion-a-year overhaul of the education system. And just this past April, Hogan vetoed a slate of police-reform bills that would have limited no-knock warrants, toughened the penalties for cops who use excessive force, and required officers to wear body cameras, among other measures. Still, in 2018 Hogan won reelection by nearly 12 points, becoming only the second GOP governor in Maryland's history to be reelected.
How does a commercial real-estate broker turned pol trample high-priority items for progressives and the left, yet win their vote? Even veteran observers of Maryland politics have found themselves baffled by the alchemy of Hogan's continued appeal in a deep-blue state.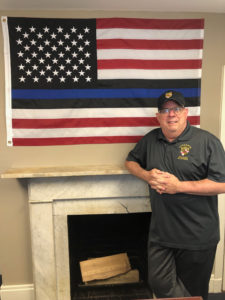 Part of it is rooted in Hogan's refusal to engage in the culture wars. He hasn't tried to undermine the state's progressive policies on abortion rights, gun control, or same-sex marriage, which he describes as "settled law," and you won't find him Tweeting about LeBron James or Green Eggs and Ham. (One exception: Late last year, he touted a Blue Lives Matter flag hanging in the governor's mansion.)
There's also his personal biography—his marriage to a Korean American paint-er, whom he met at an art show—which suggests a more expansive worldview than that of a stereotypical 21st-century right-winger. During an appearance on CNN earlier this year, Hogan told Jake Tapper about the anti-Asian hate that's been directed at his wife and three adult children during the Covid crisis. "We feel it personally with my daughter, who sort of is sometimes afraid to come visit us," the governor said. "[With] people who had best friends that were being harassed at the grocery store, or being called names, and people yelling about the 'China virus,' even though they're from Korea and born in America."Hogan's cancer diagnosis shortly after taking office, a battle he waged in a highly public way, connected with many Marylanders. And few discount Hogan's gift for retail politicking.
Most important is the political radar—derived from a combination of polling data and gut instincts—which has kept Hogan on the winning side of policy debates. After his underdog victory in 2014, the governor eliminated most of the state's $5.1-billion structural deficit and pursued a series of high-profile measures—lowering Bay Bridge tolls, attempting to push the school start date after Labor Day—that enjoyed widespread support. During the Covid crisis, he took a far less ideological stance on mask-wearing and public health than did many of his GOP counterparts—an approach that, according to a March 2021 poll, earned approval from 76 percent of Marylanders. And in the early, most panicked days of the pandemic, when the feds weren't coming through with enough testing supplies, the governor came off as a hero for working his wife's ties to South Korea to purchase 500,000 test kits for the state.
In the end, the maneuver didn't benefit Marylanders—those half million Korean kits turned out to be faulty. But instead of registering as a colossal failure, the entire episode came to read as a study in miniature of Hogan's appeal. Watching their head of state become a foil for Donald Trump during the scariest moments of the pandemic seemed to engender a certain pride in many residents, goodwill that shored up their faith in him at other points that, in normal, non-crisis times, might have hobbled a leader at the root of a $9-million bureaucratic blunder.
Sure, public fatigue with Covid might partly account for the lack of outcry. But it's also true that Marylanders have been willing to give Hogan a pass on other stumbles. In early 2020, for example, an investigation by the Washington Monthly found that Hogan's administration had advanced several highway projects near properties owned by his company, and that on at least two occasions the governor failed to disclose his financial interest in the projects to lawmakers before they voted on them. (The governor's spokesman dismissed the report as "absolutely baseless allegations," insisting that Hogan "does not make decisions on individual projects.") Though the story prompted state lawmakers to pass legislation tightening financial-disclosure requirements, that potential scandal fizzled away, too.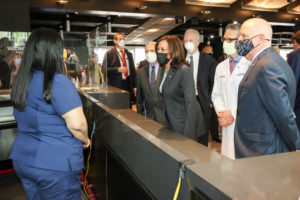 The Hogan Way, in short, has fueled a virtuous cycle in image-making: At the local level, his all-business style and un-Trumpy posture have eased his passage over landmines that might have wiped out a lesser politician, while on the national stage, his broadsides at the former commander in chief earned him plaudits from a mainstream press corps that's desperate to prove it's not biased against Republicans. (Hogan had a platform: He was chair of the National Governors Association between 2019 and 2020.)
By the time a group of prominent old-guard Republicans began seeking a candidate to challenge Trump in 2020, Hogan was a top draft pick. "We had a theory that there was enough of a kind of a regular Republican voter out there that even if you couldn't beat Donald Trump in a primary, you could weaken him," says Sarah Longwell, a Republican strategist who spearheaded the effort. "And basically, that there was this opening for somebody to set themselves up as an alternative future for the party—kind of like Reagan in '76."
Hogan stoked the narrative. His memoir described how other Republicans, donors, and even members of Trump's own cabinet spent part of 2019 urging him to get into the race. For several months, he publicly mulled the decision, going so far as to visit the early-primary states of Iowa and New Hampshire, telling the press: "I'm not just wandering around the states hitchhiking."
As one adviser acknowledges, it was all upside: "There was no reason to actively discourage that, because that's getting him attention."
The staggering chaos of the election—and shocking images of a US President thundering baseless claims of voter fraud—brought yet another opportunity. "Stop golfing and concede," Hogan tweeted at one point, making himself one of the few Republican officeholders willing to call Trump's bluff. Since the riots of January 6, producers at the mainstream cable-news networks have clamored to book the GOP official who wasn't afraid to say there was "no question" Trump was to blame for inciting the Capitol attack.
"If you think about sort of attention-seeking Republicans nowadays, they're all sort of the Matt Gaetzes, the it-doesn't-matter-what-I-say-or-do-just-get-me-on-Fox-News [types]," says Josh Kurtz, founding editor of Maryland Matters, a news organization that focuses on politics and government in the state. "Whereas Hogan is just as happy being on CNN or Face the Nation . . . He wants to be the reasonable Republican that the liberal media can turn to."
Even though Hogan 2020 never saw liftoff, the past year may have been the governor's most consequential in politics yet.
The Hogan Scandals That Weren't
In another political age—i.e., when Donald Trump wasn't the standard-bearer for Republicans—a governor might not have glided so easily over these political landmines.
Real Estate Ethics
In early 2020, the Washington Monthly revealed that Hogan's administration had advanced highway projects near properties owned by his company and hadn't disclosed his financial interest to lawmakers in at least two cases. (The governor's office said the allegations were untrue.) Although the story led to legislation that would tighten financial-disclosure requirements, the scandal fizzled.
Bureaucratic Bungling
Hogan made a big show of securing 500,000 Covid test kits from South Korea in 2020, when Washington couldn't get enough testing supplies to states. Months later, the Post discovered that those Korean kits were faulty. The foul-up cost taxpayers more than $9 million yet did little to damage the governor politically.
Targeting Transit
Early in his tenure, Hogan killed the Red Line, a $2.9-billion light-rail project in majority-Black Baltimore, then plowed more than $730 million into road projects that, according to the Baltimore Sun, benefited mostly white communities. Despite a pair of federal complaints that culminated in a civil-rights investigation by Obama officials, the move hasn't had much impact on his favorability numbers.
---
So: Retire along the Chesapeake or try to fulfill the Reaganites' fantasy?
Between his open invitations on TV, the political-advocacy group he formed, and a new role as co-chair of the bipartisan group No Labels, Hogan has an attention-generating machine equipped to advance his interests long after he leaves the governor's mansion—and he expects to play an active, public role in the battle for the future of the GOP. "I think I've been a leading voice for sanity in the party," he says, "and so that's not going to change."
A Senate run is one option. If the GOP lands just one more seat in the 2022 midterms, they take the upper chamber back from the Democrats. Hogan has been fielding phone calls to gauge his interest in challenging Democratic incumbent Chris Van Hollen, according to a person familiar with the discussions. "The minority leader [Mitch McConnell] has pretty aggressively reached out to him," says the source. "It's been communicated that there'll be significant outside support if he were to run, and that there is an assessment that he is one of the only people that could give Republicans a chance at that seat."
Hogan has a sentimental regard for Congress—his late father, Representative Lawrence J. Hogan Sr., secured political hall-of-fame status back in 1974 when he voted to pass all three articles of impeachment against then-President Richard Nixon, becoming the only GOP member of the House Judiciary Committee to do so. The move cost the elder Hogan his own shot at the Maryland governor's mansion but has always been a point of pride for his son.
The dynamics of the race could also be tempting. Hogan has long played up his small-businessman-who-fell-into-politics storyline, but in truth, he's been a junkie for politics from the time he was a kid pitching in on his father's campaigns. "A Hogan–Van Hollen battle would be one of the marquee elections of the 2022 cycle, and Hogan would like that," Kurtz wrote in a column earlier this year. "Money would flow into the state like never before. Hogan could put his personal popularity to the test. And imagine if he won—he'd be an even bigger giant killer than before. That could only burnish his reputation and fuel his national ambitions."
But Hogan says he isn't interested in an office in which he would wield far less authority than he does as governor. "I think I could win that race [against Van Hollen] pretty handily. But I just don't have a desire to be in the Senate," he says, adding that "being a member of the Senate, one of 100 people arguing every day and not getting anything done, doesn't really appeal to me." (Hogan launched bids for Congress in 1981 and 1992 midterms, lost both times, and never tried again.)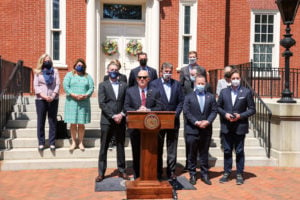 Temperamental issues aside, there's a practical hurdle—no Republican has won a Senate seat in Maryland since 1980. In October 2019, the University of Maryland and the Washington Post polled registered voters in the state about a hypothetical Hogan–Van Hollen matchup, and Hogan won by eight points. But Van Hollen is himself a relatively popular figure, and he'd have several angles to exploit in front of progressives, beginning with Hogan's spending decisions and, most important, the extremely fragile balance of power in the Senate. Many of the blue voters who pulled the lever for Hogan in the past might not be as willing to do so if it meant putting McConnell back in the majority leader's office, says Michael Hanmer, a professor in the department of government and politics at UMD. "I think that ultimately Van Hollen would win."
What Big Things Have Ex-Maryland Governors Done?
Martin O'Malley
After assembling a record of progressive achievements as governor from 2007 to 2015, O'Malley made a short-lived run at the White House in 2016. He bowed out following a dismal showing in the Iowa caucus. Today he's a governance adviser at Grant Thornton.
Spiro Agnew
Though this ex-governor (1967–69) actually made it to the White House—as Richard Nixon's VP—Agnew was eventually forced to resign the office amid a corruption scandal involving . . . his time as governor.
William Donald Schaefer
A few years after leaving the governor's mansion, the Baltimore Democrat decided he couldn't quit politics. He ran for the comparatively unglamorous job of state comptroller—and won, serving two terms. But after a series of boneheaded remarks about women and immigrants, among others, he lost his bid for a third.
---
Which leaves the Oval Office. What would that look like?
It's reasonable to expect that the money for a White House run would be there, from Wall Street and blue-chip GOP donors, from back-to-basics Republicans eager to cut checks for a levelheaded post-Trump candidate who believes in lower taxes and less red tape. "I can tell you this," says a Hogan adviser. "He's gotten some significant outreach from some of the biggest names in Republican fundraising, in the Republican donor class."
But as with every fraught decision point on the right flank these days, Hogan's calculation will hinge on Trump. Will the former President's hold on the GOP persist in 2023? "Nationally it's going to be just interesting to see if the fever breaks and if the party continues to go in the same direction," Hogan says. "Or—look, I think four years is a eternity in politics, and the next two years things could look dramatically different than they do right now. I think they've already changed a lot since the election."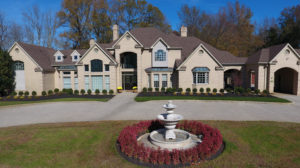 If Trump remains kneecapped by the tech industry, cut off from his social-media microphones—or is indicted in a criminal probe that New York prosecutors are pursuing—then a Hogan ticket begins to seem a lot more plausible. Given the past four years, it's easy to see how Hogan would relish looking like the haloed moderate against the Ted Cruz crowd of MAGA flamethrowers. "I think it's probably not likely that [Trump] will run," Hogan says, "and you'll have ten or 15 or more people running to be the next Trump, and fighting for that 60 percent. And there's possibly a wide-open lane with the other one-third of the people who are the ones encouraging me."
Among those anti-Trump voters, Hogan would need to emerge as the favorite. That's no given; he could find himself squaring off in the primary against any number of well-known traditional conservatives—Illinois congressman Adam Kinzinger, who upped his national profile after blaming Trump for January 6; Charlie Baker, the popular governor of Massachusetts; or maybe even Liz Cheney.
Hogan's best shot would be in New Hampshire, says Michael Steel, who was a senior adviser to Jeb Bush in 2016. The state's undeclared voters—who make up 42 percent of the electorate—are permitted to cast ballots in either party's primary. And other moderate Republicans of years past—most notably John McCain—have performed well there. In the optimistic scenario, a strong Hogan showing triggers a wave of favorable news coverage, which redounds through Super Tuesday, turning the folksy guv into the surprise of the primary season and an unexpected contender for the Republican nomination. "If I were advising [Hogan] on setting up a campaign," says Steel, "I would advise him to spend a lot of time in New Hampshire."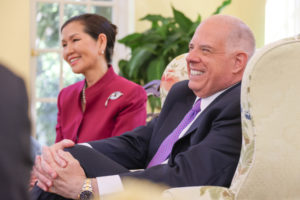 But that's the extremely optimistic scenario. "Complete nonstarter . . ." says veteran Republican strategist Rick Wilson, who helped found the anti-Trump Lincoln Project to support Joe Biden in 2020. "Larry Hogan will not be the nominee in his lifetime."
The problem is partly structural and partly cultural: It's always been difficult to compel moderate Republicans to turn out for a primary, and the party's standard-bearer has only hardened the camps. "Donald Trump has unleashed something inside the GOP that says to everybody, 'You can be the worst iteration of yourself, and that's fine. You can be cruel, you can be transgressive, you can be an asshole, you can be racially motivated,' " Wilson says. "As a Republican [presidential candidate], you've got to go out to Florida and Georgia and North Carolina and Missouri and places where being a good guy is considered weakness. Being a decent human being is considered being a cuck. None of these characteristics that make Larry Hogan a good dude and a good governor work at all—at all—with the Republican base of today."
It may be that some of Hogan's recent actions were meant to improve his standing with the base. Todd Eberly, a political-science professor at St. Mary's College, points to the veto of the education-reform package, Hogan's decision this past March to remove certain Covid restrictions on businesses earlier than some public-health experts believed was prudent, and his more recent move to discontinue the federal government's $300-a-week enhanced unemployment-benefit program in the state. "It doesn't strike me as the kind of thing he might have done before his 2018 reelection," Eberly observes. The moves seem more like plays "reinforcing his fiscal-conservative bona fides."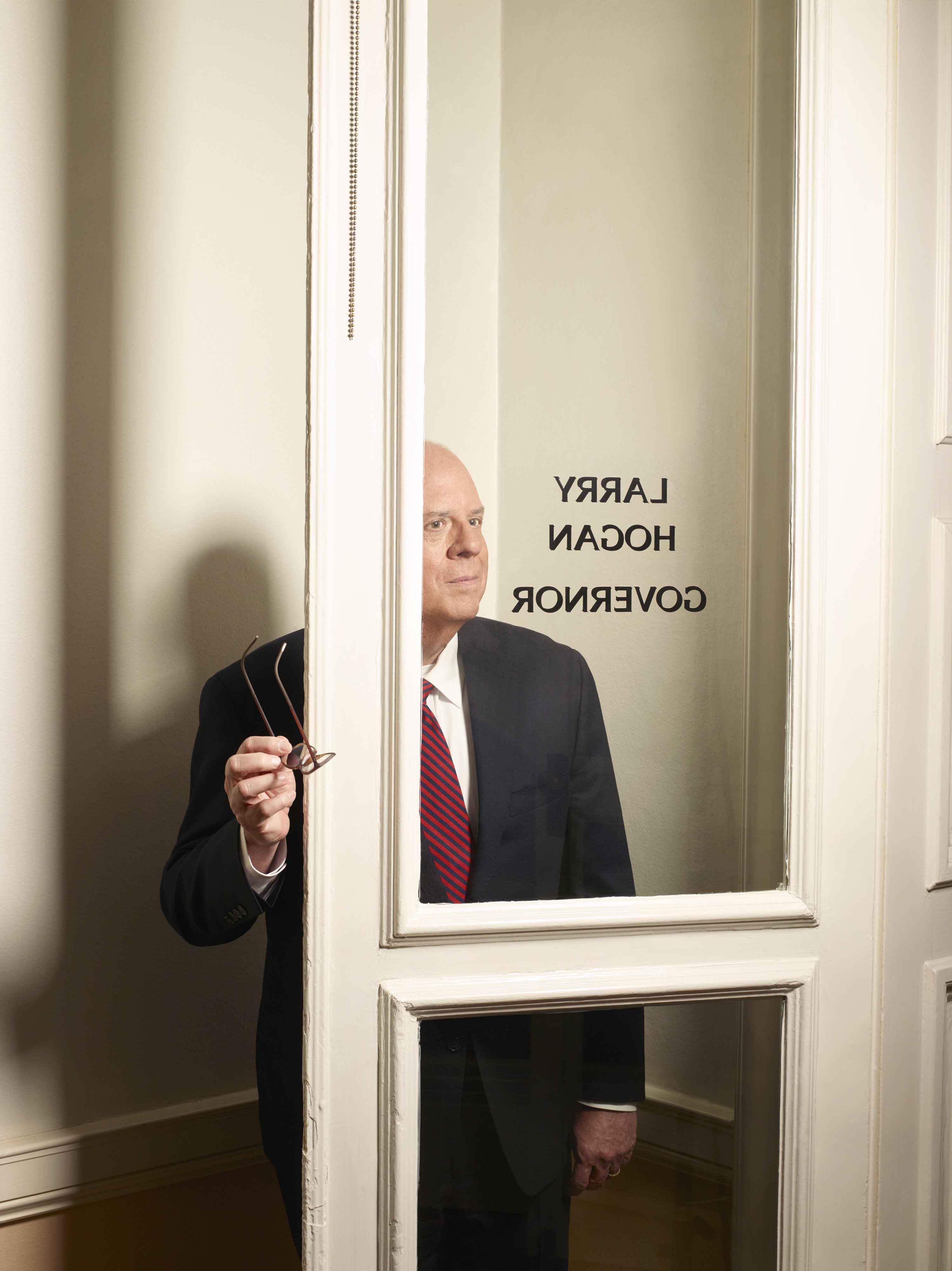 Further out in the realm of centrist fantasy baseball, of course, is the notion that America is primed for a third party, something between the Trumpified version of the GOP and the newly progressive Democratic Party, something that can take advantage of the great 21st-century crackup of the American political order. The prospect would turn Hogan into a Washington-cocktail-circuit star. But the dismal history of third parties suggests it would also turn him into a loser, and perhaps a loser who helped Trump regain the White House—something that would quickly get him kicked out of said cocktail circuit.
"I really like Larry Hogan," as Wilson puts it. "[I'd like to] live in a world where Larry Hogan was going to be successful as a candidate on the national scale, or on a broader scale. But we live in the world we live in, not the world we wished we lived in."
---
Even if it didn't end at the White House, some Republicans believe that a Hogan run would do right by the party. Former RNC chairman Michael Steele, who has known the governor more than 30 years, suspects it could help unmoor the GOP from Trumpism, as well as open any number of other opportunities for Hogan. "We saw in the [2020] Democratic primary [that] not virtual [but] absolute unknowns caught fire," Steele says. "Now one of them, Andrew Yang, is running for mayor of New York and looks like he could win the primary. Another one's Transportation Secretary. And another one is VP."
But would a consolation prize really be enough enticement for the guy who wrote in Reagan on his 2020 presidential ballot?
There are other, less bruising ways Hogan could wield influence after leaving office—such as taking a post in "think-tank land, association land," as one adviser suggests, and working to sway public opinion and power from the outside. He'd be a prized recruit for corporate boards—former GOP speaker Paul Ryan earns $335,000 a year as a Fox News director—and he could make far more should he launch his own political-consulting business (more than enough to add a pool to his Davidsonville estate).
The 2022 midterms will be a compass of sorts. "Whether or not Trump-backed candidates win their primaries would be a political data point to look at," another adviser says. "Obviously, [Georgia governor] Brian Kemp is to the right of Larry Hogan, but it's a situation where you've got kind of a governor who reflects the state that Trump's actually trying to unseat. So really looking at races like that, races where he's been actively involved in trying to achieve an outcome, and to see how that goes."
Hogan says he won't enter the race if he doesn't see a credible path to victory: "I'm not going to go on some suicide mission." He felt the same way while deciding whether to run for governor. "When we were having our discussions in 2010, we had a list of 15 different things, that 'if this happened, this happened, this, this, we could be governor,' " one of his advisers says. "I think it's the same thing [now]." In this case, Republican voters would have to reprioritize conservative principles over MAGA personalities. The field would need to shape up in such a way that a more traditional conservative candidate could gain traction. Most important, Hogan would have to remain popular in Maryland for the remainder of his term.
"Like I tell him," the adviser says, "you've got to take care of your [back] yard first."
Maybe it's worth recalling, though, that Hogan was also a long shot before his first gubernatorial bid. He was little known in the state, he'd never held elected office before, and the Democratic front-runner, Anthony Brown, outspent him by a factor of three. As Hogan tells it in his book, all of his friends were warning him not to run.
"Nobody thought I had any chance whatsoever, but I really believed that somebody needed to do something about where we were," he tells me. "So I'm not saying running for President would be a walk in the park, but it certainly is not as far-fetched as me getting elected twice in Maryland as governor."