Scientifically speaking, you haven't emerged from living through a pandemic until a pair of boobs topped with glittery pasties have flashed mere inches from your face. Seriously, ask the CDC.
Personally speaking, it's kind of true.
A couple months ago, I read that Seacrets, the behemoth, island-themed bar and restaurant in Ocean City—supposedly the largest bar on Maryland's coast—had planned a mask-burning party to celebrate the end of pandemic restrictions. The bash got canceled. But it was merely an issue of logistics, not because Seacrets wasn't ready for vaxed-and-waxed summer. So, you know, I went.
If you live in the Mid-Atlantic, you've likely misspent a moment in your youth drinking at Seacrets or know someone who has. The place is a mix of Universal Studios, an all-inclusive resort, and the set of MTV Spring Break. Sand weaves its way around outdoor tiki bars, where people order frozen drinks with names like Pain in de Ass and groves of palm trees rustle—the owner, Leighton Moore, imports new ones each year. The bar opens onto the bay, where bikinied waitresses wade in carrying drinks to booths and tables half-submerged in the water. Families on vacation swing by for lunch, and middle-aged couples sway on the sand to the live reggae band. Of course, there's a gift shop, where you can outfit yourself in Seacrets swag including an I ❤️ BAY DRINKIN' tank. The six-acre compound also has a distillery, a radio station, a nightclub, five stages, and 19 bars. It can hold 5,000 people at once.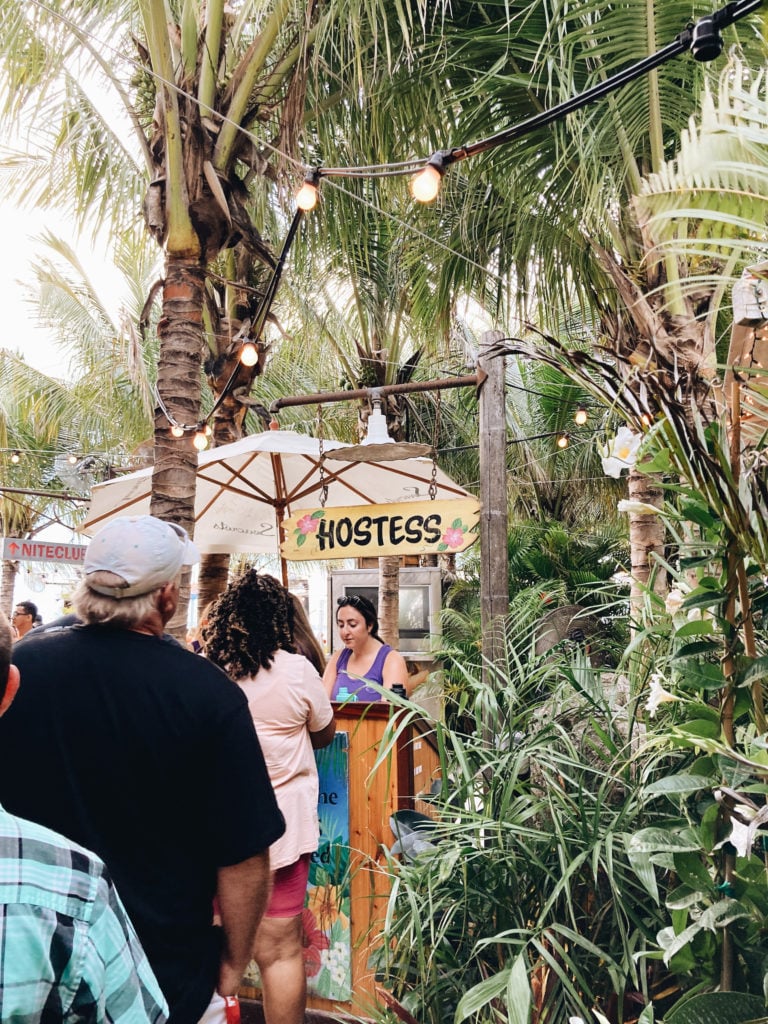 Moore, a jolly-looking, mustachioed Ocean City native, launched the place in 1988 as a tiny beach bar after running other area watering holes. As he said recently on a local podcast, "I don't have a high-school education or a college education, but I do know how to drink." Today he's a prominent benefactor of local projects, such as a new helipad for the hospital, while the mega-club, where some 800,000 party each year, is an economic engine for the town. Annual revenue (which Moore declined to confirm) has been reported as $20 million—eight years ago—and Seacrets has been listed as one of the country's highest-grossing bars and nightclubs. Mostly, it's a little like the Bermuda Triangle—you've heard a lot about it and you're kinda scared you won't make it out alive, but you also really wanna see what's going down in there.
---
Ocean City has about 7,000 year-rounders but sees some 8 million visitors a year. Of all the Delmarva beach towns, it may be the most spectacular study in contrasts. Families come to play on its gaping-wide beaches while barely legal kids who visit to get hammered are escorted out of beachside bars before 5 o'clock. On the three-mile boardwalk, you can choose between a belly-button piercing or buying a hermit crab ("Free crab with purchase of cage!"). On the horizon, a boat sails back and forth with a giant screen advertising both Covid shots and hard seltzer.
Last year, OC was a hot mess. Bars were closed or at limited capacity, but some people seeking an escape from the pandemic descended on the town anyway. In June, a series of assaults and stabbings and a large brawl broke out on the boardwalk, and in September, more than 100 people were arrested after an unsanctioned car rally devolved into chaos. In all, Ocean City saw a 21-percent increase in serious offenses for the year—robbery, rape, assault, and other crimes—the majority of which occurred in the summer.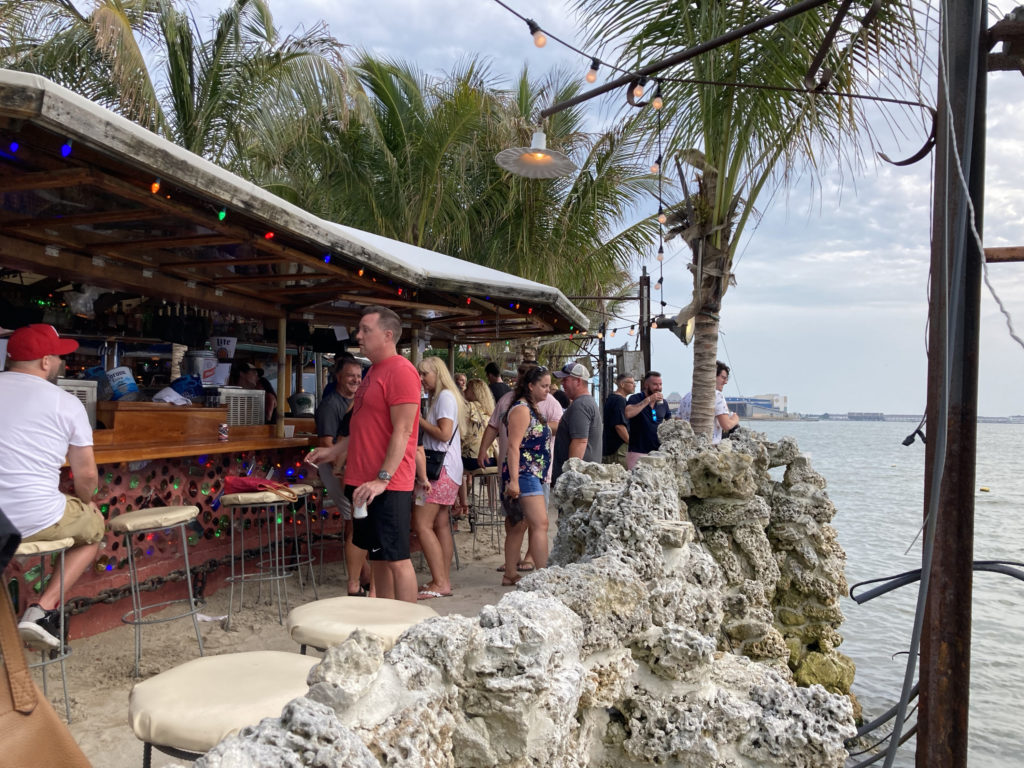 But this year, with businesses reopened and stress levels lower all around, "we are having an incredible season," says Susan Jones, who runs the Ocean City Hotel Motel Restaurant Association. June hotel occupancy in OC was 81 percent, compared with 75 percent in June 2019, and all the restaurant owners and vacation-home managers she has talked to have reported increased numbers. "You can just look out and feel the amount of traffic and the volume of people," says Jones. "I was driving downtown yesterday and I was like, 'Oh, my gosh, it feels like a Friday.' But it was a Monday."
The same goes for Seacrets. Because of the current hospitality-employee shortage, Moore still hasn't increased capacity to its full potential, even with lifted restrictions. Nevertheless, 2021 has been his best year ever—Seacrets raised its prices slightly, and smaller crowds means patrons get waited on more quickly. "They were trapped for so long," says Moore, adding, "They're enjoying themselves."
On a Friday afternoon in July 2020 feels like another world indeed. Gone are the sweatsuits and leggings: Monokinis and exposed booty cheeks abound, and one woman walks by in a tie-dyed bikini with enough zigzagging straps to qualify as BDSM equipment. When I compliment another lady on her sparkly pink fanny pack and matching tie-up one-piece, she informs me it's actually a bodysuit. "Look at my ass!" she implores, lifting one butt cheek off her barstool so I can admire it. (The ass does look good.)
Scientifically speaking, you haven't emerged from living through a pandemic until a pair of boobs topped with glittery pasties have flashed mere inches from your face.
And the bachelorette parties! There are bachelorette parties in matching flamingo tanks reading LET'S GET FLOCKED UP, bachelorette parties in matching pink heart-shaped glasses, bachelorette parties in matching captain's hats, bachelorette parties in matching shot-glass necklaces, bachelorette parties in matching fanny packs, bachelorette parties in matching multicolored wigs.
At one of the 19 bars, I strike up a conversation with two New Jersey dudes who come to Ocean City every summer and spend every waking moment at Seacrets. "Last year sucked," one of the guys tells me as he drinks a vodka-water—social distancing and masks hampered the drunken wandering and chatting that Seacrets is meant to foster. But he's happy to report that this year things seem back to normal. "You're in for a treat," he tells me. "It's a shitshow all day, every day."
There's just one bit of bad news: Seacrets used to have floating rafts in the bay where people could sip drinks and lounge, but they got rid of them during Covid for distancing reasons. Well, my New Jersey friend says, that and too many people were banging on them. "That's the real loss of Covid. I know millions of people died, but the rafts! Put those f—ing things back."
---
The upside and downside of Seacrets is that it's an easy escape—island time is only a few hours' drive away, but you're also not actually on a tropical island; you're in Maryland, and the vibe is kind of like going to Epcot's international area ("Mommm, we're not in an actual Bavarian village—this is Orlando!"). Seaweed and general underwater gunk cling to the stools and booths in the water, and a briny funk perfumes the air. Somewhere in the murky depths, mutated fish likely swim through half-spilled Natty, half-human pee water, weaving between dropped iPhones and Juuls. After a quick prayer that I don't have any open wounds on my feet, I wade in.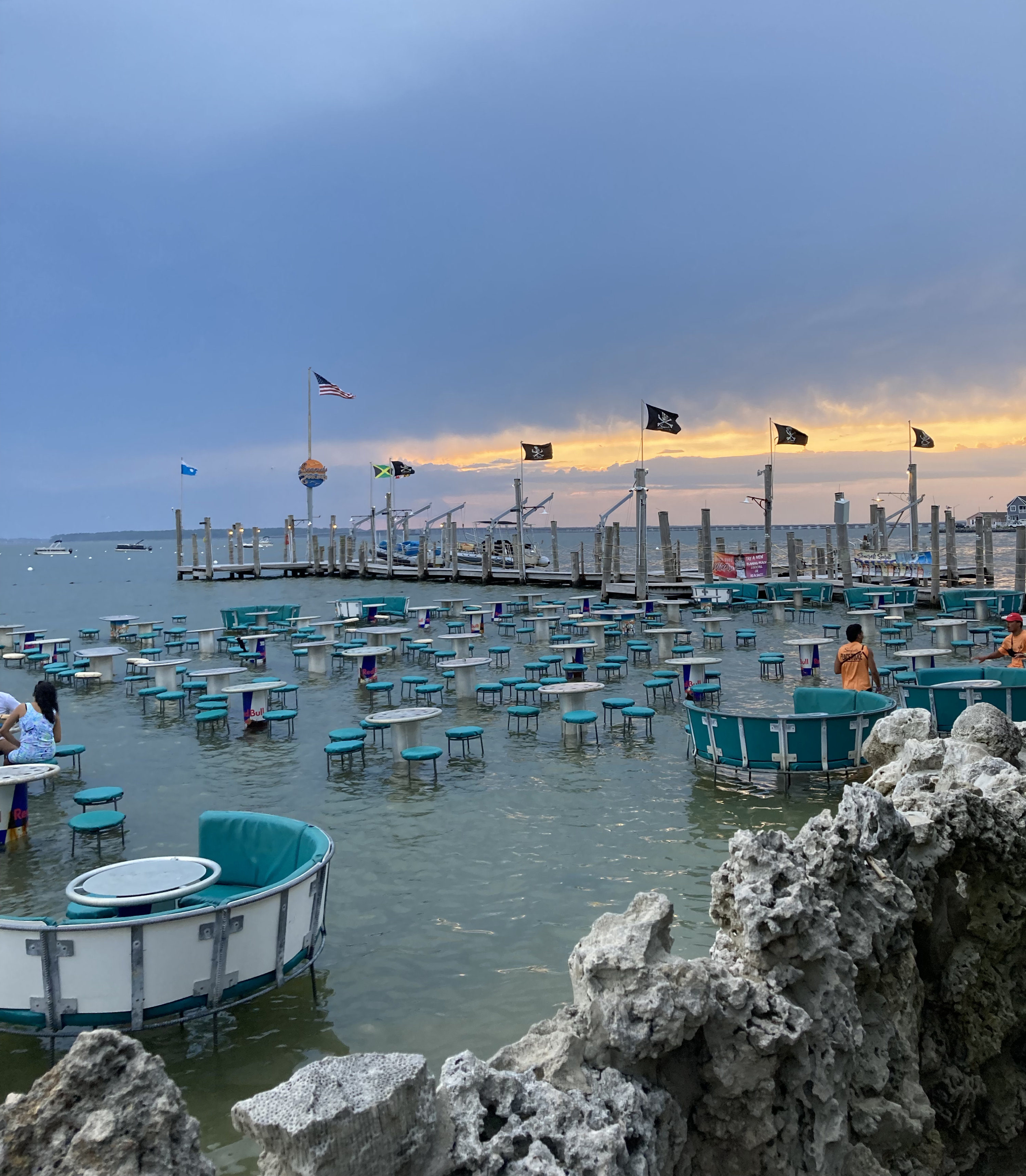 A bachelorette party is sitting in a booth in the water, and the betrothed is wearing a strapless white bikini that reads BRIDE in rhinestones across the top. Everyone's in a wig, and they're all holding bright-blue blended drinks. "Will I get kicked out if I dance on a chair?" one woman screams, then does it anyway while her friend starts slapping her ass. "Mother-f—ers, we have some drinking to do!" another yells.
Of course, I immediately befriend them. Covid postponed the wedding, a bridesmaid in a purple wig tells me, and the new date is next weekend. This is her first time traveling since the pandemic began, says Purple Wig, and her first bachelorette post-lockdown. "It seems like Covid isn't a thing here."
At this point, I've had one very strong grapefruit crush, which means Purple Wig is now my BFF, so we wade to a table of Eastern Shore guys on a bachelor party. They're sitting around smoking cigarettes, and one of them buys us a round of frozen orange crushes. He shows me a picture of his dog, and I listen to myself squeal, "Oh, my Godddd, I freaking loooooove mini bernedoodles!" and realize, yes, I'm borderline drunk.
Purple Wig turns to me. "Is my wig messed up?" she asks, purple bangs sweatily clinging to her forehead, the wig leaning down over one side of her head. "Nooooooo," I whisper intently, leaning forward and running my hands over her head. "You look soooo good." (Later, she'll turn away from me mid-conversation, start making out with the guy next to her in the water, and rip off the wig mid-kiss.)
Then Purple Wig freezes. "Oh, God," she says. "I just felt something crawl over my foot."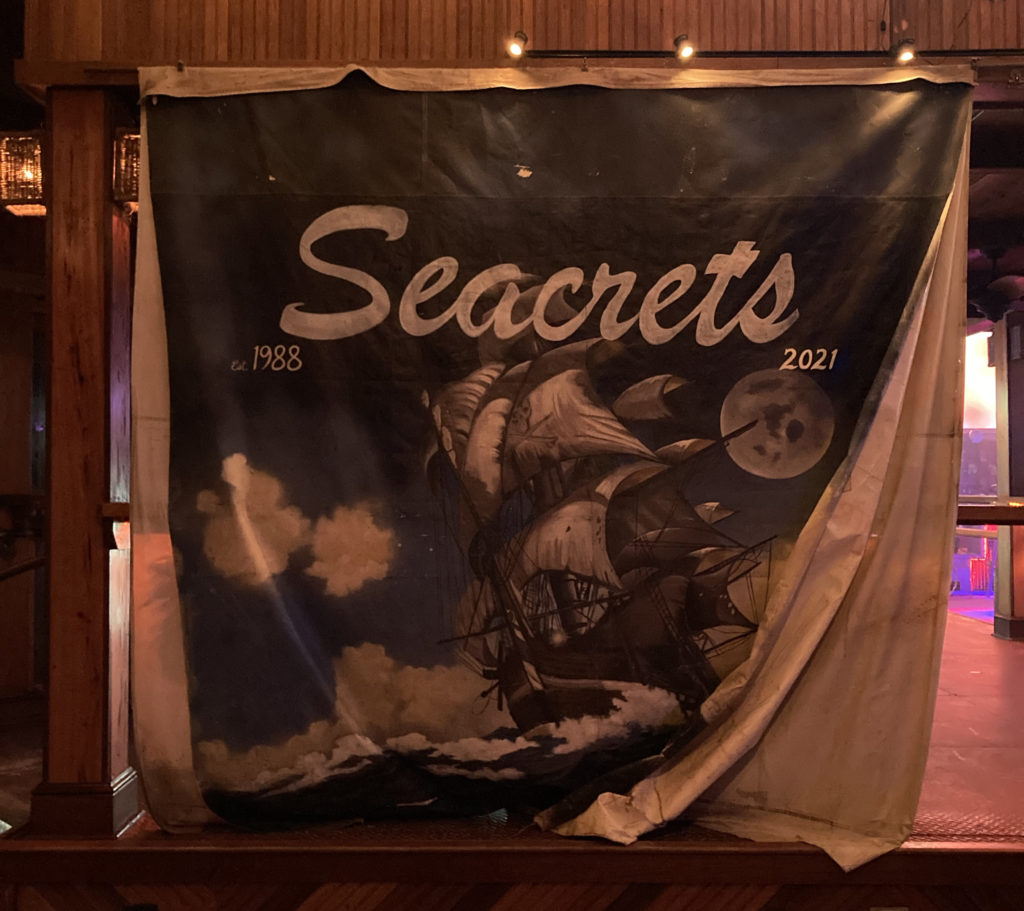 Back on land, I head to another bar after a quick bathroom stop. ("Ahh, that sweet Seacrets smell," someone says upon entering and getting air-blasted with the scent of spilled piña colada and bodily fluids.) The bartender tells me people are so excited to be back that no one paid attention when the fire alarm and a tornado warning went off at the bar last night. A woman named Wendy who's sitting next to me nods—she's been coming to Seacrets every summer for nine years, ever since she first stopped here during Ocean City BikeFest, and last year just wasn't the same. And then, because, well, I'm not sure why, Wendy tells me about the affair she's having with a married man. "I'm taking pictures and posting them on my Facebook to make him jealous," she says, snapping a photo of her frozen Dirty Banana and jerk-chicken cheesesteak.
The cover band has started playing at the beach bar and, slowly, waves of people who have been pounding cocktails for six hours begin leaving the water and trickling in among the older folks just here for the vibes. It's like seeing a drop of food coloring expand through liquid: A white-haired lady in eyeglasses and sensible capris bops contentedly to the music as behind her a guy is passing out while leaning against a bamboo pole, wrapping his arms around the pillar above his head to keep himself upright.
"Covid restrictions are lifted!" calls out the lead singer, who, for reasons unknown, has both a goatee and a cowboy hat. "No more restrictions!" He then sits down and begins to play the bongos to a cover of "Sweet Emotion." Wendy stares out at the dance floor, her dramatic winged eyeliner slightly smudged: "Man, now all these guys have long hair because of Covid." She lets out an exhale. "I love long hair."
Around dusk, Seacrets employees start coaxing people out of the bay like they're herding ponies at Assateague. The last group to go peels themselves off their booth, human barnacles flopping into the sea. One woman can't walk, her dress getting soaked, and her friend drags her to the shore while also impressively double-fisting two Bud Lights and a mixed drink. The crew wraps her in an American-flag towel, and I watch her head bob away through the palm trees.
A mix of daylong drinkers and late arrivals trickle toward the nightclub. It's huge and packed, people crowding on the dance floor in front of the stage or elbowing their way to the bar for drinks. (I see only two masks all weekend.) I go dance with my new guy friends from Baltimore, who, upon introducing themselves, inform me they've been drinking heavily for 12 straight hours. One says he's so sweaty his "back is like a slip-n-slide."
The band starts a cover of Katy Perry's "Firework," and one of the crew, a tall redheaded guy named Nate whose calves are as wide as a human skull, starts to scream along to every word. Confetti shoots out of a cannon across the dance floor, and I watch as a small blond woman in a smocked sundress stumbles around, her friend holding onto her. The dance floor is buckling up and down ominously, and it's at this point I realize I've consumed enough black-cherry White Claws to poison a small mammal. I stop at 7-Eleven on my way home, and as I sip my Gatorade and lean my head against the car window, I think about Wendy. I really wish I'd asked for a bite of her jerk-chicken cheesesteak.
---
Terrible things have happened at Seacrets. In 2008, a woman was raped in the parking lot after getting ejected for being drunk. She filed a $1-million civil lawsuit against the establishment, alleging that its security team left her vulnerable to attack by refusing to let her reenter the bar so she could grab her purse and friends. The perp went to prison; the club was found not liable in the civil suit.
This past June, a woman went on TikTok to allege that a guy at Seacrets slipped something into her drink. When she told a bartender what happened, she alleges that he scoffed, dumped her drink, and charged her for a new one. Some commenters on the now-viral post alleged similar experiences, and when people began calling out the club in its Instagram comments, it responded that it was investigating the matter. The TikTokker later said a rep from Seacrets informed her they were re-upping training for bartenders. (A spokesperson for the club declined to comment.)
In the words of one Maryland criminal-defense firm that devoted a whole blog post to the perils of OC, "Many a parent's worst nightmares" take place here "as a result of potential legal issues of their own or of their children's."
Still, the sell is escapism. Several people tell me the secret to Seacrets is you get to feel like a different person, away from your hometown and job and routine. To stare out at the bay is to behold a vista belying the last 16, 17, 18 months. It's not that this summer at Seacrets is especially different from all the others—it's that this summer is so different from the one 12 months before. Here in the pee pool, it's decided that no one's going to think about the Delta variant for a while, or partisan politics or systemic inequality or losing their job. After a year and a half of constant world misery, f— it, you know?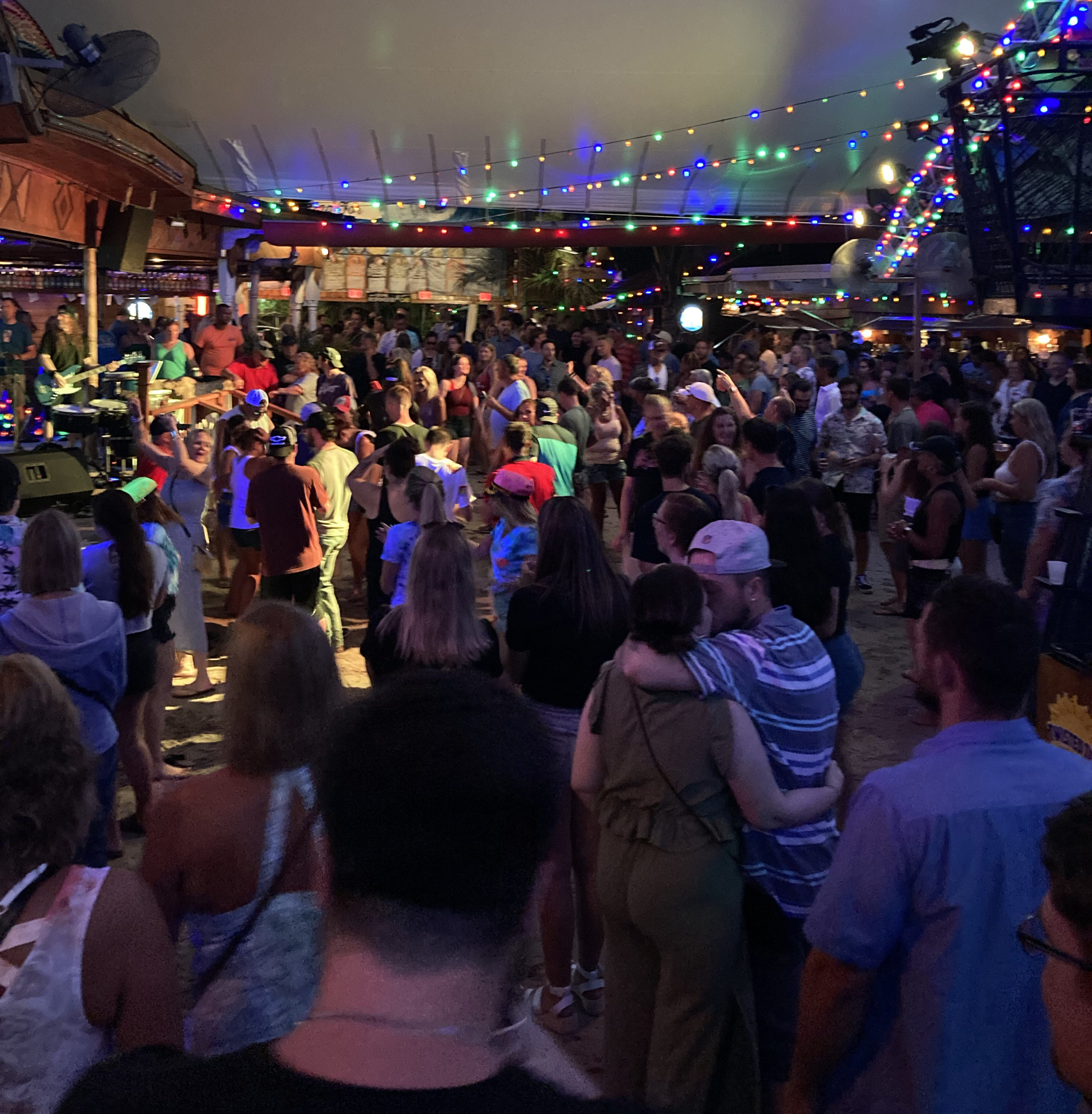 On Saturday, there's already a line to get in at 1:30 pm, and the water is packed. The DJ is playing "Summer" by Calvin Harris, and a bride-to-be is drinking at a table while holding a blowup doll with an erect penis. A nearby bachelorette party starts chanting, "Brittney! Brittney!" when a waitress wades over with a tray of drinks containing upside-down Red Bulls, and then all the nearby tables catch on and start chanting for Brittney, too. One bridal crew shows up in matching leopard sarongs, and another in matching wigs and WIFE OF THE PARTY tanks.
I post up at the bar, curious if anyone might try to buy me a drink. (Seacrets has Twisted Tea on draft, which tells you everything you need to know, really.) But, as is my lot in life, I'm approached only by a goateed, Tevas-and-linen-shirt dad who wants to talk about some interesting nautical woodworking he saw.
Back in the aquatic thunderdome, things have really picked up. The bride with the blowup doll is sticking the penis into the ear of her neighbor, and a woman with a TRUMP beach towel stands in her booth and waves it like a flag as some cheers erupt. One of the leopard sarongs is grinding with a guy in the water to Dua Lipa, and a fellow sarong stands up on the booth, puts her hands on the table, sticks her ass in the air, and starts twerking while a guy smacks her butt. The DJ comes on over the loudspeaker: "Please do not stand on the tables and chairs." He pauses the pause of a weary centenarian ready for death. "For obvious reasons." She sits down, and I see dollar bills tucked into her bathing suit. The butt-slapper leans over and tries to take one of her boobs out of her top.
Here in the pee pool, it's decided that no one's going to think about the Delta variant for a while.
Around 3:15, I see my first wasted person get taken out. It's a bachelor party in matching button-downs bedecked with beer bottles, and the tallest is being led out by the smallest. Tall Man weaves and stumbles as Small Man tries to cling to him, then breaks free and starts tumbling toward the families lunching in the dining section. "Steve! STEVE!" Small Man calls. I stand at a rock wall overlooking the water and imagine all these people showing up to the office or logging into their email on Monday. My jaw clenches down hard on my back teeth.
That evening, after the glittery pasty-covered boobs passed within inches of my face, I run into my buddy Nate and we excitedly hug like long-separated family reuniting outside customs. Making friends at Seacrets is like making friends on a cruise: You bond quickly and deeply, the kind of connection established only when in a contained space with mass quantities of booze. He's here alone because his friends were so hung-over today that they didn't leave the house until 8 pm. One threw up so much last night, Nate says, that he fell asleep with his head hanging off the bed, and in the morning his face was so swollen that they almost called 911. Nate looks at me square in the eyes, as if giving me the code to the nuclear football: "I've never seen a head so purple."
Standing in the club, I'm struck by how happy everyone looks. Sure, they're mostly tanked, but the sensation of being in a crowd again, screaming out a song, is intoxicating, too. The band starts playing "Mr. Brightside," and per Seacrets tradition, balloons drop at midnight over the dancing crowd. Pops go out throughout the club as the balloons burst on the floor, and people cheer like it's New Year's Eve. There's still two hours until close, but it feels like the end of something. I experience a swell of joy at seeing people embrace and kiss, and, in the oddest of places, I feel something like a flicker of hope. Perhaps we're not a bunch of doomed idiots after all. It's hard to see the stage fully, though—something is in my way. Oh, wait. It's someone in a headband topped with wiggling dicks.
This article appears in the September 2021 issue of Washingtonian.