Jonathan Allen
Defensive tackle, Washington Football Team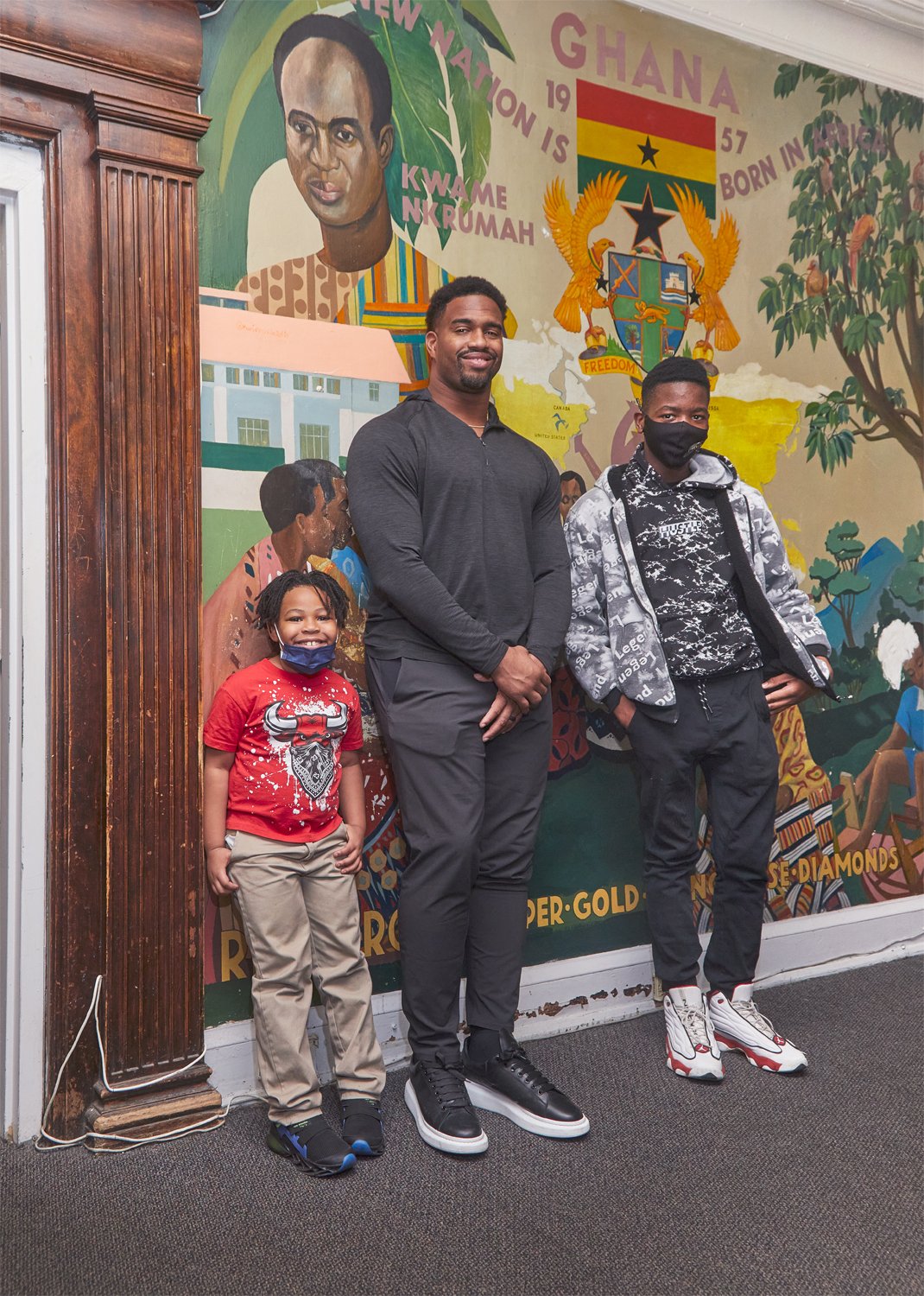 Jonathan Allen isn't just a defensive tackle for the Washington Football Team—he's also tackling issues of youth homelessness.
Three years ago, the football star joined forces with Sasha Bruce Youthwork. The nonprofit, founded in 1974, runs DC's only 24-hour homeless shelter for minors and is dedicated to helping young people find safe homes, mental-health services, and educational or career opportunities. Allen is familiar with the challenges—he and his brother spent time in foster care before being reunited with their father. Later, Allen's Alabama coach taught him a lifelong lesson: "The best thing you can ever do is what you do for somebody else," says Allen.
Allen and his wife, Hannah, have pledged $3 million to area charities over the course of his WFT playing career. At Sasha Bruce House in Northeast DC, they created the Innovation Lounge—a tech-and-entertainment center outfitted with laptops, study spaces, and gaming systems. The couple "adopted" families and kids over countless holidays, providing free meals and gifts. As a two-time Walter Payton NFL Man of the Year nominee, Allen helped raise funds to expand Sasha Bruce's winter survival services and partnered with sponsors such as Bombas to provide essential cold-weather gear. When Covid hit, Jonathan and Hannah contributed $45,000 to Sasha Bruce's rapid-response fund.
Perhaps most important: Allen himself, a regular presence at Sasha Bruce House. During the 2020 season, unable to visit due to Covid, he Zoomed with the kids every Thursday. "We would talk about different issues that I went through or the kids went through," he says, "like how to deal with anger, stress." The fundamental lesson he hopes to impart: "This situation doesn't define you."
Says Allen: "I feel like I'm an example of being able to come out of the other side. I'm not saying that just because I play in the NFL. You can have a successful life in whatever field you pursue. Showing the kids that it is possible is my biggest message."
"Jonathan Allen's help has translated into enhancements to our programs and bolstered our mission. He has ensured that youth are provided with basic good care and opportunities to expand their learning. Jon's involvement in Sasha Bruce has brought hope to our young clients as he has generously shared his own journey. Jon has a wonderful partner in his wife, Hannah, and together they have made sure they are involved in the most impactful ways. I am grateful for Jonathan's continued effort to help us build stellar community supports where youth and families in dire circumstances can truly thrive."
Back to Top
Suzanne Brennan Firstenberg
Social-practice artist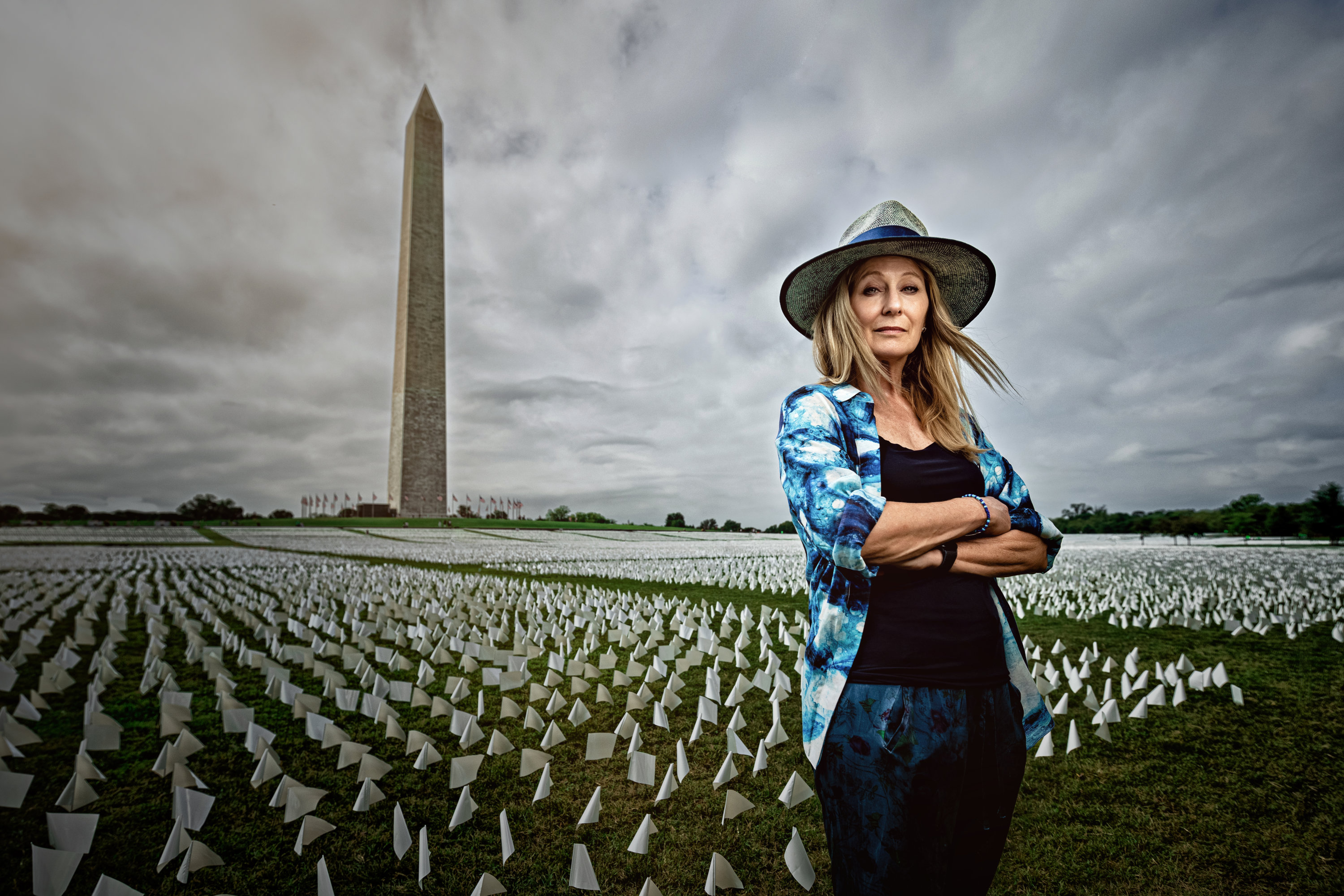 Some artists are guided by beauty. Suzanne Brennan Firstenberg is inspired by "empathy in all forms."
"I wouldn't presume myself an activist per se, but I'm an artist with an activist soul," says the Bethesda mixed-media specialist, who has created striking installations with an eye for honoring mass-shooting victims and destigmatizing drug addiction. "I don't just want to create art—I want to create art that changes society."
When it was reported that the Trump administration considered 180,000 American Covid deaths "just a statistic," Firstenberg knew she had to translate that number to a visual human toll. She needed a medium both "reverential and affordable," so she bought a quarter million white marking flags—each representing a lost life—and got to work creating "In America: How Could This Happen . . ."
The first of what would become two globally recognized "In America" installations placed 267,000 flags outside the DC Armory in October and November 2020. After its conclusion, she launched a website where people could create additional virtual flags for loved ones.
This September, Firstenberg worked with the National Park Service to take over 20 acres around the Washington Monument for 17 days. (Mall installations typically get three.) Working with an army of volunteers, she planted 660,624 flags—many with a heartfelt epitaph. By the time "In America: Remember" was over, she'd added about 2,000 flags each day to keep up with the mounting death toll—what she calls a "shocking" number.
Firstenberg spoke to mourners and witnessed countless tears and stories as well as connections among strangers. "I had the privilege of doing art that not only spoke to individual loss but also the collective national loss," she says. "Race, religion, politics—it didn't matter. People were there for one another. That gives me hope. We need to continue making other not other."
"There were few things as powerful, meaningful, and needed as Suzanne's installation on the Mall. Her work helped us mourn, cry, and, most importantly, remember that a family's loss was also a loss for the nation."
Back to Top
Linda Jessup
Founder, Parent Encouragement Program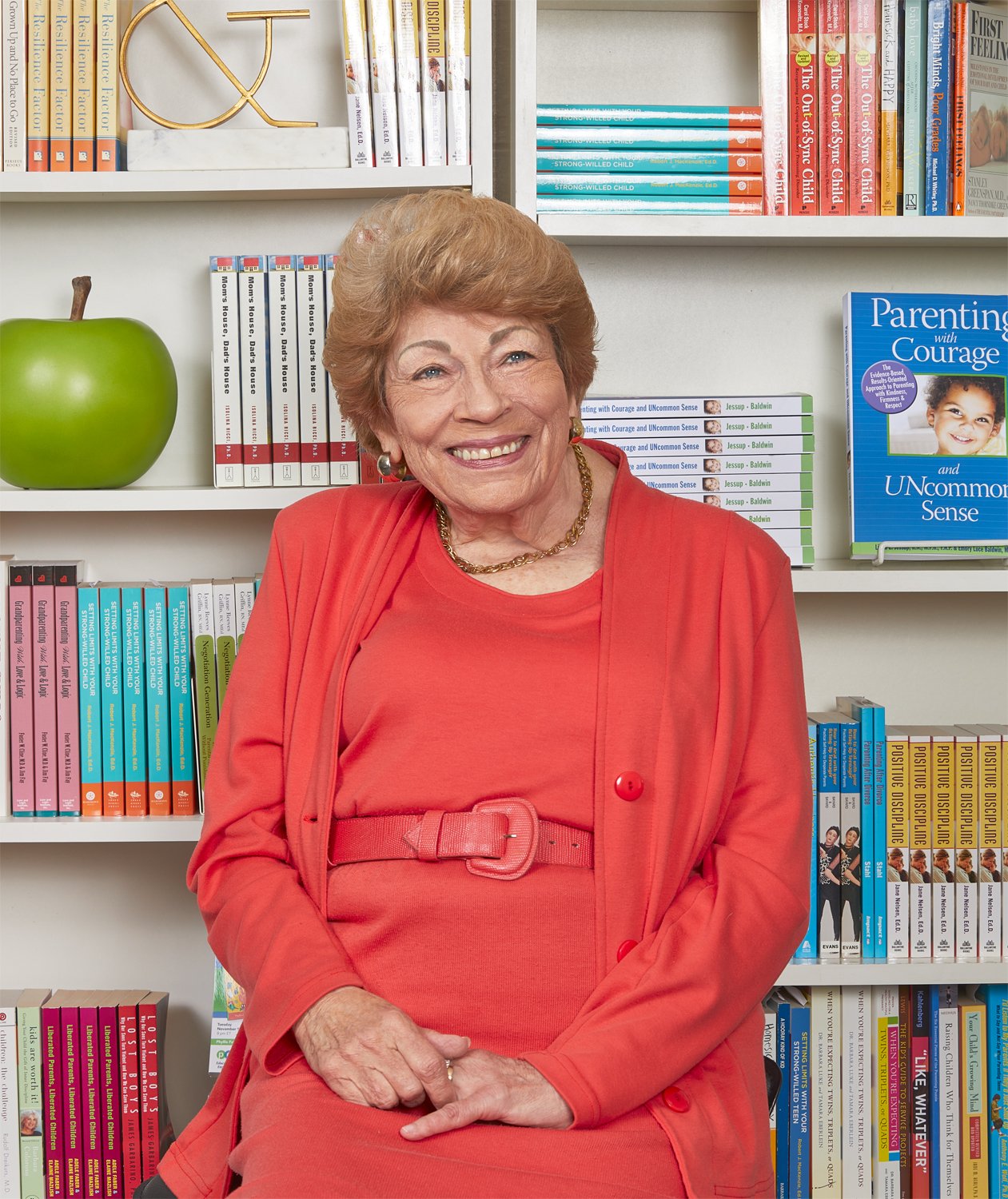 Linda Jessup knows about struggling as a parent. Raising three biological kids, adopting one as an adult, and fostering others proved challenging—even as a family nurse practitioner. "I felt like an awful parent," Jessup says. "I'd start out with the right intentions, and somehow everything would fall apart."
It was this difficult journey that in 1982 led her to found Parent Encouragement Program, a "positive parenting" nonprofit designed to build harmonious family relationships through peer-based, interactive classes. Today, PEP has served 65,000 parents with children pre-K to college age, plus thousands more schools and organizations. Parents frequently rave that PEP "saved my relationship with my child."
It started small in Jessup's Silver Spring basement. She and husband David participated in parenting groups centered around books by child psychologists, but, David recalls, "It felt like a book club—we didn't have any practical follow-up or hands-on skill-building." Linda Jessup took the core values—respect, cooperation, responsibility, competence—and created her own program that gives parents real-life tools and adaptable skills.
In the past two pandemic years, PEP's services have become even more crucial. The organization's workshops and classes all went virtual—many for free—covering 65-plus timely topics such as "supporting mental health in tweens," "readjusting to school," and "supporting grieving children." Classes are in English and Spanish and geared toward not just couples but also single parents and fathers.
"It's not all about counseling and training. It's about encouraging all of us," says Jessup. "Cor means heart [in Latin]—you're doing things with your heart and supporting the heart of people."
"This is the brilliance of Linda Jessup: PEP doesn't just give you a theory—it gives you tools. She's a big believer that you learn by doing and that it takes time. People come into PEP thinking, 'We're going to fix our kids.' Instead, they come out powerfully transformed—not just [in] how to raise their kids, but [how they] exist in life in cooperative situations."
Back to Top
Tommy McFly
Host, Tommy + Kelly Show, and NBC4 Scene correspondent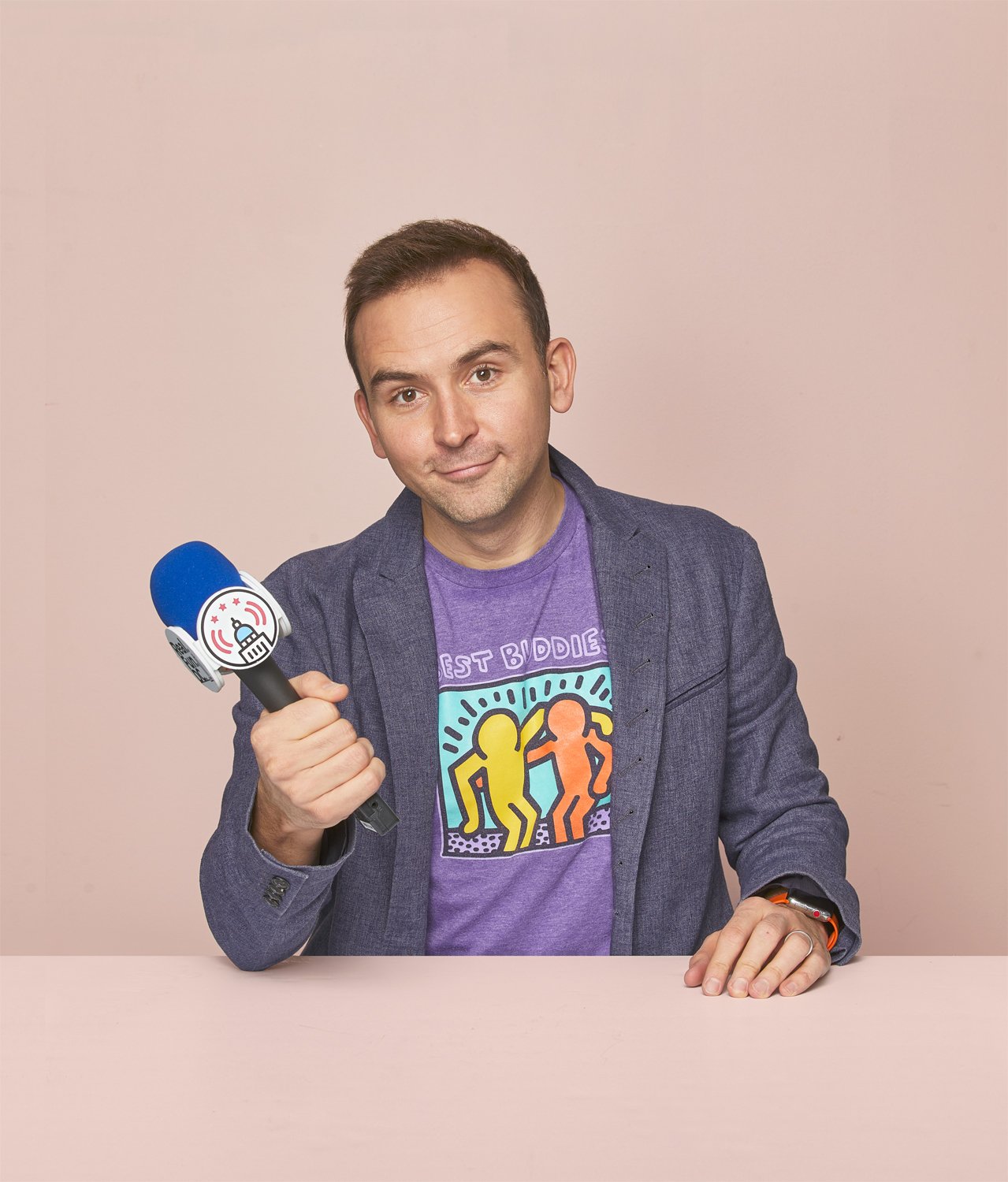 Washington can make insiders jaded. Tommy McFly's view of the place is "enchanted and charmed."
The exuberant radio, podcast, and TV personality arrived here from Scranton, Pennsylvania—a 20-year-old rising-star producer for local radio legend Jack Diamond. McFly's enthusiasm for Washington—and the people who make it a better place—shone for more than a decade on his hit Tommy Show. Now he has two new mediums that amplify local voices: Real.Fun.DC., a diverse independent radio station he launched with longtime cohost Kelly Collis, and NBC4's The Scene.
Whether McFly is emceeing the White House Easter-egg roll or delivering thousands of Georgetown Cupcakes to teachers, his mission is more than entertainment—it's building community. "We're given a microphone and social-media presence," he says. "If you don't use your platform for good, you don't deserve it."
McFly is a decade-long champion of Best Buddies, a once-local, now-global nonprofit dedicated to ending isolation for kids and adults with intellectual and developmental disabilities (IDD) through friendship and career programs. McFly was appointed chairman in 2014 and, in true McFly style, immediately livened things up with a big party: Best Buddies Prom. What started as a bootstraps event is now one of the area's biggest annual galas, where 1,000-plus kids and grownups celebrate at the Ronald Reagan Building with VIPs and celebrity chefs. It has raised an impactful $1 million thus far.
"I've been so blessed with the opportunities I've gotten in DC," says McFly. "It's why I'm so focused on ways to give back, because this town has been way better to me than I deserve."
"I launched Best Buddies in 1989 at Georgetown University. If someone had told me that more than 30 years later we'd have individuals with IDD working in tech labs or reporting for a national TV show, I wouldn't have believed it. This is all possible thanks to dedicated volunteers and inspirational leaders like Tommy. His leadership, passion, and dedication to our mission have helped Best Buddies expand its programs throughout Washington. He's helped Best Buddies change lives for the better."
Back to Top
Radha

Muthiah
President and CEO, Capital Area Food Bank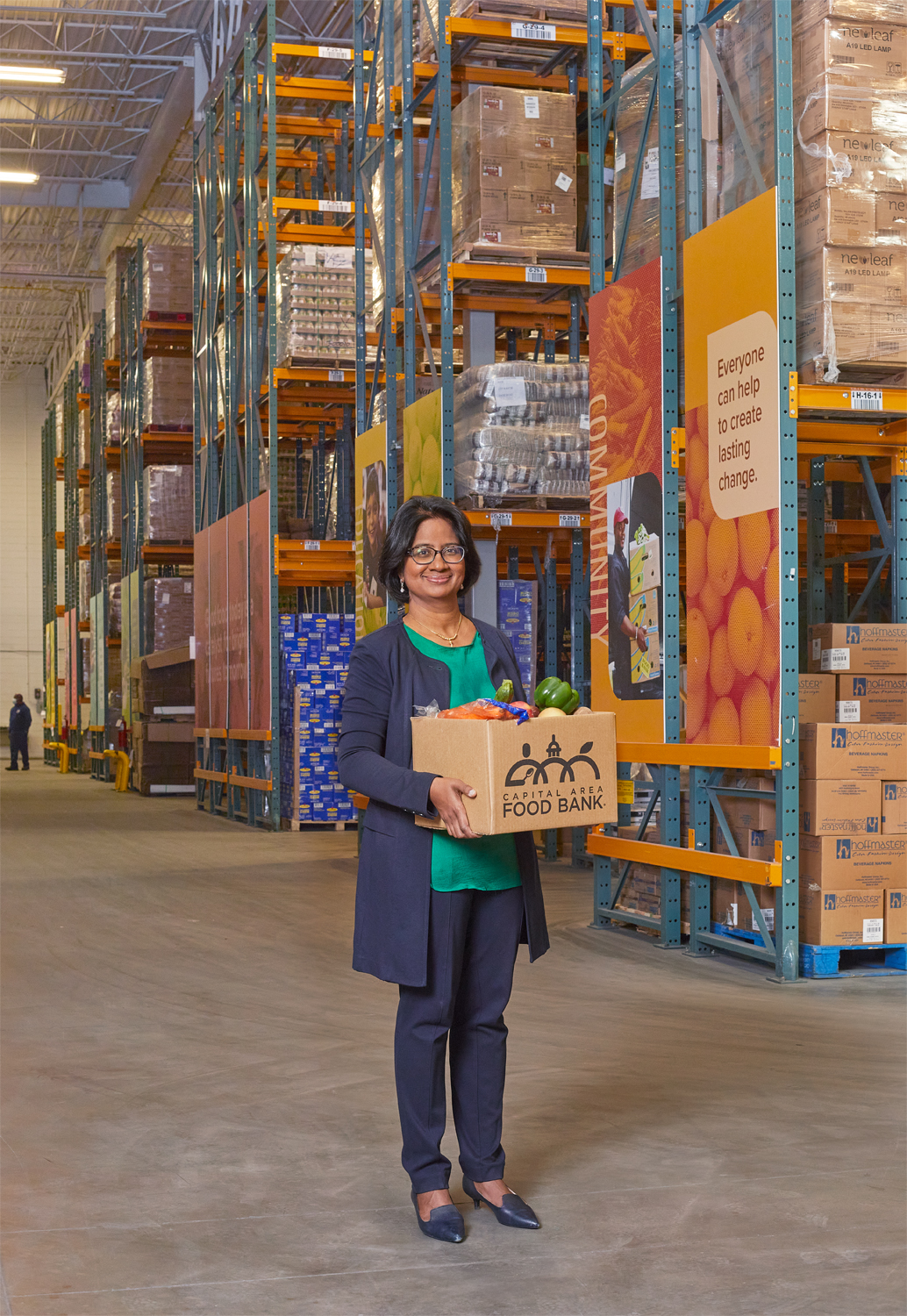 Radha Muthiah knows that the equation for solving hunger is greater than food itself. When she took the helm at the Capital Area Food Bank in 2018, she started innovating on its strong foundation. The 42-year-old organization, which will provide 45 million meals across the region in the coming year, has always been adept at feeding those in need—so what next?
"A dual focus is now part of our mission," says Muthiah, who left a career in management consulting to lead hunger- and poverty-fighting organizations. "We're helping people get the food they need today but also helping them access opportunities that enable a brighter future tomorrow."
Take new "Food+" partnerships, in which the food bank teams up with a school, hospital, or work program to bundle free groceries with services that help people long-term, such as education or job training. One recent initiative: a "food pharmacy," in partnership with Children's National. Doctors write "prescriptions" for healthy foods such as vegetables or lean protein for low-income families whose kids suffer from nutrition-related ailments; they're then "filled" for free on-site with items provided by CAFB—accompanied by recipe cards and locations to receive food assistance near the recipient's home.
Muthiah also pioneered new accessibility programs to meet people where they are—especially important during lockdown. Her organization now runs mobile "Curbside Groceries" in low-income neighborhoods, stocked with healthy, affordably priced items
The food bank's role became even more crucial during the pandemic, increasing its distribution to 76 mil­lion meals—250 percent over pre-pandemic levels. Muthiah also sees a silver lining: "During Covid, we've had to restart engines of growth in the region. We have the opportunity now to reset that table and say how the growth we're promoting can be more inclusive—more programs for people who may have been left behind before, and more enabling environments to allow them to participate."
"In the decade that I've had the honor of working with Radha, she has led tirelessly and inspiringly in the fight against hunger. Radha's strength lies in her ability to develop partnerships that multiply the impact of this essential work—building bridges across our community that send ripples of opportunity and make our region healthier, stronger, and more secure."
Back to Top
Courtney Clark Pastrick
Board chair, Clark Enterprises and A. James & Alice B. Clark Foundation
"Give where you live"—that was A. James Clark's motto. When the Clark Construction magnate died in 2015, he committed more than $1 billion to his long-standing charitable organization, now called the A. James & Alice B. Clark Foundation. The huge sum is to be spent down by the end of 2025.
His daughter, Courtney Clark Pastrick, left a law career to join the foundation in 1987 and has dedicated herself to expanding her parents' philanthropic legacy—beyond writing a check. "I've seen organizations excited to get a big grant, but then there was no ability to sustain it. That can almost be more damaging," says Pastrick. "One of the best gifts we can give these organizations is to help them become strong organizations."
The numbers—and their real-life impact—are tremendous. The Clark Foundation has committed nearly $280 million to 167 area organizations since 2016. Of that, more than $81 million supports local schools and education programs, serving 6,000-plus students by the end of 2021. "My father had a full scholarship to the University of Maryland, and it changed the trajectory of his life," says Pastrick. Additionally, UMD received more than $219 million, the largest donation in the university's history; by 2026, the foundation's investment will enable the university to provide scholarships to nearly 400 students annually.
Clark set a decade-long lifespan for the foundation so it could maximize its impact and address current challenges. Most recently, the foundation launched the Parent-Child Health Initiative, a $102-million collaborative investment among major healthcare and community organizations to address the maternal-health crisis in DC.
"A lot of organizations are not as nimble," says Pastrick, who has intentionally kept her team small. "My father would be proud of that. He was an engineer—all about efficiency and accountability."
"Courtney Clark Pastrick is a pioneering leader and philanthropist. She has demonstrated her commitment to improving the lives of those in need in the Washington area for over 40 years. The investments she has made have enabled the next generation of leaders to embark on meaningful careers that will positively impact the region and nation for years to come. Her family's great Clark name will always be synonymous with excellence and an enduring legacy to give back to improve the lives of others."
Back to Top
Jamie Raskin
US congressman, Maryland's 8th District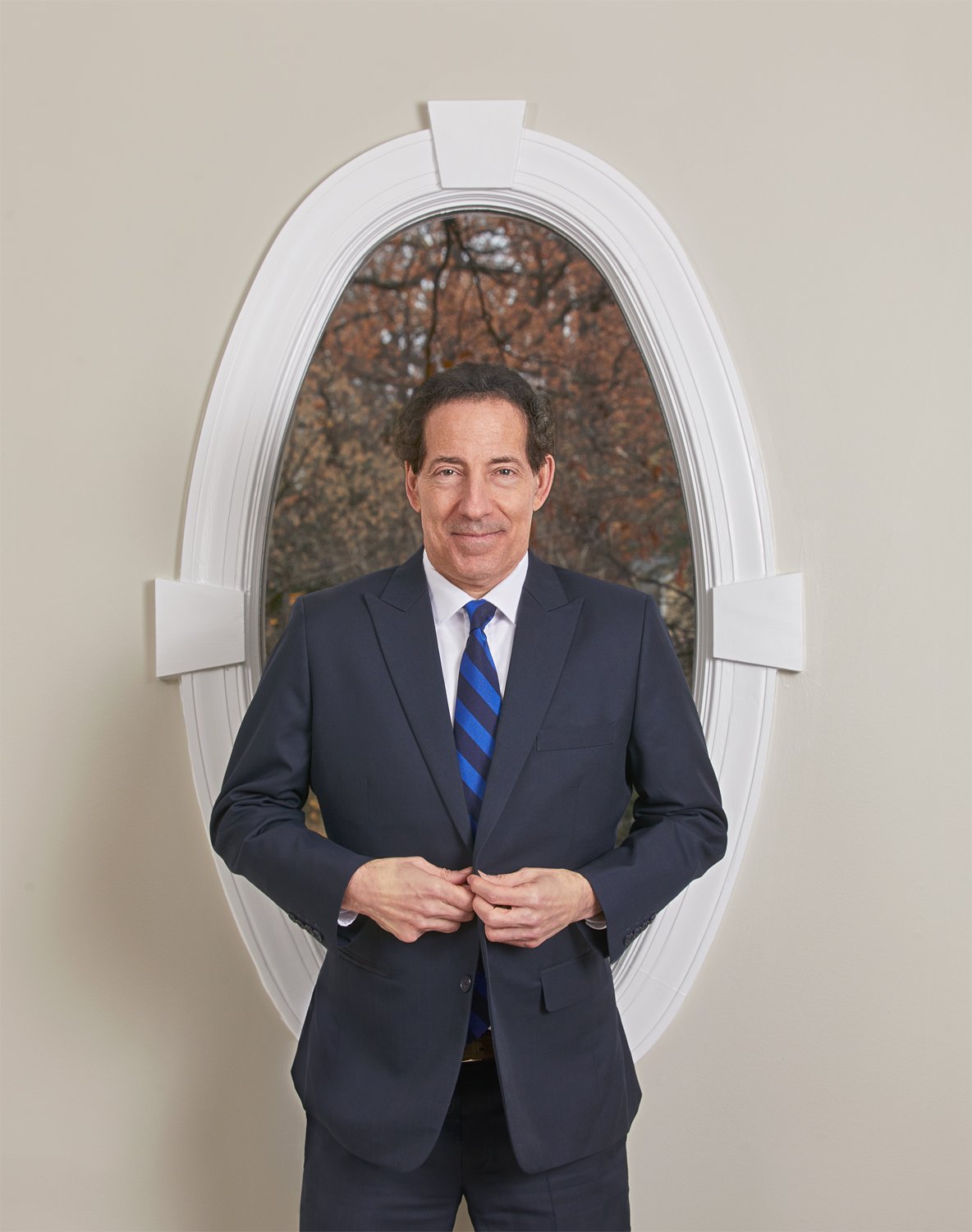 Jamie Raskin says he could spend his life obsessed with 45 days—a recent period of immense personal and national tragedy, and one that also established the Maryland congressman as an ardent and eloquent defender of American democracy.
It started on December 31, 2020, when Raskin's 25-year-old son, Tommy—a brilliant Harvard Law student—died by suicide after battling depression. His funeral fell on January 5. Raskin was at the Capitol the next day with grieving family members to certify President Biden's election. The violent insurrection would thrust the former American University law professor into the global spotlight. Soon after, he was tapped to lead the impeachment proceedings stemming from January 6.
"I didn't know whether or not I could be functional again," says Raskin, now an influential member of the January 6 select committee. "Nancy Pelosi threw me a lifeline, in a way. She allowed me to see that this is what Tommy would have wanted me to do. He was a great believer in democracy and the rule of law in the service of our best values. People understand that democracy is a precious inheritance, but there's nothing guaranteed about it. You have to fight for it every day."
Raskin—who was a prominent champion of DC statehood, voting rights, and marriage equality before going to Congress—could obsess for a lifetime. Instead, he wrote Unthinkable: Trauma, Truth, and the Trials of American Democracy. The "cathartic" memoir, out January 4, reflects on the dueling catastrophes. "I wrote it for the people who helped me get through these traumas," says Raskin.
Already, he's making an impact in his son's memory. In July, the Thomas Bloom Raskin Act expanded Maryland's crisis-call services and mental-health check-ins. A memorial fund established by the family accrued more than $1 million in contributions and supports causes Tommy cared about, such as refugees and Mercy For Animals. Raskin plans to use Unthinkable as a platform to talk about the mental-health crisis afflicting our nation.
"If you're in a dictatorship, mental health is not a big deal," says Raskin. "But if you want to run a democracy it's essential, because we need it for effective self-government."
"Jamie Raskin and I have more in common than most members of Congress. I serve on the subcommittee on Civil Rights and Civil Liberties, which Jamie chairs, lending his brilliant mind to fashion legislation for the nation and for Maryland. Jamie's role as the lead impeachment manager and his selection to serve on the January 6 committee investigation are other indications of his leadership in the Congress."
Back to Top
Safi Rauf
Founder and president, Human First Coalition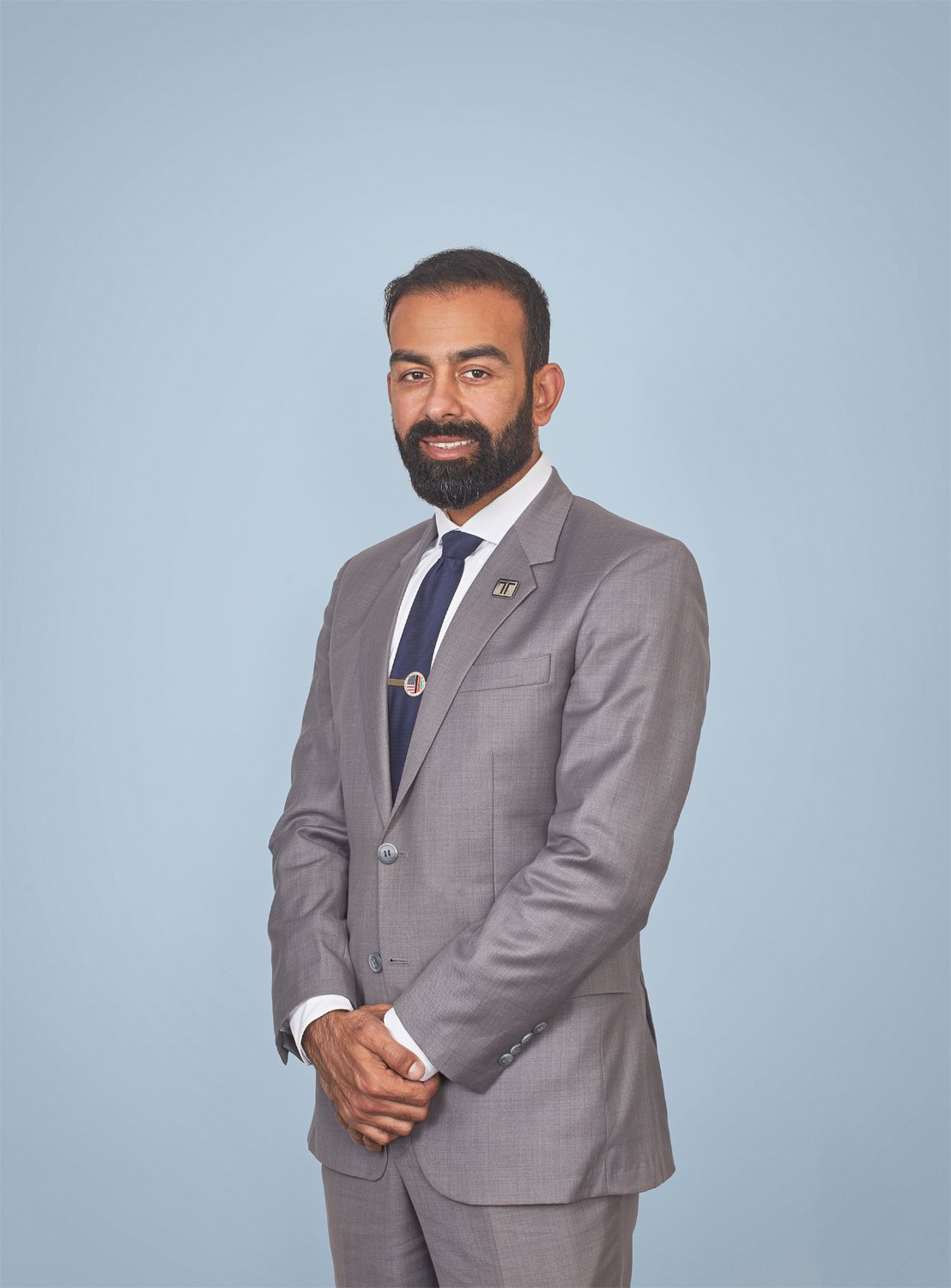 Safi Rauf has covered tremendous territory in 27 years. An Afghan refugee, he grew up in a Pakistani camp with ten siblings before emigrating to Nebraska. Like many American kids who are into Top Gun, he yearned to be a fighter pilot. When the Defense Department discovered he was fluent in six languages, he was diverted into special ops.
After six years of undercover operations, combat, and "frustrating" stints in Afghan-American diplomacy, Rauf switched tracks. He enrolled in Georgetown premed with dreams of becoming a trauma surgeon in refugee camps. "Being born a refugee and seeing a dire need for help all the time—I have to help, I can't say no," says Rauf, who worked at the Naval medical center in Bethesda while putting himself through school. "My friends and loved ones wouldn't have made it if we didn't come together."
When Kabul fell to the Taliban in August, Rauf deferred med school. Using his networks here and in Afghanistan as well as funds from his 401(k), he mobilized a grassroots rescue operation—at first, safe houses and transportation, then evacuations. Within weeks, he formed an official organization, Human First Coalition, which has evacuated more than 8,000 Americans and at-risk Afghans. Rauf now works with 200-plus volunteers and staff worldwide from his DC office (where he usually sleeps). One of their major bases is in Quantico, where they've received thousands fleeing. He has helped over 450 people resettle locally, assisting with food, housing, and translation.
Rauf has lofty goals to reach by age 30: thousands more evacuations and resettlement efforts through Human First, plus an international footprint with an emphasis on medical and food assistance. And he's still planning to get that medical degree.
"Safi is one of the most incredible human beings I've met. His personal effort has resulted in tens of thousands of lives being saved. He put all of his own time and money into the effort when he didn't have to. It speaks volumes about his character."
Back to Top
Mariflor Ventura
Founder, Casa Mariflor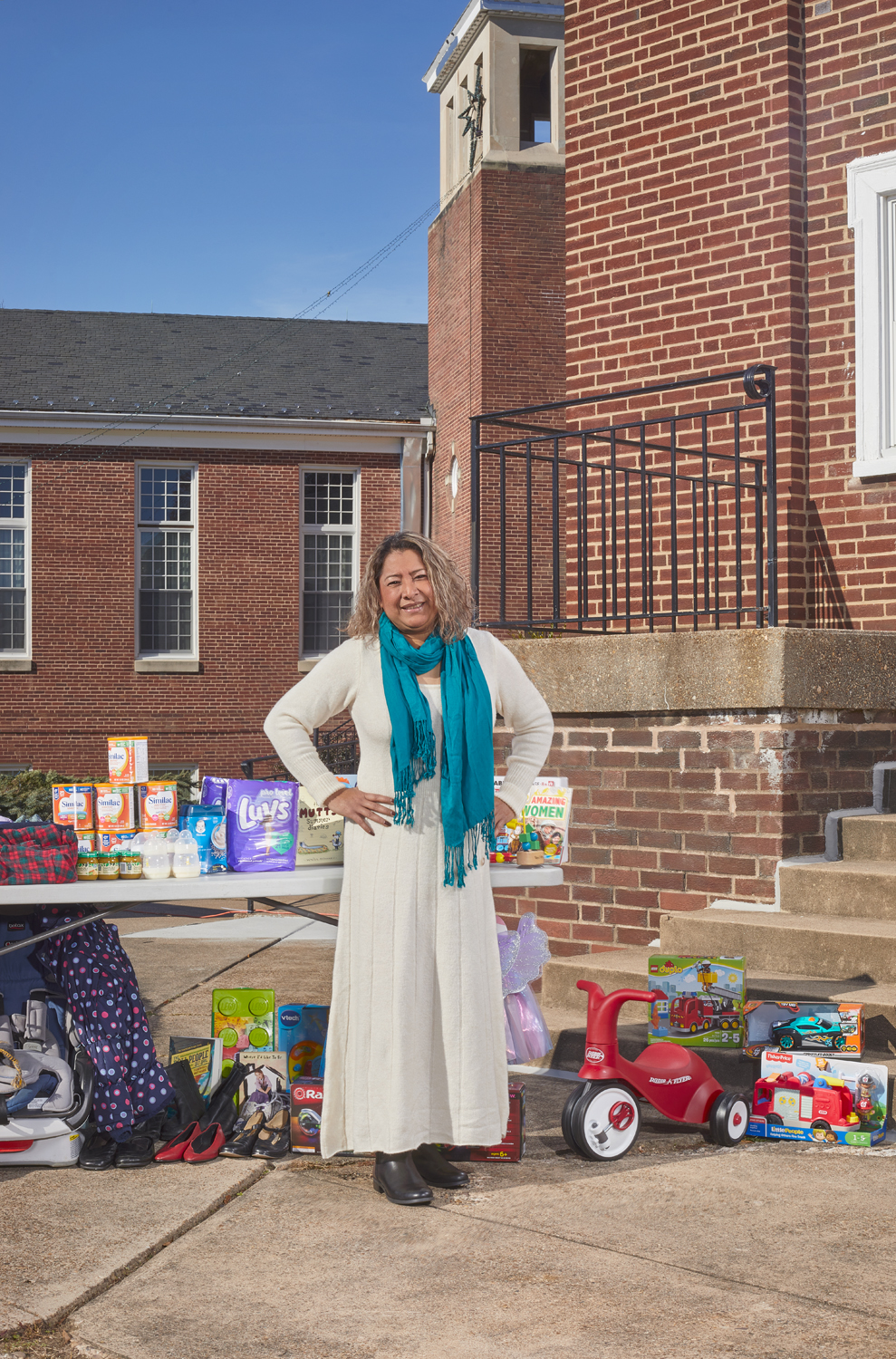 Diapers. Rice. A wheelchair. Such items packed Mariflor Ventura's one-bedroom apartment in Arlington's Buckingham neighborhood, waiting to be handed to neighbors outside "Casa Mariflor." Ventura doesn't lead a nonprofit—yet. She's a Salvadoran immigrant and single mother of four going to superwoman lengths to help her community.
When Covid hit, many of her neighbors—mostly fellow immigrants from El Salvador, Guatemala, and Honduras—lost jobs. Some are here without papers and don't speak English; others are single parents or elderly. Ventura, who immigrated in 1991 and works as an Arlington public-school bus attendant, saw families going hungry. "I grabbed whatever I had from my house," she says.
Ventura turned to an Arlington Neighbors Facebook group and asked for food and clothes. Her call went community-viral, and donations poured in. She started her Casa Mariflor Facebook page, with an Amazon Wish List for donations. Separately, she also created a WhatsApp channel of neighbors—now more than 300 families strong—to send out information about pickups and employment. "I think I opened the doors for everyone to see where these needs are," she says.
Ventura's contributions go further. While working full-time and raising twins, she enrolled immigrant kids in school and signed up 80-plus neighbors for online English classes. Others have reciprocated: A Vietnamese church now lets her use space for storage and distribution. She has received a flood of thank-yous—plus an invitation to the White House. "Before, everyone was for themselves," she says. "I think Covid opened more hearts in people. And it's amazing how people have helped—it doesn't matter where you're from."
"It's a blessing Mariflor has been able to do this. To be able to touch so many people's hearts—not only the people that help her but the people being helped. They love and respect her. It's hard work, and what she's done on her own is amazing."
Back to Top
Deborah Guns Wimberly
Executive director, Living Wages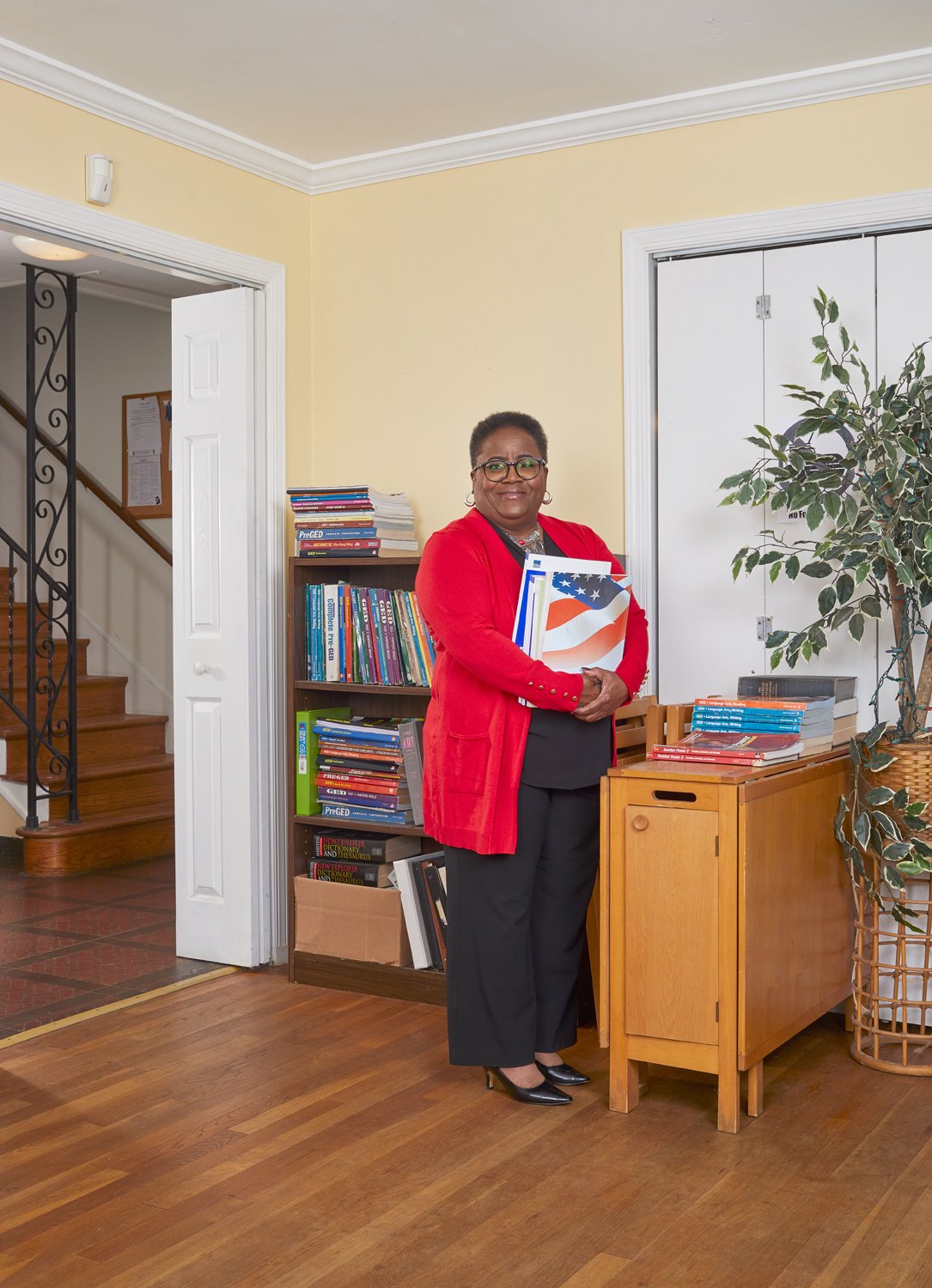 Deborah Guns Wimberly found a calling as an adult educator over her 30-plus years dedicated to nonprofits in DC, including work with transitional housing at Samaritan Inns.
In 1998, Wimberly connected with Living Wages founders Sister Betsy Hartson and the late Bob Crittenden, who'd just launched the adult-education nonprofit. Now located in Washington Highlands, Living Wages has helped more than 400 students achieve DC high-school diplomas, mostly through the National External Diploma Program. Its mission: to provide tools to earn a living wage—all for students over 25, largely in the District's wards 7 and 8.
The NEDP is an adult-friendly approach in which students earn credit for life experience such as reading the news, and prep classes revolve around subjects like financial literacy. Wimberly—who started teaching at Living Wages 20 years ago and became executive director in the last two—leads courses in math, writing, and life skills such as time management. "The point is we work with people wherever they are, and we go from there," she says.
The pandemic proved a challenge for Living Wages, which operates with 20-odd volunteers and no full-time employees. Wimberly transitioned not only the programs online but the students as well. Some needed typing and computer skills, if not a computer itself. Wimberly gave away 15 desk and laptops. Despite Covid-related obstacles, the organization is still counting successes big and small: students who earn diplomas, apply to college, and achieve meaningful employment.
Wimberly also recently launched a pilot entrepreneurship program "to encourage our community of dreamers and learners" who want to start micro-businesses. But not everyone who visits Living Wages needs lofty goals. "We've been a place where people can come in to fax, copy documents, use the computer, search for a job, or drop in for a cup of coffee and some conversation," says Wimberly. "We've been a place where people can come in for whatever they need."
"Deborah has an inviting welcome to everyone who walks through the door. When working with the adult learners, she has a gift of patience, identifying the strengths and problematic areas of learning, and solutions to quickly address the problem. A true educator in every way."
This article appears in the January 2022 issue of Washingtonian.