The beachfront in Surfside, Florida, is one of the more peaceful and unexploited stretches of public sunning space in the entire sprawling South Florida metropolis. Nobody is hawking kitschy T-shirts (advertising and vending are verboten), and you can't fish on the shore during daylight. Grass-topped sand dunes and sea-grape trees hem the length of the beach and separate it from the town's semi-famous "hard pack": a serene one-mile pathway of compressed sand beloved by runners.
One sunny day last June, a Surfside resident spotted a tall blond woman on the hard pack, with a little white dog on a leash. She watched as the woman led the dog off the pathway toward the beach, right past a sign that clearly said dogs weren't allowed.
The resident, a beach activist who finds high purpose in protecting Surfside's loggerhead sea turtles during nesting season, mobilized. "I was speed-walking at her and yelling at her," she recalls. "I just opened my mouth and said, 'You can't go out there with the dog!'"
When the startled owner turned around, her face was immediately recognizable. It was Ivanka Trump—accompanied by her ten-year-old daughter, Arabella, and their ultra-white, blue-eyed pooch, Winter.
"Oh-uh, I didn't realize," Trump said.
The resident was a bit flummoxed herself; this was her first face-to-face encounter with the former First Daughter. "She's well put together," the neighbor remembers. "She's had a lot of work done, and it's good plastic. It's Miami, and there's a lot of bad plastic here. She has good plastic."
The women were adjacent to the seaside condo building where Ivanka and Jared, their three children, and Winter (believed to be a Pomeranian mix) had resettled after their inglorious exit from Washington five months earlier—and just steps from the large beach-rules notice that Trump surely must have passed scores of times by then.
"You're standing right next to the sign," the neighbor told Ivanka. "Look, it says 'No dogs.'"
"Oh," Ivanka said again, retreating.
A few months later, the woman bumped into the family once more—a rare kind of happenstance since the Kushners had sought exile in the Sunshine State.
Ivanka and Jared were out at the ocean's edge with their five-year-old son, Theodore. He walked up to the neighbor (who asked to remain anonymous because she continues to live near the family) and talked about a fish he'd caught. The neighbor reminded Jared, in swim trunks, and Ivanka, in a "cute ruffled outfit," to watch out for jellyfish. Ivanka indicated she wouldn't be swimming, but Theodore hurried into the ocean. The neighbor was immediately concerned.
"I'm thinking, Why is this boy in the water alone on a boogie board with this moderate rip current? I'm a mother, and I would never let my child alone in the water like that."
Sure enough, young Theodore began drifting from shore, prompting Jared to run in after him.
"Slenderman moves quick," the neighbor quips.
Her encounters with Ivanka only reinforced a long-held impression: "She seems to be about . . . 'I live in this little cocoon where the rules don't apply to me' . . . in her own little world."
Ivanka's world has certainly gotten smaller. She's out of politics at the moment, out of her former executive job at the Trump Organization, out of the womenswear brand that bore her name, out of high society in New York, and cast out of Washington, too. Although once viewed as a potentially tempering force on her demagogic dad, Ivanka never did find her footing in the White House or in DC society; January 6 was the final rupture. Ivanka reportedly spent hours that day pleading with her father to call off the mob at the Capitol. When she tweeted for an end to the violence herself, she addressed the rioters as "American Patriots," before admitting that they weren't patriots at all and deleting the tweet.
Since that traumatic day, Ivanka has largely been silent. Her farewell tweet from the West Wing didn't mention her father by name, wished Joe Biden success, and urged the nation to find "common ground." A previously prolific Instagram and Twitter user, she has posted only twice in the year since—both posts commemorated her jabs of the Covid vaccine—and she hasn't made any public-speaking appearances. While her brothers didn't have much of a public brand before their ascendance to right-wing demigods, Ivanka's reputation plummeted in the absolute opposite direction, from haute to hated, fashionista to plain old fascista.
Now the Kushners have sought refuge in Surfside, a town of only 6,000 people that's hardly immune from Trumpian divisiveness—the former President lost to Joe Biden in the Surfside precinct by 69 votes—yet one that previously managed to stay off most people's radar. Which was just fine with plenty of residents.
Eliana Salzhauer, a town commissioner, likens her reaction upon hearing Javanka was arriving to a scene in 1980's The Jerk in which Steve Martin's absurdist character is ecstatic to find his name listed in the phone book while an unhinged killer picks Martin's name randomly from the same directory.
"It was, 'Oh, good, the town is getting recognition,' " says Salzhauer, a Democrat. "Then it was, 'Oh, no, the psychos are coming.' "
The last thing Salzhauer wants is to become an enabler of the couple's reinvention act in South Florida, which makes the whole situation rather frustrating. As she puts it, "What are they doing in our town?"
---
Surfside is a quaint (by Florida standards) hamlet wedged between Bal Harbour to the north and north Miami Beach to the south—"Miami's Uptown Beachtown," as they say, with an uptowny history befitting a couple worth an estimated $800 million. The town was incorporated in 1935, when 35 members of the exclusive Surf Club—a secluded hangout for Frank Sinatra, Ava Gardner, Winston Churchill, and other A-listers—wanted to prevent the land around their club from being annexed by Miami. They pooled $28,500 and established their own little burg, thereafter known as Surfside.
The town is only a mile—eight blocks—long, a sliver of land sandwiched between the Atlantic and the Intracoastal Waterway, with high-rise beach condos on one side and single-family homes on the other. According to the Census Bureau, 54 percent of residents are white, 45 percent are Latino (many of them affluent immigrants from South American countries), and a virtually unheard-of zero percent of the population is Black. The old Surf Club is now a Four Seasons, one block over from the Arte, the spectacular new glass pile where Ivanka and Jared have been living for the past year (and where the rent can come in at $40,000 a month). Designed by an Italian architect and reminiscent of a pyramid, their 12-story building has 16 residences with floor-to-ceiling windows, plus a clutch of in-house amenities that sound perfectly suited for sheltering in place and shaking off the chill of Washington (beachfront meditation pond, anyone?).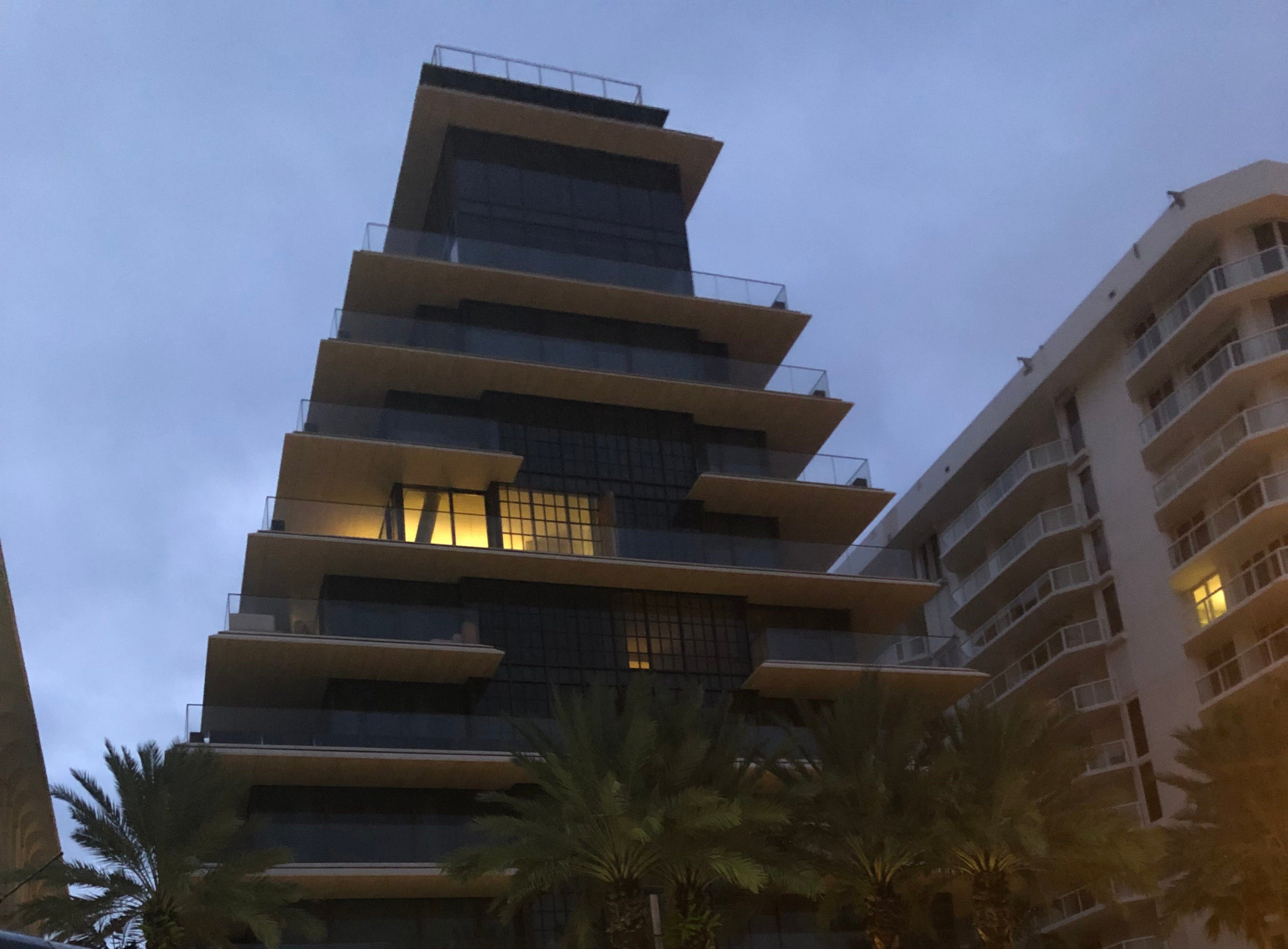 Still, Surfside has little of the glitz of Palm Beach and Mar-a-Lago, the former President's home base, or even the cachet of nearby Jupiter, where Don Jr. and Eric Trump both purchased multimillion-dollar mansions in the spring of 2021. What it does have is a significant Jewish population.
In Washington, Jared, an Orthodox Jew, and Ivanka, who converted after their 2009 wedding, prioritized walking proximity to their synagogue when they chose Kalorama for their home. Post-administration, they picked what may be South Florida's closest facsimile to a Little Israel. The heart of Surfside's two-block downtown strip is a collection of kosher restaurants and stores. (One Javanka sighting put them at the since-closed Koshertown grocery.) Town life tends to center around its two synagogues: the more conservative Shul, which bills itself as "one of the most unorthodox, Orthodox synagogues," and the smaller Orthodox Young Israel—"Judaism to fit modern times," as one resident describes it. It's from the latter that the Kushners have been seen walking home from Shabbat services, security guard trailing behind them.
"If you're looking to escape New Jersey and New York, [Surfside] is where you're going to end up," says Salzhauer, the town commissioner. "Once they built the Shul and then Young Israel, it was open season on real estate." The synagogues serve thousands of congregants from four neighboring communities, but "everybody wants to live within walking distance, if you're Orthodox, to the temple."
The Kushner kids attend a private Hebrew school nearby. (And so far, the family has avoided the public drama that chased them out of DC's Milton Gottesman Jewish Day School, when Ivanka and Jared's failure to follow Covid safety protocols at work—remember the Amy Coney Barrett swearing-in superspreader?—caused an uproar among fellow parents.)
"This is like a warm version of New York—the same pace, the same driving, the same kind of brusque attitude about things," says Salzhauer. "It's the same people, but it's warmer, so everyone's a little happier because everybody's not freezing their asses off and having to dig their cars out of the snow."
Salzhauer and Jared actually both attended the Frisch School, a yeshiva in Paramus, New Jersey, for high school. (At 40, Jared is 11 years Salzhauer's junior.) Not that the two have had occasion to trade any glory-days yarns about their alma mater. Javanka aren't only the town's most well-known inhabitants—Wonder Woman actress Lynda Carter is a fairly distant third—they're also among its most invisible.
The couple is rarely seen outside the Arte, and only the occasional paparazzo has published pictures of their doings (jogging on the hard pack, relaxing on a yacht in Biscayne Bay). One of the few times they seemed to be telegraphing more than proof of life was shortly after their former colleague Stephanie Grisham published her tell-all about the Trump White House. Jared and Ivanka—who, Grisham revealed, had been known around Melania Trump's East Wing as " 'the interns' because they represented in our minds obnoxious, entitled know-it-alls"—showed up at a Miami water park with their children and kissed for the cameras in their matching black bathing suits, as if to say, "I really don't care, do u?" Later, after a November outing to a Louis Vuitton show in Miami, leftie Twitter exploded and Vanity Fair followed up with a gleeful hate-read headlined JARED AND IVANKA TRY TO REENTER POLITE SOCIETY, ARE PROMPTLY TOLD TO F–K OFF.
Last June, when the Champlain Towers building in Surfside collapsed in the middle of the night and killed 98 people—and TV screens around the world were zooming in on the town—Ivanka and Jared donated to the search effort for victims of the building located two blocks from theirs, according to the local NBC affiliate. But even then, they made no statement. Perhaps they worried their disgraced brand would distract from the incredible tragedy. On the other hand, it might have been an opportunity to suds up their image.
Still, Surfside hasn't completely sheltered them from the bitter political storm they helped create. The House's January 6 Committee is pointing to Ivanka's futile pleas for her father to halt the insurrection as further evidence to implicate the former President. And on December 1, New York's attorney general subpoenaed Ivanka for testimony in its continuing Trump Organization fraud investigation (the company has pleaded not guilty), which she and her father are fighting together in court.
The town of Surfside, meanwhile, is itself America writ small, all too familiar with the festering division fostered by Javanka's White House.
---
One Surfside resident who has been tickled about Javanka taking up in South Florida is Charles Burkett, the town's mayor. "They're not just here passing through," he tells me, playing the role of town pitchman to the hilt. "I believe they want to make this a big part of their life, this part of the state of Florida generally, and specifically Surfside."
There are certainly more politically friendly communities the couple might have sought out. Burkett, a 60-year-old Miami Beach native, edged out his 2020 rival, the progressive incumbent, by just 50 votes. Then again, while the unvaxed Trump voter didn't really curry favor with the base during the race, since he's been in office his Trumpian tactics and talking points may have felt second nature to Javanka.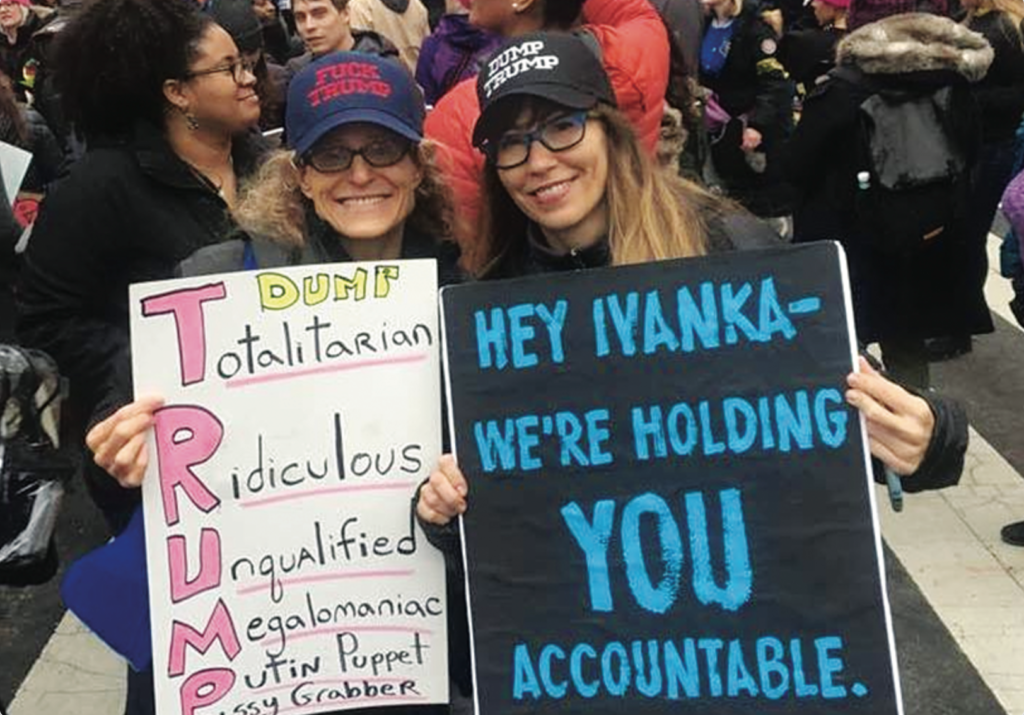 In 2020, when there was talk of reducing Surfside's law-enforcement budget—the town goes years without seeing a murder—Burkett blamed Salzhauer for wanting to "defund the police" and surfaced an incriminating (he said) photo of her at the 2017 DC Women's March, in which Salzhauer holds an anti-Trump sign, while a friend's placard reads HEY IVANKA—WE'RE HOLDING YOU ACCOUNTABLE. "This town is full of nutty right-wing supporters with alcohol issues and easy access to firearms," Salzhauer later complained in an email to county ethics officials. "His published call to action that 'It must be clearly demonstrated to politicians' along with my photo is a clear dog-whistle threat to my physical safety." Burkett responded in turn on his personal website, calling Salzhauer's statement an "unforgivable attack on the integrity and character of the very people she has been elected to represent."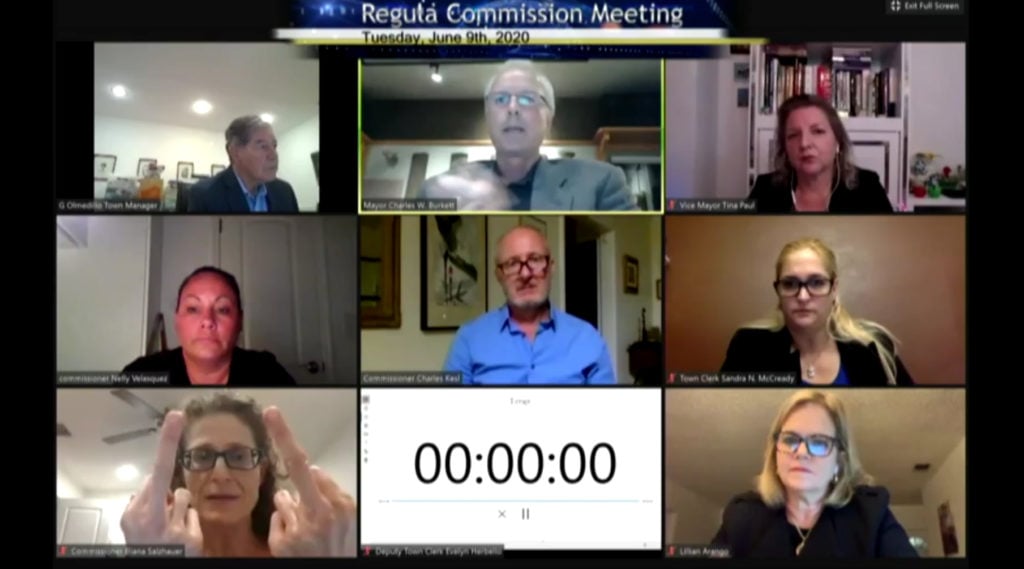 During a town meeting over Zoom that same year, Burkett, a Catholic, complained that a Salzhauer-supported resolution to condemn discrimination against Asians and Jews during the pandemic was unfair to evangelical Christians. When Salzhauer interrupted him, he muted her. She responded by flashing him the double bird, blurry screen grabs of which made the rounds on the local news. Not surprisingly, they disagree about Javanka.
The tall, slender Burkett is out on the hard pack most days, jogging in a ball cap and mini-shorts, his shirtless trunk spit-roasting brown in the sun, and it was on one of his runs that he first met Ivanka. "It was almost like a collision," he recalls. "Ivanka was walking out of the gate of her building, and I was jogging by."
Burkett stopped and introduced himself. She suggested they continue their chat at a later time, and what do you know, Burkett got a follow-up call with an invite to meet the Kushners at home at the Arte.
Ivanka and Jared greeted him as their kids bustled about the condo. The conversation, as Burkett describes it, was "very generic," with no discernible agenda on the Kushners' side. "It was not unlike a conversation I would have with any other resident," the mayor says. "It didn't touch on any specific politics. It was a chance for them to educate themselves on their new home."
Perhaps the couple just wanted a friend in the mayor's office. Burkett, who resides in a $4-million oceanfront house, does happen to be an heir of a significant South Florida real-estate family. And actually, the Kushners did ask him to do what he could to protect Surfside—which has a 12-story building-height limit—from the kind of overdevelopment that plagues much of the Miami-Dade coastline. "They, like everyone else that I talk to, want to make sure we don't turn into Miami Beach or Sunny Isles," he says—never mind that the Trump name is on several gaudily oversize beachfront skyscrapers in the area.
Jared's family business, the Kushner Companies, is busy in South Florida at the moment, involved in an estimated billion dollars' worth of local development projects. Chaired by Jared's father, the Trump-pardoned felon Charles Kushner, the company is building two large apartments in Miami-Dade and another nearby in Fort Lauderdale. (Jared's Democrat brother, Joshua, a venture capitalist, last year bought a $23.5-million mansion on Miami Beach.) Jared himself started a venture-capital firm in Miami called Affinity Partners, where he's hiring executives. He's reportedly courting investments from Saudi Arabia, which is notable given his cozy and controversial White House relationship with Saudi crown prince Mohammed bin Salman. (MBS communicated solo with Jared on WhatsApp and reportedly boasted he had the First Son-in-Law "in his pocket.") Jared has his own tell-all in the works for HarperCollins's new conservative imprint, Broadside Books, scheduled for early this year.
Ivanka, meanwhile, has zero publicly known endeavors at the moment. Evan Ross, a Miami Democratic political consultant, says that when some "major Israel backers" in South Florida recently tried to arrange a meeting with her, Ivanka sent back word that she was declining for personal reasons. "It wasn't that she didn't want to meet with them specifically—it was that she just wasn't taking any meetings," says Ross. "That she's leading a private life right now." Officials in area GOP circles likewise report that Ivanka hasn't "made a peep," as one puts it—unlike her brothers, who continue to stir up the base on Fox News and social media (and who remain VPs of the Trump Organization).
Although there was talk at one point of Ivanka challenging Marco Rubio for the Senate, her father plainly admitted that his daughter didn't see any benefit to getting into electoral politics herself. "She doesn't really like the concept of running for office," Donald Trump complained to a crowd in Georgia early last year. "She says, 'What do I need it for, Dad?' " That was January 4, the last time Trump and Ivanka shared a stage together. Some weeks later, she reportedly called Rubio to say she had no designs on his seat and would support his campaign.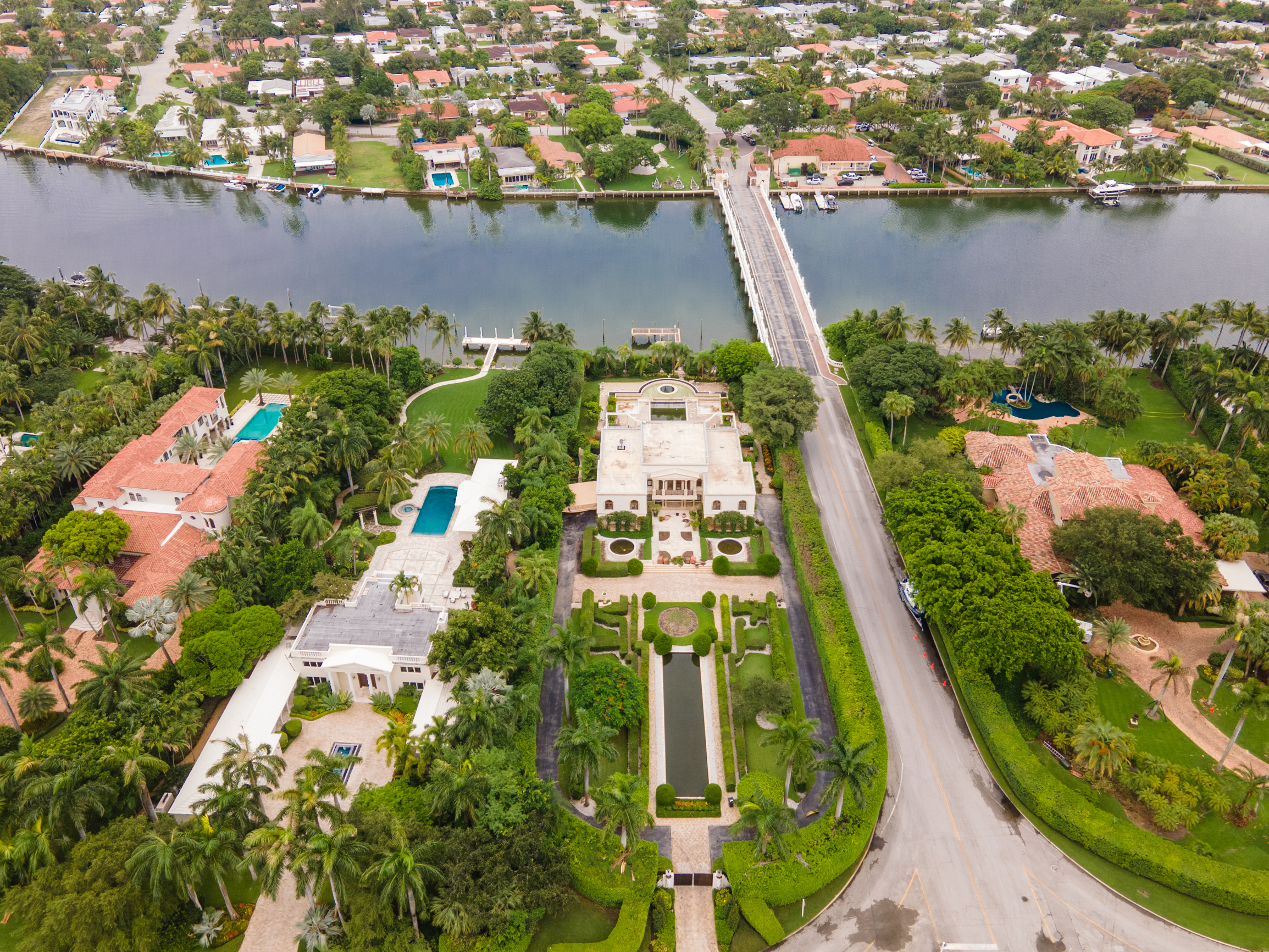 Ivanka turned 40 in October and celebrated with girlfriends over "two days of boating, beaches and bubbly . . . champagne toasts, cake, and caviar," including at the Surf Club, per the New York Post's Page Six. An unnamed source told the paper that Ivanka and Jared "love it down there [in South Florida]. It really suits them." Indeed, the Kushners have reportedly purchased a $24-million home on neighboring Indian Creek Island: an 8,510-square-foot neoclassical mansion with eight and a half bathrooms, a sprawling double staircase rising up from the great room, and a white-columned facade that gives off strong Scarface vibes.
"I've lived in town for 16 years now—I've never been to Indian Creek, and it's a couple of feet from my house. You can't get there unless you're invited. It's like a fairy tale."
With fewer than three dozen waterfront homes built around a golf course, Indian Creek is an infinitely more private setting than the Arte. It's accessible for the yachtless only via a bridge that extends from Surfside—yet close enough for a family like the Kushners to walk to the Surfside synagogues for Shabbat services. The island's single entrance is heavily guarded, and it has a private police force.
"I've lived in town for almost 16 years now—I've never been to Indian Creek, and it's a couple of feet from my house," says Salzhauer. "You can't get there unless you're invited. It's like a fairy tale."
Investor Carl Icahn, ex–Sears CEO Eddie Lampert, and singer Julio Iglesias all own homes on the island, along with Gisele Bündchen and her husband, Tom Brady. The quarterback has had a famously hot-and-cold relationship with Donald Trump the last several years. But by and large, Indian Creek's politics run red. According to Miami-Dade voting records, nearly 80 percent of the 53 votes in the 2020 election cast by the islanders went for Trump.
---
On Friday, October 29, Surfside decked itself out for Halloween. Town officials had hundreds of hay bales delivered to the 96th Street Park, where a maze for children was built. There was a petting zoo, dozens of pumpkins, a DJ, bounce houses. They called the event the "Spooktacular."
Back in Washington, the House's January 6 Committee was sparring with former White House chief of staff Mark Meadows, growing frustrated as he stalled on their subpoena. Up in New York, news had just broken that the Westchester County district attorney's office was investigating a Trump golf club there, compounding the Trump family's problems in the state.
But at the Surfside Spooktacular, two former top White House aides were just two parents out for an unusual night of fun with their kids and 750 or so others. Young Theodore was dressed in a ninja outfit, while Ivanka and Jared came as themselves, she in a very plain black knee-length dress, he in designer jeans and a neatly pressed T-shirt. Jared spoke with Mayor Burkett and the police chief about how much he liked the town. (The Secret Service had been impressed with Surfside cops, he told them.) Ivanka was off following the kids.
"The most striking thing about it was that they were like anybody else and blended in with the crowd," Burkett told me afterward.
Even Commissioner Salzhauer was pleasantly surprised by how the family did, for a short period of time, mix in seamlessly with the townsfolk. "At least the kids had a brief, fun taste of a normal childhood for Halloween," she says.
As the Kushners were leaving the event, Ivanka bent down to pick a large pumpkin off the ground and started to walk off with it. Families were allowed to take one gourd home with them. Ivanka handed hers to Jared, who carried it the rest of the way. Their bodyguard, who followed Ivanka, also walked out with one.
The double-pumpkin takeaway may not have fallen strictly within the rules, but what's a pumpkin or two in the scheme of things? This was Ivanka and Jared attending not some White House event or private-school recital or exclusive soiree in the Hamptons. It was just small-town life in South Florida, where they could easily slip out with their pumpkins and disappear into the night.
This article appears in the February 2022 issue of Washingtonian.