It started with a stuffed rabbit. Laura Held's daughter London was turning six last April when she asked for a party centered around her bestie, "Bunny." Some parents might have settled for rabbit plates and floppy-eared hats—but that's not really Held's style. "I tell myself, 'I'm going to just go low-key this year. I'm just going to go to Chuck E. Cheese,' " she says. "And then I black out and have a Beyoncé-level party."
Vendors were hired (ten for the decor alone), a tent went up, and Held's Arlington backyard—along with her mom's lawn next door—were transformed into a whimsical garden party, a luxe bunny burrow for the most VIP of rabbits. Oversize fabric carrots and greenery hung like vegetative chandeliers, while pastel balloons and floral vines cascaded down the tent walls. Held rented vintage credenzas and carts to house stations with mini charcuterie boards, a flower Lego building, and trays of fresh-pressed-juice shots (carrot, naturally, but also beetroot and a kale/spinach/celery combo). She had laser-cut bunnies scattered throughout the yard, to echo the custom rabbit cookies and grinning hare perched atop the five-layer cake. And she commissioned a selfie wall. Exploding with silk hydrangeas, roses, and poppies, the installation took weeks to source and three days to construct. Add it all up and even with Held's industry discounts, the fete cost $13,000.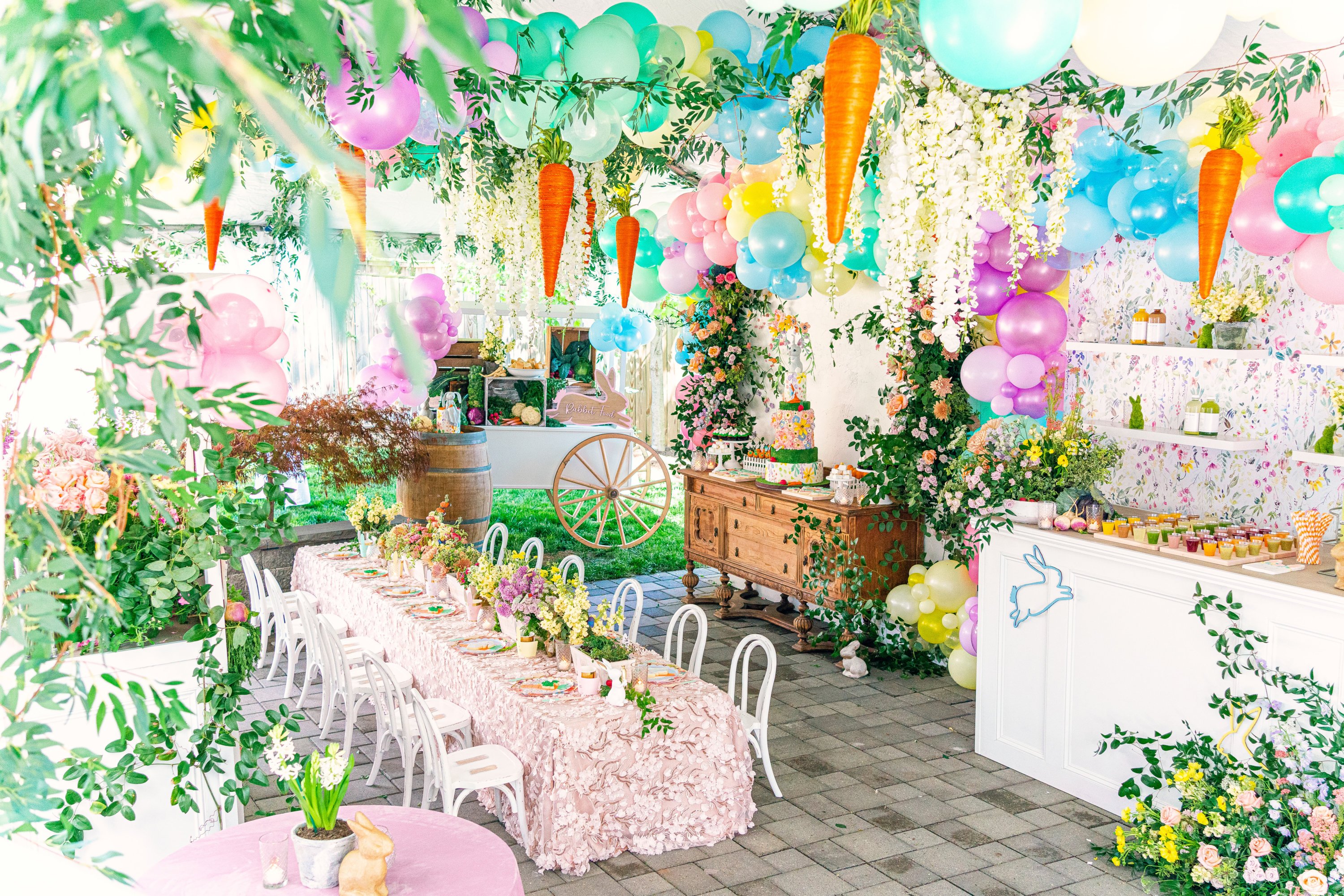 You see, Held isn't just your average Washington mom splurging on her kid. She's an event planner whose six-year-old company, Ida Rose Events, focuses on luxury affairs. After going a little crazy with London's first birthday—that one featured a Tinker Bell theme—Held knew she had to include the toddler-through-preteen set in her business's repertoire. Her kiddo productions, which range from $8,000 to $20,000 apiece, have involved a luxe Lion King party (the lush backdrop was covered in tropical plants), a science-lab bash (a fondant version of the celebrant topped the two-and-a-half-foot-tall cake), and a first birthday inspired by Gucci Flora perfume (a live harpist provided the background music). In the universe of over-the-top kids' birthday bashes, Held is the Willy Wonka of Washington.
And these days, her services are in higher demand than a golden ticket to the chocolate factory. During the post-vax months of 2021, Held estimates that her staff fielded double the usual inquiries for kids' birthdays—a trend line apparent to many of her peers in the industry. Omicron put some parties on pause, but others were just adapted to be mindful of the latest Covid variant. After two years of missed milestones, parents have felt desperate to make up for lost time. While bar and bat mitzvahs and sweet 16s have always been a reason to spend wedding-level cash, the pandemic has turned any age into an excuse for a certain type of parent to write a fat check for an unforgettable afternoon. Never mind if the kid is still in diapers.
---
First, let's talk balloons. For some parents, an artful display of colorful inflatables might be a party's everything. But Caity Byrne, owner of All About Balloons and a specialist in blow-up decor for a decade, routinely finds herself working alongside a slew of other vendors, including caterers, florists, and prop-rental people. "The level of custom stuff that people are having done, we're living in a gilded age," she says. The type of person who hires Byrne isn't after your basic Party City balloons. Clients want epic, cloud-like sculptures and specialized colors you won't find in the typical Crayola box. Plus, she's not using any old rubber: "Oh, God, no—we don't use Chinese balloons." Byrne's clients end up with mostly American-made, biodegradable alternatives that wholesale for six to eight times more than their cheaper counterparts. ("We are all part of the Rainforest Alliance.")
Pre-pandemic, an average backyard birthday with a Byrne-built balloon arch and some centerpieces might run about $1,200. Lately, though, it's double that. Byrne has also seen budgets climb to nearly $15,000—just for the balloon backdrops. She'd love to tell you more about that, but she's legally unauthorized to do so. Yes, even the balloonist at a child's birthday party sometimes has to sign an NDA. "That's not unusual for us," she says. "There's a lot of B- and C-list celebrities who are creeping around Potomac. Between all of the sports guys and their wives and just sneaky celebrities . . . like royalty or diplomats, they like to keep their stuff under wraps."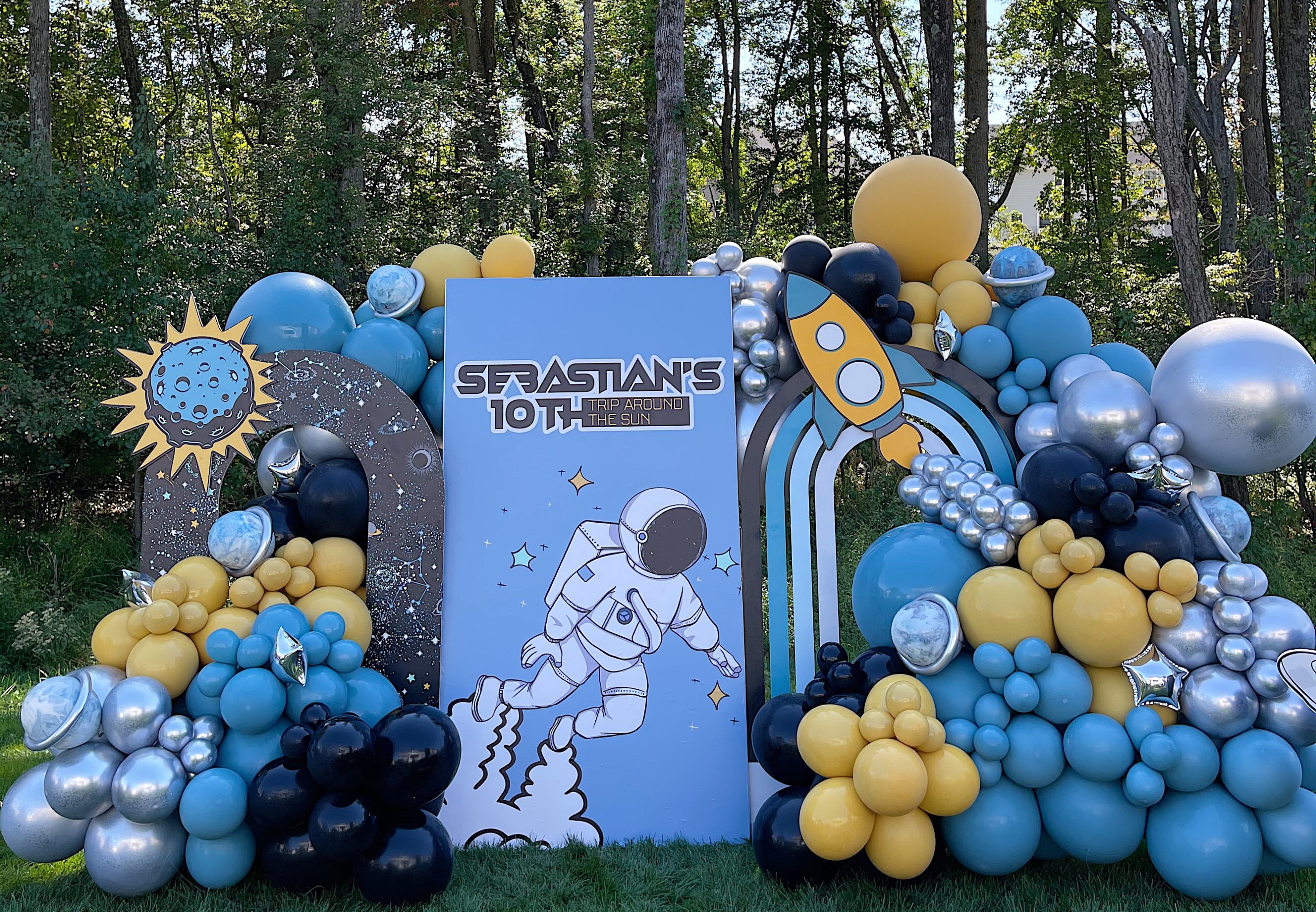 Speaking of packaging—a selfie wall is a new must-have, the next-gen version of a red carpet but exponentially more elaborate. The Insta-ready background at a Baby Shark–themed party featured shimmering blue sequins, a geyser of balloon "bubbles," and under-the-sea graphics. (At this particular shindig, a dance floor was designed to match.) For a Fancy Nancy fete, one family channeled a Parisian cafe with roses, pink and yellow balloons, and a soaring cutout of the Eiffel Tower. Parents "want that Instagrammable moment," Byrne says. "What people equate with a successful party is that one snapshot in time where everybody's makeup is perfect and the backdrop is ridiculous and the kid is smiling for once."
Some things haven't changed: Princess parties still rule. But the kingdoms are getting bigger. "Parents who would invest in experiences for their children, like going to Disney World and having a princess tea with all the princesses, they're actually bringing those experiences to their home now," says Madison Hummel, owner of Madison Avenue Events.
Jacklyn Nagel, owner of Princess Parties of DC, has a whole team of singing Ariels and Elsas to dispatch for parents wanting to punch up the occasion with real-life versions of their kid's favorite characters. "They will come right out and say, 'My daughter didn't have a party last year, so we want to make this one extra-special,' " says Nagel. "They're very transparent about it, and a lot of them seem a little bit overwhelmed."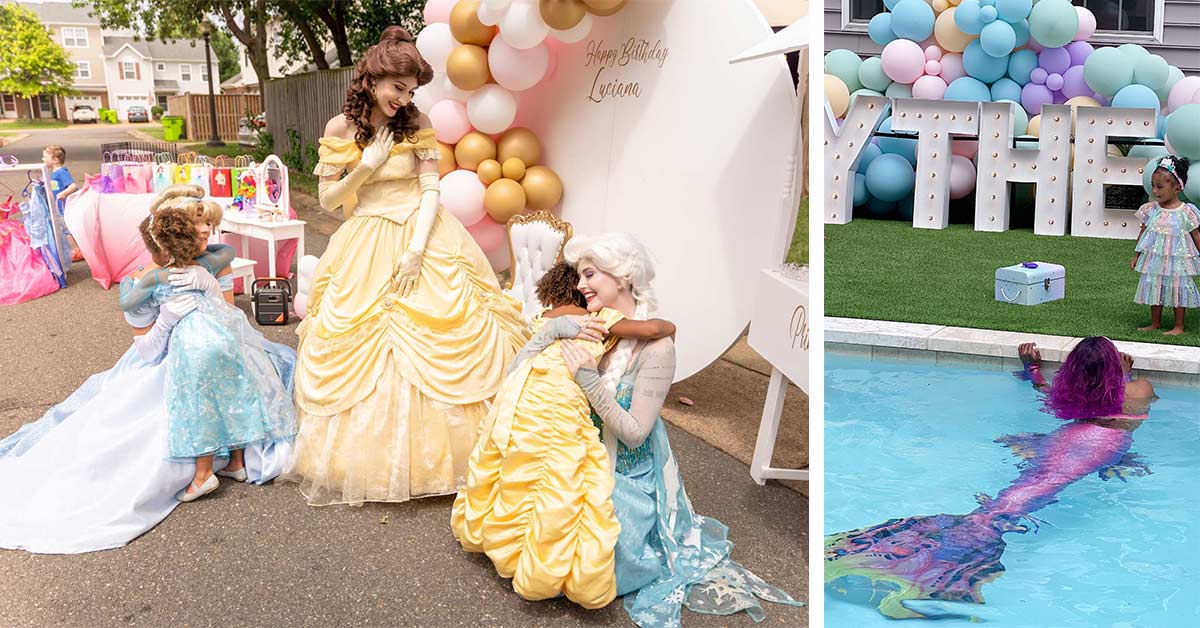 A pre-pandemic party might have involved only one princess, but now parents are more likely to double or triple up. Oh, and there was that bash last summer in McLean when Nagel tapped half of the Magic Kingdom, sending five of her princesses and two princes to a seven-guest celebration (at $150 per actor per half hour). Prince Eric carried mermaid Ariel from the doorway to the pool, where she sat at the edge and serenaded the three-year-old birthday girl; the rest of the royal fleet decorated crowns with the kids and applied glitter tattoos. The fairy-tale characters might be conscripted to eat cake off fine china or accompany children on horse-drawn carriages—and please don't forget to park Cinderella's actual Toyota Corolla down the street.
A whole other set is into the boho theme, a.k.a. Kidchella. As in Coachella for the littles, with fringe-trimmed umbrellas shading upscale picnic tables, massive glamping tents, and vintage Airstreams giving off a Southern California vibe. "It's everything from butterfly or fairy garnishes on cocktail glasses to all kinds of different food stations that would normally be at a food-truck festival," says Denise Vu, marketing director for Occasions Caterers. "And then because it's Coachella, they have a VIP section, right? And you're going to have a few other activations, like Peking duck and a raw bar."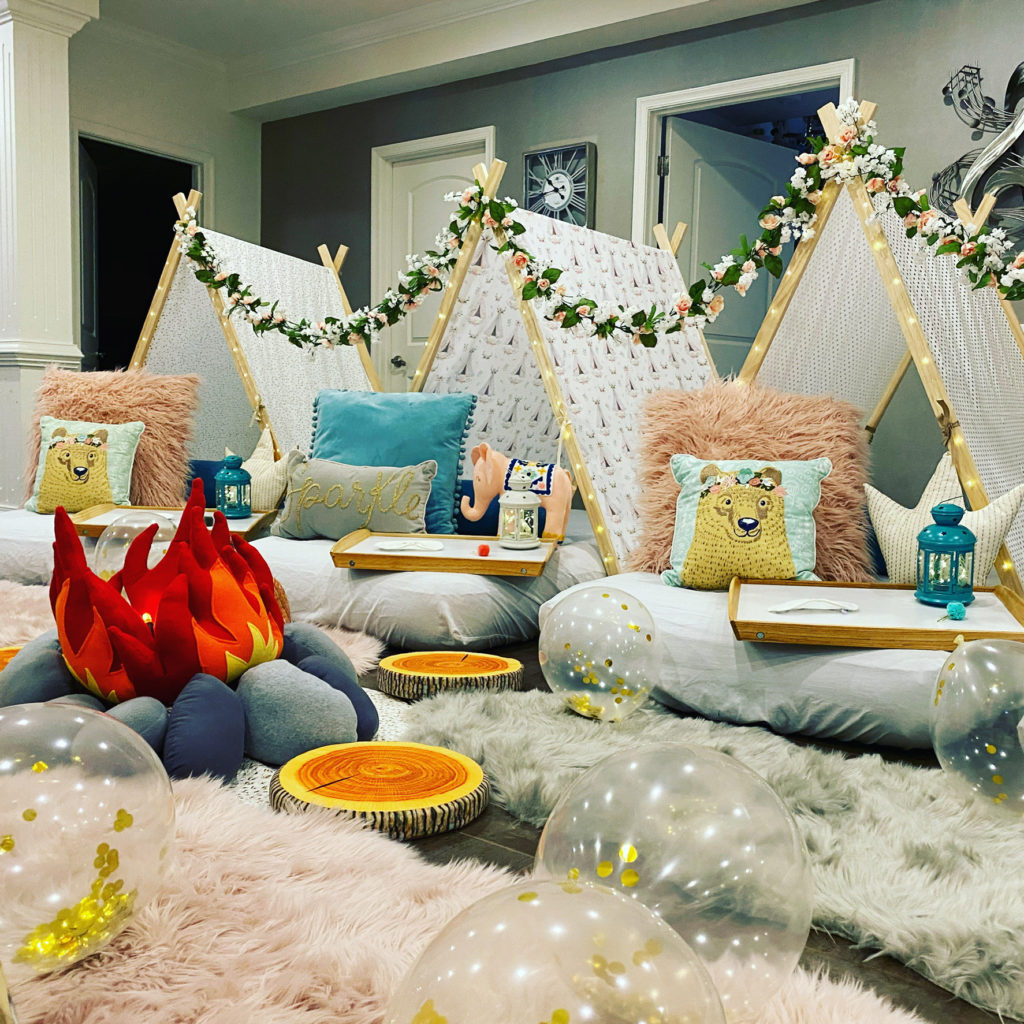 The slumber party has gotten a free-spirited upgrade, too. A Virginia company called Magic Tent Sleepovers will set up stylish indoor teepees or tents with mattresses, decorative pillows, and bedding for anywhere from $375 to $1,000, depending on the number of beds and whether you want to spring for extras, such as an electric s'mores table. Founder Lailah Reboul says boho is the most requested theme for girls (think dream catchers or faux flower garlands), while "lumberjack" is popular with the boys (that's plaids and log-shaped pillows). Reboul also designs custom themes; one client got a TikTok-inspired sleepover with branded lanterns and bespoke pillows.
For her twin boys' fourth birthday last year, Persephone Maglaya landed on a "brochella" theme, channeling the desert with tiny cacti, pampas grass, a decorative longhorn skull, and cascading balloons. Guests donned flash tattoos and sat at low picnic tables atop cowhide and braided rugs brought in to transform the party room at the Lane, an indoor party-and-play space in Ivy City. The event came in under budget at $8,000, done up in the twins' signature palette: nude and beige.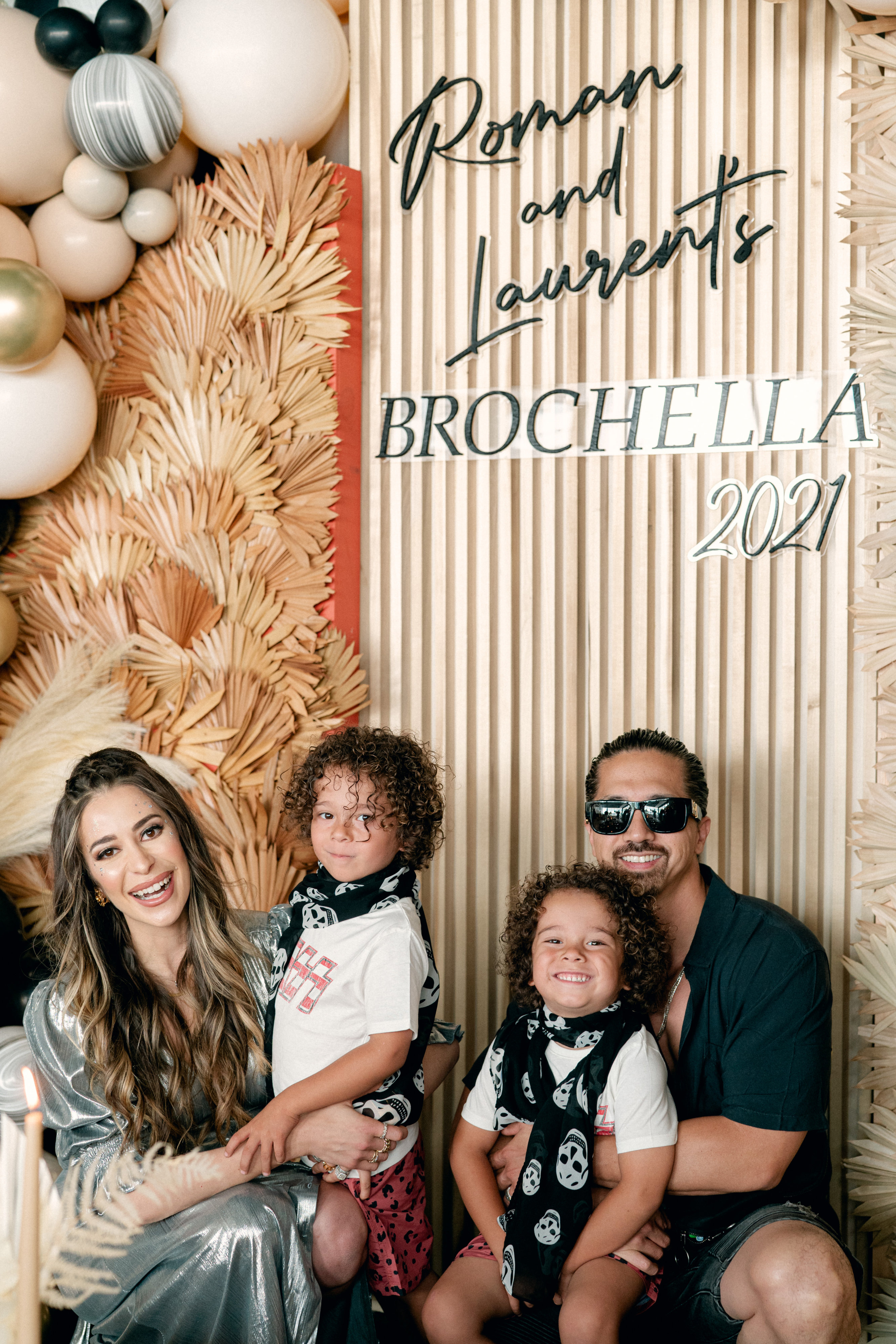 "I've been dressing our twins in a neutral—like literally no color, neutral—for almost their entire life," says Maglaya, a social-media consultant who until recently lived in Northern Virginia. "We do a lot of photo shoots, so I thought that it would just look really good."
Blame the Kardashians. After the first family of reality TV filled their Instagram feeds with photos of pastel installations, "for the next eight months, all I did was pastel," says Byrne, the balloon blower. "Then [the Kardashians] did the very brown, super-neutral event. And now we've done boho, all of the super-neutrals all year. It's insane." Moon bounces now come in minimalist all-white. Ball pits packed with primary colors are passé.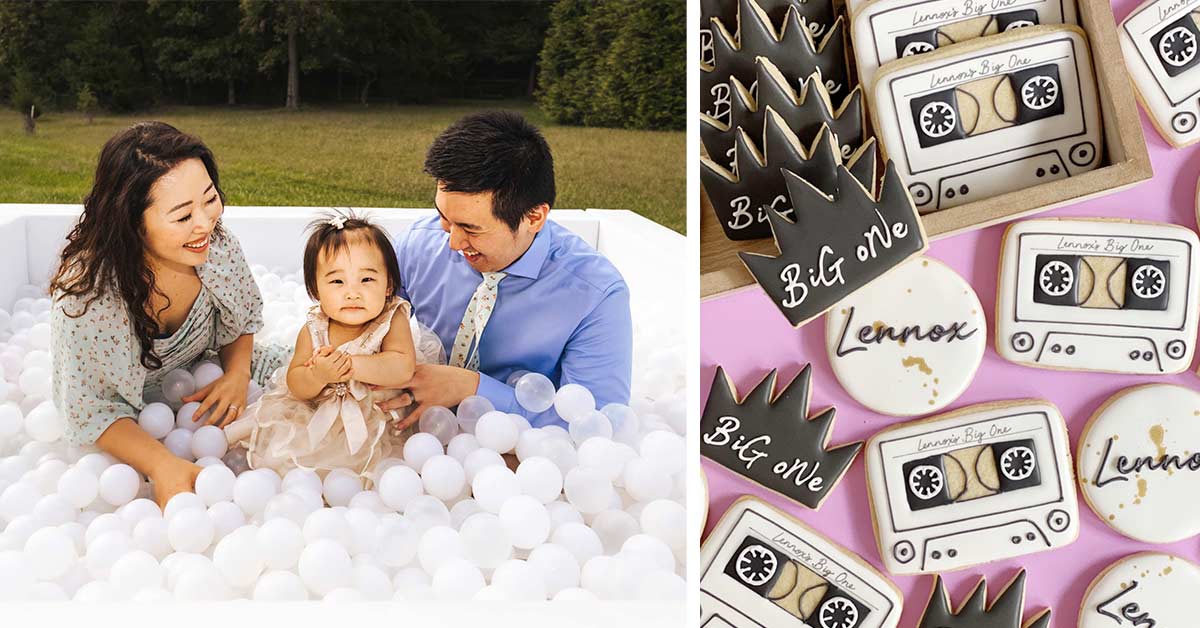 Also in Kardashian fashion, the branding is The Everything. Event planner Edwina Frimpong says everyone wants their own logo. For one of her fetes, the owner of Everything Luxe Decor worked with an illustrator to create a graphic of the birthday girl as a mermaid and had it printed on shirts for all the adults to wear. Another under-the-sea party featured a ball pit customized with the birthday boy's name as well as balls to match the Caribbean-blue/teal color scheme. Event planner Brandon Casey, founder of Mode Events by Brandon Casey, pulled together a Notorious B.I.G. party for one youngster last June. Working with Mom and Dad's $10,000 budget, Casey affixed the party's logo—a pic of the birthday boy donning a crown, just like Biggie—to popcorn boxes, chip bags, T-shirts. Even the nutrition facts on the chip bags were bespoke, replaced with information about the guest of honor: a one-year-old.
He isn't the only child 365 days into life who's had a Big Biggie birthday. Cashmere He, a corporate communications officer from Glen Burnie, bought her youngest a Biggie-themed cake (with cassette-tape cookies to match) and commissioned a backdrop with a neon Biggie quote and balloons fashioned into a gold-and-silver chain. Instead of the rapper's actual soundtrack, they used instrumentals of "Who Shot Ya?" and "Hypnotize Me" for background music, He says, "because, you know, his lyrics are kind of graphic." The babies played with bubbles, cars, and fake dollar bills.
---
Among teens of means, the big trend isn't a bash—it's a lavish getaway, especially as travel restrictions have loosened. "We're doing a lot of these quick jaunts to Europe," says Alisa Cohen, who runs a boutique travel agency in DC called Luxe Traveler Club that sometimes caters to no-budget clients. "Paris has been a big one."
Cohen's clients and their high-schoolers stay in "beautiful palace-­style hotels," have their own car and driver, and get exclusive access to expensive boutiques so they can shop without the crowds. "We just quoted to a client yesterday a pre-access to Fendi in Rome with a private shopper," she says. Privacy is in, even more so during the pandemic. That means off-hours admission to a museum or cut-the-line access at Disney World, please. The younger set tends to stay more local for luxury sleepovers with a small group of friends. For one under-ten birthday, Cohen booked a night at the Four Seasons in Baltimore with room service, breakfast in bed, and pool time.
Many of the birthday trips involve just one parent and one kid (such as a father/son fishing excursion to Cabo). But another big trend has been multigenerational vacations (think two weeks in Greece or Costa Rica). They're an excuse for the whole family to reunite after a year of FaceTime overkill, but planned around a kid's birthday. And while many of Cohen's clients canceled their end-of-year travel because of Omicron, she says her company is busier than ever post-surge. "Everyone's in recovery mode where they're like, 'Okay, I had Omicron. It ruined my winter break. Now for spring break and summer, we're going big,' " she says. "We're seeing revenge travel now."
It's not like all the celebrating is just about the children anyway. Raise your hand if you know an adult fed up with endless disruptions in school routines and starving for IRL social interaction who's in dire need of a stiff drink (or three). What's that—a fairy is garnishing the cocktail? Cheers!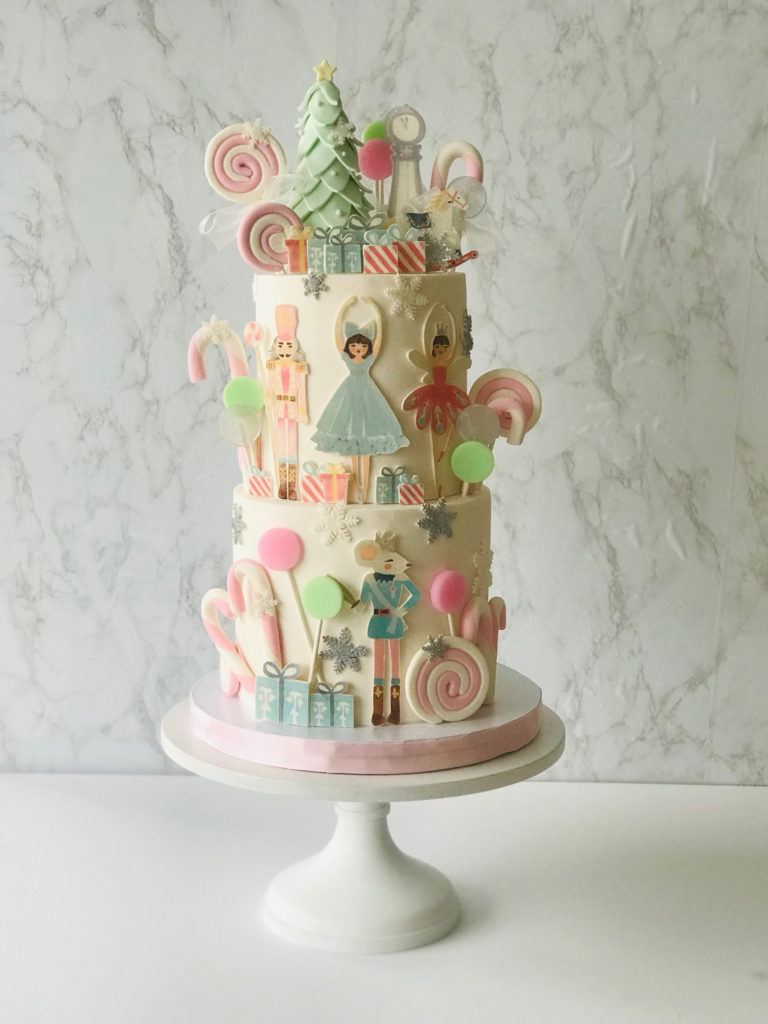 At a circus-inspired bash for a one-year-old, Occasions Caterers assembled a rotating, illuminated mini Ferris wheel with juice boxes for the kids and canned wine for the adults. Vicky Theodorou, who owns Heirloom Catering & Event Design, was hired for a three-year-old's construction-themed birthday party in a Loudoun County backyard that had sandpits with kid-size cranes for digging and staff in bright-yellow construction outfits handing out strawberry lemonades in traffic-cone-shaped cups. The parents lined up at the $800 ice luge—carved like a dump truck—for boozy pomegranate shots.
Sometimes the cake is also an adult treat in disguise. For instance, the $2,000 Star Wars–themed masterpiece made by Fluffy Thoughts Cakes in McLean. Owner Lara Halabi says the mom wanted a four-tier confection, with each layer featuring a different character. Halabi crafted Chewbacca and the Stormtrooper from kid-friendly Oreo and funfetti flavors, plus Yoda and R2-D2 from pistachio and coconut-mango, for the grownup palates.
"The larger one's usually more geared toward adults," Halabi says. "Or they'll do the whole cake as an adult theme, and then they'll get cupcakes for the kids."
Fairfax mom Mari Roquiz threw her twins a $4,000 camping-inspired celebration with an Airstream trailer and tents filled with lounging couches for their fifth birthday in October. The guest list: 100 people, more than half of whom were actually adults. While the kiddos snacked on sandwiches, trail mix, and applesauce, the grownups indulged in hard seltzers and lumpia, Spam musubi, and ahi-tuna poke tacos from a Hawaiian-Filipino food truck.
"Initially, I thought a hot-dog truck," Roquiz says. After all, that might have been the more kid-friendly option. "But if I'm going to spend money, I want it on good food."
---
Kid birthdays are often all about the parents in one other way that the adults might not like to admit: ego. Instagram and Pinterest are fueling certain grownups to outdo whatever's trending on the apps, no expense spared. "People call me and say, 'What do you have that people have not used before?' " says Boomie Dimas, founder of Just Kids Rental.
Or it's more blatant. "There have been comments like 'And, you know, so-and-so from the neighborhood is coming, and she always tries to upstage me, so we need to make sure she feels that I'm the queen of the street,' " says Theodorou of Heirloom Catering.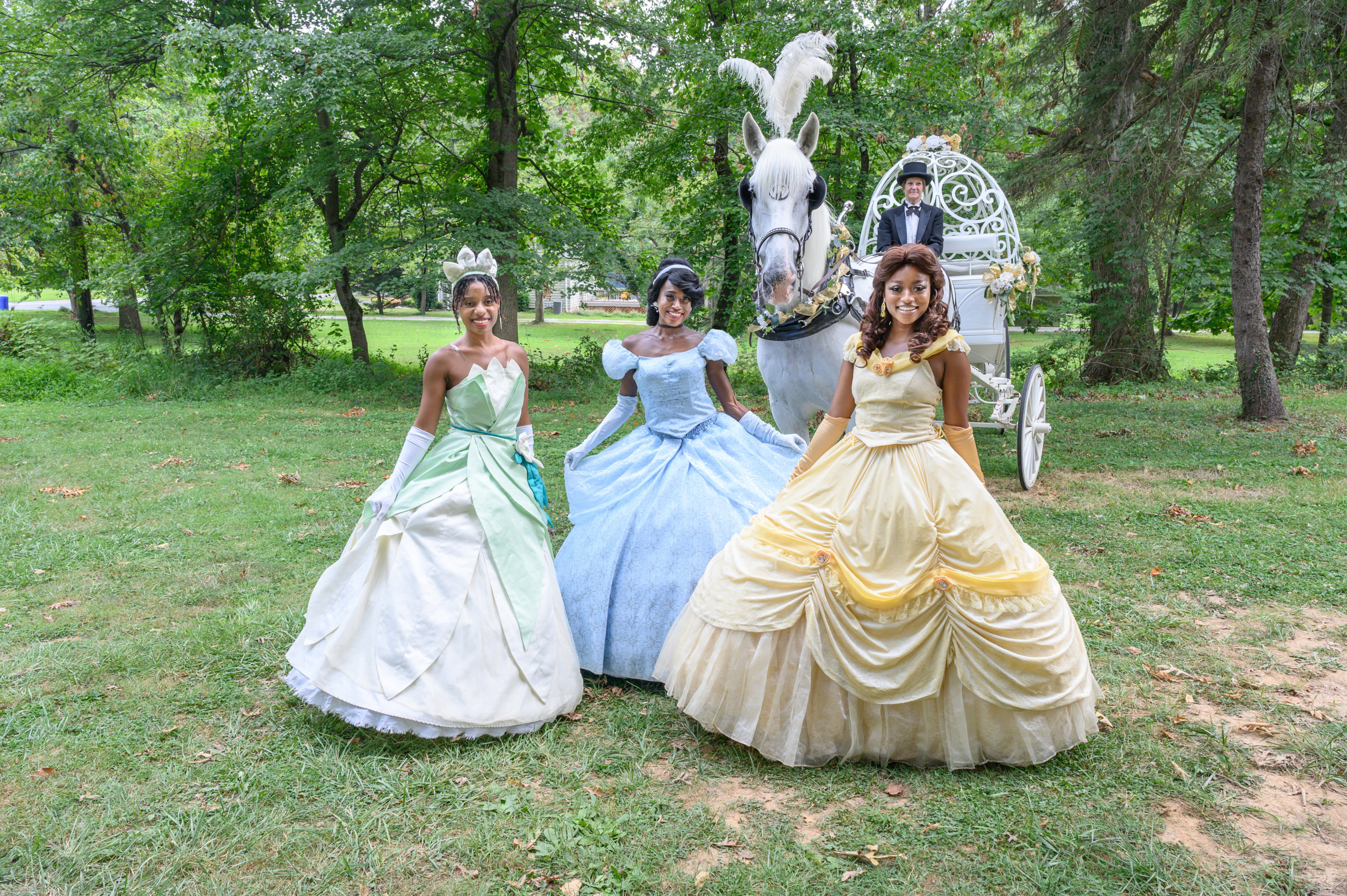 In October, Diwura Ayodeji, founder of Luxe Ambiance, helped put together a first-birthday carnival at an Upper Marlboro home with not one, not two, but three moon bounces. Plus a popcorn stand, a mechanical bull, and a cotton-candy station. "Neighbors were driving through and literally slowing down to record across the street," Ayodeji says.
Vu, of Occasions Caterers, notes that the company's clients have always been discerning: "If someone's coming to a luxury caterer, they're looking for details, customization." But the pandemic has made all of that a bit trickier. Suddenly, event vendors say, what were once staples—picnic baskets, ice sculptures, crabcakes, white roses—became nearly impossible to obtain or have skyrocketed in price because of shipment delays and labor shortages. Not that clients always care. "When they want something, we have to find it," says Vu. "We have to get it."
In short: Don't mess with pandemic mamas.
Real-estate agent Angel Wright and her husband, who runs a lawn-care business, live in Richmond. But the event planner with whom Wright had become enamored through Instagram was in DC: Laura Held (she of the epic bunny party). So for her daughter Aléyna's first birthday—after pregnancy and motherhood had isolated them from most family and friends—Wright decided everyone would have to trek to a children's play venue in Arlington, where they could more easily access the boutique vendors who work with Held's company.
Wright wanted a bear theme with—importantly!—all neutral colors. "I don't think Aléyna has anything that's pink," she says. "I'm just not a fan of pink and those bright colors. Even her nursery is just black and white." But a couple months before the party, a new company took ownership of the venue, now called the Wonder, and painted one of the walls in one of the rooms blue.
"I started to freak out," Wright says. The backdrop would clash with her $1,100 bear-themed balloon display. "We actually almost switched the venue at the last minute. I didn't want any colors other than the beiges, the browns, the neutrals." The event planner talked her down by assuring her it was a very light blue and they would use that room only to display the mountain of Shake Shack burgers and honey-bear mojitos for the adults. The neutrally colored room would house the $450 worth of teddy-inspired desserts as well as the kids' table decorated with wooden cutlery and elegant candlesticks. Wright was okay with it.
When they ultimately pulled up to the picture-perfect party, just one detail was missing: the smiling kid. Aléyna, dressed in a Polo jean dress with baby Air Force 1 sneakers, was still napping. "I'm just like, Oh, my God, she has to wake up or in all her pictures she's going to be asleep. I didn't pay for this for her to be asleep," Wright says. When Aléyna finally did stir, she was cranky and overwhelmed to be suddenly surrounded by so many people.
"All the pictures at the beginning, she's not smiling. . . . Everybody was wanting to hold her, and she just wasn't feeling it, probably until it was almost time to go," Wright says. "Really, it was an adult party. That's what it was. It was an adult party."
One that cost about $5,000 in all. "Now my husband keeps saying, you know, 'Aléyna needs a sibling,' " Wright says. "We can't give Aléyna a party like this and then her sibling we take to Chuck E. Cheese. So no. If we want to keep letting Aléyna have parties like this, she's going to be an only child. That's just what it is. We set the bar too high. We can't do anything less-than now. This is our fault."
This article appears in the March 2022 issue of Washingtonian.