Go Ice Skating
Glide at these nine outdoor skating spots
Seventh St. and Constitution Ave., NW
Skate near works by artists including Roy Lichtenstein and Louise Bourgeois. The Pavilion Café serves hot cider and pumpkin-spice lattes.
4001 Eisenhower Ave., Alexandria
An Instagram paradise with seasonal photo opportunities—think colorful trees, illuminated stars, and a giant wreath.
970 Wharf St., SW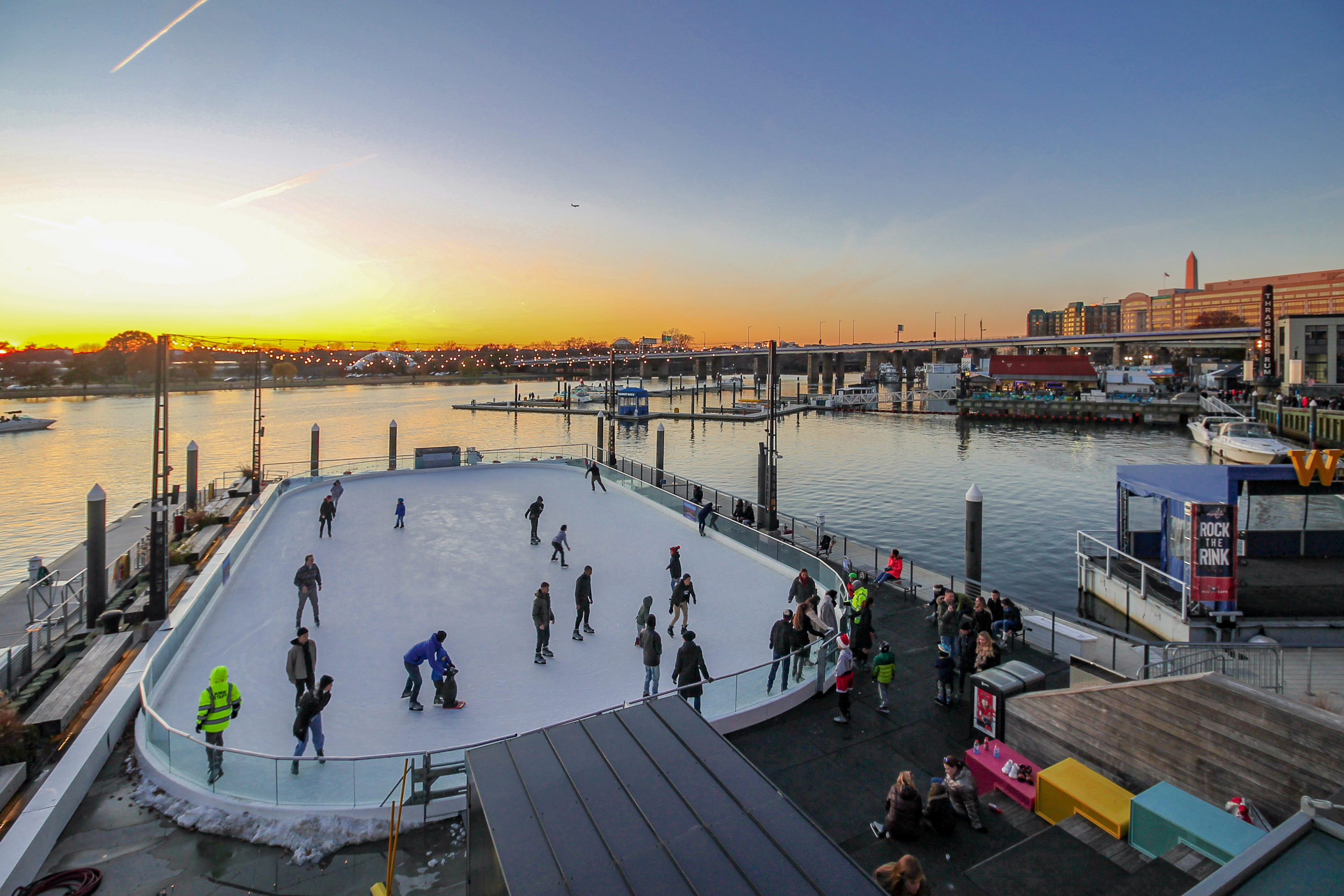 Head to Transit Pier for a riverfront skating session. The rink also hosts events such as curling competitions. Fire pits and wintry drinks add to the mood.
131 Gibbs St., Rockville
Lace up skates at the 7,200-square-foot rink, then refuel at the surrounding restaurants.
9201 Center St., Manassas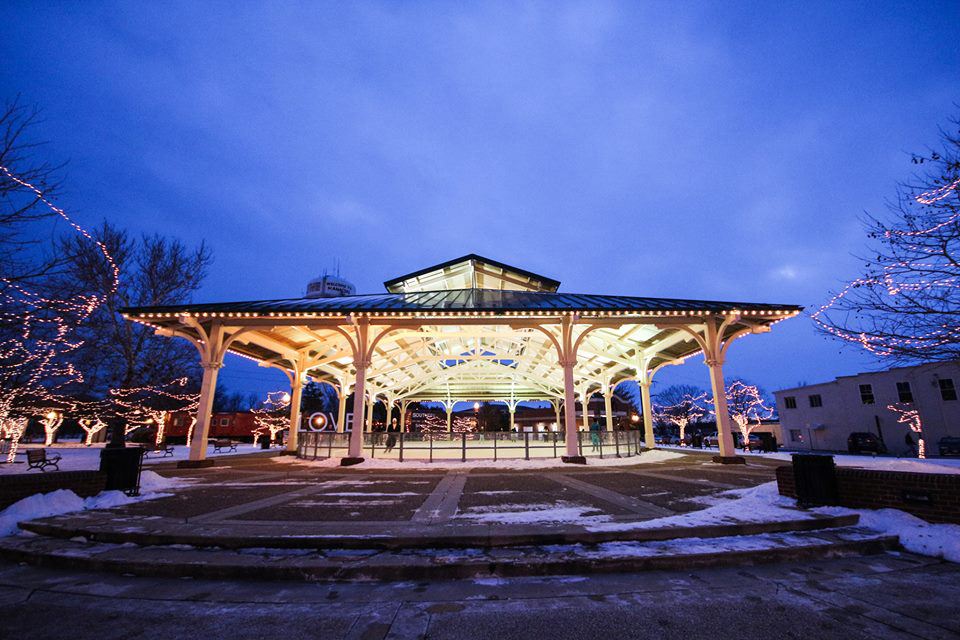 Stay dry under the canopy, even on snowy days, at this rink in historic downtown Manassas.
8523 Fenton St., Silver Spring
Skate under the rink's covering, which lights up with rainbow hues at night. Group and private lessons are also available.
1500 S. Capitol St., SE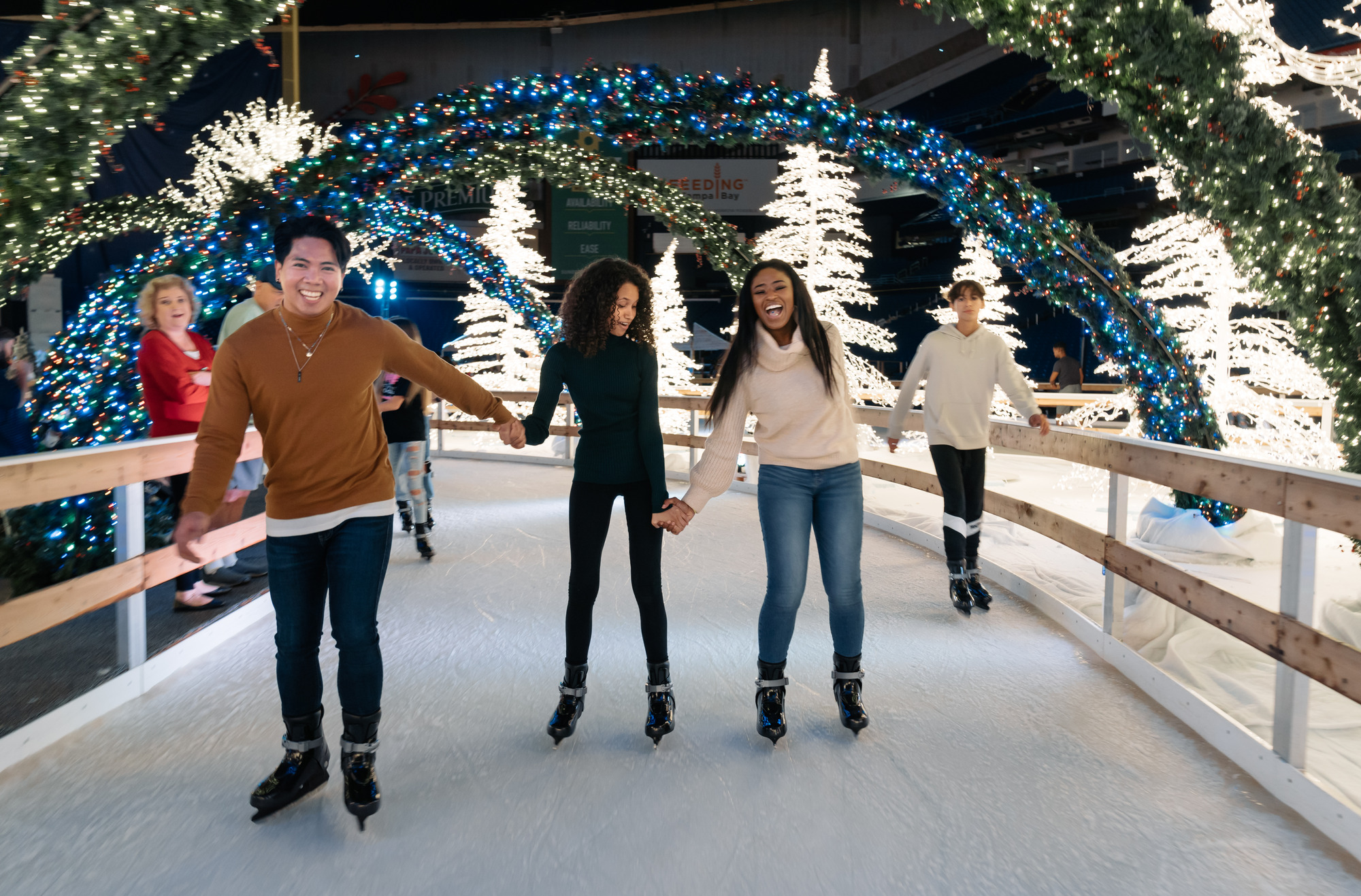 Glide amid a forest of glowing trees at Nationals Park, then hit the Christmas Village for post-rink shopping, live performances, and festive cocktails.
1201 S. Joyce St., Arlington
Virginia's second-largest outdoor rink also offers classes for kids and adults. Rest in the lounge area with its double-­sided fireplace.
6000 Merriweather Dr., Columbia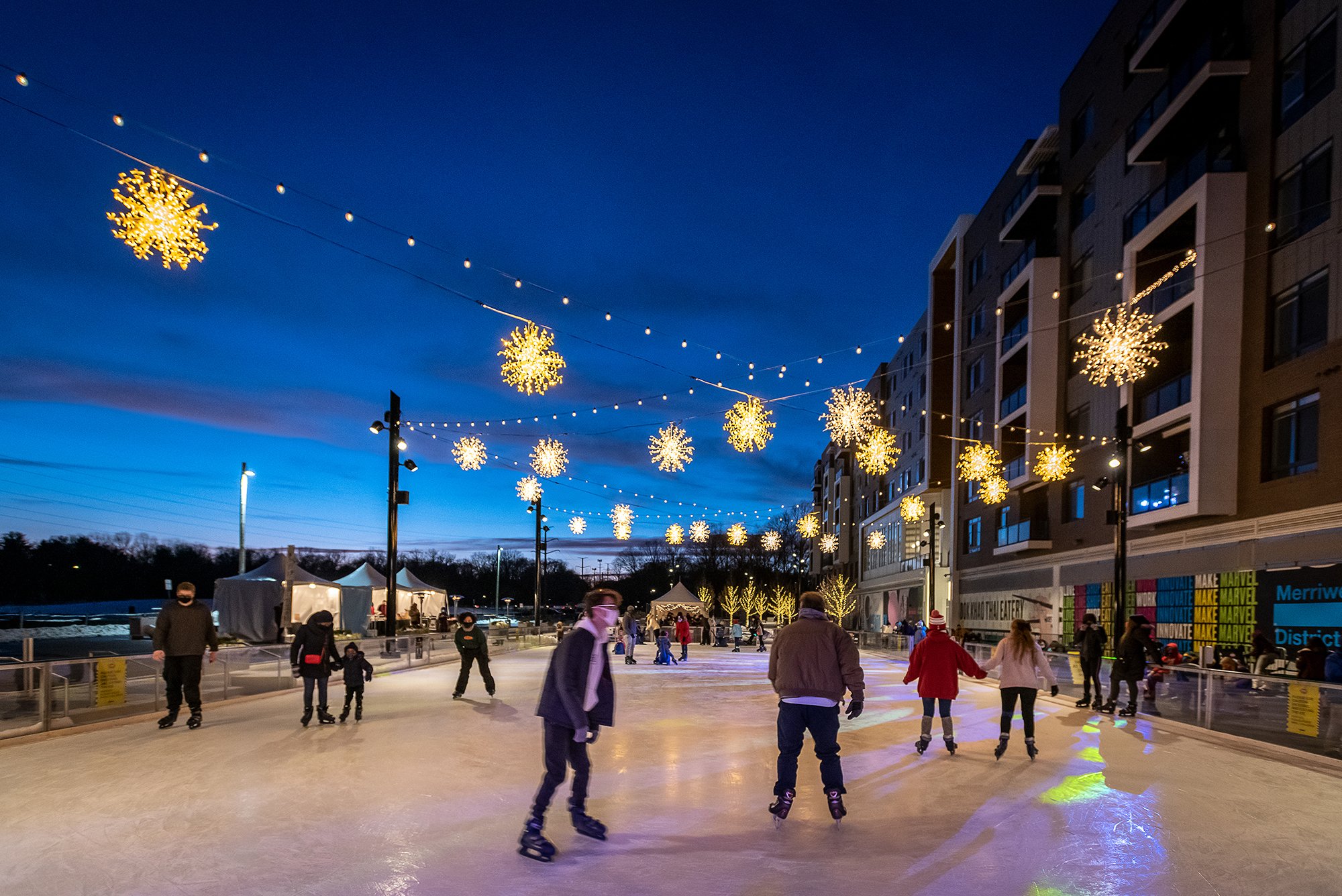 Decked out in sparkling trees and LED snowflakes, this rink hosts performers and DJs for skating to a soundtrack.
---
Back to Top
Take a Winter Walk
Slip on boots and head out for a peaceful winter walk. Here are four good destinations.
11950 Clopper Rd., Gaithersburg
More than 50 miles of trails provide a walk for any age at the Gaithersburg park. The 1.2-mile Great Seneca Trail traverses woodlands, while the Lake Shore Trail encircles Clopper Lake for 3.7 miles. A playground features an obstacle course, swings, and a dragon—all made of tires.
1550 Anacostia Ave., NE
Calling all birders: About 240 species have been spotted in DC's Kenilworth Park and Aquatic Gardens, according to the Maryland Ornithological Society. Wandering along the River Trail or the boardwalk could lead to sightings of great blue herons, soaring raptors, and quacking ducks.
9750 Meadowlark Gardens Ct., Vienna
Stroll through 95 acres filled with gardens, gazebos, and lakes. Spring offers cherry blossoms and fall has colorful foliage, but the park highlights winter's often-overlooked beauty with a collection of tall conifers, bell-like Lenten roses, and red-twig dogwood.
3001 Connecticut Ave., NW
Walk on the wild side at the zoo, where some animals opt to hang outside when there's a chill in the air. (You can also pop into heated indoor exhibits.) Winter may even be the best time to visit the pandas: The bears tend to be more active this season because they hail from a colder climate.
---
Back to Top
Chill in an Igloo
They aren't made of ice, but these huts will keep you protected from the elements while enjoying a meal outside. Here are three favorites.
2650 Virginia Ave., NW
Can't get to the Alps this winter? Try the Watergate's Swiss­inspired igloos on the patio. Yes, that means raclette and fondue will be on the menu, as well as a whiskey lineup and seasonal cocktails.
2800 Pennsylvania Ave., NW
Channel après-ski vibes in chalets with destination-themed menus at the Four Seasons hotel. Head to Jackson Hole for an 18-ounce steak, Whistler for ice-wine martinis, Vail for s'mores, and the Megève for a foie gras parfait.
1906 14th St., NW
Each alfresco lodge has heaters as well as blankets and comes decorated with leaves and frosted wreaths. The restaurant serves winter staples such as red-wine-marinated lamb and venison.
---
Back to Top
Go Stargazing
The sky is at its clearest in winter, an ideal time to look up at the stars. Goddard Space Flight Center engineer Glenn Bock walks us through the galactic activity.
Where should I go?
"You have more opportunities to get connected with the universe by going outside," says Bock. He recommends parks free of trees, such as Burke Lake Park in Fairfax and Greenbelt's Buddy Attick Lake Park, which is open until 11 PM. If there are no tall buildings around, a parking lot is also good.
What if I want to stay indoors?
You can make free stargazing reservations or attend a public event at the Montgomery College Observatory in Rockville.
What should I bring?
Bock keeps binoculars in his car, always ready for observing the night sky. Given winter's low temperatures, bundling up is a must. "You're going to want to wear your snow equipment, your gloves, your hat—you're going to want to [dress like] you're skiing," says Bock. "Maybe lay down in a sleeping bag."
What can I see?
Jupiter and Saturn are on view, as well as the Sagittarius constellation, a teapot shape marking the center of the Milky Way. Look for glowing stars within constellations: The "Dog Star," Sirius, is the brightest point in the Canis Major constellation during winter, and hunter Orion's right shoulder is lit by red Betelgeuse, pulsing before it explodes sometime in the next 100,000 years.
What should I download?
Bock recommends the Stellarium or Heavens-Above app to make sense of the planets and constellations. There are also free printable sky maps you can hold above your head. Prefer an audio aid? Check out Sky and Telescope's monthly podcast, Sky Tour.
How can I learn more?
Bock's advice: Find an astronomy club that's hosting a stargazing event and can give a tour of the night sky. The Northern Virginia Astronomy Club hosts frequent public viewings at Sky Meadows State Park and C.M. Crockett Park next to Germantown Lake, both in Fauquier County. The National Capital Astronomers and Howard Astronomical League also host star parties.
---
Back to Top
Visit a Hidden Museum
Looking to get out of the house? Try exploring an off-the-beaten-path museum. TikToker Noelle Harada (@noellemargaret8) set out on a mission to visit every museum in town, going beyond the Smithsonian. She recommends five hidden gems.
716 Monroe St., NE
The Brookland museum doesn't just showcase the works and personal histories of American poets—most of the exhibits have a visual-art component to highlight a given poem's themes. There are also open mics, poetry readings, and jazz concerts on weekends.
801 K St., NW
In Mount Vernon Square, this extensive collection of artifacts details the history of DC the city. Harada recommends the "Big Picture" exhibit, featuring 74 panoramic images and a 40-foot timeline of 20th-­century Washington.
2455 Sixth St., NW
Housed in the school's fine-arts building, this gallery displays artwork created by former and current students. You'll also find exhibits on African American and African art—Harada suggests a stop at the collection of wooden sculptures and masks.
1500 13th St., NW
This Victorian-style mansion used to be the home of Korea's foreign minister. The museum's hidden-gem status means you can get intimate, one-on-one tours of the home, which includes a library, banquet hall, and small garden.
1100 Pennsylvania Ave., NW
From the top of the Waldorf Astoria, get a picturesque view of the Mall, Capitol, White House, Pentagon, and Supreme Court. Harada regards the vista from the clock tower—often reached without having to stand in a line—on a par with the Washington Monument's.
---
Back to Top
Winter Jobs
Kathleen Larkin, Arctic security officer
The State Department official travels to the world's most frigid climates to advocate for the US.
What's the coldest place you've visited?
We had the chance to go to Ilulissat, Greenland, north of the Arctic Circle. The majority of the island is not connected by roads, and the winter opens up a lot more possibilities for connection between communities, because you can use snow machines to get around.
How do you prepare for that weather?
There's this saying in the North that there's no bad weather, there's just bad gear. One of the best purchases I've made in this job was in Greenland. I bought myself a musk-ox wool hat, and it happens to be the warmest and softest wool in the world.
What are winter traditions you've been exposed to abroad?
I love a good Finnish-sauna model, where you have these contradictions between the hot and cold. You plunge into the Baltic Sea and immediately come into this steam room that's 110 degrees [Celsius].

Charlie Lindgren, hockey player
The Washington Capitals goalie spends almost every day of winter on the ice.
What's your ideal winter day?
Growing up in Minnesota, I spent a lot of time on outdoor lakes. Me and my buddies would go to the local outdoor rink—we'd have on the jerseys of our favorite NHL players. We would spend hours and hours on the ice. That's my dream winter day.
Do you play any other winter sports?
My grandpa, he's a bigtime ice fisherman, so he would take me and my brothers to his honey holes. I did some sledding, too, when I was younger.
Do you ever skate just for fun?
My wife and I have a tradition. The first date we ever had [on Christmas Day], we went skating on the lake outside my parents' place. We wanted it to be a tradition since then to go out and skate on any outdoor rink or lake on Christmas.

Matthew Cappucci, meteorologist
The weather pro tracks conditions for the Washington Post, WAMU, and Fox 5.
What makes winter different from other seasons you cover?
The thing about winter storms is they have such a big footprint. When a big one hits, it means all hands on deck. I might be working days and days in a row, 18-hour days, covering it. Ninety-five percent of the time, winter is a pretty chill season—no pun intended. But when it rains, it pours.
What is the number-one question you get about winter?
How much snow we're going to get this winter. Sometimes we struggle with [forecasts] seven days out. How the heck do you think we're going to conjure up imaginary storms months in advance?
What do you think about how DC reacts to snow?
I'm a Bostonian—if we get a foot of snow, we call it Tuesday. Down here, we get a foot of snow, we call it the apocalypse. When I first came to DC, there was a day where we got flurries—a total of half an inch fell. And, my gosh, I've never heard so many car horns!
---
Back to Top
Friluftsliv
You've likely heard of hygge, the Danish concept of embracing all things cozy, so allow us to introduce you to its Norwegian cousin: friluftsliv, which translates to "life in the open air." "It's one of our oldest traditions, spending time outside and consciously appreciating that experience," says Anniken Krutnes, Norway's ambassador to the US. "Friluftsliv gives us a great framework for enjoying our winters, which are long, cold, and dark." Here are three ways to introduce friluftsliv into your winter.
---
How to Dress Warm for Winters in DC
Preparing for a winter outing starts in your closet. Teece Nowell—founder of the nature-immersion school River's Edge Forest Play in West River, Maryland—gives us the lowdown.
Layer Up
"Layering is a huge key to being comfortable," says Nowell. "The best setup is a base layer of good, comfortable wool, then a second layer of fleece. Wool socks and good boots are vital as well. If it's very cold, I like a vest to keep the core body warm, then a fleece-lined shell. Of course, a hat keeps the heat in the body."
Mind the Materials
Cotton, which can absorb moisture instead of wicking it away, should be avoided, says Nowell. Instead, she suggests "good wool, like Merino," or even silk. Wool, she cautions, can be problematic when wet, so she suggests using it only as a base. Nowell recommends topping off your look with breathable synthetic fabrics, such as polypropylene, which help wick moisture. Vented clothing allows for added airflow if you start sweating while bundled up.
Stay Moving
"The trick to staying warm is twofold," says Nowell. Having the right gear is essential, but you also have to keep blood flowing. At River's Edge Forest Play, students spend the days hiking, climbing, and exploring the forest. "Anyone is going to get cold if you sit still," Nowell says, no matter what you're wearing.
---
Shop It
---
Pack a Winter Picnic
Sure, picnics are typically summer affairs, but you can still bring a basket lunch outside in winter. Michelle Ison, founder of Picnic and Peonies, offers tips for a pleasant time—even when the temperatures drop.
Location, Location, Location
Many summer spots also work for winter, says Ison, but you'll want to lay your blanket in a space surrounded by trees to help block wind. "Our two favorite locations are Georgetown Waterfront Park and Founders Park in Old Town Alexandria, because they both have lots of trees and water views," says Ison.
Pack Pillows and Blankets
Protect your bum from winter freeze with pillows and a waterproof blanket. "We also like to have a little basket on the side with lots of blankets to keep everybody cozy," says Ison. If you're feeling ambitious, place a rug under your blanket for further insulation and cart a portable heater.
Pour a Warm Drink
Cold weather calls for hot drinks. Wrap mittened hands around a cup of hot cocoa, spiced (and perhaps spiked) cider, or mulled wine that you've kept warm in a thermos. For food, Ison recommends packing typical picnic fare such as sandwiches and charcuterie.
Consider Playing a Game
Keep your mind off the temperature with some friendly competition. "We do badminton, Connect Four, cornhole, giant Jenga—you name it," says Ison. The activities play a dual role, keeping picnickers entertained while getting them moving in the cold. Ison has also seen people paint or practice yoga.
---
Shop It
---
How to Workout Outside During the Winter
Just because there's a chill in the air doesn't mean you have to be confined to a gym or fitness studio. DC personal trainer Katie Collard shares advice.
Wear the Right Clothes
Like any winter outfit, you'll want an insulated layer and an outer shell to protect from the wind. When you're adding sweat to the equation, select a base layer that wicks moisture and keeps you dry. Collard also says a common faux pas is forgetting gloves. Your extremities are the first to get cold, so she recommends thick socks plus hand warmers.
Do a Longer Warmup
The goal of warming up is quite literally to raise the temperature of muscles so they're flexible and primed for strenuous activity—and less prone to injury. Because cold can tighten joints and muscles, add a few extra minutes to your stretching and warmup, says Collard.
Implement Hot-Weather Practices
We get it: When it's overcast and cold, slathering sunscreen is the last thing on your mind. But you can still burn in winter, so don't forget to apply some SPF. Collard notes it will also help protect your skin from the drying cold air. Another summer precaution not to skip? Drink plenty of fluids.
Team Up With a Workout Buddy
Warm bed + brisk weather = the perfect excuse to skip a workout. A partner can help with accountability, encouraging you to head out for some frigid fitness. Whether you're running side by side or going to an outdoor class together, socializing adds motivation.
---
Shop It
---
Back to Top
Relax at a Hot Spring Resort
Yes, you can stay toasty during a winter swim. Things are heating up at these natural springs and spas, which offer year-round soaks in hot water.
Berkeley Springs, W. Va.
Drive time from DC: Two hours and 15 minutes.
George Washington was a frequent visitor to this spa, which includes two bathhouses with 102-degree water. The Old Roman Bath House has a high magnesium content—for achy joints—while the Main Bath House provides spa treatments.
Hot Springs, Va.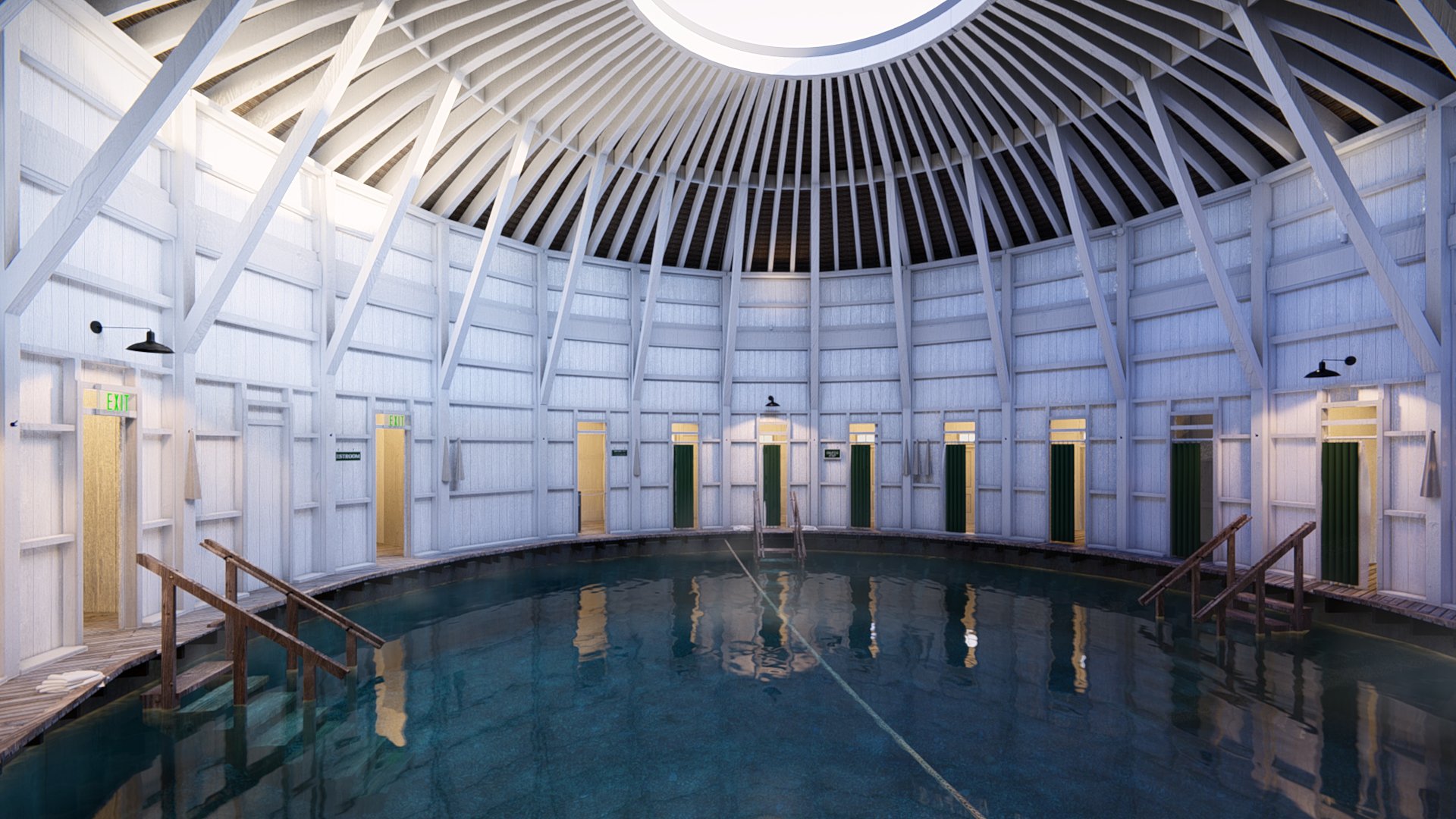 Drive time from DC: Four hours.
After a series of renovations, the Allegheny Mountains resort is reopening its Warm Spring Pools in December. An adults-only space features hot outdoor pools and massages.
White Sulphur Springs, W. Va.
Drive time from DC: Four hours.
The luxury resort offers several soaking options in 100-degree water. Sulphur spring water is piped directly from the ground into steel tubs, while natural mineral water flows into step-down whirlpool tubs.
High View, W. Va.
Drive time from DC: Two hours.
Tiled baths are filled with spring water heated to 102 degrees at the all-inclusive resort. The alkaline water is not treated with chemicals, because Roman-­style tubs are filled, emptied, and cleaned for each person.
---
Back to Top
Warm Up Your Staycation Ideas
Missing sunnier times? Fear not: There are ways to capture summer's spirit even when it's snowing outside.
Take a Dip in an Indoor Pool
You can still splash around in the winter, thanks to public indoor pools. Some standouts: Chantilly's Cub Run Rec Center (4630 Stonecroft Blvd.) features water slides, a lazy river, and a jet-filled vortex. The splash pool at Germantown Indoor Swim Center (18000 Central Park Cir., Boyds) has a faux island with waterspouts. Lap swimmers can check out the Olympic-­size pool at Tenleytown's Wilson Aquatic Center (4551 Fort Dr., NW).
Visit a Greenhouse
Marjorie Merriweather Post hired a curator to breed new orchids for her greenhouse at Hillwood Estate (4155 Linnean Avenue, NW), which contains 2,000 specimens. Meanwhile, the warm dome at the United States Botanic Garden (100 Maryland Ave., SW) is filled with rainforest plants.
Sip a Tropical Cocktail
Bring back memories of warmer days with piña coladas and mai tais at tiki bars such as Archipelago (1201 U St., NW) and the Wharf's Tiki TNT (1130 Maine Ave., SW), which mixes island drinks with spirits from Thrasher's Rum Distillery, located under the same roof.
---
Back to Top
Sit by the Fireplace
Picture this: It's a frosty night, and your toes begin to thaw when you step inside a warm spot with a hearth. Huddle up to a fire at these six bars and restaurants.
1734 N St., NW
The Dupont Circle restaurant offers a dining-room fireplace and tabletop fires on the patio.
600 T St., NW
A tucked-away bar serving sophisticated cocktails to sip by the fire. Catch live jazz on Thursday nights.
7421 Maple Lawn Blvd., Fulton
Nine fireplaces, hanging lanterns, and towering bookshelves bring cozy vibes to this Indian restaurant in Maryland.
3111 K St., NW
Fend off the cold by finding a seat near the French wine bar's fireplace.
713 King St., Alexandria
The tavern has fireplaces on both levels for double the opportunity to drink a pint near the flames.
2014 Ninth St., NW
The Clarendon transplant reopened in Shaw with a fireplace and Andy's Pizza.
---
Back to Top
Roast Some S'mores
Stay close to the blaze while making the campfire classics.
1201 K St., NW
For camping vibes with city views, skewer marshmallows over the fire pit on the Eaton Hotel's rooftop.
101 District Sq., SW
Grab ready-to-roast s'mores kits from the vintage Airstream, then hit a waterside fire pit.
7134 Main St., Clifton
Marshmallows are made in-house at this Virginia restaurant, where diners heat ingredients over their own tabletop flame.
916 G St., NW
Remix the traditional s'mores combo with accoutrements like Reese's cups, banana slices, and caramel sauce.
---
Back to Top
Order Soup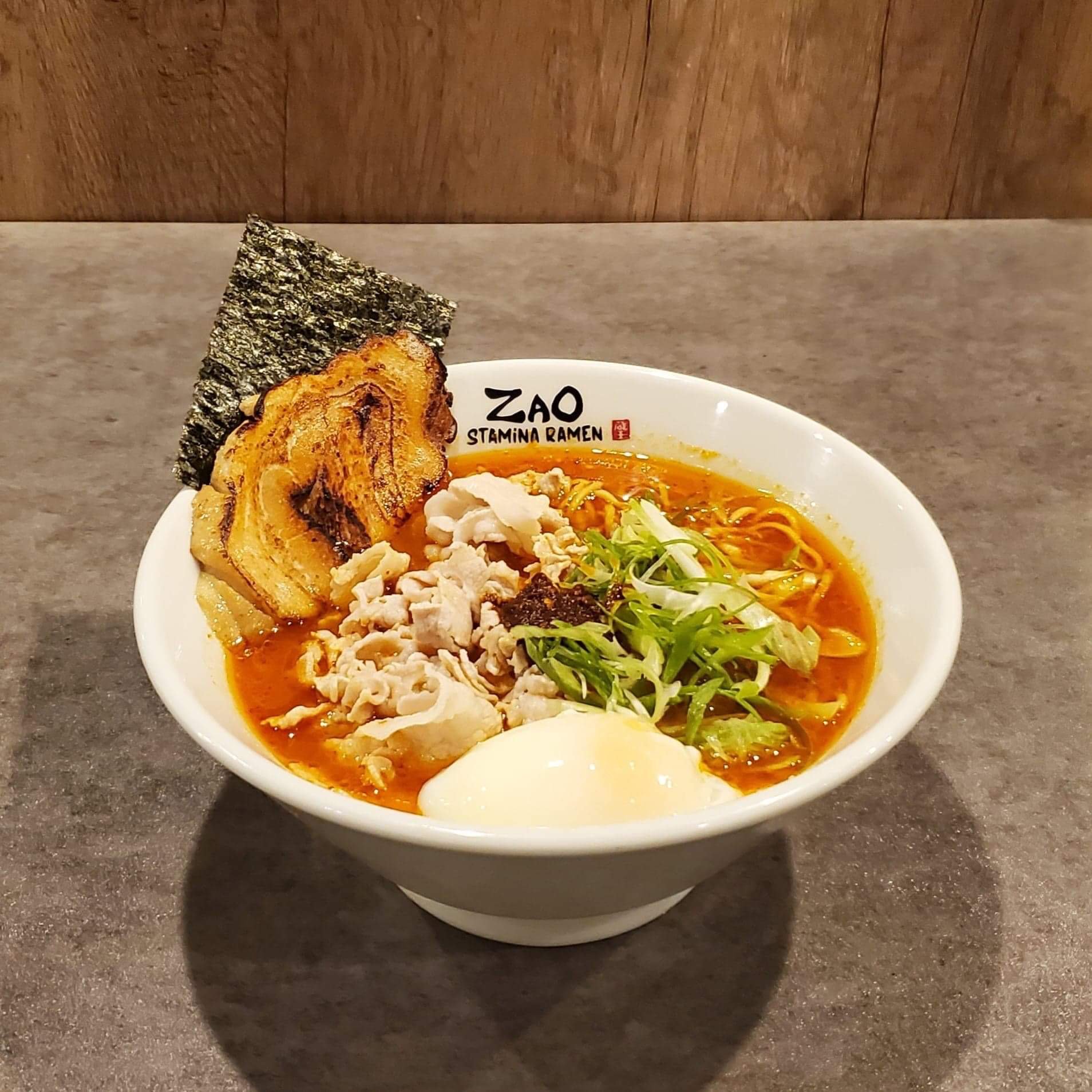 Maybe you're coming down with a cold, or maybe you're snuggled up on the sofa. No need to go out: These five great soups can be delivered to your door.
Delivery by: Doordash, Caviar.
Delivery area: Bethesda.
Why you should order it: The owners of Chaplin's opened this Bethesda shop, slinging noodles with miso-spiked broth.
Delivery by: Uber Eats, Postmates.
Delivery area: McLean/Tysons.
Why you should order it: Wontons float in a zingy ginger broth at Peter Chang's Fairfax spot.
View this post on Instagram

Delivery by: Doordash, Uber Eats, Postmates, Caviar.
Delivery area: DC.
Why you should order it: Angel Barreto's creamy porridge is a hearty option with roasted carrots and lemon-­parsley oil.
Delivery by: Doordash, Caviar.
Delivery area: DC.
Why you should order it: The spicy soup comes with a kick of ginger and hot peppers to soothe stuffiness.
View this post on Instagram
Delivery by: Doordash, Caviar.
Delivery area: DC.
Why you should order it: Think of this brasserie's soup as a package of mail-­order cozy.
---
Back to Top
Sip on a Winter Cocktail
Cocktails you can clutch in your mittened hands
Boozy Hot Chocolate
Where to find it: Irregardless (502 H St., NE) uses oat milk in its cocoa. The drink comes with allspice cream at El Techo (606 Florida Ave., NW). At Kafe Leopold (3315 Cady's Alley, NW), the spirit of choice is rum.
Mulled Wine
Where to find it: The wine bar Maxwell Park in Navy Yard (1346 Fourth St., SE) warms red wine with spices. Order mulled wine next to a defunct railcar at Metrobar (640 Rhode Island Ave., NE). Opt for a sugarplum iteration at the winter chalet at Hook Hall (3400 Georgia Ave., NW).
Hot Buttered Rum
Where to find it: Destino (1280 Fourth St., NE), in La Cosecha marketplace, pairs hot rum with passionfruit. At the Lot beer garden (3217 Tenth St., Arlington), the spiced-rum-and-brown-sugar beverage doubles as a hand warmer. The indoor/outdoor spot Calico (50 Blagden Aly., NW) mixes pumpkin spice into the cocktail.
Coffee With a Kick
Where to find it: Sip with chocolate bitters at Fight Club (633 Pennsylvania Ave., SE). Stable (1324 H St., NE) adds schnapps to a Swiss version. Clarendon Ballroom (3185 Wilson Blvd., Arlington) makes boozy PSLs.
Hot Toddy
Where to find it: The toddy at Pennyroyal Station (3310 Rhode Island Ave., Mount Rainier) features Japanese whiskey. Stir in warming chai at Duke's Grocery (Dupont Circle, Foggy Bottom) and Duke's Counter (Woodley Park). Hi-Lawn (1309 Fifth St., NE) adds Earl Grey tea and lavender.
Photograph of Rechargeable Hand Warmers by Garrett Hoppin.
Photograph courtesy of retailers.
This article appears in the December 2022 issue of Washingtonian.