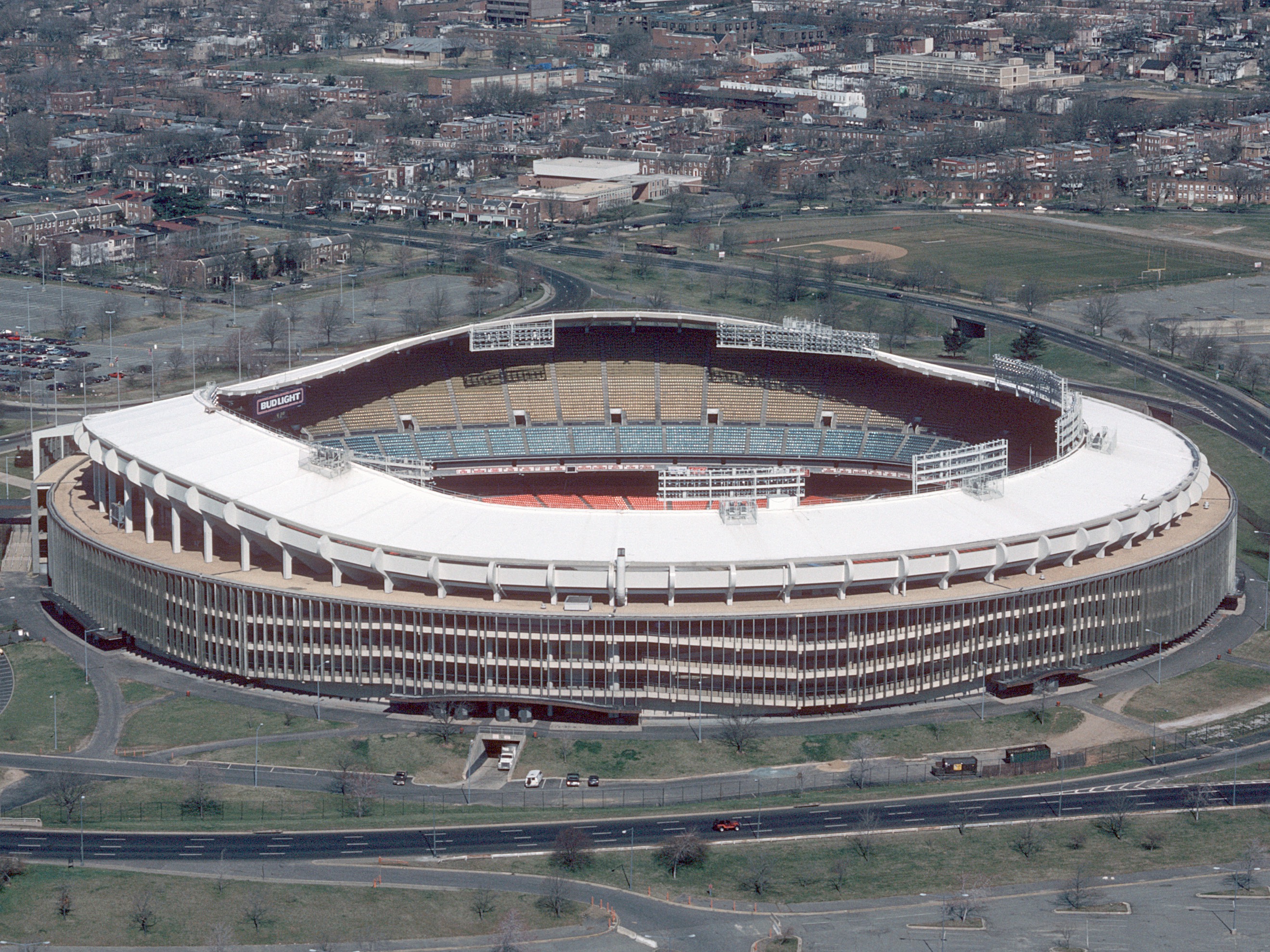 For 62 years, RFK was where Washingtonians came together. We celebrate and remember its history and legacy.
OCTOBER 1, 1961

OPENING DAY

Called "America's most plush sports palace" by the Washington Post, DC Stadium opens with a National Football League game pitting the hometown team against the New York Giants, at a cost of $24 million—$18 million over budget.

APRIL 9, 1962

PLAY BALL!

JFK Opening Pitch. Photograph by AP Photo.

President Kennedy throws out the ceremonial first pitch as the Senators defeat the Detroit Tigers 4–1 in Major League Baseball's debut at the stadium.

1962

POLITICAL HARDBALL

Following a four-year hiatus for causing too many injuries, the annual Congressional Baseball Game returns with its DC Stadium debut, a 4–0 GOP win.

JULY 10, 1962

ALL-STAR HOMECOMING

Los Angeles Dodgers star and DC native Maury Wills has to talk his way into the stadium past a security guard who doesn't recognize him, then earns MLB All-Star Game MVP honors.

AUGUST 15, 1966

FAB FIVE FAREWELL

Beset by controversy over John Lennon's "more popular than Jesus" comment, the Beatles play for 32,164 fans—just two weeks before their final paid public concert in San Francisco.

January 18, 1969

name change

Photograph of LBJ by Charles Harrity/AP Photo.

In the final hours of LBJ's presidency, Interior Secretary and JFK appointee Stewart Udall renames DC Stadium in honor of Robert F. Kennedy—circumventing LBJ's desire to name it after himself.

NOVEMBER 16, 1969

CHANGING THE SUBJECT

Photograph of Nixon courtesy of Library of Congress.

One day after a massive anti–Vietnam War march in DC, President Nixon attends a Washington-versus-Dallas football game at RFK.

December 31, 1972

The Best of Enemies

Led by a veteran-laden "Over the Hill Gang" defense, Washington's football team crushes the Dallas Cowboys 26–3 in the NFC title game to advance to the Super Bowl, spawning a ferocious rivalry.

June 9–10, 1973

Long, Strange Trip

The Allman Brothers and the Grateful Dead stage a two-day concert featuring psychedelic drugs, a brawl between a roadie and a record executive, robe-wearing members of the International Society for Krishna Consciousness, and 80,000 fans.

June 29, 1975

Goat Watching

Photograph of Pelé by Harvey Georges/AP Photo.

More than 35,000 fans—then the largest soccer crowd in North American Soccer League history—see Pelé and the New York Cosmos beat the Washington Diplomats 9–2.

September 21–22, 1984

Thriller

Michael Jackson and his brothers bring their Victory Tour to a sold-out RFK in two kid-friendly shows that the Washington Post describes as "more Ringling Bros. than rock 'n' roll."

November 18, 1985

Blind-Sided

Photograph by J. Scott Applewhite/AP Photo.

Washington QB Joe Theismann suffers a gruesome, career-ending leg injury while being sacked by Giants linebacker Lawrence Taylor on Monday Night Football.

July 3, 1986

Stylin' and Profilin'

Photograph of Flair and Rhodes by George Napolitano/MediaPunch/Alamy.

Charismatic and loquacious pro wrestler Ric Flair defeats Dusty Rhodes at the NWA Great American Bash. Woooo!

January 17, 1988

Super Bowl Save

The Washington football team advances to Super Bowl XXII (which they eventually win) when Darrell Green breaks up a Minnesota Vikings pass at the goal line in the NFC title game.

April 12, 1989

Comrades: Stick to Hockey

First baseman Nugzar Pophadze hits a solo home run for the visiting USSR baseball team in a 20–1 loss to George Washington University.

July 17, 1992

Welcome to the Jungle

Rock gods Guns N' Roses and Metallica kick off a snake-bitten North American tour plagued by canceled shows, intra-band animosity, and a pyrotechnic accident that burns James Hetfield.

April 20, 1996

It's Called Soccer

Photograph of DC United player by Tony Quinn/Alamy.

Major League Soccer debuts with a 2–1 DC United loss to the LA Galaxy.

July 24, 1996

Ringing Success

The United States ties Portugal 1–1 in an Olympic soccer match played before some 58,000 fans, the largest sports crowd in RFK history.

December 22, 1996

End of an Era

In their final game at RFK, the Burgundy and Gold defeat the Dallas Cowboys 37–10; afterward, fans stream onto the field to remove clumps of turf as souvenirs.

September 21, 2003

America's Soccer House

Photograph of US women's soccer team by Susan Walsh/AP Photo.

As the US women's national team beats Sweden 3–1, RFK becomes the only stadium to host the men's and women's World Cup, Olympic soccer, the MLS Cup, and the NASL Soccer Bowl.

April 3, 2004

Skipping Ahead

Photograph of Adu by Gerald Herbert/AP Photo.

Fourteen-year-old prodigy Freddy Adu debuts with DC United, becoming the youngest player in MLS history.

May 22, 2004

The Day the Music Stopped

Photograph of Jay-Z by Kevork Djansezian/AP Photo.

The final HFStival at RFK features Jay-Z, the Cure, the Yeah Yeah Yeahs, Fall Out Boy, and Annapolis's own Jimmie's Chicken Shack.

August 9, 2007

Hello, Becks

Photograph of Beckham by Kevork Djansezian/AP Photo.

International soccer superstar David Beckham debuts for the LA Galaxy in a rain-soaked 1–0 loss to DC United.

September 23, 2007

See You at Navy Yard

The Nationals play their final game at RFK, defeating the Philadelphia Phillies 5–3.

June 2, 2013

Centennial CelebrationK

More than 47,000 fans watch the US men's national team notch a 4–3 win over Germany in the 100th-anniversary celebration of US soccer.

October 27, 2016

Inspired by Actual Events

DC United sold plush-doll "rally raccoons."

In a nod to the furry, four-legged mammals living in and around the stadium, DC United begins selling plush-doll "rally raccoons" at the team's RFK store.

October 22, 2017

Bye-Bye, Black and Red

Fireworks, an alumni game, and bouncing stands filled with rowdy fans mark DC United's final game at RFK, a 2–1 loss to the New York Red Bulls.

September 14, 2019

Fourth and Goal

Friendship Collegiate defeats HD Woodson in the high-school football DC Kickoff Classic, the last football game played in RFK.

December 8, 2022

Last Call

Photograph of seats by Evy Mages .

Doug Williams, Kathleen Kennedy Townsend, and others attend a farewell ceremony as the stadium's iconic orange wooden seats are removed from its lower bowl.