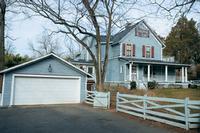 Fairfax County embraces both new development and older-style charm. Town centers are providing shopping and entertainment as well as affordable condominiums within walking distance of residential areas. Older neighborhoods are attracting residents who want to feel removed from city congestion but still close to services.
With a new name and new look, the former site of the Lorton Correction Complex has become a place people are now happy to call home. Made up of neighborhoods like Lorton Station and Laurel Hill, the area has 1,200 acres of parks including the new Laurel Hill Golf Club and a planned equestrian center. While much of the area is still in the development phase, buyers are snapping up properties.
Susan Fremit, president of the Lorton Station Community Association, moved there in 2002. "I think we have the best of everything in the county," she says.
Lorton Town Center, most of which will be in place by summer, is within walking distance of many homes and is to include restaurants, a grocery store, condos, a bank, and a dry cleaner.
For commuters, there's a Virginia Railway Express station and the Franconia-Springfield Metro, both a short drive away. Military families are close to Fort Belvoir. A new secondary school, South County, just opened, and two schools are planned. An Inova hospital facility is expected to open in two to three years.
The area is becoming one of the county's most diverse. Walking to the Town Center, Fremit runs into people of Middle Eastern, African, Mexican, Vietnamese, and Spanish descent.
Homes in Lorton range from $300,000 for a condo to more than $1 million for a single-family house in the Laurel Hill neighborhood. In Lorton Station, $800,000 is about average for a single-family home.
Reston, with its lively town center, is a mix of old and new homes and an even broader mix of singles, young families, and empty-nesters. Vera Hannigan and her husband have lived in the same home in Lake Anne for more than 30 years. They raised two children there and still enjoy looking out over Hidden Creek golf course. When Hannigan first moved to the area, commuting to her job in DC was difficult, but new bus routes have made it much easier.
"I'm looking forward to Metroing it," she says of plans to extend Metrorail to Reston.
But she can practically walk to Reston Town Center and the Lake Anne Village Center with its farmers market, restaurants with outdoor seating, and the lake itself with boat rentals.
Homes in Lake Anne run from $350,000 for condos to $1 million-plus for new single-family houses on the lake.
In Vienna, recently voted number four in a CNN/Money magazine survey of top places to live in the country, turn-of-the-century homes give the neighborhood of Windover Heights historic charm. Tom Stevens, president of the National Association of Realtors, lives in a renovated historic home in Windover Heights. Residents enjoy tracing the history of their homes.
The Vienna historical society organizes a yearly Walk on the Hill, a spring garden tour with musical entertainment and stories told by older residents. Throughout the year, there are other festivals and parades, from a holiday stroll on Church Street to a Halloween parade on Maple Avenue.
Home styles range from ramblers and bungalows to renovated 19th-century and contemporary houses. Prices range from $520,000 to more than $3 million.
Several neighborhoods in Fairfax City are also known as tight-knit communities with lots of services and amenities within walking distance.
Alexander Cullison moved with his wife and son to the Greenbriar neighborhood in 1998 after living in northern Fairfax. They were attracted to the location: An elementary school, middle school, and high school are all within three blocks.
Residents like hearing the high-school football games from their backyards on fall and winter evenings. There's a community swimming pool and baseball diamonds. And Cullison can walk to the Greenbriar Town Center, a mini mall on Lee Highway with a grocery store.
Colonials, split-levels, and ramblers are all available in Greenbriar. Four-bedroom homes sell in the $500,000 range.
The Vienna/Fairfax-GMU Metro station about a mile away gives the planned community of Great Oaks much appeal. Because of its proximity to the Army Navy Country Club, it used to be home to many retired military personnel, but now younger families are moving in. The contemporary houses, most of them built in the 1970s, run from the mid-$700,000s to the mid-$800,000s.
There is a number of parks in the area, including Van Dyck Park, a popular spot for bike riding and hiking, and many mature trees. The neighborhood association takes care of both snow removal and common-grounds maintenance.
Another attraction: The community is close to much shopping. Neighborhood association president Carmen Sevilla guesses there are ten grocery stores nearby.
HOUSE PRICES
LAKE ANNE
2-BR CONDO
$345,000
GREENBRIAR
4 BEDROOMS
$535,990
LORTON
4 BEDROOMS $746,105
Where Prices have Climbed the Most in Fairfax County
| Neighborhood | Zip Code | Avg Price 2005 | Avg Price 2004 | % Change | 2005 Sales | 2004 Sales |
| --- | --- | --- | --- | --- | --- | --- |
| Lorton | 22079 | $540,290 | $419,311 | 29% | 1,021 | 1,149 |
| Fairfax | 22032 | $566,506 | $443,241 | 28% | 567 | 640 |
| Alexandria | 22312 | $426,820 | $335,466 | 27% | 567 | 805 |
| McLean | 22102 | $905,622 | $711,939 | 27% | 526 | 691 |
| Falls Church | 22041 | $387,305 | $309,187 | 25% | 491 | 589 |