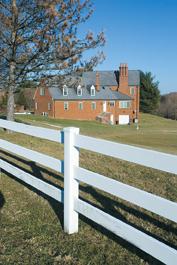 Located between DC and Baltimore, Howard County is dominated by Columbia's ten planned villages but also contains small subdivisions and hilly countryside.
Technically in Clarksville, River Hill is the last village designed under the utopian plan of James Rouse, who founded Columbia in the 1960s. Like the other villages, River Hill is self-contained, walkable, and kid-friendly, but its housing stock is newer and has a higher proportion of single-family homes.
Good schools, tot lots, a swimming pool, and tennis courts make it popular with families. "When the weather's nice, you can see all the kids playing out in the neighborhood," says Jeffrey Shang, a mortgage broker who moved to River Hill in 2001 with his wife, Qi Huang, and their two children.
The village shopping center houses a gym, a Giant with a coffee bar, a bank, dry cleaner, restaurants, and shops. More than half of River Hill's 1,745 acres are open space, including a big nature preserve.
Prices range from about $350,000 for two-bedroom condos to $1 million for large single-family homes. The high prices are a source of criticism, though; some say River Hill diverged from Rouse's vision of diverse, mixed-income communities.
The fifth Columbia village, Town Center, is poised to become Howard County's vibrant urban center. It has long been dominated by a shopping mall, which includes high-end retailers such as Nordstrom and Lord & Taylor plus restaurants and movie theaters. In recent years, builders added more townhouses and condos. Now city planners are working on a design for a livelier, more walkable downtown that could include new arts venues, sidewalk cafes, and a village square.
Even without these additions, Town Center attracts empty-nesters and young professionals seeking a convenient, low-maintenance place to live. They enjoy nature in Symphony Woods and at Lake Kittamaqundi, attend noon concerts on Wednesdays, and walk to the large library, doctors' offices, shops, and restaurants.
"We decided no more snow shoveling and lawns to mow," says Joel Broida, a retired public-health researcher who moved into a Town Center condo with his wife, Gail, last May. "It's very delightful." Condos and townhouses range in prices from around $350,000 to $2 million for penthouse condos in a planned 22-story tower overlooking Lake Kittamaqundi.
Some call Farside the Potomac of Howard County, but buyers get more for their millions in this Ellicott City neighborhood than in Montgomery County. Here, large homes on at least three acres start at around $1 million. Many have private tennis courts and swimming pools.
Farside has only 62 homes, and they don't go on the market often. But buyers can find similar properties in Howard County's other small, prestigious neighborhoods, including the Chase, the Preserve, and Buckskin Lake.
Farside's rolling hills, mature trees, culs-de-sac, and architecturally distinct homes make it feel more like a neighborhood than surrounding developments do. A river runs along one side, and nearly 1,000 acres owned by the University of Maryland provide a buffer against future development.
"You feel like you're all alone back here, and it's really nice," says David DiFerdinando, a cofounder of the Boardwalk Fries franchise who moved to Farside with his wife, Rita, and four daughters in 1990. At 19,500 square feet, his house on four acres is the neighborhood's largest. It includes 14 bedrooms, two kitchens, three laundry rooms, and a dance studio.
Neighbors are hard-working professionals, not snobs, says Pam Carnock, who moved to Farside from Columbia three years ago with her husband, Mike, and their four kids. "That was a pleasant surprise," she says. "We can relate to all of them."
HOUSE PRICES
COLUMBIA
2-BR CONDO
$410,000
CLARKSVILLE
5 BEDROOMS
$707,000
ELLICOTT CITY
5 BEDROOMS
$1,650,000
WHERE PRICES HAVE CLIMBED THE MOST IN HOWARD COUNTY
| Neighborhood | Zip Code | Avg Price 2005 | Avg Price 2004 | % Change | 2005 Sales | 2004 Sales |
| --- | --- | --- | --- | --- | --- | --- |
| Glenelg | 21737 | $932,828 | $689,677 | 35% | 13 | 13 |
| Woodbine | 21797 | $708,102 | $547,107 | 29% | 100 | 111 |
| Jessup | 20794 | $311,602 | $254,244 | 23% | 155 | 151 |
| Laurel | 20723 | $400,296 | $328,998 | 22% | 558 | 649 |
| Savage | 20763 | $337,772 | $278,077 | 21% | 19 | 28 |