Christopher Corbett (corbett@umbc.edu) is author of Orphans Preferred: The Twisted Truth and Lasting Legend of the Pony Express.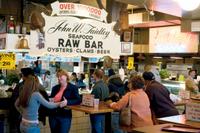 When my father died a few years ago he left behind a Crown Victoria, an American car dating from the time when Ford, as the slogan put it, really had a better idea. It was white. It had velourlike seats. It was big.
I took to touring Baltimore in that car. Riding in it was like being in a moving La-Z-Boy. As middle-aged white men wearing Hawaiian shirts, my friend and I frequently were mistaken for police officers.
When anyone comes to visit I take them touring à la Crown Vic. I prefer this method of hosting visitors if they've been to Baltimore before. They've seen the Inner Harbor. I like to show them the things they may have missed.
We go first to Green Mount Cemetery,slightly north of downtown. (The main gate is on the 1500 block of Greenmount Avenue.) An estate in Colonial times, it provides a 360-degree view unlike any other. It's historic and a nice place for a walk. And it's free.
The famous (Johns Hopkins) and the infamous (John Wilkes Booth) sleep in peace eternal here. The grounds, encircled by a fortresslike stone wall, are dotted with fabulous headstones, ornate statues, and enormous trees. Green Mount looks as if it were designed by a committee consisting of Charles Addams, Edward Gorey, and Edgar Allan Poe.
Poe's actually buried on the other side of town at Westminster Burying Ground.
I like driving around Baltimore. I like all the weird things there are to see. And I urge visitors to do this.
I like the statue of Buddha hard by the Jones Falls Expressway near the Maryland Institute College of Art. It's best observed from the southbound lane. I like the hooker free zone sign at the corner of Catherine Street and Wilkens Avenue. I like to take visitors to see the statue of Liberty. She lifts her light beside the car wash on Howard Street just above North Avenue. The statue is on the roof of Liberty Roofing, along with a replica of the Liberty Bell.
I like Lexington Market,the largest of Baltimore's historic public markets, and a great lunch stop. Try a crab cake at John W. Faidley Seafood, a city landmark. I like the sign calling for the repeal of Prohibition at the bottom of Broadway on the side of a building next to the Admiral Fell Inn in Fells Point. Prohibition was repealed in 1933. But here is a reminder that the past is always with us. Baltimore, after all, is a town that loves its past.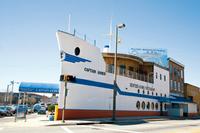 I feel the same way about dining out—I like quirky places. One of my favorites is Samos in Greektown, at 600 South Oldham Street off Eastern Avenue. It's a tiny Greek family restaurant. The family does not have a liquor license (you can go up to the corner and get wine or beer). They do not take reservations (get there early). They do not have valet parking. Like Green Mount Cemetery, this is the real Baltimore.
I had dinner there recently. Four of us shared a platter of olive spread, taramasalata, and hummus; a basket of freshly baked pita bread; three appetizers; a couple of slices of baklava; and a round of coffee. With a tip it was maybe $50. After a lively meal at Samos you will see why I'll take the neighborhoods over the Inner Harbor.
Baltimore has neighborhoods for all tastes.Bolton Hill is the polar opposite of Greektown, looking like an upper-middle-class section of London. Bolton Hill, just northwest of Mount Vernon, borders the Maryland Institute College of Art and near Meyerhoff Symphony Hall and the Lyric Opera House(boltonhill.org).
The neighborhood, which is very 19th century in design, is ideal for walking. Among its former residents—many of the grand brick rowhouses are marked with historic plaques—are the novelist F. Scott Fitzgerald (1307 Park Avenue) and Woodrow Wilson (1210 Eutaw Place), before he was president. Stop at B (1501 Bolton St.), at the corner of Bolton and Mosher, for dinner or Sunday brunch.
Fells Point,which was in not-so-distant memory working-class waterfront, has been transformed. Longtime residents tend to stay out of the Point on weekends when young revelers pack the bars along the narrow streets. That said, I always take visitors to see this old waterfront district. A favorite stop is to see the graves of William and Edward Fell on Shakespeare Street. Their plots sit wedged between rowhouses in the shipbuilding community these Englishmen helped to found.
Around the corner on Thames Street, I recommend Kali's Mezze, a Mediterranean tapas restaurant. (It has valet parking, and in Fells Point that's a good thing.) It's more expensive than Samos—Greek food is popular in Baltimore because it's so cheap—but Mezze's not that pricey.
Drive east from Fells Point toward Canton, another waterfront district that has been spruced up. If you find yourself hungry, stop at Dangerously Delicious Pies(dangerouspies.com)at 2400 Fleet Street, or Patterson Perk, a coffee bar on the edge of Patterson Park at 2501 Eastern Avenue.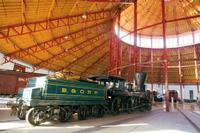 Covering some 137 acres, Patterson Park is another nice walk and it comes complete with a 19th-century pagoda(www.pattersonpark.com).It's the site where citizens built fortifications against the British during the War of 1812. The view of East Baltimore from the pagoda, looking toward Highlandtown and Greektown, is a fine one.
If history appeals to you, try Fort McHenry,where the Star-Spangled Banner flew. The grounds of the fort(nps.gov/fomc)—it's a national park—are ideal for walking and also provide a view of the city and its distant working waterfront. On Fort Avenue a good stop for lunch or dinner is the Wine Market; with its popular bar and nouvelle cuisine, it's a more chic venue than Samos—and a reminder that Baltimore is getting fancier.
If my visitors have children, I like the B&O Railroad Museum just west of the Inner Harbor. Or the Washington Monument in Mount Vernon,next to the Walters Art Museum(wam.umd.edu/~jlehnert/welcome.html).Children like to climb up inside this tower—it is the original Washington Monument, not to be confused with the imitation erected in DC.
Nearby, the Maryland Historical Society (mdhs.org),at 201 West Monument Street, exhibits the original manuscript of the Star-Spangled Banner. It is an amazing thing to see this little poem scrawled on a scrap of paper. I've hauled a few jaded travelers here and always found them impressed.
As for the B&O museum(borail.org),the world can change all it wants, but children still love trains. From April until December you can also go for a train ride, and while it's a short ride on the rundown west side of the city, you can use your imagination; children do.
Baltimore is where the railroad was born in America and the first train made its fabled run. The museum will remind the visitor that once upon a time Baltimore was a great city, an important city, a city that mattered. If you live here, you still believe those things.