Assistant editor Kim Forrest's favorite destination is the Hamptons. She can be reached at kforrest@washingtonian.com.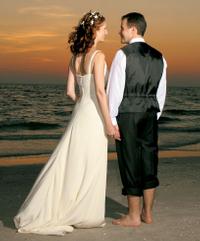 When Ann thompson got engaged to Michael Santorios, she knew she wanted a small wedding far from her Reston home. She'd lived in the Caribbean and loved the beach. She wanted a wedding that was different. But she didn't want guests to spend a lot on airfare, so she hoped to find a place in the States that felt tropical. She and Santorios settled on a beachfront resort in Naples, Florida.
The couple and their guests spent the days before the wedding lounging by the pool and playing golf. Thompson walked down the aisle with flowers in her hair and stood with Michael under a canopy overlooking the water.
As the pastor was speaking, Ann felt the ocean breeze through her hair. She could see the sunset behind the palm trees. "It was magical," she says. "I remember thinking, 'This couldn't be any more perfect.' "
These days, lots of couples decide to skip the traditional wedding in a bride's hometown and get married in a favorite vacation spot. Maybe the location has special meaning; maybe it's an island they've dreamed of visiting.
Some couples invite family and friends. Others, especially older couples and those on their second marriage, fly off on their own.
According to the Condé Nast Bridal Group, 16 percent of the nation's weddings are destination affairs—four times as many as a decade ago. The Caribbean—particularly Jamaica and the Virgin Islands—and Hawaii and Mexico are hot spots, but many couples choose Europe or the South Pacific. Others stay closer to home: Nantucket, Santa Fe, Aspen, and the Napa Valley are popular.
While some island brides wear an elegant gown and get married in a church, for other couples a destination wedding is an excuse to go casual. A bride might wear a sundress or go barefoot on the sand with the groom in a linen khaki suit.
Weddings far from home come with challenges. Couples can't always travel to their wedding location ahead of time. There may not be a lot of florists, caterers, or bands. Three hundred of a couple's closest friends may be too much for a small island.
While destination weddings can be tricky to plan, most brides say the result is worth it.
Here are some of the pros and cons.
Pro: Family Bonding
For couples whose families are spread out across the country, or the world, a wedding in an exotic location can be a bonding opportunity.
Andrea and Philip Watt's families barely knew each other before the Arlington couple's wedding in the Cayman Islands last April. Philip, an account executive with an IT company, is from Australia; Andrea is from Wilmington, Delaware. Guests went to cocktail parties and beach barbecues. By the end of the wedding weekend, Andrea says, "our families were great friends."
Brides suggest planning activities for guests as soon as they arrive so people can meet. "We had a welcome dinner at the very beginning so nobody felt left out," says Alison Terry, who was married on St. Thomas during a Caribbean cruise in January 2005. After that, guests who hadn't known one another chose to sit together during meals.
Tony Hebert and Jennifer Ragland, an Adams Morgan couple who married in Puerto Rico, didn't make plans for their guests. "We wanted to go to a place where there was a diversity of things to do," says Hebert. Guests enjoyed karaoke and water sports: "We let people do their own thing, and people did stuff together anyway." While he and Ragland ran prewedding errands, guests who'd just met sat at the pool drinking margaritas.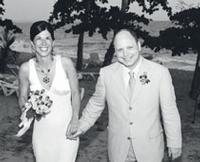 Pro or Con: A Shorter Guest List
Destination weddings tend to have fewer guests. That can be good and bad: Some couples want to be surrounded by only a small circle of friends and relatives; others want a big wedding on the beach.
According to Teresa Belcher, president of Honeymoon Islands planning and travel agency in Fairfax, about 60 percent of invited guests will attend a destination wedding; 85 percent say "yes" to a hometown wedding.
Couples should expect the unexpected. Ann Thompson (now Santorios) thought she'd have 35 guests at her Naples wedding but found out she'd be having 70.
"We were shocked at how many people spent $1,300 to $1,400 to come to our wedding," says Santorios, 38. "We were honored."
Alison Terry, a project manager who lives in Alexandria, sent out 80 invitations for her Caribbean wedding, the same number she would have mailed had the wedding been close to home. "We wanted everyone to know they were invited," says Terry. Fifty people came.
For couples who want a big turnout, it helps to get married on a holiday weekend. Save-the-date cards give guests more time to clear their schedules and book accommodations. Depending on where they're getting married, some couples send save-the-dates up to a year before the wedding.
Even if you send save-the-dates, planners say invitations should go out six months ahead of time. If you're getting married during a holiday season like Christmas, Belcher recommends sending invitations four months earlier than you normally would.
If most guests can't come, Belcher suggests hosting a dinner party or small reception later in a couple's hometown. Ragland and Hebert had about 30 guests at their Puerto Rico wedding, then celebrated with 65 friends and relatives at DC's Duke's City restaurant. Guests who weren't invited to Puerto Rico had known they'd be able to celebrate later in DC. "Our guests couldn't have been happier," Ragland says.
One Arlington bride who was married in Positano, Italy, without any wedding guests, had a party with 75 friends and relatives at DC's Four Seasons Hotel a month later.
They showed a wedding video and honeymoon pictures. Says the bride, "We were able to share it with everyone that way."
Pro: They're Cheaper
According to the Fairchild Bridal Group, couples who have a destination wedding spend 41 percent less than other brides and grooms. Fewer guests means lower catering costs. If a couple marries on a beach, they save on decor. All-inclusive cruises or resort packages are also money-savers.
Some couples cut costs by having what Belcher calls a "weddingmoon"—a combination wedding and short honeymoon. They might save up and take a longer honeymoon on their first anniversary.
With weddings abroad, there is often more room for price negotiation. Andrea Watt visited the Cayman Islands a year before her wedding to scout out locations. She chose a new hotel that was still being built. With help from a wedding coordinator, she was able to get a good deal on rooms for guests.
Because they married outside of San Juan instead of in the city, Hebert and Ragland spent $1,400 on a rehearsal dinner for 35 guests, about $40 a person. The cost included music, alcohol, and pool tables on a western Puerto Rican beach. For that price in Washington, Hebert says, "you couldn't even rent the steps leading up to a building."
Some couples feel guilty asking guests to travel, but the cost might be comparable to a trip to Washington. "For my family to get to DC is expensive, so going the extra length to go to Puerto Rico wasn't really that much more," says Hebert, whose family lives in North Dakota. He used frequent-flyer miles to help relatives with airfare.
For some guests, a destination wedding is a welcome reason to take a vacation and worth the money.
"I was afraid that we were asking too much of them," says Santorios, "but at the end of the day they said 'thank you.' "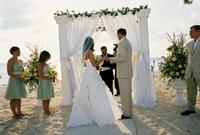 Con: Brides Have to Plan From a Distance
Brides who are concerned with every detail—the flavor of the wedding cake, having a classically trained harpist—might not want a destination wedding. They're harder to control. A couple might not visit their site until the week of the wedding.
Some couples hire a local wedding planner. Many coordinators are familiar with the popular destination sites and willing to plan from Washington; others will fly to a couple's destination for an extra fee plus expenses.
Couples can also rely on an on-site planner. Santorios put her trust in the wedding coordinator at the Naples Beach Hotel & Golf Club. She'd only seen pictures; she didn't see the hotel until after she signed a contract. "It was a real leap of faith," says Santorios, who describes herself as detail-oriented. "You really have to let a lot of it go."
A hurricane damaged the Ritz-Carlton Grand Cayman resort where Watt was getting married. She'd picked the Caymans partly because hurricanes rarely hit there, so she was shocked when she had to scramble for a new location. A wedding coordinator helped her find another hotel. "It almost derailed my wedding six months before it was to occur," she says. "Talk about stress."
Another challenge: There are usually fewer vendors to choose from. For some couples, that means decisions are easier. Fewer options can be limiting—there might be only a few DJs or hairstylists in town.
Tony Hebert says couples who marry in destinations shouldn't expect perfection. His wife, Jennifer, had trouble communicating with their Spanish-speaking florist. They hired the only photojournalist they could find and weren't happy with some of the pictures.
"If people have an image of what they want before they go, they will be very disappointed," Hebert says.
When the bagpiper who was supposed to play at Watt's ceremony got sick, she had little time to come up with an alternative. He was the only bagpiper on Grand Cayman, so she hired a harpist.
Pro: Less Stress
There aren't many rules for destination weddings, which can mean less stress on a couple. A bride and groom might marry on a ski slope or jump into the ocean after the ceremony. They might host a barbecue instead of a seated dinner. Bridesmaids can carry fresh flowers they picked up on the island that morning.
Many couples arrive a week before the wedding, giving them time to unwind. Picturesque surroundings can make last-minute preparations easier to bear. While a bride getting married in Washington might be scrambling with dress alterations after a day at work, a destination bride might be sitting in the sun making wedding favors.
"A week before the wedding," Watt says, "I was relaxing on the beach and scuba diving."