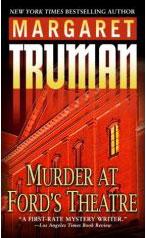 Drawing on some high-profile DC murders, Truman intertwines history and imagination in her 19th Washington mystery, in which Ford's Theatre becomes the stage for a murder, its investigation, and several attempted murders.
A theater volunteer and congressional intern, Nadia Zarinski, is found beaten to death in an alley behind Ford's. Detectives locate suspects, including a flamboyant but diminished British actor with a fondness for young ladies; the senator for whom Nadia interned and with whom she reportedly had a romantic relationship; and two of Nadia's recent lovers—a bitter American University graduate student and the senator's delinquent son.
The theater links the characters: Many of the suspects and investigators work there or are Lincoln scholars. But its presence is frequently exaggerated, as is that of Washington. Instead of blending local color into the background, Truman describes it repeatedly and at length:
Detectives "Klayman and Johnson drove to DuPont Circle, where Connecticut, Massachusetts, and New Hampshire Avenues intersected, and parked on Eighteenth and N, a few blocks from the circle itself. Klayman knew the area well. When not on duty, he enjoyed browsing the galleries and cafés, especially Kramerbooks & Afterwords, where he would sip strong coffee and eat small but intensely rich pastries while browsing possible selections in the bookstore portion of this funky Washington landmark."
Perhaps such detail helps outsiders, but Washingtonians may be as annoyed by it as I was. I sensed that Truman, a Manhattanite, references landmarks to convince readers that she's a Washingtonian first and foremost—by virtue of being former president Harry Truman's daughter.
With parallels to both Lincoln's assassination and Chandra Levy's death, Murder at Ford's Theatre often seems predictable. Nevertheless, it's a quick and engaging way to absorb a piece of DC's—and the nation's—history.
Author:
Margaret Truman
Publisher:
Ballantine
Price:
$24.95