From October 2006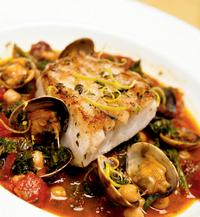 Possibly the best thing to eat at the newly reminted Black's Bar & Kitchen is the fried chicken. But finding it takes the tenacity of a truffle-hunting pig let loose in the oak forests of Perigord.
At the bar it's called Black's Herb Chicken and Savory Waffle. In the dining room it goes by Black's Twice-Cooked Chicken. But there's nothing on either menu to suggest how down-to-the-bone delicious this chicken is—or that it's deep-fried. Too down-home? Too pedestrian for the high-style restaurant this Bethesda address has morphed into? Too much like the old Black's?
Whatever the reason, this bird is worth going after. It's among the best in the area, poached first for tender juiciness, then dunked in boiling oil, making batter and skin fuse into islands of crunch.
It's the ultimate retro-comfort food in a restaurant that has all the comforts of a modern American eatery: an Architectural Digest –ready patio of wood and metal with a Zenlike stone-filled pond. A glass-enclosed wine room with 260 labels, 24 of them available by-the-glass. A sizzling bar scene with boutique oysters on ice. And a sleek dining room with chefy food for the adventurous and simple grilled items with sauces and sides à la New York's Craft for traditionalists.
The new place is bigger and more dazzling in every way than the old Black's. It has to be. Bethesda is a city of many restaurants. It takes more to make it there than it does in, say, restaurant-shy Garrett Park, Palisades, and Rockville, home to Jeff and Barbara Black's other eateries.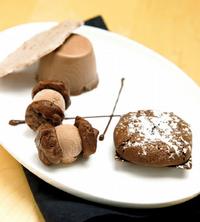 For years, the Blacks were the king and queen of nostalgia—their restaurants were odes to vintage tin stoves and the like. Two years ago they went contemporary with Black Salt on DC's MacArthur Boulevard. It's been a big success. At first glance the Bethesda Black's, with its seafood-heavy menu, would seem to be Black Salt North. But get beyond the composed plates and you'll find hits from all the restaurants in the stable—Addie's plump garlicky mussels and Black Market's luscious wood-grilled hamburger among them.
The kitchen has its highs. Sesame oysters are perfectly fried little balls of crunch spurting oyster likker when you bite into them. Heirloom-tomato gazpacho with lump crab and a blob of celery sorbet delivers a marvelous layering of flavors. Tuna "salad" is a clever deconstruction of the classic done carpaccio style with crumbled egg, celery leaves, and drizzles of lemon aïoli.
I love the crisp-skinned yet still-dewy-on-the-inside roasted cod with its Portuguese accents of chorizo and kale, and the flavorful, fatty Pineland Farms rib eye with frizzled onions and chimichurri. A side of roast fingerlings pungent with black olives is an unexpected pleasure.
But there are also-rans. Black's take on the corn dog sports a flavorless sausage. A duck quesadilla is overwhelmed by barbecue sauce; a soft-shell crab disappears in its tempura batter. The mix-and-match sauces for the most part don't live up to their billing—and it seems rude to charge extra for them. And crispy-fried whole fish is not for the faint of heart. Coiled, eyes staring straight at you, it just about leaps off the plate. It's also cooked way past done.
Given all the ups and downs, it's a surprise that desserts, by pastry chef Janelle Birdsall, are so uniformly wonderful—and more elaborate than at the Blacks' other restaurants. The chocolate trio is a true chocolate-lover's plate with an elegant yet gooey fallen-soufflé tartlet, silky chocolate panna cotta, and mini ice-cream sandwiches on stupendous little chocolate-chunk cookies. A cherry-centric plate brings vivid cherry sorbet, a tiny cherry tart, and creamy frozen crème fraîche soufflé.
As large as the menu is, there are only six desserts—six wonderful desserts. A bit of editing and Black's might score the same success with savories as well. Because there's fine food to be found. You just have to forage through the oak forest.