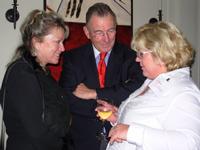 What: The Red & Blue Bipartisan Election Bash
Where: The Kalorama home of Gloria Dittus, she of Dittus Communications fame, the house being the former residence of Ambassador Sol Linowitz, who negotiated the Panama Canal Treaty.
When: 7 p.m. until late
Who: Overall the guest list consisted of Hill staffers, lobbyists, lawyers, some media, close friends of Gloria, and naturally, a gaggle of Dittus employees. Some of the bigger names in attendance at the party were former Congressman Bob Walker, who is now with Wexler & Walker, and Cal Dooley, also a former congressman and the event co-host, who was there with his wife Linda. Peggy Hudson, BP vice president was another co-host of the event. Dittus client Robert Holleyman of the Business Software Alliance attended, as did Joe Kelliher, chair of Federal Energy Regulatory Commission, and his wife, Karen.
Food: A spread of finger foods included spring rolls, cocktail shrimp, quiche, chicken wings, deviled eggs, mini pizza bagels, and kielbasa. There was also a chicken, shrimp and scallop pot pie casserole, ham or pot roast for the really hungry guests.
Beverage of choice: According to one bartender manning one of the many open bars scattered throughout the house, the most popular drink of the night was vodka tonic.
Scene: Although the dress was somewhat formal, the comfort of meandering around the Dittus household, complete with dog underfoot, seemed to put all the 200+ guests at ease. The schmoozing was just as important as the politics, and a 50/50 crowd of young professionals and the more established members of the power class were socializing and having a good time — undoubtedly due, in part, to the chattiness that free booze always seems to bring on at a party. Many guests gathered around the TVs at peak excitement points to discuss what was currently happening on the election front.
Election activities: Upon entrance, each guest received an "Official Election Watch Score Booklet" and golf pencil to keep track of the night's races. Each room was rigged with a big screen TV, so no matter what room you migrated to, you could keep your scorecard updated — although nobody seemed to actually be using it.
Highlight of the night: Getting to meet the hostess and social butterfly extraordinaire, Gloria…even if it was only for three seconds.
Ratings:
Bold Face Guests: 1 (out of 5)
Swankiness: 3 (out of 5)
Food/Drinks: 5 (out of 5)
Overall Exclusivity: 3 (out of 5)
Total score: 12 (out of 20)