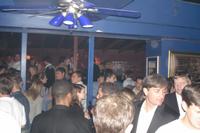 What: Election night results party.
Where: Smith Point in Georgetown.
When: November 7, 8 p.m. – 1 a.m.

Price of Admission: For one night, there was no list at the door. Entrance was free.
Price of Acceptance: Secret Republican handshake.
Who: The guest list this night wasn't unlike most. Party-goers at the fraternity-style watering hole included young conservatives in their mid-20s,mostly men. No bold face names (though the Bush twins have been known to frequent the place when in town), but the crowd was filled with people who hope to be bold face names by 2020.
Scene: Imagine a college bar. Now imagine white, preppy, Republican trust fund babies. Put the two together and you have a night at Smith Point. Cover that in the brittle shell of a struggling GOP and you've got the election night party at Smith Point. For the conservative crowd, it was a tense night alleviated only by the continued consumption of alcohol. Some men peeled their eyes away from the televised election coverage long enough to flirt with the few ladies in the bar, but moods were, overall, in the pits. The party died down around 12:30 a.m., about the time the DJ played the very telling Journey hit "Don't Stop Believing."

What to Wear: If it doesn't have a popped collar, silk tie, or four-inch heels, your wardrobe will be subject to ridicule. No doubt the guy wearing three layers of shirt (a pink pin-stripped long-sleeved shirt under a pink plaid short-sleeved shirt under a pink sweater vest) put some thought into his ensemble. On second thought, maybe he didn't.
Food: Republicans don't eat; they drink.
Beverage of Choice: Bud Light seemed the general favorite with gin and tonics a close second.
Bold Face Guests: 1 (out of 5)
Swankiness: 2 (out of 5)
Food/Drinks: 2 (out of 5)
Overall Exclusivity: 2 (out of 5)
Total Score: 7 (out of 20)