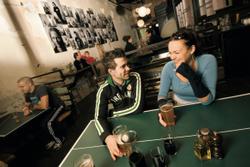 You might wonder if you're in the right place when you walk into Comet Ping Pong, the new pizzeria from chef Carole Greenwood and co-owner James Alefantis of Buck's Fishing and Camping, just next door. No, you didn't miss the sign—there was no sign.
The mystique doesn't end there. The servers are in regular clothes—should you ask the kid in the Wilco T-shirt for a table? Nope, the guy in cargo pants and a baseball cap does the seating. There's no menu, just a board that lists toppings—and no prices. Need to use the bathroom? Look for the unmarked doors along a wooden wall.
The message: You have to be in the know.
To survey the stark dining room—a postmodern reinvention of an old-fashioned pizza joint with steel frame booths and black-and-white photographs—is to get a taste of the parties the schmoozing Alefantis puts on at Buck's following shows at his Georgetown art gallery.
The pies arrive from the wood-burning oven on sheet-metal trays—a nod to the gloried, 100-year-old New Haven pizzerias that Comet mimics. Greenwood has sought out good ingredients—tomatoes from Toigo Farms, applewood-smoked mozzarella from Blue Ridge Dairy, and high-quality extra-virgin olive oil. Does it make a difference?
It can. When the pizzas are good, they're really good: a lightly charred, crunchy-chewy crust, terrific tomato sauce. One night's smoked-mushroom-and-pepperoni version was perfect. But then came a wincingly salty anchovy pie, then a bland white pizza, then a grease-soaked mess of melted onions and salami. Inconsistency is a chief complaint at Buck's, and so it goes here: you can't predict what you'll get. At $9 for a pie that's too small for leftovers plus $1 per extra topping, it's not a cheap gamble. At least the Ping-Pong is free.