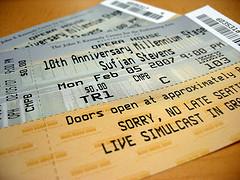 On Friday night, the marble terrace around the Kennedy Center, normally known for its panorama of the Potomac, transformed into a squatter's camp of freezing music fans with one goal in common: to try to get their hands on a pair of free tickets to see indie super-hero Sufjan Stevens perform backed by a symphony orchestra in the Opera House on February 5.
As evidenced by the massive turnout Friday, which included fans camping out in line overnight, Stevens is a fine fit for February's ten-year anniversary celebration of the Kennedy Center's Millennium Stage, which has been a beacon of musical diversity and eclecticism in Washington.
Steven's 2005 album, Illinois, is a sprawling kaleidoscope of sound aimed at capturing the spirit and story of the "Land of Lincoln." The critics salivated over its soaring anthems and home-grown ballads and praised Stevens for making an authentically middle-American soundtrack filled with songs of progress, celebration, mystery, and maturity.
With his blend of intricate and insightful lyrics and high-pitched vocals layered over banjos, oboes, and full-fledged symphonic crescendos, Stevens has gathered fans across genres and generations, many of which were represented Friday night.
By 1:00 am, eight hours before officials began distributing free tickets on the red carpet of the Grand Foyer, there were already some 500 high schoolers, college students, twenty-somethings and even a few baby-toting families coiled along the outer walls, staircases and flower beds in clusters of tents, blankets and sleeping bags.
The chilled marble slabs on which they rested were as cold in the early morning hours as ice cubes. Had it been July, the patio would have been a deafening party. Strangers would have moved from circle to circle making friends, making out, and adding their voices to Sufjan sing-a-longs. But on Friday, the scene was eerily quiet but for the sporadic strumming of a few scattered guitars, the occasional string of expletives with every icy gust of wind, and the rustling of restless slumberers fumbling for cigarettes in their coat pockets.
By 9 a.m., the time when tickets were to be officially distributed, the sun perched on the rim of the Jefferson Memorial across the river, and the terrace was a tightly wound snake of 2,500 shivering stragglers – 1,500 more than the number of available tickets. As tickets began to be handed out, those who'd weathered the night emerged from their caves of covers to stretch and thaw, some doing laps around the Kennedy Center to regain the feeling in their legs.
The morning's conversations echoed Stevens' diverse pull as part hippy-poet, part storyteller, part Old Testament prophet. Two nearby teenagers recited Bible verses to each other, while a group of students from Virginia Commonwealth University swapped ribald drinking stories. My friend Jessica and I, who had read each other lines from T.S. Eliot's Four Quartets before the cold clamped our mouths shut, feasted with our friends Daniel and Nathan on stale Doritos and frozen grapes. An eight-hour wait in below-freezing temperatures – had it been worth it?
We'll know for sure next Monday when we see Stevens perform live, but on Friday we at least got to live out our own version of a Sufjan song. In "To Be Alone With You," he sings, You gave your body to the lonely/They took your clothes/You gave up a wife and family/You gave your goals/To be alone with me.
To get tickets, all we had to give up was a little warmth and a good night's sleep.