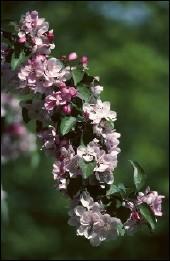 A one-of-a-kind drink, created especially for you — it's every blog's dream, isn't it? Well, it is here at After Hours, anyways. Luckily for us, we had Natalie from the excellent cocktail blog The Liquid Muse offer to make us our very own delicious and exclusive drink for the launch of After Hours.
Taking inspiration from one of Washington's most famous symbols, the cherry blossom trees, Natalie whipped up a lovely concoction she calls the Black Cherry Blossom. Even though it's still gray and wintry here, the Black Cherry Blossom gives me hope that spring is right around the corner, and has me looking forward to evenings of sipping cocktails on rooftop terraces.
Black Cherry Blossom
By The Liquid Muse
1 1/2 ounces Effen black cherry vodka
2 ounces black cherry juice
Dash of Angostura bitters
Small squeeze of lemon
Champagne
Pour vodka, juice, bitters and a squeeze of lemon into a mixing glass with ice. Give it a few good stirs with a bar spoon. Strain into a cocktail glass and top with champagne.
What's your favorite spring cocktail? Leave yours in the comments — or send us your own personal drink recipes at candrews AT washingtonian DOT com, and we'll feature it on After Hours.