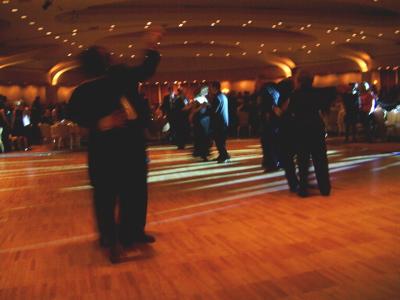 What: The American Enterprise Institute Annual Dinner
Where: The Washington Hilton
When: March 7, 2007, 6 p.m. for cocktails, 7 p.m. for lecture, 8 p.m. for dinner
Who: The conservative elite, clad in tuxedos and formal gowns, and listed in alphabetical order in the 30-page seating guide: In the thousand-odd crowd, bold-face names included Vice President Cheney and Mrs. Cheney, John Bolton, actual Justice Clarence Thomas, almost-Justice Robert Bork, Ed Meese, Ken Mehlman, Richard Perle, Dina Powell, ambassadors from from Afghanistan, Poland, and Denmark, among others, congressmen and women—including former Virginia Senator George Allen—and conservative media figures ranging from Wesley Pruden to Nick Gillespie to Byron York to Laugh Ingraham. Assorted titans of industry and lobbying filled the tables as well, along with current and former AEI staff and scholars.
Food: A better-than-average Chesapeake crab bisque, arugala salad, a worse-than-average beef tenderloin, and a white chocolate purse of chocolate mousse.
Drink: Quivira Sauvignon Blac and Zinfindel.
Scene: After the opening singing of "America the Beautiful" by AEI's Alex Pollak, the crowd settled for the annual gathering's centerpiece, the presentation of the Irving Kristol Award and accompanying lecture. Then, after dining, the dance floor opened up to the rousing jazz of the Eric Felten Orchestra, whose namesake is perhaps better known for his delicious cocktail column in the Wall Street Journal.
The Lecture: Kristol award winner and Princeton historian Bernard Lewis delivered a lengthy (and at times labored) lecture on Islam and the West that had the crowd enraptured. They actually called for more when he first offered to stop. Lewis had some harsh words for President Bill Clinton's handling of al Qaeda's rise, and provided some historical comparisons between Islamic jihad and the Christian Crusades. His line that rather than a vengeful attack on a peaceful people, "the Crusades were a late, limited response" to Islamic jihad drew one of the speech's few applause liens.
Ratings:
Bold Face Names: 4.5 (out of 5)
Swankiness: 4 (out of 5)
Food/Drink: 3 (out of 5)
Exclusivity: 4 (out of 5)
Total Score: 15.5 (out of 20)
More photos below.