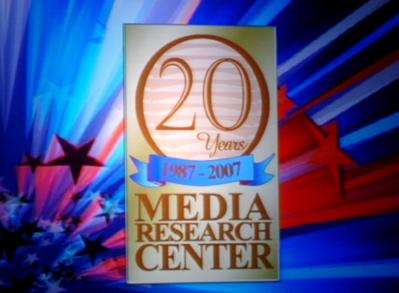 What: The Media Research Center's 20th Anniversary Gala
Where: Grand Hyatt
When: Thursday, March 29, 2007, 6 p.m. until late
Who: A thousand-plus conservative activists, funders, staff from various right-wing organizations, and a number of bloggers—all in a mish-mash of attire for the annual black tie optional gathering. While three of the night's big names, Ann Coulter, Sean Hannity, and Joe Scarborough couldn't make it, the room held most of the well-known conservative talk show hosts, who all paid tribute to Center's founder, Brent Bozell, over the course of the evening.
Food: Spinach and frisee salad, grilled beef tenderloin and salmon roulade, and a flourless chocolate cake.
Drink: Many bottles of Columbia Crest wine.
Scene: When James Carville asked where his wife was going last night, Mary Matalin explained, she whispered "vast right-wing conspiracy" and such was the scene at the DisHonors Awards ceremony for the "most outrageously biased liberal reporting of the year."
The evening's tone was set when emcee Cal Thomas, who was introduced as the most syndicated columnist "in the nation, hemisphere, world, solar system, and the universe," explained that the evening was "carbon neutral" because everyone in the room arrived in vehicles powered by the "chicken droppings Al Gore's been peddling in recent days." He joked that the evening's sponsors included the Guantanamo Bay Gift Shop and Chevrolet, "the car Saudi Arabian women would drive if they could drive."
Video montages showed clips of the evening's award nominees, none of whom, unsurprisingly, were in the audience to accept the awards in person. In fact, as one presenter joked, no one has ever accepted an award in person in the event's history.
The first award of the night, the "God I Hate America Award" went to New York Times Publisher Arthur "Pinch" Sulzberger, Jr., for a speech he gave last year at SUNY-New Paltz's commencement. Neal Boortz presented the award and after butchering the pronunciation of Pinch's name, he looked up at the crowd, "If I'm mispronouncing his name, ask me later if I really care."
Former Maryland senate candidate Michael Steele accepted the award for Pinch to a standing ovation and then presented an improptu lecture on why the GOP lost in November: The party had lost the nation's honor and trust. "When we walk away from that, America responds," he said, explaining that he was confident the party would get the keys to the Kingdom back again soon and that Steele himself was looking forward to running again.
CBS's Katie Couric won the "Dan Rather Memorial Award for the Stupidest Analysis" for her interview with Condi Rice last fall where she asked the secretary of state, "To quote my daughter, 'who made us the boss of them?'" G. Gordon Liddy accepted the award for her, saying, "You are honored by the enemies you have. I can safely say that one of my enemies is perky Katie Couric."
Rosie O'Donnell beat out Bill Maher and "has-been entertainer" Harry Belafonte for the "The I'm Not a Political Genius But I Play One on TV" Award. In accepting a large pointy award for Rosie O'Donnell, the Wheel of Fortune's Pat Sajek explained, "I don't know if she has room for this, but I'd be happy to take it over to her and show her where to put it."
CNN's Jack Cafferty won the "Tin Foil Hat Award for Crazy Conspiracy Theories" and the award was "accepted" via video by Osama bin Laden, whose dubbed video played on the room's four big screens. Speaking through a bad Punjabi translator, "bin Laden" explained that he calls CNN the "Cave News Network" because "their audience is so small it could fit in my cave."
MSNBC's Keith Olbermann was perhaps the biggest loser last night: Nominated in three of the five categories, he failed to win a single award. Neal Boortz relished going after Olbermann, calling him "MSNBC's answer to a relief tube," a "void surrounded by a sphincter muscle," and said, "You know you've done something right when that footstool attacks you on national TV."
Boortz on Bryant Gumbel: An "arrogant little jock-sniffer" and an "obtuse mindless person."
Boortz received much applause for this line on Bill Clinton's administration: "Don't we all still wonder what Sandy Berger stole from the National Archives?"
As the opening joke by Thomas set the stage, Al Gore was also the butt of many jokes. From Mary Matalin on Gore: "Pluto wasn't large enough to be a planet but Al Gore is." From Pat Sajek on Gore: "When he gets his shoes shined he has to take the guy's word for it."
Ratings:
Bold Face Names: 3 (out of 5)
Swankiness: 4 (out of 5)
Food/Drink: 3 (out of 5)
Exclusivity: 3 (out of 5)
Total Score: 13 (out of 20)
More photos below.