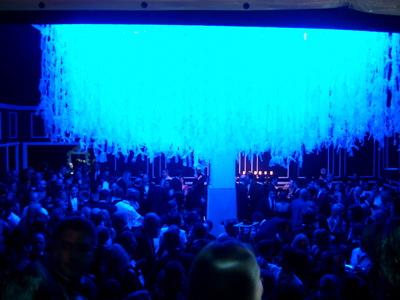 What: Bloomberg's After-Party
Where: The Costa Rican embassy in Kalorama.
When: Late night, April 21st.
Who: Everyone who is anyone (and a few sneaky interlopers who weren't anyone).
Food: Lots of snacks.
Drink: Numerous bars, fancy drinks, and a bathtub filled with mini-bottles of champagne.
Scene: This event, year after year, is one of Washington's few truly A-List events, combining Bloomberg's deep pockets with a truly hard-to-get invite. The line to get in stretched down the block, while limos, town cars, and motorcades with lights flashing continually pulled up to disgorge bold face guests. Guests had to show photo ID to get in, and rumors swept the crowd that even Matthew Cooper and Mandy Grunwald had been turned away. With security details in tow, Michael Chertoff and Paul Wolfowitz wandered through, the latter walking from the nearby Washington Hilton along a path lit by Bloomberg logos and baton-holding black-clad ushers. Hollywood and sports stars mingled with beat reporters and famous-for-DC celebs. Arianna Huffington skipped the event only because David Geffen promised her a bed on his private jet back to LA from Dulles.
While the rooms inside were packed (a bit too packed actually) and a bit harshly lit as the massive lighting cycled through its color wheel of blues, pinks, and whites, everyone inside was just glad to be there. Outside a gaggle of New York Times executives, including managing editor Jill Abramson and Rick Berke, the assistant managing editor, cooled their heels while top political writer Adam Nagourney furiously worked his Blackberry to get them in. As their wait stretched past an hour, one of the Times-men joked, "Doesn't Mayor Bloomberg have a big speech tomorrow? Not gonna be in the New York Times!"
Gift Bag: An odd assortment of a light bulb, playing cards, and boutique chocolates from Burdick's in Boston. Oh, plus slippers.
Ratings:
Bold Face Names: 4 (out of 5)
Swankiness: 5 (out of 5)
Food/Drink: 4 (out of 5)
Exclusivity: 5 (out of 5)
Total Score: 18 (out of 20)
More photos below.