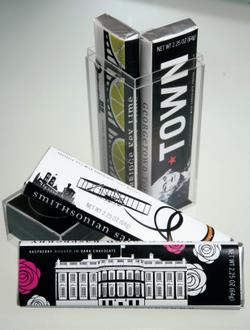 Capitol Coconut. Kennedy Center Caramel Apple. Washington Monumint. A local version of Candyland? No, they're dermatologist Tina Alster's private-label chocolates.
A dermatologist championing chocolate? Alster makes a case for it: "It's a great pick-me-up for a person on the go, and it makes me feel special. I eat it daily, always before lunch and throughout the day. It's better than coffee!"
Sold four to a pack, the wittily wrapped bars ($25) are tucked inside a Lucite box and sold at Alster's boutique, Après Peau (1430 K St., NW; 202-783-0022), on the ground floor below her office.
The eight flavors go beyond the familiar, with combos like the sweet/salty Smithsonian Salty Pretzel (milk chocolate with chunks of pretzel) and the tart Key Bridge Key Lime (dark chocolate filled with Key-lime ganache).
Après Peau also stocks Hayden-Harnett totes and tissue-weight T-shirts from Skin Apparel, but the item chocoholics will find hardest to resist is a bar of Monumint. Alster's favorite, it tastes like "upscale Junior Mints."