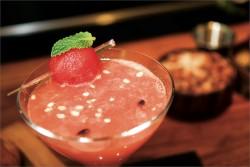 Bourbon, long neglected as a mixer, is seeing new life at the hands of local mixologists. Todd Thrasher has created a special bourbon drink at PX, his Old Town Alexandria speakeasy, to honor the 400th anniversary of the founding of Jamestown. The Smoker's Delight is made with Old Virginia tobacco, honey syrup, lemon juice, and bourbon.
Firefly, near DC's Dupont Circle, is serving a version of bourbon sangría—bourbon on the rocks with cantaloupe, honeydew, and green-apple slices.
Macallan, known for its smooth Scotch, is expanding its repertoire with Amber, a new liqueur available so far only in Washington and five other cities that blends ten-year-old Macallan Scotch with maple syrup and pecan syrup. Mixed with crushed ice, mint, and a splash of Scotch, Amber makes for a sweet and tasty alternative to the traditional bourbon julep. You can pick up a bottle at Pearson's Wine & Spirits in DC's Glover Park.
Want something lighter? Try a sparkling glass of Prosecco and white-grape juice at 2 Amys in Glover Park or a spicy fresh-watermelon jalapeño margarita at BLT Steak.
Or grab a bottle of the old classic Lillet Blanc, a fortified wine from Bordeaux, which is perfect for summer evenings. Serve on the rocks with a splash of soda and top with a slice of orange. A bottle of the aperitif, which also comes in a rouge variety, runs about $14 at most good liquor stores.