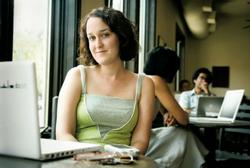 Sommer Mathis last year became the first paid editor of DCist.com, one of the area's leading blogs, which covers life in and around Washington. A native of Arizona, Mathis moved to DC's Shaw neighborhood after a variety of jobs in Los Angeles. As a member of the unpaid DCist writing staff, she covered arts events before starting full-time at the blog, which is owned by Gothamist, a New York–based blogging company.
Where's your favorite spot in Washington? I love to grab a seat by the big fountain outside the Hirshhorn Museum in the middle of the day. You can access the Smithsonian's free wireless Internet there, and the rush of the water and the people watching are pretty great.
Favorite pastime? Sitting on my front stoop, preferably with a friend or two. Stoop-sitting should be the official pastime of DC. If you've got a good stoop to sit on, you've got it made.
Favorite television show? Probably a tie between Battlestar Galactica and The Wire.
Favorite movie? I'm a big Stanley Kubrick fan, so it'd have to be Full Metal Jacket or Dr. Strangelove. But the movie I've watched the most is Mike Nichols's 1988 masterpiece, Working Girl. It never fails to choke me up when Melanie Griffith calls Joan Cusack at the very end to tell her she has her own office and her own secretary.
Favorite book? I'd have a hard time arguing that there is a better book written in the English language than Lolita. I reread it every few years, and once I start it, I can't put it down.
What's on your bookshelf? I just finished the last of the Harry Potter books. Had to get in on the cultural Zeitgeist while I still could.
Favorite singer/band? All-time favorite would be R.E.M., but lately I can't stop listening to a demo from local band Georgie James, who will have a full album out in September.
All-time favorite restaurant? Pretty much any Mexican restaurant in my hometown of Tucson. I really miss authentic Mexican food here. If you know where I can get some, send me an e-mail.
Favorite everyday restaurant? I go to the Florida Avenue Grill more often than I should. The staff there are just the nicest people, and the biscuits are incredible, but it's not exactly health food.
Favorite food? Still pepperoni pizza—same as when I was ten.
Best meal ever? Earlier this year I ate at a restaurant called Gautreau's in New Orleans. Kind of haute Creole cuisine, really inventive, and stunningly delicious.
Favorite hangout? I've become a big proponent of H Street, Northeast. On weekends the bars there are less crowded than other spots in the city. So far my favorite there is the Pug.
Favorite vacation spot? My friends and I head to the Outer Banks every Memorial Day. Definitely the nicest beaches you can drive to from the city.
Favorite object you own? My new MacBook. I'm the last blogger on earth to make the switch from a PC.
Thing that others would find surprising about you? I'm not fascinated by national politics. I'm thinking about starting a support group.
What makes Washington special? Every day you can meet someone who turns out to be the smartest, most well-informed person you'll ever know on a given subject. It's like living in the best university in the world but without all those essays to write.
From the September 2007 issue of The Washingtonian.