Next to "Bottled water or tap?" the most commonly asked question in restaurants is "Do you want fries with that?"
Some of the city's most celebrated chefs are peeling potatoes, blanching the sliced spuds, and devising clever accompaniments to the much-demonized French fry.
These haute fries are tasty. But they're also salty, greasy, and satisfying—the same at Brasserie Beck as at Burger King.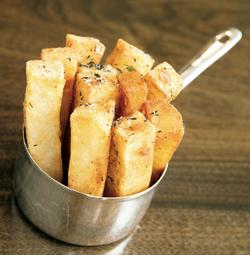 Blue Duck Tavern (1201 24th St., NW: 202-419-6755), $7. Ten thick, golden-brown rods of Idaho potato arrive in a silver pot with matching tongs. Crunchy on the outside with a mashed-potato quality inside, these fries are styled after pommes Pont-Neuf and tossed with sea salt, chives, thyme, and parsley flakes. That's after peeling, double blanching, overnight freezing (to kill moisture), and frying in duck juices—a three-day process.
Rating: ****
Central Michel Richard (1001 Pennsylvania Ave., NW; 202-626-0015), $7. Chef Cedric Maupillier refuses to freeze his fries, even if rival chefs assert that it eliminates sogginess. Every day a new batch of potatoes is hand-peeled, cut, and fried three times before being served in a Belgian-style wax-paper cone. Maupillier says the final blanching makes the difference. We say they still taste like French fries.
Rating: ***
Café du Parc (1401 Pennsylvania Ave., NW; 202-942-7000), $5. Every order of pommes frites arrives in a precious red pot, complete with petite ketchup bottle. The potatoes, sliced 14 times a week by the garnish chef, are fried twice—first at 275 degrees, then at 375—and anointed with Guerande salt.
Rating: **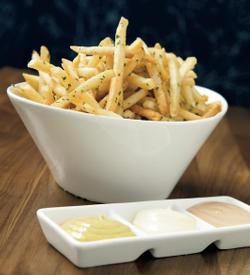 Brasserie Beck (1101 K St., NW; 202-408-1717), $7. In appearance and taste, these bear an eerie resemblance to the Mickey D's version—but with three terrific homemade mayos. Making them is almost as laborious as making the excellent lamb sausage—the process entails an old-school Hobart (the first commercial potato peeler), an individual spud slicer, double blanching, overnight freezing, and finally a few minutes in the fryer. Diners approve: Beck goes through a thousand pounds of fries a week.
Rating: ***
Palena Cafe (3529 Connecticut Ave., NW; 202-537-9250), $10. The "fry plate," which includes potato and nonpotato fries alike, is a virtuoso display of chef Frank Ruta's way with frying. Onions and lemons are presoaked in a sour-milk culture and dusted with rice flour (for crunch). Fried to a golden-brown crispness, they're plated alongside an adorable dauphine potato (made from a whipped potato mixture piped through a pastry bag) and a handful of simply fried shoestring potatoes.
Rating: ****
Poste Moderne Brasserie (555 Eighth St., NW; 202-783-6060), $8. This Penn Quarter hot spot confesses to using precut Idaho potatoes and fries them only once. So how does it justify charging $8? Three words: white truffle oil. Sous chef Todd Wiss further gilds the lily with parsley, chives, tarragon, celery leaves, salt, and Parmigiano Reggiano, creating a fry so rich, he says, that it needs no condiment. Still, he's not above sending out a cup of ketchup. "Americans love ketchup," he says. "It's practically born into us."
Rating: ***
What the ratings mean: 5 stars = extraordinary; 4 = great; 3 = good; 2 = worthwhile; 1 = ordinary