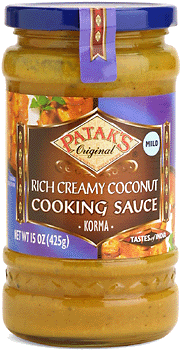 Cooking Indian food can be intimidating. Just trying to track down all the right spices at the grocery store often proves futile. But at least once a week—with ingredients purchased from the meager offerings of the "Soviet" Safeway at 17th and Corcoran—I manage to prepare delicious dinners of chicken rogan josh or tikka masala in my teeny apartment kitchen.
How? This task may sound akin to participating in the vending machine challenge on Top Chef, but it's actually a no-brainer. Patak's awesome Indian cooking sauces can be found on just about any local supermarket shelf—from highbrow Whole Foods down to my Safeway, which is sometimes out of paper towels.
I've been able to find at least six sauce varieties, including south Indian madras, a fiery sauce made with coriander, cumin and hot chilis; rogan josh with tomato and cardamom; mild tikka masala flavored with tumeric and lemon; and creamy north Indian korma with coconut milk and ginger—all jarred and ready to go. I simply cut up some chicken breast (you could also use lamb—the traditional pairing with spicy rogan josh—or shrimp, or vegetables), cook it up in a pan with a little olive oil, drain the excess fat, and add some sauce to the pan. No need for precision here—if you like a lot of extra sauce to soak up with rice or naan, add generously. Then, simmer uncovered for 20 minutes. Enjoy a glass of wine or a cold beer. Hide the jar of remaining sauce in the fridge, and trick your friends and family into believing you slaved for hours over a hot stove. Or, let them in on the secret behind my new favorite weeknight meal.
Patak's Cooking Sauce, $3.89 to $4.95 at Whole Foods, Safeway, and other area stores.