What: The National Hispanic Foundation for the Arts dinner
Where: Residence of the Ambassador of Spain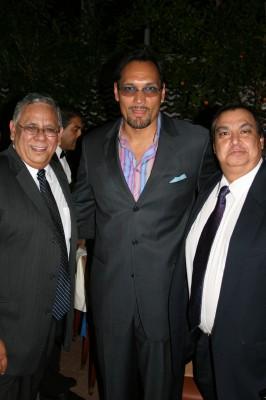 When: Monday, October 1, 7:00 PM
Who: A prelude to the foundation's Tuesday-night gala, the dinner party drew members of NHFA's star-studded board of directors and advisory council as well as an assortment of friends and media types. Among the 50 guests were NHFA cofounders Esai Morales of NYPD Blue; Merel Julia, actress and wife of the late actor Raul Julia; and Jimmy Smits of The West Wing and the new series Cane. Actor Benito Martinez and Mexican pop-rock singer Gloria Trevi also made appearances, as did CBS News correspondent Rita Braver. The party's hosts, Ambassador Carlos Westendorp of Spain and his wife, were conspicuous and accessible throughout the evening.
Food: Appetizers were passed around during the cocktail hour, and paella, salad, fruit, and cheese completed the traditional Spanish-style dinner. For dessert, mixed fruit and flan were served—and, as a surprise, birthday cake for Morales, who turned 45 last night.
Drink: Cocktails and soft drinks circulated at the reception, and red and white wine flowed during dinner.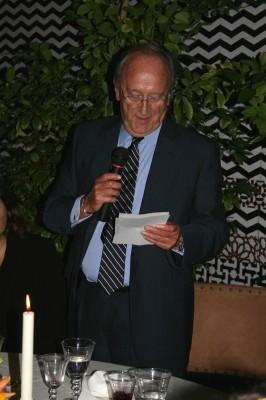 Scene: The ambassador lives in a modern home built into a hillside in DC's Foxhall upper-crust neighborhood. Guests were greeted by two Spanish guards—armed and in full uniform—and ushered into the large living room for cocktails. The expansive space, which featured two-story ceilings, a loft, and dual sitting areas, included sleek furniture tempered by traditional Spanish artwork, some of which looked as though it had been pulled straight out of a museum. Floor-to-ceiling tapestries depicting scenes in Spanish history filled one wall, while massive oil paintings of Spanish royalty hung on the other. Guests floated among the artwork and furniture in small circles of two or three, mostly sticking to familiar faces and chatting quietly.
At dinner, the guests seemed to warm up. Five tables filled the formal dining room and adjacent sunroom, an enclosed patio that was home to several fruit trees. In the center of the room, below a low-hanging crystal chandelier, stood a large round table filled with food, to which the guests helped themselves in generous portions. Servers kept wineglasses full, and easy conversation filled the space.
After about an hour, plates were cleared and dessert was brought out. At the prompting of Felix Sanchez, one of the foundation's cofounders, guests broke out in a round of "Happy Birthday" for Morales. The actor made a speech, which included several self-effacing comments about his age, and the festivities continued. Near the end of the evening, the ambassador, Smits, Morales, Sanchez, and Merel Julia each spoke briefly, thanking guests and expressing hopes for the future of the foundation. The party disbanded at about 10 o'clock.

Most embarrassing moment: Jimmy Smits was hours late. For an unknown reason—which some guessed was related to his new CBS show, Cane—Smits walked in at 9:15, well after dinner had been cleared and dessert served, just as guests began wondering whether the evening was over. He arrived in a noticeable flurry, obviously regretful that he had missed most of the event. But the guests were happy to see him and quickly forgot they had been getting ready to leave. As soon as Smits was there, the speeches got underway and the event wrapped up quickly.
Ratings:
Boldface names: 2.5 (out of 5)
Swankiness: 2.5 (out of 5)
Food/drink: 2.5 (out of 5)
Exclusivity: 3 (out of 5)
Total score: 10.5 (out of 20)