What: An afternoon tea in celebration of the British School of Washington's relocation from 16th Street to 2001 Wisconsin Avenue. The British School, founded in 1998, has 285 students, ages 3 to 18, who follow the National Curriculum of England and the International Baccalaureate Diploma Programme. The tea was an opportunity for students, teachers, and staff to introduce the school to the Georgetown community.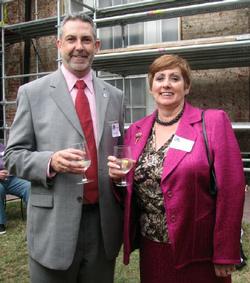 When: Thursday, October 18, 4 to 6 PM
Where: The new school will not be finished until December, so tea was held nearby at historic Tudor Place. The neoclassical estate oozes Colonial history, making it an ideal venue—even with its current scaffolding due to renovations. Tudor Place was built in 1816 by Thomas Peter and his wife, Martha Custis Peter, granddaughter of Martha Washington. Dr. William Thornton, architect of the US Capitol, designed the house, famous for its circular domed portico and expansive gardens.
Who: A mix of students and staff from the British School, from the head boy and girl of the lower school right up to the head teacher herself, Jenny Arwas. Deputy head Kelvin Williams and British Schools of America chief operating officer Marina Major were also present. The small crowd included many parents, including the ambassador of Malta, Mark Miceli, and his wife, Josette, whose son is enrolled in the school.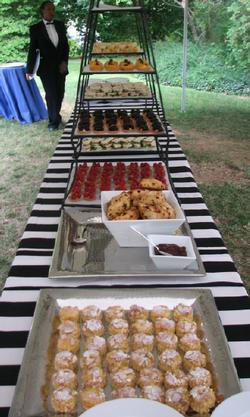 Food: Traditional teatime fare—although nothing was served on George Washington's porcelain or silver, which remained safely inside the house. Guests nibbled on scones with cream and jam, cucumber and salmon sandwiches, and miniature blackberry and raspberry tarts.
Drink: Tea, of course. Also coffee, sparkling water, iced tea, white wine, and Champagne.
Scene: A large marquee (that's "tent" in American) was set up behind Tudor Place, under which guests mingled and snacked. The entire event was very low-key; most people were in some way affiliated with the school and appeared to know one another. After an hour of socializing, the headmistress gave a short speech, noting that nearly ten years after its founding, the school was ready to expand, marking "a new step in the history of a school becoming established in Washington."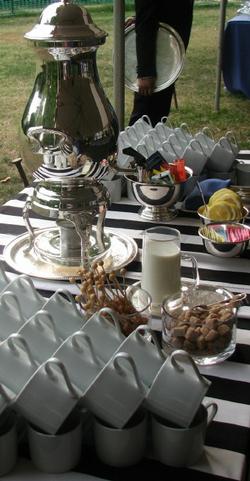 About the new school: The new site is a three-story, 75,000-square-foot building leased from Georgetown University. The increase in space will allow the BSW to accommodate nearly 600 students, with a maximum class size of 20. Features include an indoor track, a fitness room, a large indoor play space, a music room and recording studio, a design and technology workshop, three science labs, smart boards in every room, and dividers to change the size of classrooms, thus maximizing teaching space.
Ratings:
Boldface names: 0.5 (out of 5)
Swankiness: 2 (out of 5)
Food/drink: 3 (out of 5)
Exclusivity: 1 (out of 5)
Total score: 6.5 (out of 20)