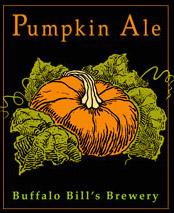 Pumpkin beer is a curious one. Is it brewed with real pumpkin? (Not always.) Does it taste like pie? (Sometimes it's super-sweet, sometimes spicy.) Is it always an ale? (Nope, there are porters and stouts, too.) Whatever the case, people go berserk for pumpkin beer during mid- to late October, and it's actually a brewing custom dating back to the Colonial era. Back then, thrifty Americans used locally grown gourds—known as "pompions"—to stretch their malt supplies, which were very expensive.
Though it's a fall spirit-builder with such heavy nutmeg, allspice, cloves, and cinnamon undertones, many beer experts don't like pumpkin beer. Neither Birreria Paradiso's Greg Jasger nor Capital City Brewing Company's Mike McCarthy can guzzle down more than one. Beer meccas such as Germany and Belgium don't have many fans, either—especially in Germany, with its Reinheitsgebot, a beer-purity law allowing only four ingredients: yeast, hops, water, and malt. Pumpkin beers may seem related to Oktoberfest brews—given their similar debut times—but Germans scoff at the seasonal additive. Similarly, a Belgian brasserie won't have them on tap; extra "stuff" in their beer is a no-no.
So what's all the fuss? Who really cares as long as it gives you that warm fuzzy fall feeling? (Or maybe that's just a buzz?) Here are a bunch of nearby bars serving pumpkin beer in bottles and on draft.
Birreria Paradiso, 3282 M St., NW; 202-337-4936.
Smuttynose Pumpkin Ale from New Hampshire (spicy like pumpkin bread), Weyerbacher Imperial Pumpkin Ale from Pennsylvania (manager Greg Jasger's favorite), Dogfish Head Punkin Ale from Delaware (brewed with real alcohol and 7-percent alcohol, which makes it really beery), and Cape Ann Fisherman's Pumpkin Stout from Massachusetts (pours an almost-black dark brown; tastes like coffee with pumpkin pie).
How much longer? Probably just through this weekend because the basement bar has a quick turnaround with rotating kegs. Darker Christmas stouts are just around the corner, and the bar is already making room.
Price: $6.25 a pint.
RFD (Regional Food and Drink), 810 Seventh St., NW; 202-289-2030.
Wild Goose Pumpkin Ale from Maryland (the brewery is practically in our backyard), Brooklyn Brewery's Post Road Pumpkin Ale from New York (pours a deep orange color), Dogfish Head Punkin Ale (see Birreria Paradiso above), Cape Ann Fisherman's Pumpkin Stout (see Birreria Paradiso).
How much longer? They could be gone next week, but if you're lucky, through the first two weeks of November.
Price: $4.25 to $5.50 a pint.
Brickskeller, 1523 22nd St., NW; 202-293-1885.
The Brickskeller's pumpkin choices are in bottles, not on draft: Blue Moon Harvest Moon Pumpkin Ale from Colorado (big squash aromas), Saranac Pumpkin Ale from the Adirondack region (brewed with vanilla), Buffalo Bill's Pumpkin Ale from California (resembles a ginger soda), Dogfish Head Punkin Ale (see Birreria Paradiso above), Smuttynose Pumpkin Ale (see Birreria Paradiso).
How much longer? The bar is low on supplies this week but gets shipments every Tuesday.
Price: $5 to $6.50 a pint.
Sweetwater Tavern, 14250 Sweetwater La., Centreville, 703-449-1108; 3066 Gatehouse Plaza, Falls Church, 703-645-8100; 45980 Waterview Plaza, Sterling, 571-434-6500.
Ghost Town Pumpkin Ale brewed in-house at each location, garnished with nutmeg, allspice, cinnamon, and pumpkin seeds around the rim of the glass. The bar will even give you an extra bag's worth of seasonings to take home
How much longer? They're predicting until Thanksgiving (they're prepared for the fanatics).
Price: $4.50 a pint, $22.50 for Sweetwater's trademark "growler"—about eight beers' worth in a huge vessel that can be taken home and saved for a few weeks before turning "skunky."
Rustico, 827 Slaters La., Alexandria; 703-224-5051.
Rustico has run out of Delaware's Dogfish Head Punkin Ale on draft but has it in a special cask. Unlike keg beer, this isn't carbonated, filtered, or pasteurized, and thus it's referred to as "real ale." Air pushes out the liquid, so it's creamier and full of tiny bubbles. Served at a cool temperature rather than ice cold to enhance its flavor.
How much longer? Probably just through this weekend.
Price: $8 a pint.

Capital City Brewing Company, 2700 S. Quincy St., Arlington, 703-578-3888; 2 Massachusetts Ave., NE, 202-842-2337; 1100 New York Ave., NW; 202-628-2222.
Brewed in-house at each location, a batch contains 100 pounds of roasted pumpkin. It's been made that way ever since the original store opened in 1991.
How much longer? The bar hasn't tapped its supply yet but will next Tuesday, Halloween Eve, and it should last at least a week. Impatient customers have been calling for about two months demanding updates.
Price: $5 a pint.
Dogfish Head Alehouse, 6363 Leesburg Pike, Falls Church, 703-534-3342; 800 W. Diamond Ave., Gaithersburg; 301-963-4847.
Dogfish's pumpkin beer is one of its best-selling brews, ranking at second or third place. The company can barely keep it on tap.
How much longer? It's gone until Halloween so that there will be plenty on pumpkin-worshiping night.
Price: $5.25 a pint.