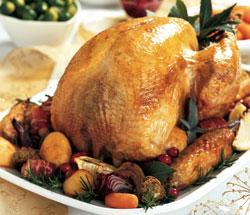 Looking for more Thanksgiving ideas? Check out our complete Thanksgiving Dining Guide, with dozens of recipes from great local chefs, wine pairings, and how to roast the perfect turkey.
Ardeo, 3311 Connecticut Ave., NW; 202-244-6750. Starters on chef Trent Conry's three-course menu include fall organic greens with grilled nectarines, goat cheese, and pecan dressing; butternut-squash risotto with chestnuts, currants, pepitas, and sage-chili butter; and watercress and endive with caramelized pears, fallen Gorgonzola soufflé, and walnut vinaigrette. Main courses are roast turkey with sausage stuffing, sweet-potato purée, apple-cranberry compote, and Calvados pan gravy; Arctic char with fava beans, crisp shiitakes, golden raisins, and caper brown-butter sauce; and roast prime rib with Yukon Gold potato purée, asparagus, and tarragon stone-ground mustard. Desserts include pumpkin cheesecake with caramel sauce, upside-down pear cake, and pecan cake with butter-pecan ice cream. Noon to 8; $37.50.
Bastille, 1201 N. Royal St., Alexandria; 703-519-3776. Chefs Christophe and Michelle Poteaux offer a three-course menu at their French bistro. Choices include roasted-parsnip bisque with crispy onions and pancetta; frisée-and-endive salad with goat-cheese cromesqui; baby spinach with foie gras on brioche toast; roasted pheasant breast with foie-gras rub, chestnut stuffing, cranberry chutney, sweet-potato-and-root purée, and sautéed greens; prime-rib au poivre with Cognac sauce, black-truffle gratin dauphinois, and wild mushrooms; and pan-roasted halibut filet with tarragon béarnaise sauce and Belgian-endive marmalade. For dessert, there's pumpkin cheesecake with maple-pecan streusel, apple crumble, and Valrhona truffle cake. For an additional $4, you can try a selection of artisanal cheeses. 5 to 9 PM; $45.
Blue Duck Tavern, 1201 24th St., NW; 202-419-6755. Chef Brian McBride's all-American feast features roast turkey breast and chestnut-stuffed leg with giblet gravy, made with organic turkey from Eberly Farm in Lancaster, Pennsylvania. There's also suckling pig with bourbon peaches, Maine-lobster pot pie, chanterelle cornbread stuffing, baby yams, braised fall greens, pickled beets, and sweet-dumpling-squash purée. Desserts from pastry chef Laurent Merdy include classic apple pie with hand-cranked vanilla-bean ice cream. 10 to 3 for brunch, 6 to 10 for dinner; $80 for adults, $40 for children ages 6 to 12; under 6 free.
Bombay Club, 815 Connecticut Ave., NW; 202-659-3727. Live piano music accompanies chef Nilesh Singhvi's tandoori turkey (boneless white-meat chunks marinated with yogurt, ginger, garlic, and fenugreek leaves) or turkey firdausi (turkey breast filled with minced meat, nuts, and spices and served with mace-flavored onion-and-yogurt sauce). Noon to 9; $17.
Charlie Palmer Steak, 101 Constitution Ave., NW; 202-547-8100. The three-course prix-fixe feast includes sweet curried cheese pumpkin soup with Maine-lobster dumplings garnished with maple-glazed pumpkin seeds and pumpkin-seed oil; roasted Red Bourbon turkey; braised leg meat with confit giblet gravy and traditional bread stuffing; spiced venison loin with sweet-potato gnocchi, roasted porcinis and sage-infused venison; and a selection of fall desserts. 2 to 8 PM. $68.
Indebleu, 707 G St., NW; 202-333-2538. Each family-style meal includes rosemary-apricot nan with cranberry-jalapeño chutney; heirloom-pumpkin soup with coconut, pear, and cilantro oil; haricots verts with red shallots, cashews, and black onion seeds; roasted cauliflower with lemon, bay leaf, and cinnamon; whipped potatoes with mustard seed; samosas; giblet stuffing; and fancy heritage turkey prepared two ways—coriander-cumin spiced breast and pomegranate-butter-braised thigh. For dessert: upside-down apple halva cake with chai yogurt sauce. Noon to 8; $35, $55 with wine pairing.

Jack's Restaurant and Bar, 1527 17th St., NW; 202-332-6767. This takeout dinner includes a choice of whole oven-roasted turkey stuffed with raisins, spinach, white-truffle oil, pine nuts, and walnuts or honey-glazed ham. Both come with creamy spinach, brown-sugar yams, house-made coleslaw, cranberry sauce, garlic potatoes, and sweet carmelized onion with Boursin cheese. For dessert: warm apple pie with vanilla ice cream and cranberry pie with dulce de Nutella. 10 AM to 1 PM; $55.
Kent Manor Inn, 500 Kent Manor Dr., Kent Island, Stevensville, Md.; 410-643-7716. The all-you-can-eat buffet includes a carving station with pork loin, ham, and turkey; a raw- and smoked-seafood section; a variety of cheeses and salads; potatoes and other traditional trimmings; and a dessert station. 11 to 5:30 in the Garden House , noon to 6 in the main restaurant; $35.
McCormick & Schmick's, six area locations. Thanksgiving dinner includes roasted turkey, giblet gravy, cornbread dressing, green-bean casserole, candied yams, sweet potatoes, cranberry sauce, mashed potatoes, Waldorf salad, and a choice of pumpkin or pecan pie. 11:30 to 9; $19.95.
Rasika, 633 D St., NW; 202-637-1222. Chef Vikram Sunderam's meal includes dum ka turkey, a turkey breast marinated with caramelized onions, cashews, yogurt, garlic, and ginger, served with a cranberry-flavored cashew sauce and red pumpkin mash along with cumin-flavored Brussels sprouts. Noon to 9; $16.

Restaurant Local, Tidewater Inn, 101 E. Dover St., Easton; 410-819-6606. In Easton's historic Tidewater Inn, chef Richard Hamilton's family-style, all-you-can-eat meal includes roasted organic turkey, Berkshire pork loin with apple chutney, roasted-butternut-squash soup, mashed sweet potatoes, mashed Yukon Gold potatoes, French green beans, savory herb stuffing, Pennsylvania succotash, country gravy, cranberry sauce, wild rice, and a selection of breads and pies. 1 to 5:30; $39, under age 12 $19.
Oval Room, 800 Connecticut Ave., NW; 202-463-8700, Among the starters on chef Tony Conte's three-course menu are mâche of celery root, Honey Crisp apple, and pomegranate; butternut-squash soup; and chestnut ravioli. Main courses include a roasted organic turkey with chestnut stuffing, sweet-potato purée, and cranberry sauce; pork tenderloin with heirloom-pumpkin confit; and flatiron beef with potato purée, broccoli rabe, and red-wine foie-gras emulsion. Pastry chef Joy Ludwig's desserts include a pecan tartlet and crème-fraîche cheesecake. Noon to 8; $45.
701, 701 Pennsylvania Ave, NW; 202-393-0701. Live jazz with a three-course prix-fixe meal created by chef Alex Powell, including a choice of chestnut-and-celeriac soup with crisp pancetta and quail eggs; lobster salad with shredded celery root, mixed greens, boiled eggs and caper mustard vinaigrette; and butternut-squash ravioli with Parmesan cheese, brown sage butter, and black truffle. Entree includes organic roast turkey with black trumpet mushroom, chestnut-stuffed legs, Brussels sprouts, pearl onions, apples, and cranberry relish. Desserts include cranberry bread pudding with roasted-apple chutney and lemongrass ice cream, figs poached in vinegar syrup, nougatine au beurre, and honey ice cream. 11 AM to 8 PM; $40.