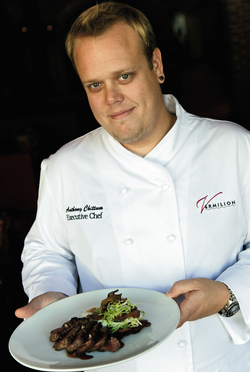 One of the dirty secrets of restaurant critics is that we tend to despise brunch. In a former life, I used to look forward to inaugurating the weekend with a leisurely feast of waffles, eggs, and bacon, chased with a couple of cold, tall glasses of mimosa. Now the prospect of starting my day like this oppresses me, especially because I'm most likely recovering from the previous night's multicourse indulgence. Besides, what does an ability to not ruin waffles and to keep the bacon crispy tell me about a chef or a restaurant?
I hardly ever go out for brunch unless I'm dragged by friends, which is how I ended up in Old Town one Saturday sampling the work of Anthony Chittum, the new chef at Vermilion. I had intended to order lightly and nibble off my friends' plates, saving my calories for a big dinner, but that strategy didn't hold up for long. An excellent eggs Benedict, draped with a delicate hollandaise and partnered with a crunchy potato latke, got my attention. The chef's version of scrapple, which flanked a plate of sunny-side-up eggs, kept it: Ground pork shoulder and sausage, along with some brioche for binding, had been fashioned into a soft patty that suggested a kind of pork-belly-infused Thanksgiving stuffing.
All the while, we were tanking down cocktails. A big glass of Hendrick's gin and muddled cucumber with soda water and sugar was dangerously good; the bloody marys were spicy and full-bodied. By the time I'd dug my spoon into a brilliantly green pea soup that didn't count on heavy cream for depth and body, I was enjoying myself. And by the time I got my first taste of the burger, I was swooning. Though it doesn't keep company with the upmarket versions so popular these days as a generation of classically trained chefs goes slumming, it evinces an unsexy respect for the simple things. The meat was freshly ground, not too tightly packed, and perfectly seasoned. It also was perfectly pink as requested, and perfectly juicy. And I loved the crowning touch: a pile of thin, crispy fried onions.
Needless to say, a chef who puts his heart into a meal that nobody demands too much of, not even a restaurant critic, is a chef worth knowing.
I shouldn't have been surprised. Chittum comes to Vermilion by way of Notti Bianche in DC's Foggy Bottom, where he turned a basementlike space into an appealing Italian trattoria, seducing the restaurant's built-in audience—Kennedy Center goers and parents checking on their kids at George Washington University—with his eggplant caponata, whole roasted fish, and sparely sauced fettuccine and tagliatelle. Before that he worked under chef Todd Gray at Equinox, from whom he learned the deceptively simple art of pasta making—Gray had learned it from his mentor, Roberto Donna—and the importance of keeping a cuisine rooted.
For a young chef, Chittum is devoid of the look-at-me tricks that many of his contemporaries employ to distance themselves from a crowded field. If that means he keeps a lower profile than he deserves, it also means he's the right man at the right time for the right restaurant. For years, Vermilion has fought hard to remain relevant in Old Town, whose crowds skew older and more touristy than those in downtown DC. Visually, it accomplishes the goal by purposely sending mixed signals. The brick walls and gas lamps reek of a hoary, musty tavern, but the twisting swaths of fabric on the walls and the bold, funky color scheme—which includes a bordello red—are smart, softening touches.
The hiring of Chittum this spring brought the kitchen in line with the rest of the restaurant. His ever-changing, seasonal menu seesaws between safe and ambitious, old and new, trend and tradition without bending too much toward either extreme. Take his plate of steak. Most diners will nod in appreciation at the rosy, well-charred slices of rib eye, but the plate will get a rise out of gastronomes, who will smirk in appreciation of the role assigned to the coddled egg, which calls to mind that diner classic steak and eggs and whose yolk supplies the juice for a bistro-style frisée salad. Lobster mushrooms slow-roasted with herbs lend the smoky depths usually supplied by a scattering of bacon.
It's not hard to imagine a pair of quotation marks bracketing the name of the dish, a chef's signal that he's going to be playing with your food. But Chittum resists calling attention to himself, just as he declines to dramatize the function of the panzanella that recently shared billing with the scallops. The scallops, fat and juicy, were presented in two rows, cushioned by rounds of fried bread topped with a slice of ripe tomato and a nutty, strong pesto.
The most daring he got on my three visits was to refer to his crab plate as a "duo." The soft-shell crab was split open and fried to a turn, then paired with slices of sausage made from crab-meat-and-scallop mousse. In the moody light of the dining room, I could have sworn I was looking at rounds of plantain cut on the bias. The texture, though, was closer to that of an Asian fish cake. Having set off the crispiness of the soft-shell with a sausage, he then set off the sweet richness of both with a few pickled watermelon rinds.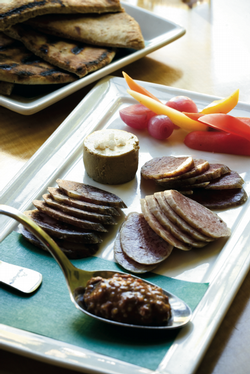 Chittum's love for things like casing and pickling is genuine and deep, which is why his charcuterie board doesn't feel like a sop to trend-seeking diners looking for something bold and interesting as they drink and graze. You taste the conviction in his creamy torchon of foie gras, in his peppery, garlic-studded pork sausage, in his complement of lightly pickled veggies, and in his Italian mostarda, a condiment that makes conventional stone-ground mustard seem like French's.
Pasta is, curiously, a peripheral concern, but that's more a function of the contemporary American menu than of Chittum's attentions. At Notti Bianche, he aimed for lightness, befitting the regional Italian emphasis. Here he shoots for comfort. The ravioli, a staple of the menu in late summer, was typical: six dark-green, scallop-edged pillows oozing smoked mozzarella and wallowing in a sweet, lightly bitter red-pepper foam. The green fettuccine Chittum was also sending out in late summer would make an excellent dish all by itself, its pliant, homemade noodles needing only the de facto sauce he gave it: a nice pat of butter and a handful of sweet, ripe cherry tomatoes. But what did Chittum do? He went and added a skin-on, grilled whole trout, too. This isn't a complaint—the fish was wonderful.
It does, however, emphasize the menu's tendency toward bigness and richness. If you're pining for the delicacy of his eggplant caponata, you're in the wrong haunt. When he works in a minor key, which isn't often, the results are less than satisfying. A yellow gazpacho was undone by the addition of too much sherry vinegar; an octopus salad, meant to be light and refreshing, was marred by its putative star, which was soft and mealy.
Desserts, which Chittum also oversees, are solid. Two are great: a Key-lime tart that splits the difference between tanginess and creaminess and a jiggly cone of orange-blossom panna cotta decorated with torn leaves of lemon verbena and set down in a pool of thick peach soup. I was surprised to find that I liked them so much. Most chefs lack that kind of finesse when they try their hand at sweets. Then again, why should I have such lowered expectations? The guy made me a believer at brunch.
This review appeared in the November, 2007 issue of the magazine.