Although Tommy Mensing's professional golf career came to an end after an unsuccessful attempt at the 1997 PGA tour, the University of Maryland graduate has found the perfect way to incorporate golf—in fact, all sports—into his life. Mensing is bar manager at Cleveland Park Bar & Grill (3421 Connecticut Ave., NW; 202-806-8940). His late hours allow him to squeeze in a morning golf game before an afternoon at the restaurant. Once at work, Mensing is clearly at home behind the bar—whether pouring drinks, speaking Spanish to the kitchen staff, or cheering on his Terps.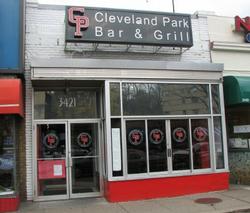 Why did you start bartending?
My brother-in-law had been a bartender in college, in Georgetown, and suggested I think about bartending. It worked out well because growing up as a golfer and playing a lot of sports, I never saw myself as someone who wanted to be in the 9-to-5. I'm still able to play golf during the day and work at night.
What's your favorite golf course?
Congressional.
How did you end up at Cleveland Bar & Grill?
One of my friends, the main owner, offered me the title of bar manager. I was one of the owners of Front Page from 2001 through 2006, but I came over here when he offered me the position. I helped get this place open, which is something I wanted to do because Front Page had been established since 1987 when I bought into it. Cleveland Park had been another bar previously, but we came in and pretty much redid it. I was responsible for getting the bar staff ready, the bar ready, and getting the music and televisions together.
Does the sports theme have anything to do with why you work here?
I'm a huge sports fan, so that part of theme definitely is a bonus. Wherever I've worked, we've always had sports on—here, Front Page, and Madhatter. Also, working here was a chance to learn more of the business and have a new opportunity.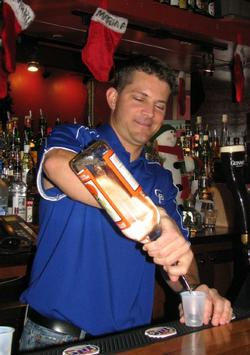 And watch sports while you work!
Yes, exactly! But there's a flip side when you get a really good game. When Dallas and Green Bay played, it was so busy in here that I didn't get to see any of the game. I was just reacting to the crowd.
What teams do you follow?
I was born in Baltimore, so I am a very big Ravens and Orioles fan. Now, living in Washington, I do like the Redskins. I went to the University of Maryland and played golf there. I'm in the Terrapin Club.
What's your prediction for their bowl game—the Emerald Bowl against Oregon State, December 28 in San Francisco?
I hope we win. Ralph Friedgen usually has them ready to play when he has a month to work on them!
Do you get many Terps fans at Cleveland Park? What's the crowd like here?
We get a lot of sports fans; we are a neighborhood sports bar. We aren't downtown with a huge happy-hour crowd. We get a lot of the people who live in Cleveland Park. We get a lot of Maryland fans, a lot of Steelers fans, Patriots fans, and obviously Redskins fans.

What are popular drinks?
I'm not a martini guy, I'm not a fancy-drink guy. I'm a guy who likes Amstel Light and chilled Patron. I learned beers and shots and drafts. We go through a lot of draft beer. We have 12 beers on tap. The most popular are Miller Light and Blue Moon. We get a nice Sam seasonal, We have a couple specialty drinks—citronades, 007s.

What's unusual about Cleveland Park Bar & Grill from a bartender's point of view?
I like our really outgoing staff. I also really like the upgrades we made to this place from what it was before, especially in the kitchen. Fabio Beggiato—one of Cleveland Park's owners, who also developed our menu—made it more of a sports bistro. We have more than your typical bar food.
What do you enjoy most about being behind the bar?
I think everybody enjoys meeting people, but I enjoy the people we have working here. If you have a good staff, work should be fun, and it is for me. I also enjoy bartending outside on our roof deck when it's warm, and listening to my iPod.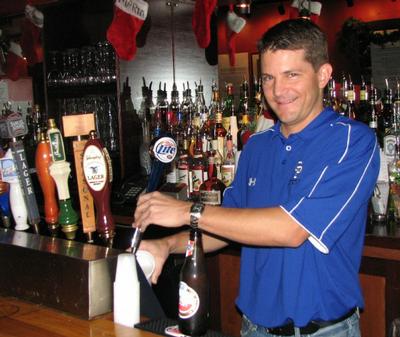 So you're into music?
I've been a DJ since 1992. I started in college, just as my own side business. Music is huge hobby of mine. I DJ once or twice a month just to keep current with all the music. I like all kinds of music—when I DJ, I play anything from Pearl Jam to Lynyrd Skynyrd to the Rolling Stones to a little bit of hip-hop to Stevie Wonder. I have 4,000 songs on my iPod. I love classic rock, I love disco, I love '80s—I love it all, whatever the crowd wants.
Do you enjoy live music?
Absolutely. I love the 9:30 Club—it's one of my favorite spots. I've seen Big Head Todd, Galactic, and many more.
What are your other favorite places to hang out?
In the summertime when it's nice weather and not too humid, I always go to an outside bar just because I'm always inside the bar! There's so little time to sit outside when we have nice weather in DC that it's a shame to sit inside.