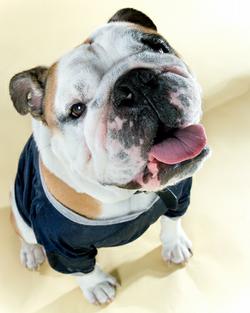 The lobby of Wolfington Hall, the Jesuit residence at Georgetown University, is solemn but for the occasional snort from an English bulldog. There, behind a navy couch, Jack, the school's mascot, naps spread-eagle on the shiny marble floor.
Three times a day, members of the Jack Crew—a group of students organized by Father Christopher Steck to care for the pooch—swing by to take Jack for a walk around campus.
On the best days, walking him is like escorting a beloved king. Students, teachers, and priests call out his name or stoop to pet him. Some take pictures to post on Jack's Facebook page.
Other days, walking him is like tussling with a toddler. He's been known to take on a beastly dog named Bear in the park at the end of 39th Street. He once chomped on a blue Christmas ornament, shattering the glass ball. He sometimes humps orange parking cones. He's at his most ferocious at Georgetown basketball games when he shreds cardboard boxes covered in the colors of Big East foes to fire up the crowd.
Jack's spirited splashes in the ponds by the observatory's garden or his short sprints across the lawn in front of Copley Hall are often followed by 30-minute naps wherever he chooses to collapse.
"A lot of people don't realize how difficult a dog he can be," says Maggie Lonergan, a sophomore from Massachusetts who has been walking Jack since summer, when she had to drag him from the cool marble of Wolfington Hall into the scorching heat.
Father Steck takes all this into account in selecting the Jack Crew. He holds tryouts once a semester for 20 spots. Students have to sing Georgetown's fight song, stick their hands into Jack's mouth, and yes, pry him off of an orange cone.
Even after the training, Steck worries as much as any parent would. When the previous mascot was retired in 2003 to accompany caretaker Father Scott Pilarz to the University of Scranton, Steck volunteered to lead the search for a new one. He found Jack—then a five-week-old pup—at New Jersey's Brook Hollow Kennel, the same breeder that supplied Rocky, the Georgetown mascot during the basketball team's glory days in the 1980s.
Jack once snuck off from Father Steck in New South, the freshman dorm where Steck lives. Steck turned just as the elevator doors closed on the dog's leash. The priest ran up four flights of stairs, and there was Jack waiting with a cocked head, Steck says, as if he were asking, "Where the hell have you been?"
With his smashed-in muzzle and perpetual frown, Jack is hardly handsome, but he has become a very public face of the university, attending everything from medical-school functions to fundraisers and athletic events.
Recently, Steck got an e-mail from another university considering getting a Scottish terrier for its mascot.
"Somehow I don't think a Scottish terrier would have the same effect," Steck says. "Jack's so ugly he's endearing."
This article is part of Washingtonian's Pets Guide package. Click here to read more about pet experts, dog walkers, groomers, and more.