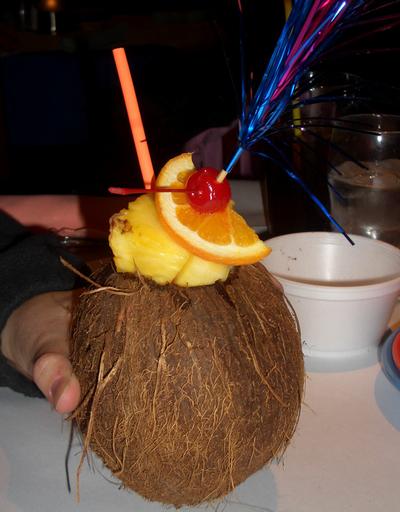 The spot: Mango Mike's, 4580 Duke St., Alexandria; 703- 823-1166.
The drink: Piña colada, a sugary drink served in a coconut shell in a style that matches the restaurant's tropical, over-the-top decor. The concoction is premade; bartenders add the rum (and plenty of it).
The price: $7.50.
First impression: The piña colada seems a popular choice. As I walked through the restaurant, I noticed a coconut shell on every other table. Decorated with fresh fruit and a party topper, the drink arrives with flair, and upon first sip I was hit with a strong mix of Malibu Rum and coconut. I had high hopes.
Lasting impression: Despite its presentation, the coconut proves a bit too small to serve as the piña colada's vessel. Perhaps that's for the better, though, because after a few tastes the drink becomes much too sweet. By the end, the frozen concoction had begun to melt, leaving a pool of rum—almost too strong to drink—at the bottom.
Grade: C.