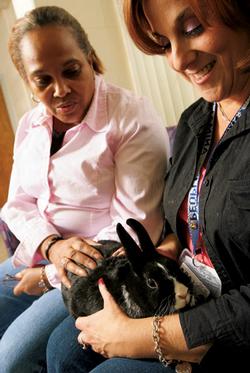 To patients at the Northern Virginia Mental Health Institute, Pippin is five pounds of pure therapy.
Twice a month, the six-year-old dwarf rabbit and owner Ellen Galant visit patients at the institute as part of People Animals Love, a nonprofit that connects more than 200 volunteers and their pets with the sick, the elderly, and at-risk youth.
Most PAL pets are dogs, which makes Pippin a favorite of those who like smaller animals. A rescue from the Animal Welfare League of Alexandria, the rabbit is calm with patients, who stroke her and talk to her like a friend. She even gives kisses.
Galant says her rabbit makes a difference: "I always leave there feeling better. It's uplifting."