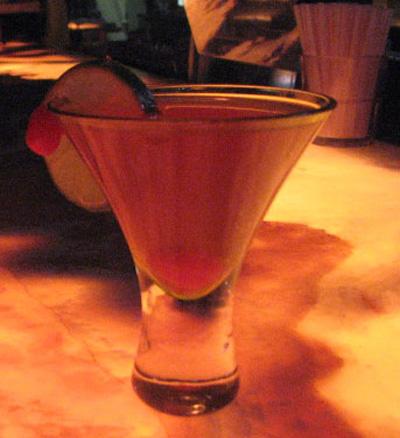 The spot: Tattoo Bar, 1413 K St., NW; 202-408-9444
The drink: The Tramp Stamp, a blend of Captain Morgan, amaretto, cranberry juice, and sour, served up.
The price: $12; $8 during happy hour (Wednesday through Friday 5:30 to 9)
First impression: The Captain brings an aromatic kick to this rum cosmo that's strong enough for a man, chic enough for a woman. The first sip introduces you to each of the flavors; the nuttiness of amaretto sits nicely against the cranberry. The spiced rum, which we expected to overpower the drink, is generously poured without being obnoxious. The result is a surprisingly simple and drinkable cranberry cocktail with an original flavor.

Lasting impression: As any well-mixed drink should be, the Tramp Stamp was consistent from start to finish. The mild sweetness never got out of hand, and there was just enough punch from the rum and amaretto. The drink is far smoother and much more agreeable than its questionable name would suggest.
Grade: A-