What: A chic night with delectable food and drink, live music, and dancing to celebrate the new Kogod Courtyard. At $125 a ticket, the Smithsonian American Art Museum's third annual Artrageous event benefited the museum's public and educational programs.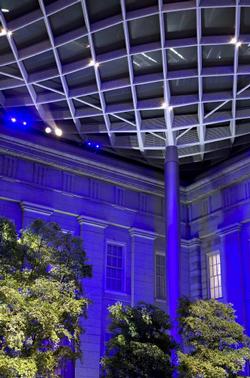 Where: The new Robert and Arlene Kogod Courtyard at the Reynolds Center (Eighth and F sts., NW), which is home to the Smithsonian American Art Museum and the National Portrait Gallery. Designed by Foster & Partners, the enclosed space provides an elegant, modern canopy over the courtyard at the center of the museums' original Greek Revival building. The 37,500-square-foot, steel-framed roof is composed of 864 glass panes and weighs 900 tons. Eight steel columns support the structure over a black granite floor. Artist John Alexander noted that the space was "architecturally amazing, an extraordinarily delicate marriage between the history and beauty of the old building with a light and new form that has the delicacy of lace."
When: Thursday, December 6, 7:30 to 11:00 PM.
Who: Many art and architecture lovers and a few artists themselves, including DC resident Carol Harrison and John Alexander, who has an opening at the gallery on December 21. Event cochairs Sydney McNiff Ferguson, Sandra Ross Jones, Janice Kim, Eric Motley, Rachel Tinsley Pearson, Kathryn Rand, and Jim Rowland were among the 500-plus guests. Observing the crowd, Motley was pleased to see "so many young people with a sincere interest in the Smithsonian art museum."
Food: The buffets in each corner of the courtyard had a different theme. Guests standing below the Edward Hopper print at the "Northeast" table enjoyed succotash, clam chowder, and grilled ham-and-cheese sandwiches. A Sierra Nevada image denoted the Western table, which supported sushi, mini-hamburgers,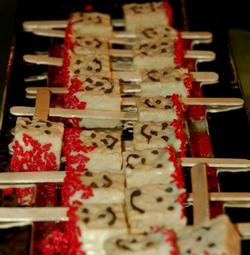 beef fajitas, Siam noodle saladajitas, and quesadillas. The Southern table boasted a David Bates print along with fried chicken, Carolina pulled pork barbecue, cornmeal buns, and cheese grits. And underneath the Electronic Superhighway All-American table was a tempting selection of desserts, including mousses, cookies, white-chocolate-covered Rice Krispy treats, lemon mousse squares, pecan pralines, key lime tartlettes, caramelized pumpkin trifle, pistachio mousse cordials, rocky road bars, and more. Design Cuisine catered brilliantly with one exception: An absence of knives made for an occasional large and awkward bite.
Drink: A well-stocked open bar—but no red wine. Museum rule: It could stain precious works of art.
Scene: The evening was more a celebration of a space than anything else, and when not chowing down at the buffet tables, guests wandered around the courtyard with wide eyes and dropped jaws. The museums' walls were lit with alternating blue, green, and soft red lights, creating an enchanting atmosphere of elegance and warmth. Artist—and Washingtonian subscriber since the first issue—Carol Harrison reflected that although she had climbed out of an icy driveway to attend the event, once she was inside the museum, the chilly December night "could be a spring evening."
All photos by Rachel Cothran.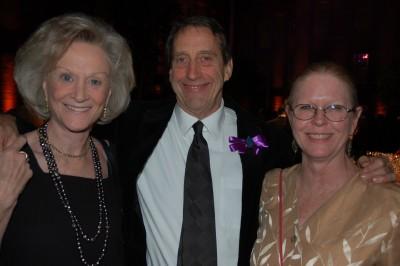 Want to see more photos from Washington events and parties? Click here for Washingtonian.com's photo slideshow page.
Many guests felt similarly; coats were shed as people hit the dance floor. Jacques Johnson of the Blues Alley Jazz Society and Big Ray and the Kool Kats entertained the crowd with Sinatra classics and popular hits including "YMCA" and "I Will Always Love You." Johnson raved: "One thing about those DC chicks—they know how to jive and wail!"
Although Georgetown University senior Peter Pritchard didn't partake in the dancing, he echoed the sentiments of most guests when he reflected on the "honor to be part of history in the making as we christen the courtyard. I look forward to being a part of future events here, as the DC community embraces the past and the future of this great nation."
Ratings:
Boldface names: 1 out of 5
Swankiness: 3 out of 5
Food and drink: 4 out of 5
Exclusivity: 3 out of 5
Total score: 11 out of 20