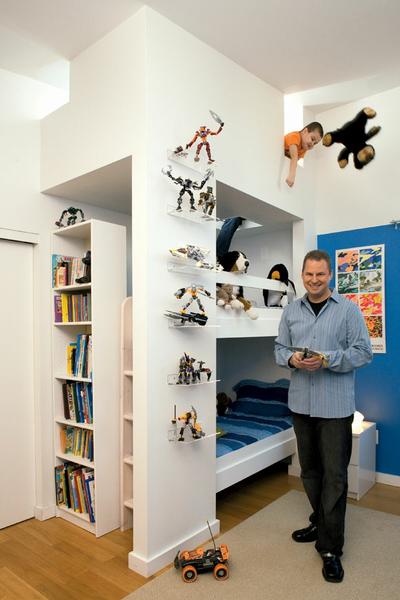 Photographs by Ron Blunt.
Getting pizza delivered was nearly impossible when Ben Ames moved into his Alexandria home. "The delivery guy would look at the place and think it couldn't possibly be a house," Ames says.
He bought the tiny 1950s brick pillbox in 2002 and spent two years squeezed into 850 square feet with his wife, Sophie, and their infant son before starting major renovations.
Today delivery folks would find it hard to miss. Nearly tripled in size, the two-story house clad in metal, siding, and brick is an ultracontemporary standout among its traditional neighbors. "I did what every good architect should do: I bought the worst house in the best neighborhood," says Ames.
The Del Ray neighborhood is home to modest single-family homes and a couple of blocks of good restaurants and shops. Ames's small lot is blessed with a woodsy park running alongside and a playground across the street, and he makes the most of all that green by bringing it in through huge trapezoidal windows.
Ames used commercial elements such as storefront windows and ecofriendly materials like bamboo flooring and Zalmag (a recycled zinc, aluminum, and magnesium composite) to create the very modern space.
The 41-year-old architect also mixed custom features with less-expensive items to cut costs. He installed an inexpensive but sophisticated Ikea kitchen with red and frosted-glass cabinets but shelled out for custom glass backsplashes. A gorgeous strip of costly Burlington stone in the entryway defines the space between the dining and living rooms, providing a striking contrast to the glowing bamboo floors.
A glass wall along the staircase allows light from a skylight to illuminate the house, which has 2,400 square feet but feels larger thanks to white walls and all that light. Besides the red kitchen cabinets, one living-room wall is painted in green—"version number four," according to Ames, who says it's been a project for his wife, a decorative painter who does murals and faux finishes.
The splashes of color and the warm wood floors keep the space from feeling cold. "That's kind of my little crusade," says Ames. "People come in and say, 'You know, I don't really like modern, but I like the feel of this house.' "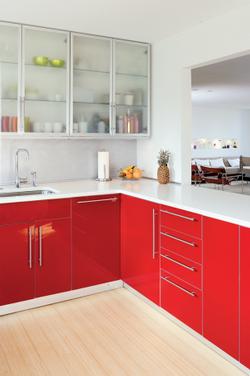 Ames's favorite feature is a long niche punched into the living-room wall, where colorful glass vases are lit from above by halogen bulbs. It's a stunning feature, but Ames—ever the architect/engineer—loves it because the cutout was made possible by a construction problem with matching up the exterior and interior walls.
Upstairs, the master bedroom is lined with cabinets made of reddish sapele—a beautifully grained African mahogany that's not as expensive as other exotic woods—adding warmth to the large, windowed room. Custom Hunter Douglas Duette shades—which can be pulled up or down—control light and privacy in the enormous windows.
Son Nicolas has the best digs: a space large enough to serve as playroom and bedroom with a whimsical escape hatch—over the built-in bunk bed—that leads to a crawl space.
"Creating something special for a six-year-old was fun," says Ames. "When guests come over, Nicholas always says: 'Come see my room!' "
Expert Tip
"Designing the house was fairly stressful from the standpoint of walking the line between design and budget," says Ben Ames. To cut costs without compromising style, he suggests blending a few high-end features with inexpensive ones. Ames, for example, paid only about $4,500 for his Ikea kitchen but ponied up for glass backsplashes and high-end GE Monogram appliances.
Select Resources
Kitchen cabinets: Ikea gloss red base cabinets, aluminum-frame and frosted-glass wall cabinets, around $4,500.
Kitchen counters: engineered quartz by Zodiac, $6,000.
Kitchen backsplash: by Dulles Glass & Mirror, Manassas; 703-631-0205; dullesglassandmirror.com.
Bamboo flooring: vertical-grain bamboo from Eco Timber, ecotimber.com.
This article is part of the 2008 Great Home Design package. To see the rest of the package, click here.