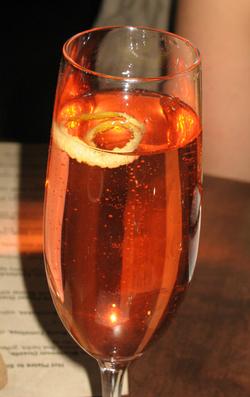 The Spot: Cork wine bar; 1720 14th St., NW; 202-265-2675; corkdc.com
The drink: a summer Champagne cocktail composed of sparkling ginger wine, lychee liqueur, Campari, and lemon juice. There's no name for the drink because it was custom-tailored, as are all cocktails created by Cork's ambitious mixologists. I requested a sparkling-wine cocktail to fit with the 80-degree temperatures, and this is what I received.
The price: $10
First impression: Dazzling. Peach-tinted bubbles prop up the curl of lemon rind that floats atop the flute. Once you lose the mesmerized stare and take the first sip, a perfumed flavor swirls among the refreshing ginger wine. Notes of citrus slip in, too. It's calming and thirst-quenching amid the bustle and ever-swinging door of Cork's scene.
Last impression: The drink went well with Cork's smaller, sweeter plates: caramelized sunchokes and a brioche sandwich. I might never have found the sparkling-ginger-wine option on Cork's daunting wine list if not for its inclusion in the cocktail. At times, however, the Campari-and-lychee-liqueur combination was too reminiscent of rosebud essence and left a lingering, slightly bitter taste on the tip of the tongue. Choose sweet over savory if you request a similar drink. Or sip it as an aperitif.
Grade: A-
For more on drinks, bars and nightlife, click here.