Closest Metro: Dupont Circle on the Red Line.
THE SCENE
Dupont Circle sits in the heart of DC, where Massachusetts, New Hampshire, and Connecticut avenues come together in Northwest DC. The neighborhood surrounding the circle has many charms—the beautiful (and expensive) rowhouses on P and Q streets to the east, the lively bars on Connecticut Avenue to the south, and the impressive embassies to the north along Massachusetts Avenue. Inside the famed circle itself, old men who have occupied the same chess tables for decades join musicians, tourists, and neighborhood residents walking their dogs, eating picnic lunches, or relaxing under the leafy trees.
SHOPPING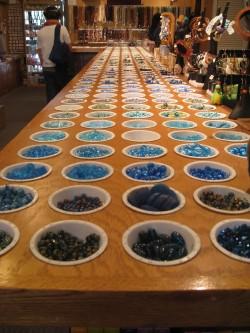 Beadazzled (1507 Connecticut Ave., NW; 202-265-2323). This make-your-own jewelry shop is a mecca for crafty types. There are hundreds of beads to choose from—most are glass, but there are also ones made of ceramics, wood, shell, and bone—ranging from 15 cents to $5 each. The staff can help you select beads, chains or strings, and clasps fitting your budget and design ideas, but even with their help, plan on spending at least an hour here.
Comfort One Shoes (1607 Connecticut Ave., NW; 202-667-5300). Don't let the name fool you: this isn't your grandmother's shoe store. These shoes give you a chance to walk on the wild side (without getting blisters). The shop features such renowned comfort brands as Earth, Dansko, and Birkenstock but also shows off some surprises like patent-leather pumps and seersucker Chuck Taylors.
The Guitar Shop (1216 Connecticut Ave., NW; 202-331-7333). Tucked above a burger spot on busy Connecticut Avenue, the Guitar Shop is a wall-to-wall musical haven for aspiring guitar heroes. The tiny shop stocks 2,000 guitars, including a wide selection of electrics and acoustics and gems like harp guitars and banjitars, a guitar/banjo hybrid. The most rare and expensive instruments are kept behind a locked gate—to be admired but rarely played.
Propper Topper (1350 Connecticut Ave., NW; 202-842-3055). Primarily a hat shop featuring a wide selection of fedoras, furry Russian ushankas, and day-at-the-races flowery numbers, Propper Topper also offers a quirky selection of women's clothing, accessories, and housewares.

Second Story Books & Antiques (2000 P St., NW; 202-659-8884). A labyrinthine store filled floor to ceiling with books, Second Story caters to literary junkies. In addition to rare and out-of-print books, the shop also sells used CDs, records, and DVDs. It even has some special artifacts such as a framed letter to Richard Nixon and his wife and early editions of classics like Dickens's Nicholas Nickleby.
DINING
Hank's Oyster Bar (1624 Q St., NW; 202-462-4265). Tucked away among the brownstones on Q Street, Hank's is an ideal neighborhood restaurant. In warmer weather, the small dining room is accompanied by patio seating. Enjoy the simple pleasure of raw oysters on the half shell, or sample chef Jamie Leeds's cooking, which extends beyond seafood with Southern-inspired "meat and two" platters, which change nightly.
Julia's Empanadas (1221 Connecticut Ave., NW; 202-861-8828). Fast food at its finest, the empanadas at this takeout storefront operation are flaky and hot, $3.41 each, and even on the healthy side. Fillings include turkey and spring onion, spinach, and a daily vegan option that's usually very tasty. Julia's is conveniently situated among Connecticut Avenue's popular bars, and stays open till 4 AM on weekends.
Komi (1509 17th St., NW; 202-332-9200). Chef Johnny Monis opened his 38-seat restaurant in a 17th Street rowhouse in 2004, at the age of 24. His Mediterranean-influenced food is daringly, deliciously adventurous (featuring ingredients such as wild boar and roast pigeon) and has achieved an almost cultlike following. Don't miss the delectable mezzethakia-like warm marscarpone-stuffed dates, a bite that shines as the highlight of many a diner's meal. If you want to dine at Komi, be sure to plan ahead—the tiny restaurant fills up fast. The maître d' recommends making reservations at least two months in advance.


Kramerbooks & Afterwords Cafe (1517 Connecticut Ave., NW; 202-387-1400). Every neighborhood needs a good bookstore/coffeehouse, but this one offers even more. It's open 24 hours on weekends and features a menu that ventures beyond pastries and coffee, serving breakfast, lunch, dinner, and late-night bites, plus Saturday and Sunday brunch. It has a fully stocked bar that includes 18 draft beers and a selection of premium wines. Stop in Wednesday through Saturday night for live music. Oh, and be sure to peruse the book selection while you're there.
Tabard Inn (1739 N St.,, NW; 202-785-1277). This adorable inn is a perfect spot for brunch—especially if the weather allows for dining in the picturesque courtyard. The short brunch menu, available Saturdays and Sundays, has plenty of tempting offerings, both sweet (toasted pecan waffles) and savory (quiche with crab and leeks).
Zorba's Cafe (1612 20th St., NW; 202-387-8555). This kitschy restaurant, with plastic fruit-print tablecloths and everything-Greek-goes decor, serves up good Greek dishes on the cheap. The souvlaki and gyros are juicy and flavorful, and don't miss the spreads for pita: top-notch hummus, baba ghanoush, and taramosalata (whipped cod roe). In nice weather, try to snag a seat on the outdoor patio for prime people watching.

ART & FUN
Brickskeller (1523 22nd St., NW; 202-293-1885). This legendary watering hole is a great destination for a laid-back night out with friends. The brick walls of this beer drinker's paradise are lined with vintage beer cans, and there are more than a thousand bottled beers on the menu, hailing from all over the globe. The bar even boasts breaking the Guinness World Record for selling the largest variety of beers.
Buffalo Billiards (1330 19th St., NW; 202-331-7665). Just below street level, this pool hall has a bit of an underground atmosphere. With almost 30 pool tables (not to mention darts and shuffleboard), there's no lack of amusement while you nibble on the slightly upscale sports-bar fare, sip on the selection of brews, and watch the big game. Leather couches provide a more relaxing option if billiards aren't your bag.
Cafe Citron (1343 Connecticut Ave., NW; 202-530-8844). As its name suggests, this Latin lounge specializes in citrus, from the lime-infused mojitos to the lemon-garlic red snapper. From the basement dance floor to its softly lit loft, you'll find dancers swaying to the Latin beats. The menus declare, "Dancing on the bar is not only allowed, it's encouraged," and the club even offers salsa lessons on Thursdays and a live flamenco show on Mondays.
Dupont Circle Farmers Market (20th St., NW, between Q St. and Massachusetts Ave.). On Sundays until 1 PM, the north end of Dupont Circle is taken over with stands of impeccably fresh produce, fruit, cheeses, breads, and seafood. Held year-round, rain or shine, the market hosts more than 30 farmers during peak season in the spring through the fall. The market opens at 9 AM April through December, 10 AM January through March.

Eighteenth Street Lounge (1212 18th St., NW; 202-466-3922). For a swankier scene, try this easily missed night spot above a mattress store near the corner of 18th Street and Connecticut Avenue. The multilevel lounge is filled with plush couches, long mahogany bars, and attractive young professionals.
Phillips Collection (1600 21st St., NW; 202-387-2152). The country's first museum of modern art, the Phillips Collection counts Renoir, van Gogh, Monet, Degas, Picasso, Matisse, and Cézanne among the artists represented in its 2,500-piece permanent collection. In addition, the museum frequently hosts temporary exhibitions, which in 2008 include "Brett Weston: Out of the Shadow," a retrospective featuring Weston's photographs from the 1920s through '80s.
GREAT ITINERARY
Start your day with breakfast at Teaism (2009 R St., NW; 202-667-3827), a teahouse and cafe popular with locals. Sip a cup of tea and polish off a hearty bowl of Irish oatmeal with apricots and raisins, or a sourdough waffle with a side of smoked chicken and apple sausage.
Then it's off to explore the neighborhood. On Sunday, make your first stop the Dupont Farmers Market, where you can stock up on fresh cheeses and produce and snag a beautiful bouquet of flowers. Next, wander north through the residential neighborhoods and take in some of the beautiful homes, gardens, and other architecture. If you head northwest on Massachusetts Avenue to Sheridan Circle, you'll pass the embassies of Indonesia, India, Estonia, Luxembourg, Turkmenistan, Togo, Sudan, Bahamas, Greece, and Ireland. Snap some photos, then head back to Dupont and hit the shops along Connecticut Avenue.
To satisfy your musical craving, head to Melody Records (1623 Connecticut Ave., NW; 202-232-4002) and peruse the more than 2,000 albums, from classical to jazz to pop and rock. Or pick up a bottle of wine from Best Cellars (1643 Connecticut Ave., NW; 202-387-3146), where you can sample wines—organized by taste rather than region—before you buy. If the weather's nice, grab a lunch to go from Julia's Empanadas or Chop't (1300 Connecticut Ave., NW; 202-327-2247), a designer-salad spot, and eat outside around the fountain or on the grass in the circle.
After lunch, set out for an afternoon of art, hitting the Phillips Collection first, then heading down to the Cathedral of St. Matthew the Apostle (1725 Rhode Island Ave., NW; 202-347-3215), a beautiful building inside and out that draws inspiration from Roman and Byzantine architecture and dates to the late 1800s. End your day in Dupont with dinner at Komi—a well-deserved splurge at $84 a person for the prix-fixe menu—or one of the other dozens of great restaurants in the area. For ideas, check out Washingtonian.com's Restaurant Finder.
Want more neighborhood guides for DC, Maryland and Virginia? Click here.
This article is part of Washingtonian's Visitors' Guide. For more articles like it, click here.