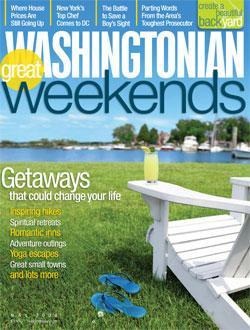 A President From Panama?
If the presidential race comes down to John McCain versus Barack Obama, it will be the first time the presidential nominees were not born in the continental United States.
Who Might Be on an Obama Cabinet?
With Barack Obama possibly on his way to becoming the Democratic nominee for president, speculation abounds as to who might make up an Obama Cabinet.
Who Might Be on a Hillary Cabinet?
Hillary Rodham Clinton hasn't dropped many hints about who might be in her potential Cabinet, but she's surrounded herself with veterans of her husband's days in the White House, suggesting that a second Clinton administration would include familiar faces.
Green Awards
Celebrating Washingtonians who preserve and protect our environment.
Quite a Ride
Not so long ago, African-Americans couldn't go to Glen Echo Park. This season's first carousel ride honors one who changed history.
Growing Up—and Out
As its family grows, a couple adds on.
Capital Countdown: Very Big Money
Few Washington jobs outside of finance, real estate, or a top legal partnership are more remunerative than heading a trade group. According to National Journal's annual study of association heads, more than 50 have compensation packages of over $1.2 million. Here are some top earners from 2006, the last year for which tax data are available.
See more articles from the May 2008 issue of Washingtonian.